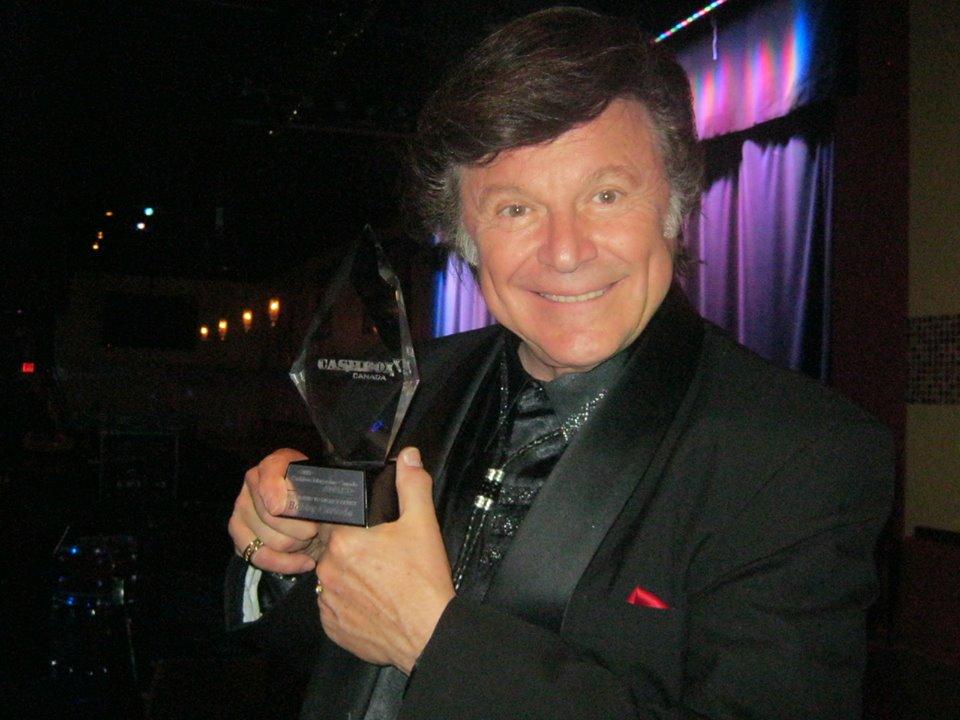 Thu May 21, 2015
Cashbox Magazine Canada, aside from promoting mainstream artists and their careers, has a mandate to promote the indie artists as well as the legacy artists who paved the way.
Last weekend they took that mandate one step further by presenting the first Legacy Award to Bobby Curtola. CEO & Editor in Chief Sandy Graham, herself a veteran of decades in the music business said "I firmly believe that there are a lot of good folks out there who have made outstanding contributions to the Canadian music landscape that, even if they have been recognized in the past, deserve another moment in the sun. Our plan over the next few years is to make sure these people get their due. And it won't just be artists  it will include record people, industry insiders and the ones behind the scenes who paved the path to create a Canadian music industry."
The first recipient of the Cashbox Award was Canadian Teen Idol from the 60's Bobby Curtola. The presentation was made on stage at Club 744 by none other than another Canadian gem Robbie Lane. The idea was hatched when Curtola flew in to Toronto as a guest at Zoomer Radio's celebration of Ronnie Hawkins's 80th birthday hosted by Robbie Lane. A date to appear as a guest of Robbie Lane and the Disciples was set and Sandy Graham arranged with Robbie to present the award to Bobby onstage during the guest set at Club 744.
If you ever get a chance to see Robbie Lane and the Disciples do not miss it. The 8 piece band are one of the tightest units you will ever see and Robbie Lane is as smooth as butter, sailing through song after song with ease and soul.
It was fitting that Bobby Curtola,who delivered an inspired set of his hits plus some old favourites from the era, received his award from Robbie Lane. Two of Canada's finest talents on stage together turning heads and turning  clocks back with their talent and charisma, and the added bonus was an impromptu performance from another Canadian legend George Oliver.
Congratulations Bobby on your well-deserved honour and stay tuned to Cashbox Canada to see who the next recipient will be.
As Sandy Graham said "The Legacy Awards will be the first in a series for Cashbox Canada Magazine. We plan to continue this to publicly honour these important people who make up the mosaic of the industry as we know it.  We need to recognize these Canadian treasures while they are still here with us to accept their accolades."
A very special thank you to Pete at King Sportswear for the design of the Cashbox Canada Magazine Award.
Proudly Canadian!