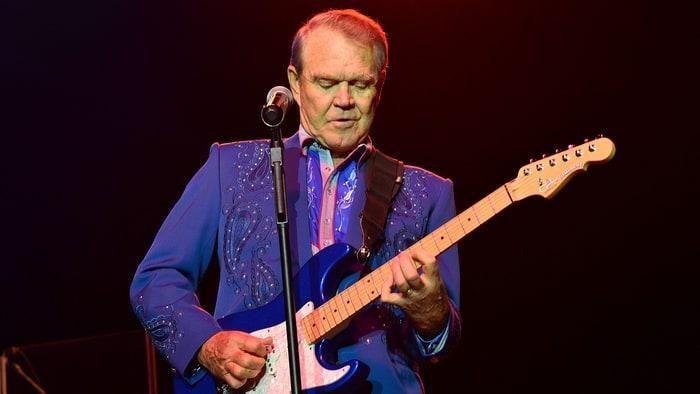 Fri Aug 11, 2017
\When I got the word that Glen Campbell had passed away my reaction wasn't the same as when I heard of other passings. When Glenn Frey passed I was shocked, when George Jones and Merle Haggard passed I was sad, when Canadian teen idol and friend Bobby Curtola passed I was devastated. But when I heard about Glen Campbell passing the first word that came to mind was finally, finally free from the grip of that horrible disease Alzheimer's. I was also terribly sad and nostalgic to hear but felt a great relief for him and his family. The last days of his life he couldn't speak, communicate or interact in any way. Who knows for sure what was going on in his head. His family released a statement on his website "It is with the heaviest of hearts that we announce the passing of our beloved husband, father, grandfather, and legendary singer and guitarist, Glen Travis Campbell, at the age of 81, following his long and courageous battle with Alzheimer's disease … In lieu of flowers, donations can be made to the Glen Campbell Memorial Fund at Bright Focus Foundation through the CareLiving.org donation page."
Campbell was first diagnosed with Alzheimer's disease in June 2011, he had been suffering from short-term memory loss for years, but the Alzheimer's diagnosis was confirmed that year. The battle was long and hard and well documented in the Academy Award winning film "I'll Be Me" , which followed the singer and his family on his 2011 tour as his memory declined.
Born April 22, 1936 in Billstown, Arkansas, the singer put out over 70 albums, sold over 45 million records. He was inducted into the Country Music Hall of Fame and won 10 Grammy Awards as well as 10 Academy of Country Music Awards.
Before his success as a solo recording artist, Campbell was a studio musician in the early '60s and played on recordings by Dean Martin, Nat King Cole, The Monkees, Merle Haggard, Elvis Presley, Frank Sinatra, and Phil Spector. He even toured as a member of The Beach Boys, filling in for Brian Wilson from late 1964 to March 1965 and was part of The Wrecking Crew.
Glen Campbell had several acting roles including 1969's True Grit with John Wayne and 1970's Norwood with Joe Namath.
Universal released the singer's final studio album 'Adiós' on June 9. The 12-track compilation was recorded in 2012 in Nashville in the middle of his Goodbye Tour. Adiós features Glen singing four Jimmy Webb songs he never recorded but always loved, including the title track. Other songwriters on the album include Roger Miller, Bob Dylan, Dickey Lee, Jerry Reed, Carl Jackson, Fred Neil, and Willie Nelson who duets with Campbell on the poignant single, "Funny How Time Slips Away."
Campbell is survived by his wife of 35 years Kim, daughters Ashley Debbie and Kelli and sons Cal, Dylan, Kane, Shannon and Travis.
Adiós Glen Campbell
https://youtu.be/dzQQoUx1oOU