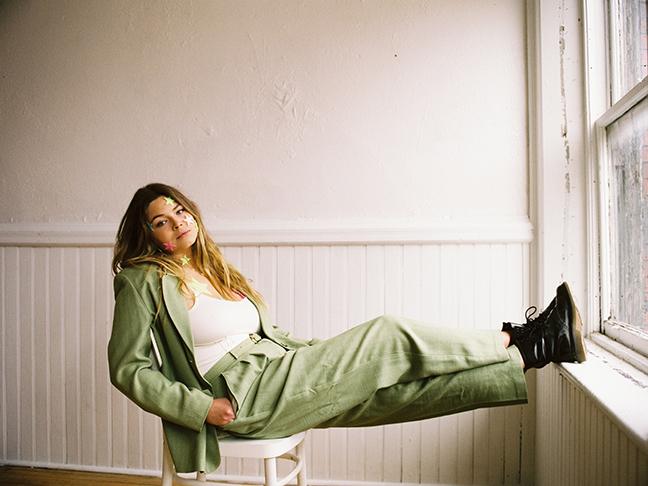 Fri Sep 11, 2020
Alt-folk Canadiana artist Kylie Fox celebrates the launch of her newest single "Avocado," a heartfelt, tongue-in-cheek letter-in-song to her friend (and first time mothers everywhere).
Watch and listen to "Avocado" here:
"There is a trend in millennial pregnancies where the process is tracked through an app that describes the mother's weekly progress," Fox explains of the song's context and inspiration. "Usually the videos make an effort to compare the size of the fetus to that of a fruit or vegetable.
"I was lucky enough to catch the screening of the 16-week video which told us that my friend's child was about the size of an avocado," she continues. "This song is a letter to a mom-to-be facing the uncertainties and excitements of expecting a first child."
That "Avocado" would become a personal ode to her friend and those who can relate is par for the course for the New Brunswick-based artist; this year's earlier release, "Cool Feet" was initially penned as a wedding gift to friends.
"I wanted to write a song for my friend's wedding," Fox shares of the track's origins. "I didn't want to write 'just another' love song, I wanted to write their love song.
"I called the groom and gave him an interview," she continues. "I was seeking some strange, obscure sentimentality in his answers, and I got it: he's a fisherman, so I asked 'when you are tired and uncomfortable at work, what do you miss about my friend?'
"He said 'her cold feet.'
"So… I set out to write a song about my friend's feet, but changed his answer to 'cool' because," she laughs, quite rightly pointing out, "you shouldn't sing about 'cold feet' at a wedding."
These two anecdotes — her friend's wedding and another's journey into new motherhood — succinctly sum up Fox's unique brand of song-based storytelling; "Cool Feet" and "Avocado" are a fitting examples of her sentimental soft-spot effortless intertwining with quick wit, signature sarcasm, and inherent empathy. In addition, the video for "Avocado" is Fox's first foray into stop motion and uses sentimental items near and dear to her and her family. "I had no previous experience with even cameras, and I made this video in two weeks using items my mom saved from my growing up," she says. "I also borrowed toys from my nephew and other 'avocados' in my community."
The third available off her forthcoming LP, Green — available September 18th — "Avocado" sets the tone for what's to come following her 2017 breakout EP, BalconyEP. The results teem with unmistakable genuineness and endearing charm, traits that have earned Fox an attentive audience coast to coast, and features on CBC, charting on earshot!, festival stage spots, and more.
"I recorded with Dale in his remote Nova Scotian farm house," Fox recalls of laying Green with East Coast Music Award-winning producer Dale Murray. "I would drive over from Saint John and stay for a night or two at a time throughout the summer to work on it.
"Dale's wife (and fellow ECMA-winning artist) Christina Martin is an insane cook. I would relish in the opportunity to ask them about bizarre touring stories and professional advice while we shared meals and a bottle of wine at the end of a work day. Christina even bought fireworks for the session drummer's birthday…
"The process was a dream."
For more visit:
kyliefox.us/
instagram.com/kylie_fox_music/
facebook.com/KyliefoxMusic
twitter.com/KyliefoxMusic
open.spotify.com/album/6hbK28AO1zq22nVuxR7Gl2?highlight=spotify:track:3mEspfjZt4KYjR8RiALTVC