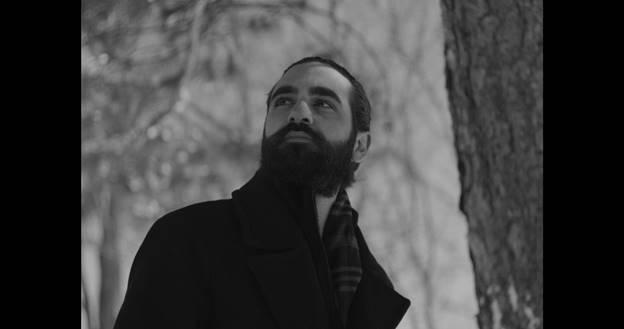 Fri May 08, 2020
Canadian singer/songwriter, composer, producer and screenwriter Anthony Aramouni has combined his ear for music and eye for film in this, his richly textural, hypnotically reverent tribute track, "L. Cohen" — available now.
"This is my attempt to pay homage to a man who has deeply touched my life through his music, words, and genuineness," Aramouni offers of his long-time adoration for the late Leonard Cohen. "He is forever inspiring me to strive for personal growth and excellence while remaining grounded in, what I think, ultimately unites us all as human beings — love, sacrifice, kindness, curiosity, ambition, gratitude, and all we deem sacred.
Watch L. COHEN - Homage by ANTHONY ARAMOUNI // Official Music Video here:
https://youtu.be/9dTxMiyb76o
With that sentiment deeply ingrained, the Montreal-based artist's long-time inspiration took ultimate hold one afternoon, seemingly out of the blue.
"I was in my apartment, strumming the guitar aimlessly," Aramouni recalls. "The progression of certain chords caught my attention and seemed to be laying themselves out with a certain promise.
"An idea dawned on me in that moment: to tell the story of Leonard Cohen and his muse, Suzanne Verdal."
That, and Cohen's 1976 classic hit, "Suzanne," specifically. 
"Taking from my personal experience with such short-lived yet incredibly giving relationships, I attempted to tell a universal — yet personal — tale of love and sacrifice," Aramouni elaborates on his own songwriting for the track. "It was only moments later the song was born."
The recording process would soon prove to be just as organic and seamless a process for Aramouni, who went into the studio to record a few weeks later. "I was accompanied by a brilliant musician and sound engineer in Montreal, Kento Kataoka," he shares. "The recording session was as agreeable as the songwriting process. It was not long before it was officially brought to life."
A tour de force and frequent fixture across many creative scenes, Anthony Aramouni's songwriting and productions have been featured in award-winning short films; his latest collaboration with soul/blues artist Eric Mercury is set to be featured in the forthcoming film — which he also co-wrote and is producing — Blue Tongues. In addition, Aramouni is the co-founder, CEO, executive producer and music supervisor of Montreal-based film house Film & Blues Production.
This experience naturally led to creating the "L. Cohen" video in-house, as well as a 'Making Of' detailing the process.
"I took the final version to film director Youcef Beghdadi here at Film & Blues Production to explore ideas," he recalls. "After several sittings, we decided to recreate shots inspired by a number of Cohen's music videos — like 'First We Take Manhattan' and 'Dance Me To The End Of Love' — and also find inspiration in the work of legendary film director Ingmar Bergman.
"We aimed at telling a visual story that would capture the essence of the song while paying tribute to the work done in his music videos," Aramouni expands. "I was blessed to be accompanied by a wonderful artist and writer, Claudia Emmanuelle, who's featured in the music video as well."
For more visit:
anthonyaramouni.com/
instagram.com/anthony.aramouni/
facebook.com/aramounimusic/
twitter.com/anthonyaramouni
open.spotify.com/artist/0vp4seVeILHwjfU4QAqcqk?si=fj_TOgxjTOu0SFiRJR8uBg