Fri Jun 09, 2017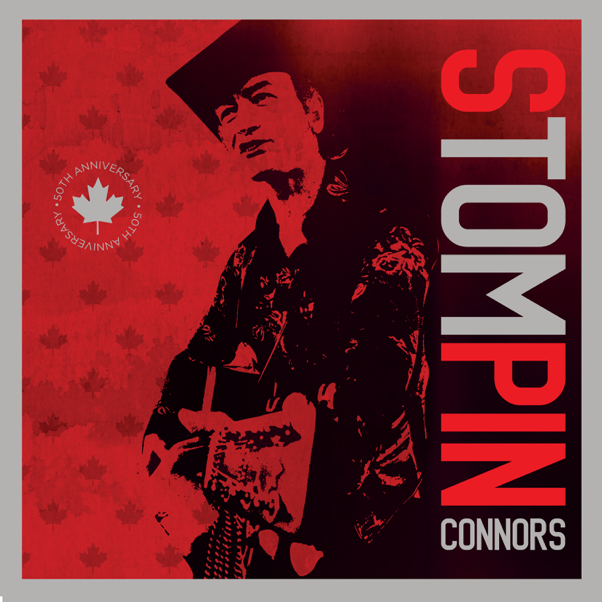 Anthem Legacy , an imprint of ole Label Group, is celebrating the 50th Anniversary of one of Canada's most prolific and iconic artists, Stompin' Tom Connors. June 30, 2017 (ole Label Group / Anthem Legacy) sees the release of the Stompin' Tom Connors 50th Anniversary self-titled CD. In association with Canada 150 and an introduction from NHL Legend and Hockey Hall of Famer Ken Dryden, this special edition release will include all of Stompin' Tom's timeless classics. The album also features four new renditions from notable Canadian Country stars including; The Cuddy/Polley Family Band, Corb Lund, George Canyon and Whiskey Jack.
"We're extremely excited and proud at ole to release this Stompin' Tom Connors collector's set, said Andy Curran, who is A&R'ing the project at Anthem. "We've managed to assemble a collector's edition that will satisfy the most loyal fan but also to excite a new generation of fans as these great songs really transcend generations and speak to all Canadians."
"On behalf of myself and Tom's family, we would like to congratulate ole on its first ever Stompin' Tom release, due out on the most fitting of days, July 1, 2017," said Tom Connors Jr. "It shows that ole is determined to be at the forefront of the Canadian independent music industry to promote and preserve the great talent this country has to offer to itself and the world, especially on this important 150th year of celebration. Three cheers to ole, and we look forward to working with them on many more great Canadian musical projects!"
On July 1, 1967, Tom Connors was performing at the King George Tavern in Peterborough, Ontario where he was introduced for the first time as "Stompin' Tom Connors". Fifty years later, Stompin' Tom has become one of Canada's most treasured artists. In honour of his musical legacy, the newly constructed Stompin' Tom Centre in Stompin' Tom's hometown of Skinners Pond P.E.I. will host an official grand opening on July 1, 2017. The centre will be home to a Stompin' Tom installation, a 120-seat performance space, snack bar, out-door deck, and gift shop, where Stompin' Tom's newly designed merchandise will debut. The grand opening will also feature the 1st Annual Stompin' Tom Fest from July 1-2. The two-day concert will feature live musical performances from Dave Gunning, JP Cormier, Gordie Mackeeman and the Rhythm Boys, Mike Plume and Minglewood with more artists to be announced in the coming weeks.
With his homespun and fiercely patriotic brand of music, Stompin' Tom's rich musical legacy includes Canadian country chart topping hits "Bud the Spud", "Luke's Guitar", "Sudbury Saturday Night", "Big Joe Mufferaw", "Ketchup Song" and Canadian anthem "The Hockey Song". Stompin' Tom's accolades include JUNO Awards for Best Male Country Singer (1971 - 75) and Country Album of the Year (1978), the East Coast Music Awards Lifetime Achievement Award, SOCAN National Achievement Award (1999), SOCAN Lifetime Achievement Award (2009), the Governor General's Performing Arts Award (2000), Toronto Musicians' Union Lifetime Achievement Award (2011), and was the subject of a postage stamp issued in Canada Post's recording artist series.
About Stompin' Tom Connors
Connors won the JUNO Award for best male country singer every year from 1971-75, and his LP To It and At It (1972), received a Juno in 1974 for Country Album of the Year. In 1978, however, he returned the awards in protest of JUNOs given to expatriate Canadians.
In 1993, Connors was to be inducted into the Canadian Country Music Hall of Fame, but declined the honour. He accepted the Lifetime Achievement Award from the East Coast Music Awards on the condition that an award was created to honour those who made a long-term contribution to the East Coast music industry and paved the way for other East Coast artists. The Stompin' Tom Award was established in 1996, and that year Connors was named an Officer of the Order of Canada.
He was a recipient of a SOCAN National Achievement Award in 1999, as well as the Governor General's Performing Arts Award in 2000. In 2009, he received a SOCAN Lifetime Achievement Award and was the subject of a postage stamp issued in Canada Post's Canadian Recording Artist series. The East Coast Music Awards honoured him on multiple occasions. Stompin' Tom Road in Skinners Pond, PEI is named for him and the Toronto Musicians' Union gave him its Lifetime Achievement Award in 2011. He also received honorary degrees from St. Thomas University, the University of Toronto, and the University of Prince Edward Island. This year he will be honoured with the Stompin' Tom Cultural Centre and Schoolhouse in his hometown of Skinners Pond, PEI slated to open on Canada Day.
For more information, visit www.majorlyindie.com