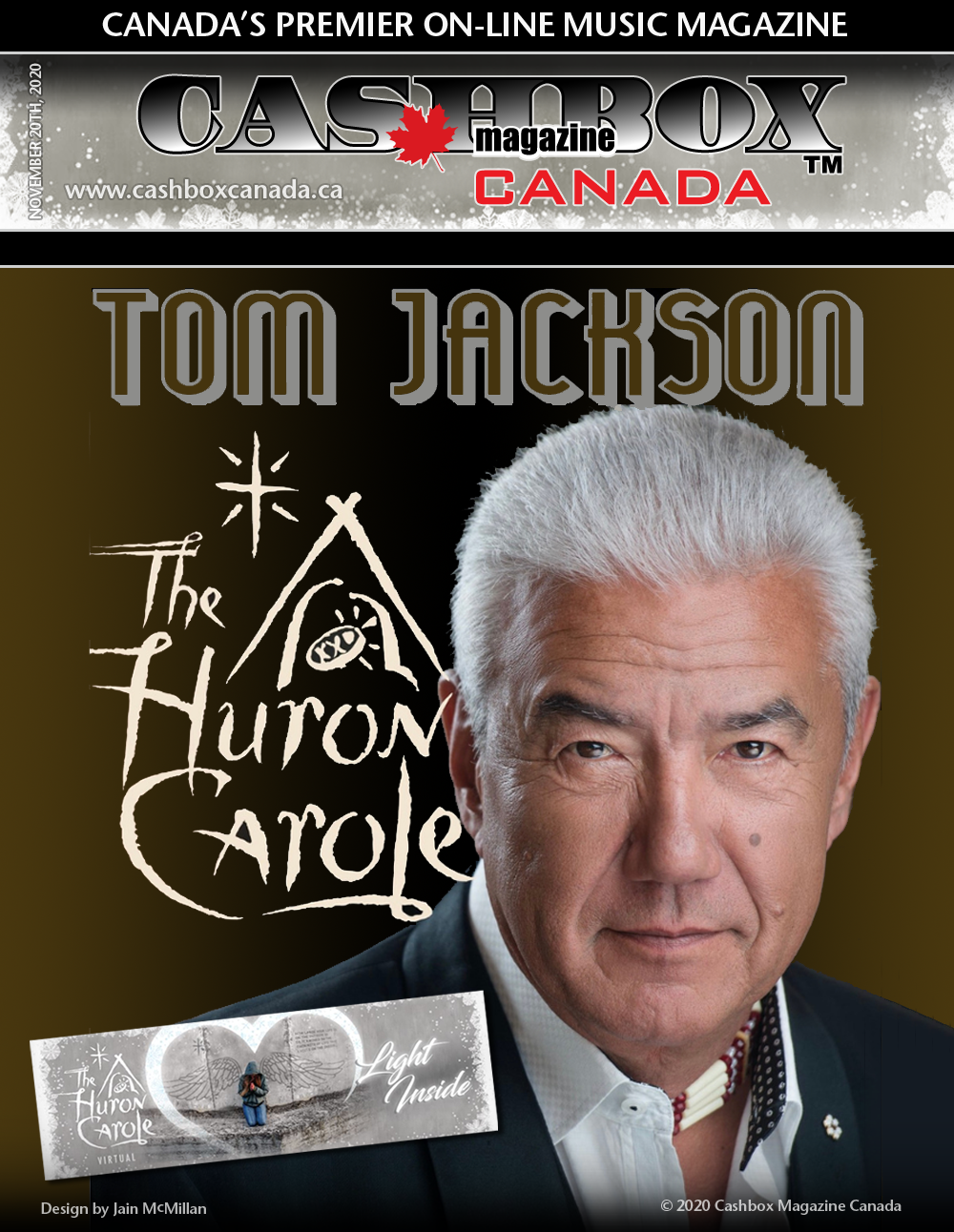 Fri Nov 20, 2020
For 32 Christmases Tom Jackson's Huron Carole has been a staple in Canada, touring the country bringing cheer and hope to the nation. But with the current pandemic, what will happen to Year 33? The need to social distance and travel limitations made for a huge obstacle in continuing this tradition.
Festivals and live events were being cancelled and postponed across the board but this was Tom Jackson we are talking about here. Tom is no stranger to stones in the road and fallen trees in his path. We caught up with him at his home in Calgary and the calmness and sense of resolve in his voice is something that soothes the nerves and gives a sense that every problem has a solution.
As the world adjusts to the changing live event landscape the team behind The Huron Carole and Almighty Voices have come up with a way to "Zoom" into your living rooms and office gatherings. Tom Jackson explains, "Under the cloud of these challenging times, I am of the opinion that food banks and those less fortunate in our world are going to be the ones most impacted by the current economic fall-out from COVID-19. This Christmas season is going to be different from any other.  It's going to require us, as individuals and as a society, to look inside ourselves for a light of optimism. A silver lining. We must treasure that light and hang on to that silver lining with all our might."
Watch and experience The Huron Carole Virtual Trailer - Ahead of the Curve, Out Front of Uncertainty here:
Although the 33rd season may look a little different this year due to COVID-19, the show, and its critical initiative to support local food banks and other social service agencies nationwide has already started to press on this November.
This year it will be a virtual event that can be accessed from home or a local venue's big screen within its regional social distancing protocol and allowances. The show is produced by Tomali Pictures Ltd. and Joe Media Group.
If you would like to create or be part of The Huron Carole Virtual please visit: huroncarole.ca/
The Huron Carole Tour Dates:
Nov. 24/20
07:30 PM
St. John's & Labrador City, NL
Arts & Culture Centres & Virtual
First Light NL & CFSA
Nov. 25/20
06:30 PM
Edmonton, AB
Nov. 28/20
07:00 PM
Kelowna, BC
Kelowna Rotary Centre for Arts Virtual
Central Okanagan Community Food Bank
Dec. 1/20
07:30 PM
Calgary, AB
Dec. 3/20
See buy link
Calgary, AB
Flores & Pine Restaurant & Virtual
The Magic of Christmas
Dec. 3/20
05:30 PM
Cambridge Bay, NU
Virtual
Indigenous Health Network CRCS (MT)
Mid Nov
Dec. 4/20
07:00 PM
Calgary, AB
Dec. 5/20
07:30 PM
Campbell River, BC
Tidemark Theatre Virtual
Dec. 6/20
07:00 PM
Swift Current, SK
Swift Current Lyric Theatre Virtual
The Salvation Army Food Bank
Dec. 7/20
07:00 PM
Saskatoon, SK
Saskatoon Food Bank Virtual
Saskatoon Food Bank
Mid Nov
Dec. 8/20
07:00 PM
Victoria, BC
The Mustard Seed Virtual
The Mustard Seed
Dec. 9/20
07:00 PM
Winnipeg, MB
Harvest Virtual
Harvest Manitoba
Dec. 10/20
07:00 PM
Calgary, AB
Dec. 11/20
07:00 PM
Calgary, AB
Calgary Folk Club Virtual
Calgary Folk Club
Dec. 11/20
07:00 PM
Surrey, BC
Dec. 13/20
07:00 PM
Edmonton, AB
Dec. 12/20
07:00 PM
Halifax, NS
Halifax Christian Academy Virtual
Halifax Christian Academy
Dec. 15/20
07:00 PM
Toronto, ON
Dec. 16/20
07:00 PM
Toronto, ON
CSARN Virtual
Canadian Senior Artists Resource Network
Dec. 20/20
08:00 PM
Ottawa, ON
Harmony Concerts Virtual
House of Lazarus
The Huron Carole presented in this virtual format is a world-class concert experience intended to leverage fundraising opportunities for varied hosts — from venues, to charities, to businesses. Supported in facilitating these private, ticketed events via Zoom, the financial and targeted impact for each host reaches beyond concert hall venues, and increases exposure for local sponsors, and partnerships with local businesses.
"It truly is a Christmas gift of hope, compassion, and love to raise funds and engage colleagues, friends, and family in support of others," Jackson says. "Miracles are not manufactured by the Creator; they are manifestations of the love the Creator bestowed on humans. Christmas is afoot, and COVID-19 restrictions are our next 'normal' for the foreseeable future; the time for creating miracles is upon us."

During these unique times it's time for us all to come together in love and share our light inside for there will never be another Christmas quite like this and we can show our love and support by participating in The Huron Carole experience.
In Tom Jackson's words, "This show will bring the gift of compassion, empathy, hope, laughter and joy. It is infused with creating health. It is a model of quality family entertainment. This is the perfect storm for love! We are at a point when families are searching out ways to maintain a healthy outlook. Authorities are encouraging a stay-home policy. So now our audiences get the gift of The Huron Carole, and they get to help others in the process."
The virtual presentation of The Huron Carole is not Tom Jackson's first foray into helping manage the impact of COVID-19; this Spring  Jackson launched and hosted 12 weekly artist-led episodes of Almighty Voices in support of the Unison Benevolent Fund (a non-profit registered charity providing counseling and emergency financial relief services to the Canadian music community). The series featured Governor General Julie Payette, Prime Minister Justin Trudeau, Susan Aglukark, Buffy Sainte-Marie, Shannon Gaye & Kristian Alexandrov, The Small Glories, The Travelling Mabels, Beverley Mahood, My My Sugar, Christina Martin, Cynthia Dale, The Royal Winnipeg Ballet, Alex & Tamen Jadad, Sarah Slean, Liona Boyd, the Calgary Philharmonic Orchestra, Edmonton Symphony Orchestra, Measha Brueggergosman, April Wine blues rocker/producer Myles Goodwyn, Blackie and the Rodeo Kings, and many more.
For Jackson, the act of giving comes naturally and spreads easily with his indefatigable energy to be on the look-out for those in need or responding to an unexpected crisis. To date, he has helped coordinate more than $230 million in funds and in-kind services to various charities and relief organizations, volunteers with Calgary's DOAP Team (Downtown Outreach Addictions Partnership), is an Ambassador for the Red Cross, has been appointed an Officer of the Order of Canada in 2000, received both the JUNO and Gemini Humanitarian Awards in 2007, and the Governor General's Performing Arts Award for Lifetime Artistic Achievement in 2014.
So this Christmas remember, a person's most useful asset is not a headful of knowledge but a heart full of love an ear ready to listen and a hand willing to help others. Peace on earth goodwill to all mankind.
The Huron Carole Virtual is nationally sponsored by Canada Life, a long-standing supporter for 24 years.
For more on Tom Jackson and The Huron Carole Virtual visit:
huroncarole.ca/
tomjackson.ca/
twitter.com/tomjacksonca
facebook.com/thehuroncarole/