Fri Jul 20, 2018
The Beaches International Jazz Festival is a 10-day music festival held each year in the lakeside Beaches community of Toronto in the month of July. Originally started in 1988, it is now one of Canada's largest free music festivals with nearly 800,000 attendees, throughout its 10-day span. The Festival takes place across a number of venues; stage concerts are held in several different parks within the area and also along a two-kilometre stretch of the Beach main street - Queen Street East.
Every year, the Festival brings in internationally acclaimed performers while also showcasing local talent, including "new generation" jazz musicians. The Festival now hires around 1000 artists per annum, including 50 bands for its "StreetFest" event along Queen Street East.
Now celebrating the 30th year of this amazing event, there is something for everyone visit www.beachesjazz.com to see the full schedule of events.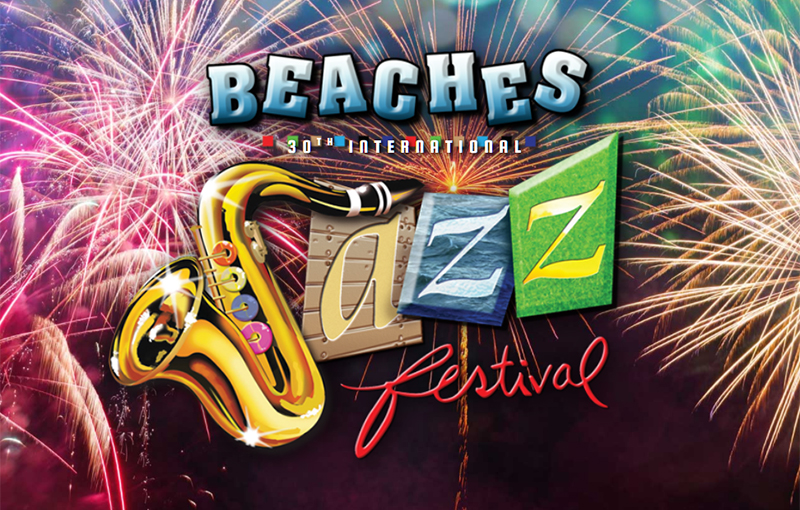 One of the most popular highlights of this event is the Streetfest, an incredible Mardi Gras feel where live music is booked on alternate sides of the street and the talent has become so eclectic it isn't just limited to jazz anymore. It is truly a music festival and there is something for everyone.
The Beaches Jazz Festival StreetFest Queen St. E. – July 26, 27, 28, 2018 – Queen St. E. (Woodbine to Beech). During Beaches Jazz Festival StreetFest, on the nights of July 26th, July 27th, and July 28th, Queen Street E. will be closed from Woodbine Ave. to Beech Ave. from 6:00 pm to 11:30 pm nightly. The north/south streets of Waverley Ave., Wineva Ave., and Lee Ave. will remain open throughout the evening.
Thurs. July 26, 7:00 pm – 11:00 pm
Fri. July 27, 7:00 pm – 11:00 pm
Sat. July 28, 7:00 pm – 11:00 pm
StreetFest is a Beaches International Jazz Festival signature event showcasing the finest in Big Band, Swing, Dixieland, Smooth, Afro-Cuban, Fusion, Funk, R&B, Ska and Soul sounds that Toronto has to offer. This season over 45 bands will entertain you along a closed to traffic 2.5 km stretch of Queen Street East located between Woodbine Avenue to the west and Beech Avenue to the east between 6:00 and 11:00 pm each night. It's an annual pilgrimage for tens of thousands of music enthusiasts who flock to the street on Thursday, Friday and Saturday during this final Festival week, to groove to the music, swing to the sounds and soak in the street scene and ambience. Each Band plays 4 half-hour sets from 7:00 to 11:00 pm nightly. Performance times are staggered between adjoining bands to maximize listening pleasure!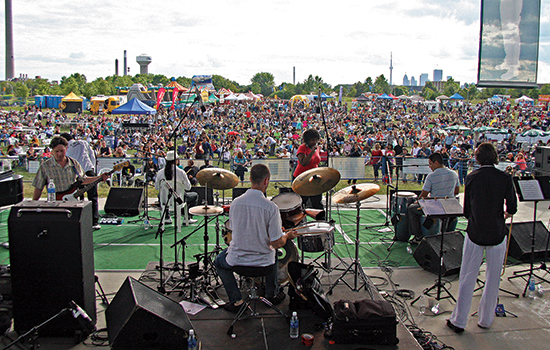 2018 Schedule and Locations SE Corner Queen & Woodbine – Samba Squad
Fire Hall NW Driveway – Blackboard Blues Band
1910 Queen St. E. – Breakwall BBQ – Clint Ryan and the Burgess Brothers
1920 Queen St. E. – Incurable Collector – Sol de Cuba
1921 Queen St. E.- Yum Croissant – Imbayakunas
1930 Queen St. E. – The Free Label
1928 Queen St. E.- Pizza Nova – Trio Blaze
1943 Queen St. E.- The Richards Group – Jane's Party
1953 Queen St. E.- The Beach House Bar & Grill – Johannes Linstead
1958 Queen St. E.- The Stone Lion – The Dirty B-Sides
1963 Queen St. E.- Yiannis Kapoulas
1970 Queen St. E.- BAM Bistro – Jenie Thai Band
1974 Queen St. E. – Seagull Classics Ltd. – The Seagull All-Stars
1980 Queen St. E. – The Salty Dog – Stacey Renee
2000 Queen St. E. Kew Gardens West Entrance – Old Man Flanagan's Ghost
1985 Queen St. E. – Casa Mia – RainDogs
2018 Queen St. E. – Hero Certified Burgers – Sean Turner Band
Beach Public Library Gardens East Entrance – The Achromatics
2169 Queen St. E. – Coles – Downtown Dixieland Band
2175 Queen St. E. – RBC – KC Roberts & The Live Revolution
2187 Queen St. E. – Meridian Showcase – T.Dot Batu
2193 Queen St. E. – Beauty Supply Outlet – GRACE
2076 Queen St. E. – Gabby's – Johnny Max Band
2084 Queen St. E. – Hair Dynamix – MOKA
2205 Queen St. E.- Toronto Beach Dental – Kim & Company
2215 Queen St. E. – Beach Hardware – Turbo Street Funk
2233 Queen St. E. – Queen Compact Cars – Neil Chapman
2114 Queen St. E. – First Choice Hair Cutters – The Metro Big Band
2257 Queen St. E. – Sleep Country Canada – Quincy Bullen
2130A Queen St. E. – Beaches Wellness Centre – The Sidewalk Crusaders
2271 Queen St. E. – Beach Kids Dentistry – Funny Funk Band
2301 Queen St. E. – Royal LePage Estate Realty – Project Phoenix
2148 Queen St. E. – Swiss Chalet / Edward Jones – Toronto All-Star Big Band
2152 Queen St. E. – Real Estate Homeward – Blue Room
2162 Queen St. E. – Beacher Café – Patrick Tevlin's New Orleans Rhythm
2180 Queen St. E. – Essentia-Natural Memory Foam Mattresses – The Rockin Mojos
2186 Queen St. E. – No Bones About It – Duane Forrest
2198 Queen St. E. – Arts on Queen – The Jerome Tucker Band
2343 Queen St. E. – Veloute Bistro – Joy 4 Soul
2208 Queen St E. – Winexpert – Glendale One
2212 Queen St. E. – Beaches Health Group – United Soul Nations
2232 Queen St. E. – Outrigger – The Salida Project
2375 Queen St. E. – James Valdez
Balmy Beach Club (foot of Beech Ave.) – Thurs. + Fri.: The Paul James Band,
Saturday: The Collective All – Star Band
With road closures regular transit and traffic is limited but there is still easy access to get to the festival.
DRIVING DIRECTIONS TO THE FESTIVAL SITES
Make your destination ENTRY Woodbine Park, Toronto, ON or Queen St E & Woodbine Ave., Toronto, ON
https://maps.google.ca/maps/myplaces?t=m&z=16
TTC ROUTES TO THE FESTIVAL SITES
For TTC schedules and trip route details make your destination ENTRY Woodbine Beach Park or Queen St E @Woodbine Avenue.
http://www.ttc.ca/Trip_planner/index.jsp
For more information, you can log on to view the 2018 Programme of The Beaches Jazz Festival
http://online.anyflip.com/tdfr/qbub/mobile/index.html