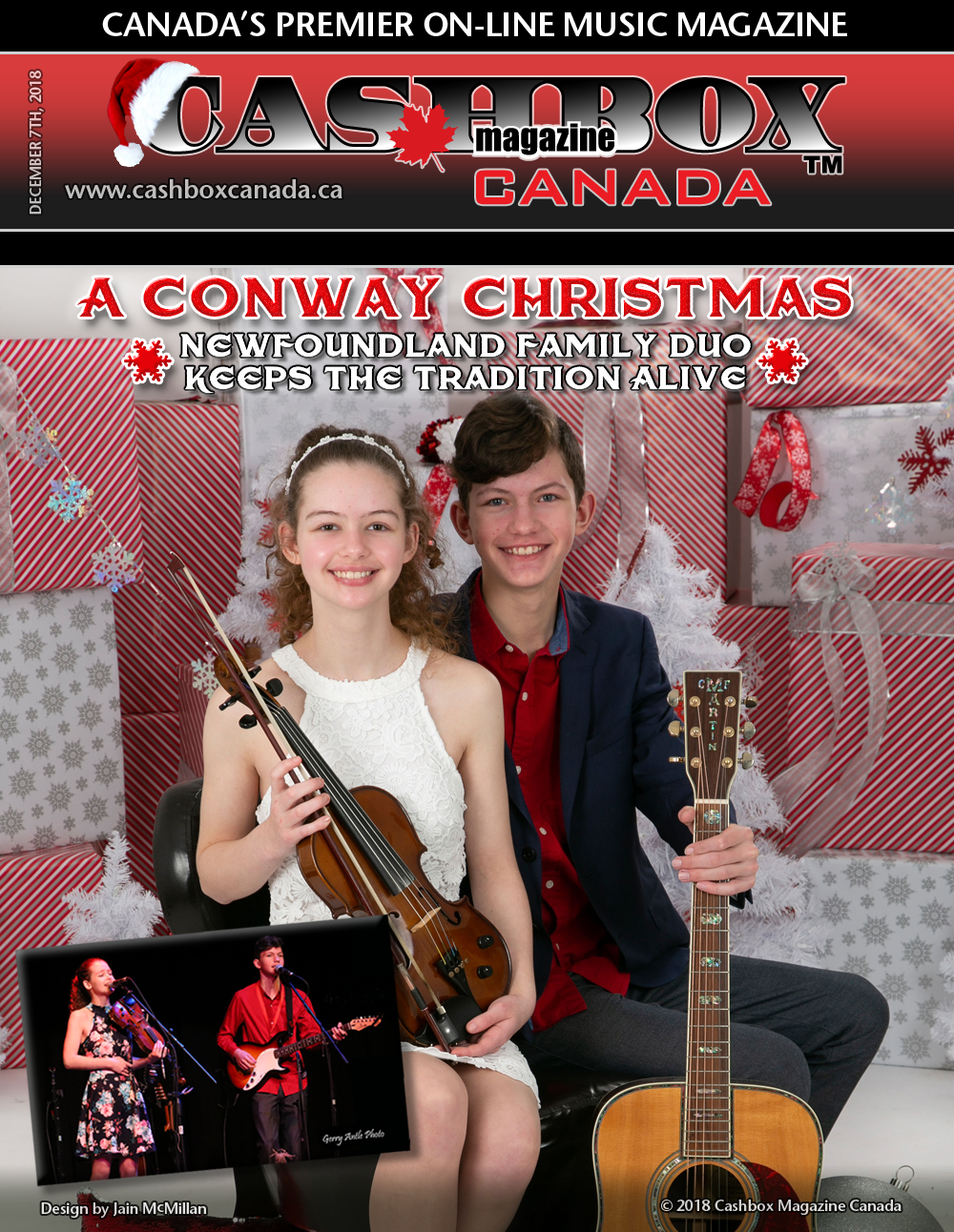 Fri Dec 07, 2018
Preparations for the Christmas season means a lot of hustle & bustle. It's especially true for teenagers Emily & Thomas Conway, the duo known as CONWAY.
A jam-packed schedule over the past month saw them perform at the iconic St. John's pub, O'Reilly's, the province's cultural hotbed The Rooms, and this Christmas season, their first ever television special will air.
The Mount Pearl duo just recently taped the holiday special, which will be broadcast on NTV, Newfoundland & Labrador's independent broadcaster, province-wide, and the station is also available on many cable systems across the country, as well as internationally in Bermuda.
"We're very excited about this opportunity," Emily tells Cashbox Magazine Canada. "We have some amazing talent joining us."
It's especially impressive, considering they haven't released their first album yet.
The special, which is scheduled to air on NTV December 23rd at 3:30 pm ET, & rebroadcast on Boxing Day at 9:30 am  ET, will feature CONWAY along with appearances by recent Cashbox Canada cover artist Rachel Cousins, and rising young local performers Darcy Scott & Jenna Maloney. The St. Peter's Youth Choir will also perform on the special.
It won't be the first time the duo has performed on NTV, however. They've showcased at the annual Janeway Hospital Miracle Network Telethon & the Children's Wish Telethon, both filmed by the television station, and it was those appearances that caught the attention of the station's management.
"Thanks to that, we were fortunate enough to get this opportunity," Emily says, grateful for the chance to showcase their group to a wide television audience. If that wasn't enough, they were also part of a kitchen party event that was filmed for the Rogers Hometown Hockey program during the show's recent stop in Mount Pearl.
The Newfoundland traditional duo has been making waves on the local music scene in Canada's most easterly province for a few years, despite the fact that Emily is only sixteen and Thomas is thirteen. They have showcased at the iconic George Street Festival in St. John's, East Coast Music Week, the inaugural Live At Heart Newfoundland conference on the Burin Peninsula, the Newfoundland & Labrador Folk Festival, MUSICNL functions and many other festivals & events around the province. With over 200 performances under their belts already, their mix of Celtic & folk has proven popular with many, and the potential is there for the group to make waves internationally.
Their recent appearance at the Live At Heart Newfoundland in October was a real eye-opener when it came to international performance opportunities for the duo.
"Live At Heart Newfoundland was a big deal," Thomas says of their showcase performances for a who's who of national & international music industry movers & shakers. "Definitely," Emily adds. "Just having the opportunity to go to that was astounding."
Add to that, the group can perform as just as a duo, or if needed as a five-piece band with friends of theirs. "When it's just the two of us, it's easier to get around and get things prepared," Emily says. "On the other hand, a full band can add lots of layers, with harmonies and backing vocals that can really add to a song. There are advantages to both."
The group first got their love of music from being part of the St. Peter's Church Youth Choir in their hometown. "The first time we ever played outside of church together was at the LSPU Hall," Thomas says. "It just grew from there." The LSPU Hall in St. John's is a historic theatre venue where some of Newfoundland's biggest names, like Rick Mercer, Mark Critch, Ron Hynes, Jonny Harris and CODCO all got their start. Now Conway is hoping they can follow in those famed footsteps.
So how is it being in a group with your sibling? "Actually, being siblings has its advantages," Emily says. "We don't have to plan out rehearsal days or go out to meet up. If we have an idea musically, we can just go for it, since we're probably within ten feet of each other, living in the same house." "We get to spend a lot of time as a family together," Thomas states but adds there is the occasional disadvantage.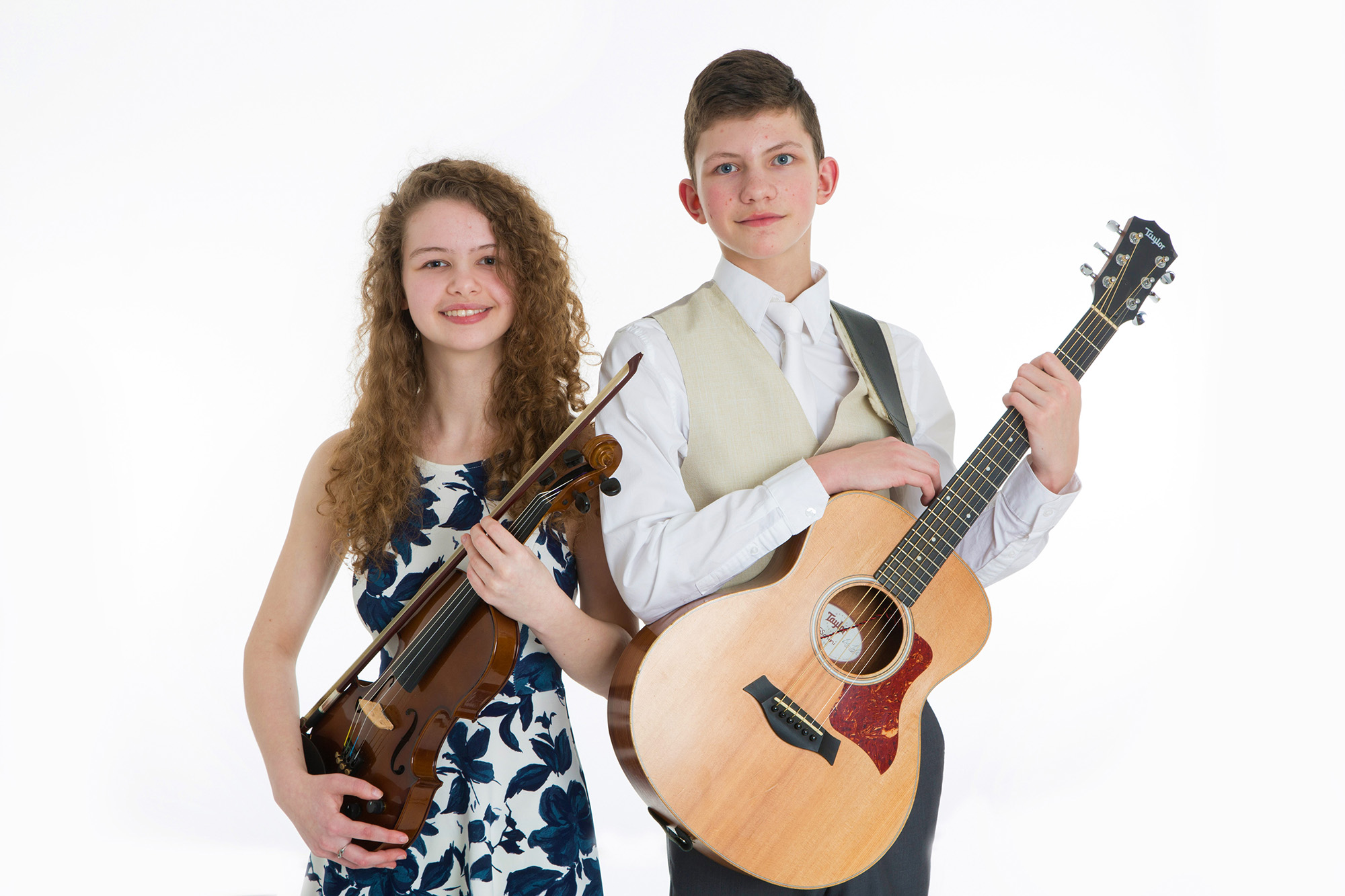 "We have the urge to rehearse at different times," he says. "I'm ready for bed, and Emily goes, 'Come on! Let's do this song.'"
Singing & performing is just something that is natural to them both. Besides the group, the two are involved with their church choir and Emily is also involved with the popular Mount Pearl Show Choir.
"The first job I ever can remember wanting as a child was to be a singer," Emily states. "Ever since I was born, I think being a musician was something I always wanted to do."
The musical skills the two teens have are quite evident when you see them perform live. Emily plays piano, guitar, fiddle, mandolin, clarinet, tin whistle & the bodhran while Thomas plays guitar, fiddle, bass and harmonica. Violin is a special instrument for Emily.
"Not many people my age play the violin so it has that unique factor," she says. "Plus, it's useful for pretty much any genre. I'm the most comfortable with it as well since I've been playing it the longest."
The band has also been hard at work preparing for their first album. The group takes a team approach when it comes to their songwriting.
"I take inspiration from a lot of places," Emily states on her songwriting. "I'm inspired by situations in my life. If I feel a certain way about something, I'll write about my feelings." She adds that other people's lives can be an inspiration, as well. "The world has interesting stories to tell."
The two usually work on a chord progression together and think of a theme with some basic ideas.
"I'll take a look at those, and come up with lyrics & add to the arrangement," Emily states. "Quite a few of the songs we wrote for our album are based on a message or theme we believe in."
For now, the group continues to perform as much as it can, garnering inspiration from other Newfoundland folk/traditional groups making waves across the country. "I feel like a lot of local groups have influenced us and our song choices over the years," Emily states. "The Once, Fortunate Ones, The Ennis Sisters. So many, too many to name, for sure."
During their performances, they can also pay homage to Newfoundland originators the Wonderful Grand Band, or international superstars like Van Morrison or Ed Sheeran. It's an impressive diversity for a younger group.
While Celtic and folk music groups are hugely popular in Newfoundland and Labrador, CONWAY has a belief in their own vision and contribution to the genre. "I think we want to be unique, & new" Thomas says. "I agree," Emily adds. "We definitely take influence from other artists, but we aspire to be something new rather than be similar to someone else."
Performing live remains the ultimate experience for them both. "I love performing," Emily states. "If I love a song I am singing, I'm showing it to others. If they enjoy what we are putting out there, it means a lot to me. I like putting our music out there." "I think I enjoy all of it," Thomas adds."Being up on stage and giving it your all in a performance is a really cool feeling."
CONWAY is also glad they are part of Newfoundland's next musical wave of young performers who are turning heads with their talent, with Thomas stating, "It's awesome." "There are so many great performers here, with not only talent, but determination," Emily adds proudly. "They're going out there, finding the venues, writing their own songs, releasing their own music, and all working together. We've performed alongside many of those amazing artists, and we're always impressed by the local talents that we meet. Being a part of that group of performers is truly something special."
The future is definitely looking bright for the CONWAY family duo, and their 2019 resolution is simple. Making and performings that captivates not only here at home in Newfoundland, but spreading that tremendous musical talent to as many new followers as possible.
I suspect that resolution will be a successful one, sooner than later.
For more visit www.conwayfamily.ca
Editor's Note: I had the pleasure of seeing CONWAY at Live at Heart Newfoundland this past October. In the current day of angry songs, blurred lyrics and musical offerings CONWAY was a breath of fresh air. The family values shine through, the talent is strong and can only get better from here. CONWAY gives hope for the future of music.