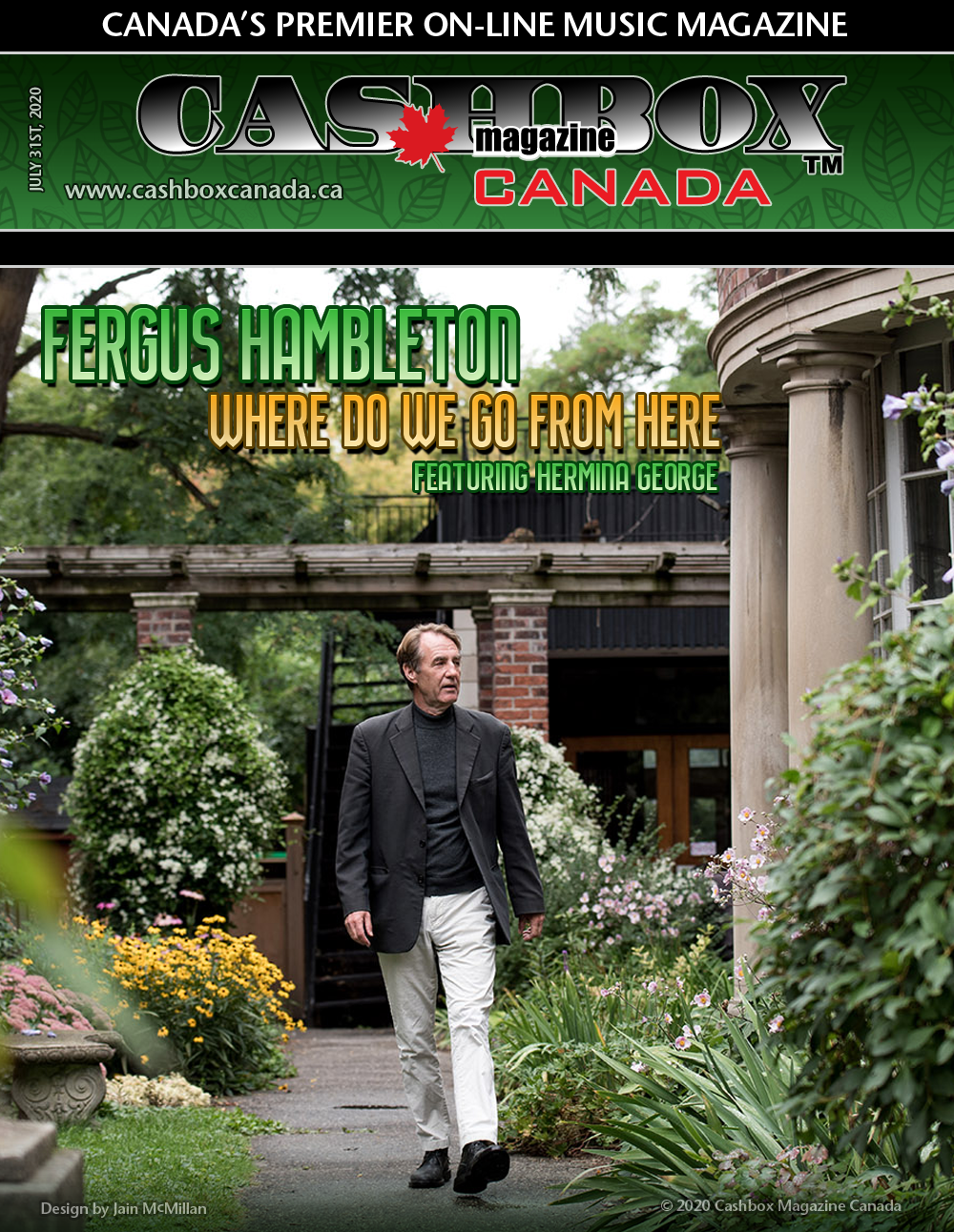 Fri Jul 31, 2020
Cover Photo Credit: Laura Proctor LPPhotographs
If you have any knowledge of the Canadian music scene, then the name Fergus Hambleton is one you will know. If you don't know the name Fergus Hambleton then you should. Fergus Hambleton, a versatile singer, songwriter, composer and multi-instrumentalist from Toronto, Canada has been prominent in the folk, pop and reggae fields for many decades. He was a member of many Toronto bands in the 60s including A Passing Fancy, a popular Yorkville group, as well as being signed to Capitol Records Canada and releasing two folk-rock albums, "All The Right Noises" and "Town Of Fergus".
In the 70's Fergus began doing sessions as a sax player with the Jamaican community in Toronto. A stint as a guitarist in Leroy Sibbles (of The Heptones) band and countless sessions led to a meeting with the legendary Jamaican musician, Jo Jo Bennett. Since then, they've had a 40 year musical partnership that has earned them both a unique place in Canada's rich musical tapestry as the core of the popular reggae band The Sattalites.The Sattalites have had a successful musical career with numerous high-profile performances, 6 studio albums, two Juno Awards and a host of national as well as international awards and accolades. Fergus has also released a number of solo albums "Snapshots" in 1998, "Playtime" in 2009 and "Written On The Wind" in 2015.
Catching up with Fergus Hambleton at his home in Toronto, you can feel the positivity in his voice and he sounds like a kid in his 20's when he talks about his love of music. He is like a walking musical encyclopedia, with a vast knowledge of the songs from yesterday and today, weaving his influences through his own material, having been influenced by so many artists of the past but also he seems to have his foot planted in both the past and the current sounds of today.
"I love all genres of music.I have obviously been very influenced by the reggae sounds I have been surrounded by for years, but I also love folk, rock and trad sounds. One of my favourite things to do is take old classics and put a new spin on the arrangements. It always shows that a good song will always be a good song."  This shows if you check out any of his YouTubes offerings like 'Too Late to Turn Back Now' (Cornelius Brother and Sister Rose) or "Gimme a Little Sign' (Brenton Wood) and then recently tackling Beatles tunes like "Blackbird" and the almost forgotten gem "Tell Me What You See".
November 2019 Fergus Hambleton released  'Neigbourhoods" an 11-song album that takes listeners on a musical journey. The album feels like a stroll through neighbourhoods real and imagined. Hambleton has taken that stroll and woven strands of reggae, pop, folk and rock across its frame, filigreed with gorgeous at times medieval-sounding harmonies that bring extra texture.
This album is an eclectic mix of what Fergus explains is like walking through neighbourhoods, both metaphorically and physically.
"I wanted to capture the unique feeling in different areas in the city and beyond. When you take a walk through certain neighbourhoods, each one has their own magic; it's the same when you walk through the memories in your mind. 'Neigbourhoods' was all about that for me. Some songs I have released were written years ago, some just in July. I am lyrically driven as well as the diversified musical genres I am embrace, so it is the kind of album that musicians used to make because they loved getting together to create music.  There are so many parts that I love in the making of this record, from the fact I used my Dad's recorders on Lover's Lullaby to the B3 Hammond sounds as well as having my son play on the record. It really was a wonderful experience."
Which leads us to his  latest single release that is not on the album and a current favourite of mine, "Where Do We Go From Here". It is so lyrically driven that we can all relate to when we have been faced with a challenging love relationship.
"In early July, LA (the Jamaican artist who collaborates with Hambleton) came up with this great music and I said, yes! I can write lyrics for that! And so "Where Do We Go From Here" was written, recorded and now released, all within a month."
It is a call and answer song, featuring the ultra-talented Hermina George, with the 'back and forth' being about not ever letting the other person know the depth of your feelings to the answer being I have put that all behind me. I am sure when you hear it, you can claim the lyrics as part of an experience you have had yourself. I know I can.
So "Where Do We Go From Here"? With Fergus Hambleton this only means more recordings, more writing and more to offer his friends and fans. "I have been busier during COVID-19 than I have ever been. It is a tumbling of new songs, constant time in the studio laying down tracks (some just for fun) and my creative side is overflowing at the moment. I look forward to getting my music out on a global level and to share that excitement."
The music of Fergus Hambleton is a 'must have' for any music lover, and he has managed to maintain a career in this business, while staying true this own self. Quite an accomplishment for this unique and musically diversified artist.
For more on Fergus Hambleton visit:
https://soundcloud.com/fergus-hambleton
fergushambleton.com/
facebook.com/fergus.hambleton
twitter.com/hambletonfergus
instagram.com/fergushambleton/?hl=en
To purchase Fergus Hambleton 'Neighbourhoods' amazon.com/gp/product/B07YN2JPYW
Editor's Note: "Where Do We Go From Here" is currently featured as a Top 20 Pick Hit for August on Cashbox Radio and will have an upcoming video shortly produced by Hambleton and his musical team.