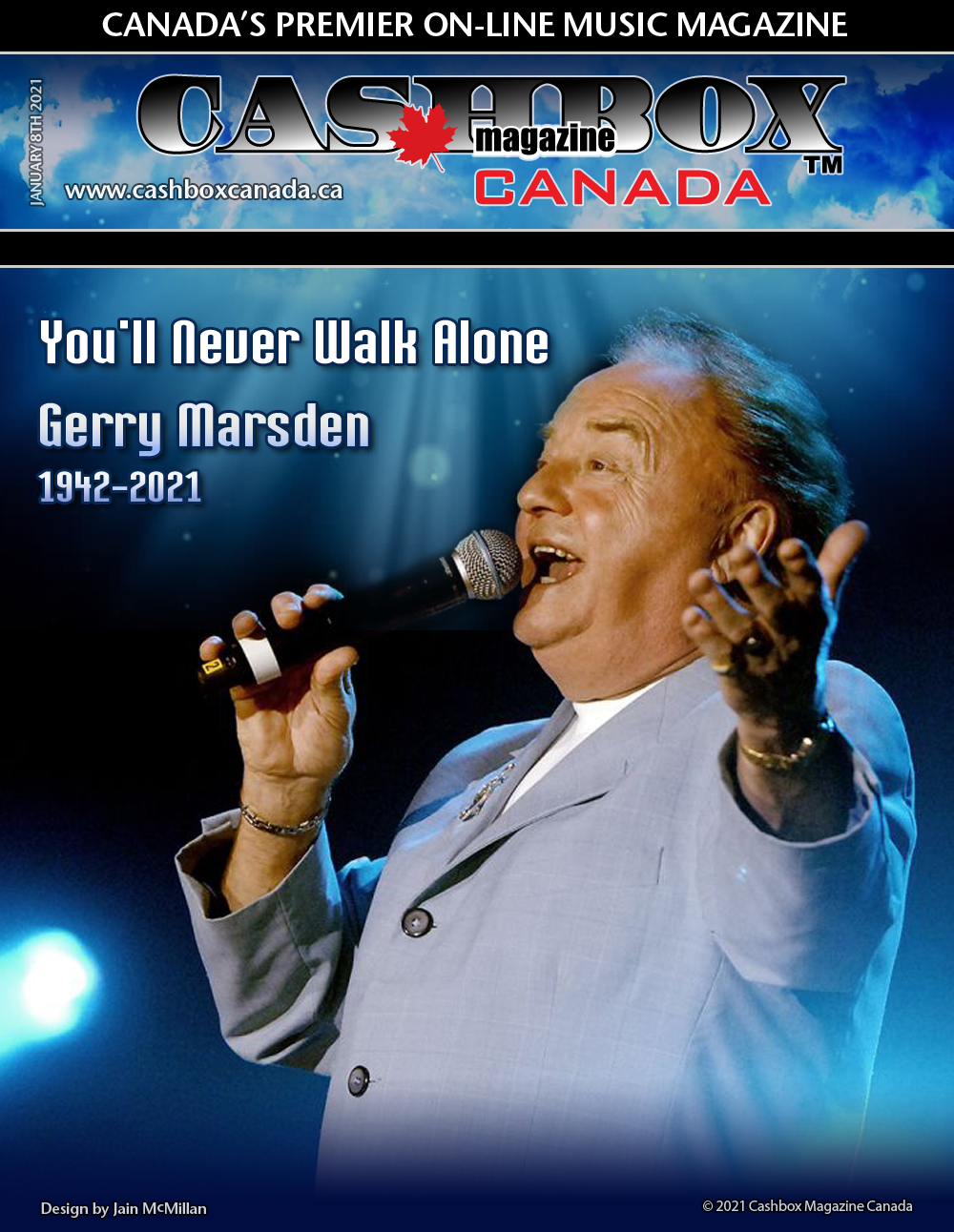 Fri Jan 08, 2021
I have been struggling for days to write this story after hearing that Gerry Marsden had passed away on January 3, 2021 from complications of a heart infection.
For me personally, it was a hard one to accept, Gerry Marsden was gone and I had lost a friend.
So writing this I struggled because Cashbox needed to acknowledge this amazingly talented singer, songwriter and philanthropist and truly a brilliant stage performer, but having worked with him on tour, I didn't want to make this too much about me, and how his death affected me for the last few days.
I had called his mobile a few weeks ago to try to set up an interview with our Station Manager at Cashbox Radio, Peter Astedt, get some station IDs and do a story in both Cashbox Canada and Record World Magazine. I did not get to connect but I just put that down to Christmas and the holidays. Little did I know that a few weeks later I would hear Gerry had passed away.
Gerry Marsden was, of course. a British Invasion legend, being one of three acts that were managed by Brian Epstein, the other two being Billy J. Kramer and another Liverpool group called The Beatles, as well as being produced and recorded by Sir George Martin.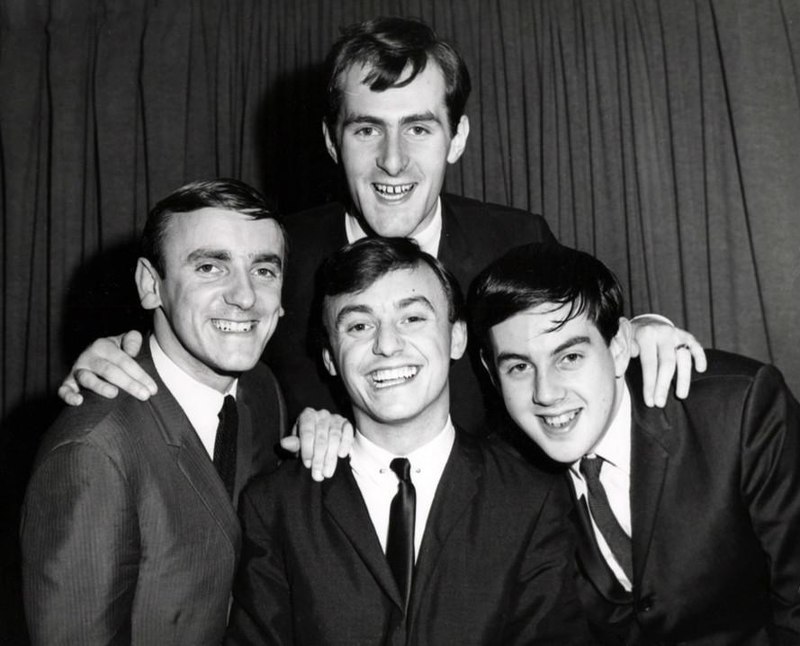 Gerry Marsden formed the group in 1959 with his brother Fred, Les Chadwick, and Arthur McMahon. They rivaled the Beatles early in their career, playing in the same areas of Hamburg and Liverpool. McMahon (known as Arthur Mack) was replaced on piano by Les Maguire around 1961. The group's original name was Gerry Marsden and the Mars Bars but they were forced to change this when the Mars Company, producers of the chocolate Mars Bar, complained
With accomplishments that are many, Gerry and the Pacemakers were instrumental in being part of the 1960's Merseybeat sound. From the man himself, "The Beatles and ourselves (The Pacemakers) – we let go, when we get on-stage. I'm not being detrimental, but in the south, I think the groups have let themselves get a bit too formal. On Merseyside, it's beat, beat, beat all the way. We go on and really have a ball.'
With his death, there came an outpouring on social media about Gerry and how his songs and concerts touched people around the world.
I first met Gerry Marsden when he was coming to Canada around 1995 and I was hired to do his PR. I was to call him in advance in Liverpool to set up advance phoners and on site press when he arrived here. I was nervous as a school girl (just about the age when I heard his first records) but he immediately put me at ease with his scouser humour; I was later to learn that 'piss off' meant he liked me.
The tour was Gerry and the Pacemakers, Billy J. Kramer and Terry Sylvester of The Hollies. It was brilliant.
I was invited to the UK for some other meetings and when I took the British Rail to Liverpool, I was met by Gerry Marsden in the railway station, standing beside a drunk man basically on the platform in arrivals, who Gerry kept shaking and saying 'Get up Freddy, Sandy has come all the way from Canada to see us'. (Freddy being Freddy Marsden who was his brother and drummer in the band) Of course, the drunk was a stranger and this is when the history of Gerry 'taking the mickey out of me' began.
I had booked a hotel but Gerry insisted I stay with him at his home in the Wirral just outside of Liverpool with his lovely wife Pauline. I was flattered but again a little intimidated being with someone who has of great stature in my history of music. I got to know the man, who told me how he met Pauline (he stole her from George Harrison but that is another story) and she was his child bride, and still was the love of his life right to the end. I went to bed in their guest room and in the middle of the night I woke up with a bit of a panic attack thinking 'I saw Gerry and the Pacemakers when they were on Ed Sullivan!'. He was a gracious host, taking me to dinner where he had arranged for a Canadian flag to be at the restaurant, I went on the Ferry Cross the Mersey where his song was blaring on the speakers, a tour of Liverpool (that included a drive-by of Paul McCartney's house) and a visit to the Cavern. While in Liverpool, I met The Swinging Blue Jeans, The Searchers, and Brian Poole of The Tremeloes.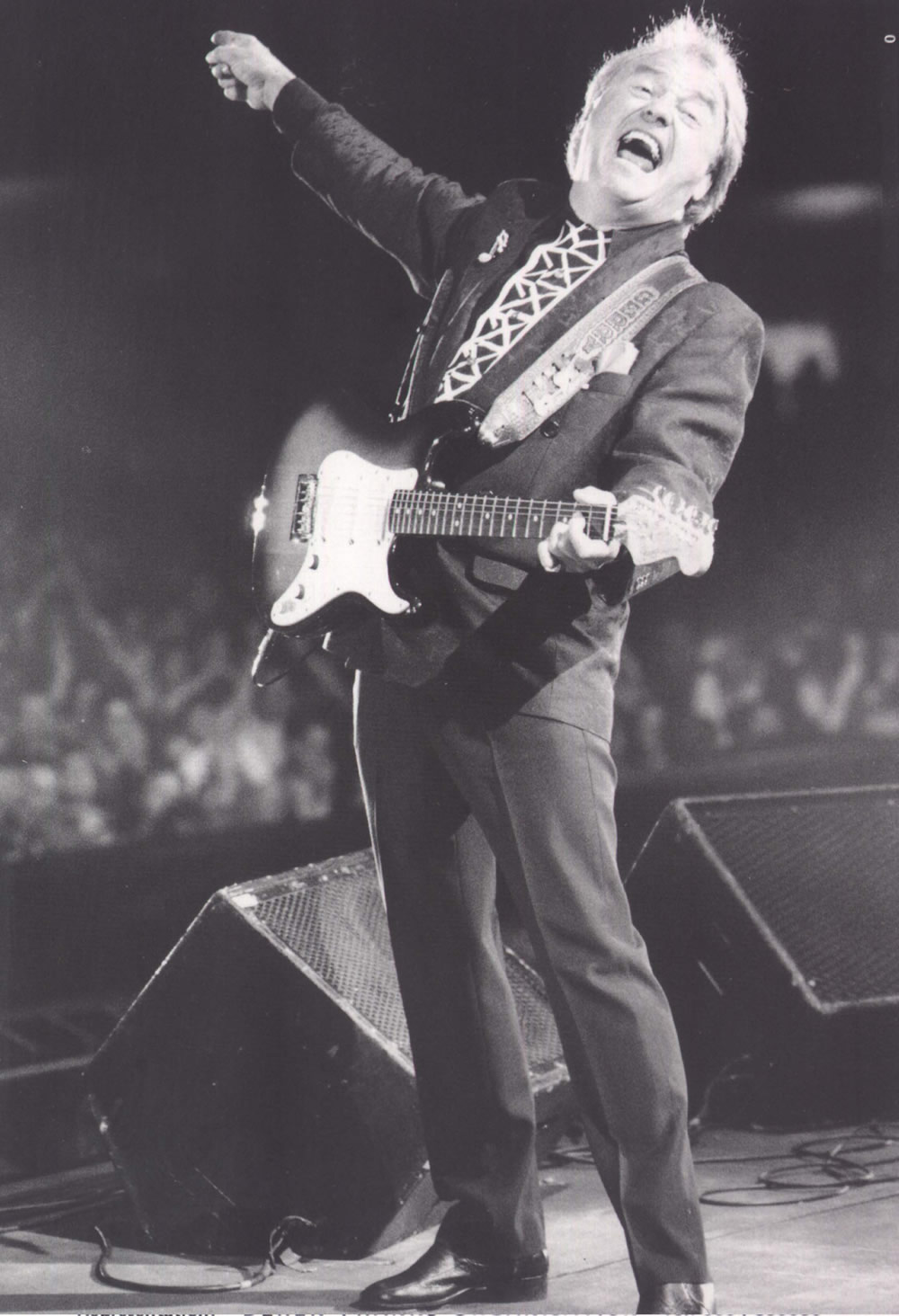 Gerry came back to Canada in the late 90s where we did a tour again in Ontario, and a legendary concert at the Danforth Music Hall with 1050chum featuring the Two Countries of Rock 'n' Roll, Canada's own Bobby Curtola opening up for Britain's Gerry and the Pacemakers. It was standing room only, and there were scalpers at the door. When he left Canada I gave him a very expensive bottle of ice wine which he pocketed but didn't say much. Upon his return to the UK he called me saying 'Oh Shit, Sand (he never said Sandy) I had no idea how expensive this was until Pauline told me. I thought you were just cheap giving me a small bottle of wine."
I called him a few years ago after his triple bi-pass surgery and told him he could now rename the group Gerry and his Pacemaker. His retort can't be written here due to profanity laws. When he would call me in Canada back then, if my children would answer the phone he woud tell them to say it was 'Gerry Cross the Mersey'. I took both my boys on the road with him when they were little and there are stories to tell from that as well but now to his history.
In the early sixties, Gerry and the Pacemakers worked the same Liverpool/Hamburg circuit as the Beatles and many other groups before being signed in 1962 by manager Brian Epstein, as his second group after the Beatles.
The following year, under the direction of producer George Martin, they burst on the scene with three consecutive No.1 hits –"How Do You Do It", "I Like It" and "You'll Never Walk Alone" – proving themselves serious competitors to the Beatles.
When asked if he was jealous of The Beatles he quipped, "of course not, we had a keyboard player!"
Over the next few years, most of the Pacemakers subsequent hits were actually written by Gerry Marsden, including ""It's All Right", "I'm the One", "Don't Let The Sun Catch You Cryin'" and "Ferry Cross the Mersey"(also the name of a film in which they starred and which was dubbed the Gerry and the Pacemakers version of 'Help', The Beatles movie.
The group disbanded in 1966 but was reformed by Gerry in 1974.  They continued to tour in the UK and worldwide – "I love being on stage performing for people all over the globe", said Gerry – and audiences continue to flock to their concerts. "Gerry Cross The Mersey" was a journey down memory lane with Gerry performing all the great songs from his repertoire interspersed with stories and anecdotes from his days on the road.  Gerry loved performing this show as it afforded him the opportunity to really connect with his audience.
But his signature song which he did not write will always be 'You'll Never Walk Alone', a Rodgers and Hammerstein song from the play Carousel which he had heard as a young lad and always loved. The title song was revived in 1989 as a charity single for an appeal in response to the Hillsborough football crowd disaster, giving Marsden – in association with other Liverpool stars, including Paul McCartney and Frankie Goes to Hollywood's Holly Johnson. "You'll Never Walk Alone" is still played at the Liverpool FC games, whether they win or lose.
Gerry Marsden announced his retirement on 29 November 2018, in order to spend more time with family, but, on 6 June 2019, to commemorate Liverpool's win against Tottenham in the Champions League, he surprised Take That fans by singing "You'll Never Walk Alone" at their show at Anfield
Gerry Marsden is gone but his music lives on and his reminder to us all "You'll Never Walk Alone."
For more on Gerry and the Pacemakers visit: http://www.gerryandthepacemakers.co.uk/