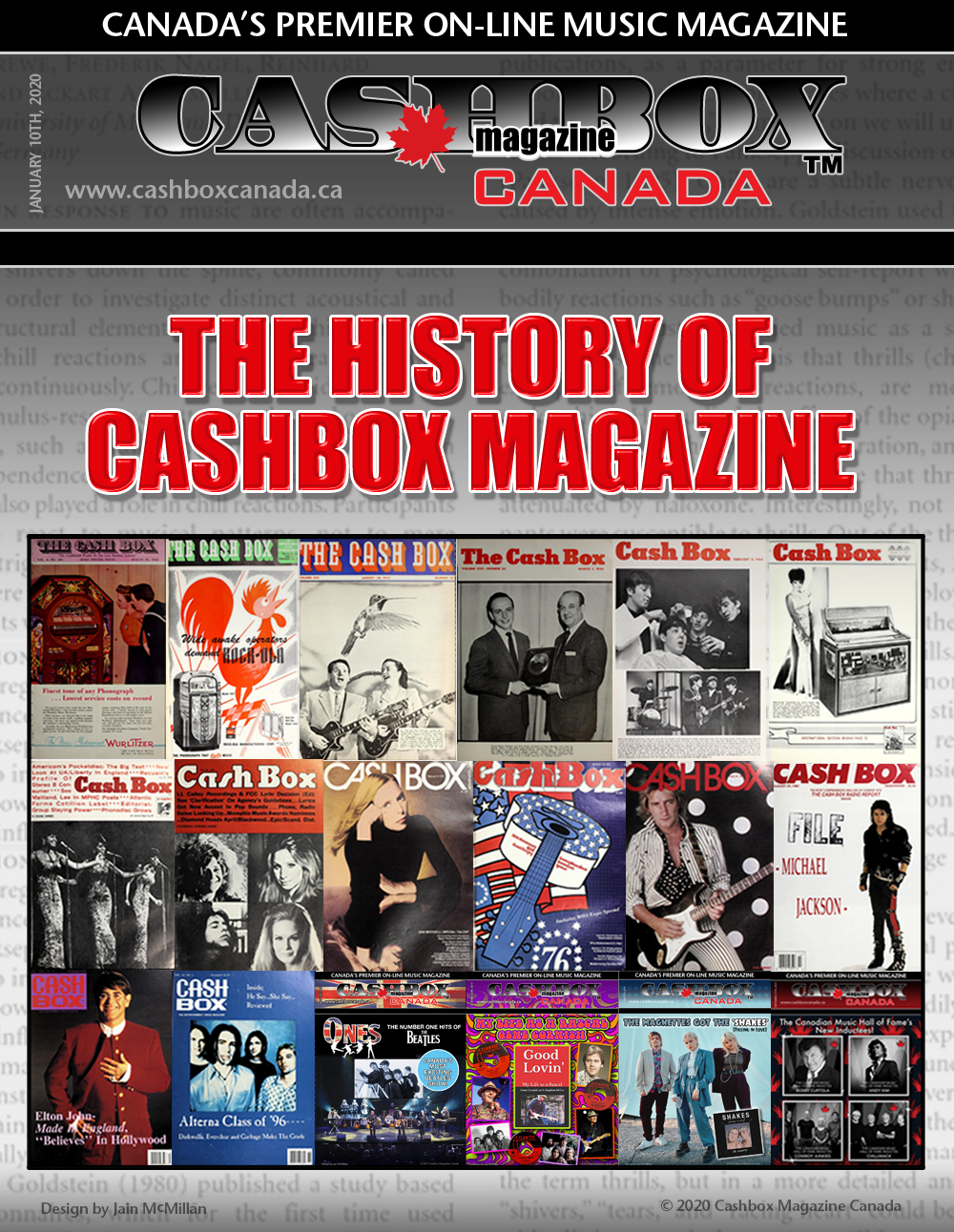 Fri Jan 10, 2020
During my radio days as a Music Director, we had magazines that we considered the 'station bibles.' In Canada, we had RPM and it was a trailblazer for the Canadian artists and had charts to boot, then Record Week,
We also watched other stations, if 1050 Chum added a song or if Rosalie Trombley at CKLW played it, then it was a surefire hit. Then there were the magazines: Billboard, Radio and Records, Record World and of course, Cashbox Magazine. Little did I know I would end up decades later actually owning the current Canadian version, Cashbox Canada.
Recently, a very established pr person told me I should let people know more about the history of Cashbox Magazine. He said the legacy artists know the name, but the new indie artists have no idea the background of this iconic magazine. So that brings me to this part of the story.
Cash Box was originally spelled as two words. It debuted in July 1942 and under the direction of the original owner George Albert, it ran until 1996 until it closed its doors. Ten years later, it was revived by Bruce Elrod and his team and now the legacy continues as Cashbox Magazine (US) and Cashbox Canada, now with Cashbox being one word.
The word Cashbox was named after the actual 'cash box' inside the jukeboxes of America. When customers put their money in and played ie A1, the money dropped down into a specific spot in the cash box and this is how the original Cash Box Charts were derived from collecting that information. 
Cashbox was also the magazine that created the "With a Bullet" (not an appropriate expression today) which identified a song that was fast rising on the charts. It's most prominent competitors were Billboard and Record World (known as Music Vendor prior to April 1964).
Unlike Billboard, Cashbox combined all currently available recordings of a song into one chart position with artist and label information shown for each version, alphabetized by a label. Originally, no indication of which version was the biggest seller was given, but from October 25, 1952, a star was placed next to the names of the most important artists. Cash Box also printed shorter jukebox charts that included specific artist data beginning in Spring 1950. Separate charts were presented for jukebox popularity, record sales and radio airplay. This was similar to Billboard's methodology prior to August 1958, when Billboard debuted its "Hot 100", which attempted to combine all measures of popularity into one all-encompassing chart. In addition, Cash Box published chart data for specific genres, such as country music and R&B music. In 1960, Cash Box discontinued its R&B chart after the March 5 issue; it was reinstated in the December 17 issue due to popular demand. The chart was originally dropped because it became dominated by Pop records. Cash Box also created the 'Looking Ahead' Chart that carefully picked songs that the magazine felt was going to be a hit.
In 2006, under the leadership of Bruce and Chris Elrod, Cash Box was reinvented as an online-only Cashbox Magazine USA, with the consent and cooperation of the family of George Albert, the late president and publisher of the original edition. Cashbox has occasionally issued special print editions. As of April 2015, Cashbox Magazine added the following music charts: Roots Music, Bluegrass Singles, Bluegrass Gospel Singles, Beach Music Top 40, Roadhouse Blues and Boogie Top 40, Country Christian Top 100 Singles and Southern Gospel Singles. The online magazine also re-launched the Looking Ahead Charts on March 1, 2015, covering all genres of music. The Cashbox Top 100 has been expanded to the Top 200. All chart data for the main Cashbox charts are provided by Digital Radio Tracker.
In 2007, Cashbox Canada was launched and the magazine devoted itself to running stories without charts as the systems in Canada are very different than the US. Our mandate is to cover legacy artists and to provide Indie Artists with a chance to be the featured online in our magazine. In the last few years, we have expanded to cover global artists as well as Canadians because we feel at Cashbox that music has no borders. Cashbox Canada is a separate entity from Cashbox Magazine USA and is owned and operated by Canadians under the direction of industry icon Sandy Graham.
In 2013, Joel Whitburn's Record Research Inc. published a history of the Cash Box singles chart data covering October 1952 through the 1996 demise of the original magazine. Randy Price maintains the original Cash Box data for the online archives.  Whitburn's current book is Cashbox Regional Hits 1958. You can visit the website and find amazing books that not only provide the history of Cashbox but Record World and Billboard as well. https://www.recordresearch.com/
It's the third edition in our new series covering the thousands of 45 rpm records that appeared on regional charts across America. The record business was booming in 1958, and the influx of new sounds, new songs, new artists and new labels made competition for the 100 weekly coveted spots on the national charts rarified air. To rediscover the long lost gems of this era, Joel researched the regional charts of Cash Box magazine, city by city, town by town, coast to coast. This artist-by-artist anthology uncovers all of the records that only appeared on the local listings (Disc Jockey, Juke Box and Retail Outlets) and did not appear on the national pop singles charts of Billboard, Cash Box or Music Vendor magazines. Now, these rare records have definitive research showing the exact dates and places that they tasted fame.
Joel Whitburn has this to say: "By 1958, I was really into collecting records. I could bring my records with me in a little carrying case and play them on my portable player. The 45 rpm had exploded by '58 – they were not as fragile as their predecessor, the 78 rpm, and they were a convenient size. And the songs! The artists! The Platters, The Everly Brothers and Elvis and 1000s of others! I remember going to Radio Doctors record shop in Milwaukee and each week there would be scores of new singles -- many on small, independent labels. And some were never on the national pop singles charts."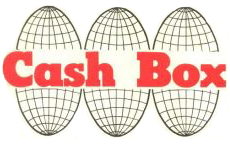 "1958 was a huge year for the breakout of the 45rpm single.  The 78rpm was pretty much dead and the 45s were being issued in 'record' numbers.  The small and rare independent labels (some of which are shown on this book's front and back cover) were flooding record shops from coast to coast. Rockabilly records from small towns to big cities were booming all across the USA.  Many great tunes lingered on their local Top 10 surveys; a staggering amount of hot new releases each week lead to a bottleneck in breaking on to the bustling national charts."
This is why Joel Whitburn researched these Top 10 Regional charts -- to rediscover and spotlight these lost local legends and showcase them on glossy, colourful pages.  Now they finally have definitive research showing the exact dates and places they tasted fame.
So there are decades of history in the name Cashbox and here in Canada, we are proud to know that we can continue to provide artists with a way to promote their music – just like it used to be.  Because let's face music is what ties us all together.
For more keep checking back with www.cashboxcanada.ca
and check out https://usmusicchartsmagazine.com/