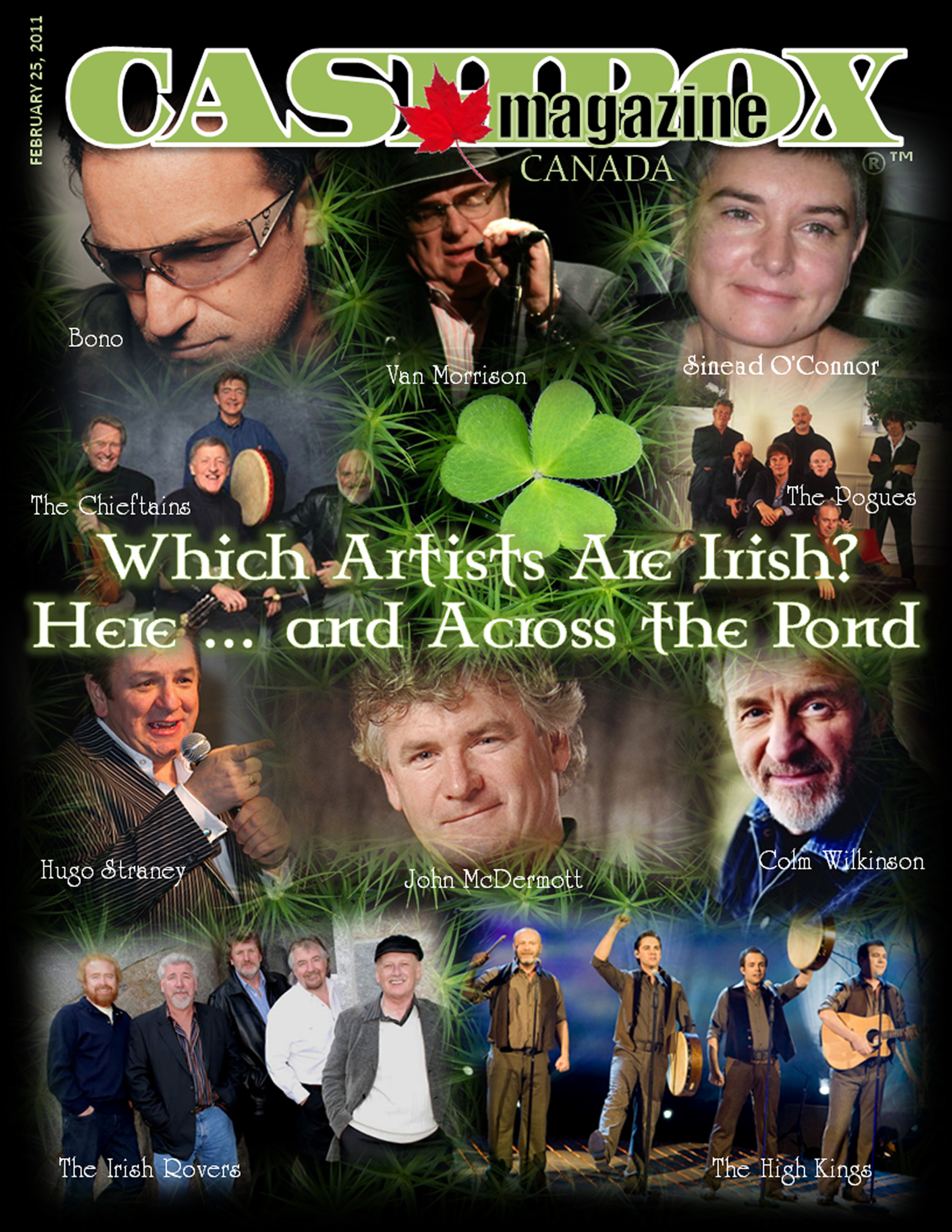 Fri Feb 25, 2011
When I asked (Toronto's Irish Person of the Year) 2010 Hugo Straney how many people he thought were of Irish descent in the GTA, his answer was 'More claim they have Irish ancestry in Canada than any other group in the world. I believe the statistic would be around 300,000 in Toronto alone."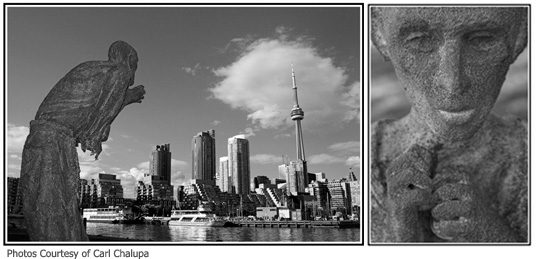 In 1847, over 100,000 Irish immigrants migrated to Canada in what would be the result of the infamous potato famine. Nearly 40,000 of these people passed through Toronto, which at the time had a population of just under 20,000. In the summer of 1847, 863 Irish people died in the fever sheds that were erected at what is now Toronto's thriving theatre district at King Street West and John Street. In total 1,100 people lost their lives during this tragic time, many died trying to nurse the sick back to health.  Next time you walk the streets of downtown Toronto, look for the plaque erected in their memory.
In 1997, the 150th anniversary of the famine, the citizens of Dublin erected a series of 'famine figures' and called the display 'Departure' to commemorate the influx of immigrants leaving to start a new life in a new land. Toronto has the 'answering statues' and they are named 'The Arrival', which is just west of Reese's Wharf, and just south of where the fever sheds were located at Bathurst and Front Streets. Erected in kind with donations and support, The Toronto Irish Famine Memorial stands in tribute to the many diaspora who built this city, as well as North America with the price of many of their lives.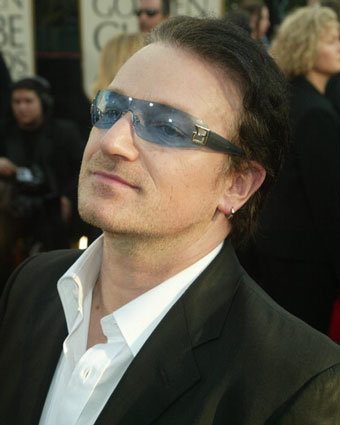 Music has always been a major part of the celtic culture, and Cashbox thought it would be fitting with St, Paddy's Day around the corner to draw attention to many of our Irish music stars both in Ireland and here in Canada.
Paul David Hewson is most commonly known by his stage name Bono and famous for being the lead vocalist of U2.  Bono was born and raised in Dublin, Ireland, where he  met the members of U2. As the band matured, his lyrics became more intense and political. Bono is widely known for his activism concerning Africa, and the need to stop poverty and starvation.  He has been nominated for the Nobel Peace Prize, granted an honourary knighthood by Queen Elizabeth ll, named Person of the Year by Time Magazine, amongst many other awards and nominations. Bono continues to tour and perform while raising awareness for his many causes. He still resides in Dublin, where he purchased and renovated The Clarence Hotel.
Born George Ivan Morrison in Belfast, Ireland,Van Morrison broke onto the music scene with his first studio albums, 'Astral Weeks' and 'Moondance'. Morrison actually started his career in the late 1950's. and became the lead singer for the Northern Irish R&B band, Them, who who had the hit with the garage band tune, 'Gloria'. With numerous classic hits like 'Brown Eyed Girl', 'Moondance' 'Wild Night' and 'Domino', he also claims a catalogue of diversified music that consists of lengthy, loosely connected, spiritually inspired musical journeys that show the influence of Celtic tradition, jazz amongst his pop genre tunes. Morrison has received considerable acclaim, including six Grammy Awards, being inducted into both the Rock and Roll Hall of Fame and the Songwriters Hall of Fame, and appearing on several "Greatest Artists" lists. Van Morrison continues to record and tour, producing albums and live performances that sell well and are generally warmly received, sometimes collaborating with other artists, such as Georgie Fame and The Chieftains.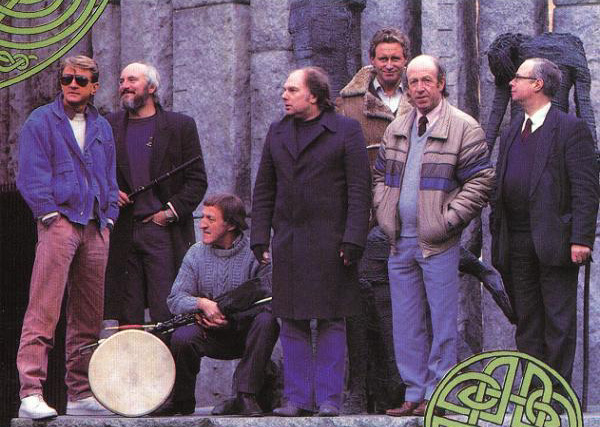 Sinéad Marie Bernadette O'Connor was born in Dublin, Ireland and rose to fame in the late 1980s with her debut album The Lion and the Cobra and achieved worldwide success in 1990 with a cover of the song "Nothing Compares 2 U". Best known as the bald-headed Irish singer/writer who encountered controversy, partly due to her forthright statements and gestures, ordination as a priest, and expressed strong views on organized religion, women's rights, war, and child abuse while still maintaining a singing career.  Her body of work includes a number of collaborations with other artists and appearances at charity fundraising concerts, in addition to her own solo albums.
The Chieftains are a Grammy-winning Irish musical group founded in 1962, best known for being one of the first bands to make Irish traditional music popular around the world. The band has recorded many albums of instrumental Irish folk music, as well as multiple collaborations with popular musicians of many genres.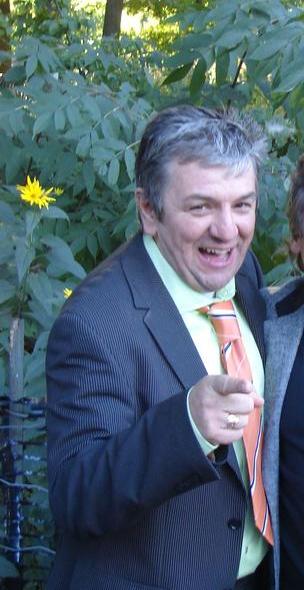 The group has won six Grammy Awards and have been nominated eighteen times. They have also won an Emmy and a Genie and in 2002 they were given a Lifetime Achievement Award by the UK's BBC Radio 2. Dr Gearoid O hAllmhurain [2] said the success of The Chieftains has helped to place Irish traditional music on a par with other musical genres in the world of popular entertainment. By collaborating with pop and rock musicians, they have taken Irish music to a much wider audience. They have become, in effect, musical ambassadors for Ireland. This de facto role was officially recognized by the Irish Government in 1989 when it awarded the group the honorary title of Ireland's Musical Ambassadors. It's a role they have performed with great enthusiasm. They played for The Pope and an audience of more than one million people in 1979 in Phoenix Park in Dublin in a concert to mark the Papal visit to Ireland. The Chieftains will be appearing in Toronto for one Canadian date only on March 17th at Roy Thomson Hall.
The Pogues are an Irish rock band, formed in 1982 and fronted by Shane MacGowan. The band reached international prominence in the 1980s and early 1990s. MacGowan left the band in 1991 due to drinking problems but the band continued first with Joe Strummer (The Clash) and then with Spider Stacy on vocals before breaking up in 1996. The band reformed in 2001, and has been playing regularly ever since, most notably on the US East Coast around St Patrick's Day and across the UK and Ireland every December. The group has yet to record any new music and according to Spider Stacy on Pogues.com has no inclination to do so. Their politically-tinged music was informed by MacGowan and Stacy's punk background,yet used traditional Irish instruments such as the tin whistle, cittern, mandolin and accordion.The Pogues were founded in King's Cross, a district of North London, in 1982 as Pogue Mahone—pogue mahone being the Anglicisation of the Irish póg mo thóin, meaning "kiss my arse".
Hugh (Hugo) Straney was born in Belfast, Ireland, as he likes to say 'because I wanted to be close to my mother'. As a teenager in 1974 Hugo joined his older sister,Lily,  in Canada, as she worried for his safety 'back home', and always loved to sing and entertain. Blessed with a big set of Irish lungs, perfect pitch and a personality to boot, Hugo is firmly planted in the Irish community, holding many awards and being names Irish Person of the Year in 2010. He had the honour of singing the Canadian National Anthem at the unveiling of The Toronto Irish Famine Memorial in 2007 for the President of Ireland Mary McAleese. Hugo has sung O Canada at the Blue Jay game at Skydome, performs yearly in Las Vegas, hosts Toronto's British Isles Show, as well as performing, co-producing and hosting at The Beach Celtic Festival in Kew Gardens (home of the famous Beaches Jazz Festival). This year, he  is the headline entertainer at The 25th Annual St. Patrick's Day Luncheon.  Hugo Straney also produces and hosts his own radio show on CHIN on the air since April 1, 1988.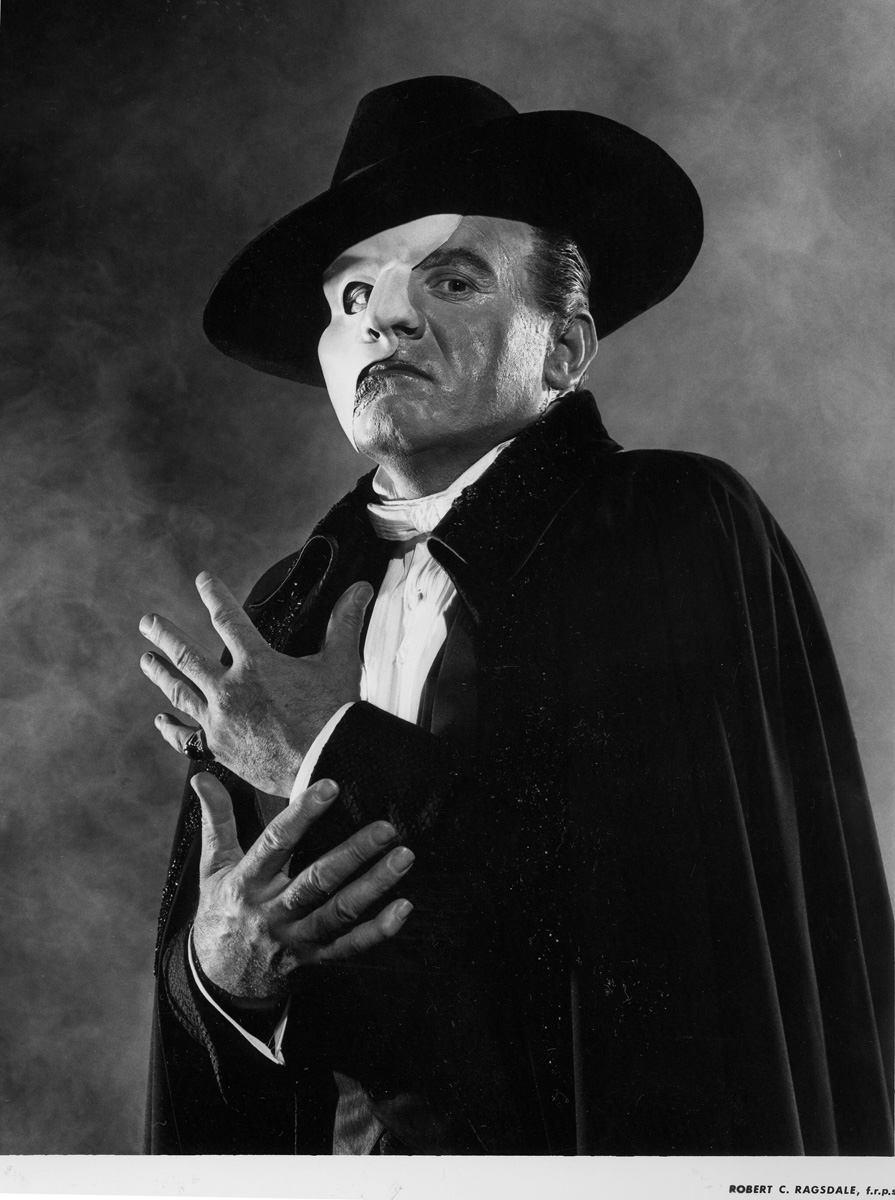 Colm Wilkinson (also known as C.T. Wilkinson in Ireland) was born 5 June 1944 in Dublin. He is an Irish musical theatre actor and singer, best known for originating the role of Jean Valjean in Les Misérables. After playing in several  Irish bands which included The Action, in 1972 Wilkinson auditioned for a role in the Dublin production of Andrew Lloyd Webber's Jesus Christ Superstar, and landed a starring role reprising Judas Iscariot in the Dublin production. He went on to reprise the role in London and on the British national tour. In 1976, Wilkinson sang the part of Ché in the concept album for the musical Evita. Instead of auditioning for the role when the production was launched in London, Wilkinson launched a solo career as a singer-songwriter. In 1985, he collaborated with Andrew Lloyd Webber once again, originating the role of the Phantom in The Phantom of the Opera at a Sydmonton workshop. In 1989, Wilkinson relocated his family to Toronto, Canada, when he was offered the title role in the original Toronto production of The Phantom of the Opera playing at the Pantages Theatre (now Canon Theatre). He has lived in Toronto ever since.
Although John McDermott is better known as a Scottish-Canadian tenor, his roots are both Scottish and Irish, and he has devoted much of his recordings to the Irish heritage. "Legend" is not a title John McDermott would readily embrace, but his accomplishments have become legendary in recording industry lore. He calls Toronto home, but he has also found a home as an international recording star and household name – known as much for his successful musical career as for his commitment to veterans' causes. He is a long way from the man for whom singing was a hobby less than ten years ago. John was discovered quite by chance, when working as a circulation sales representative for the Toronto Sun, he belted out an impromptu rendition of "Danny Boy" at a company party.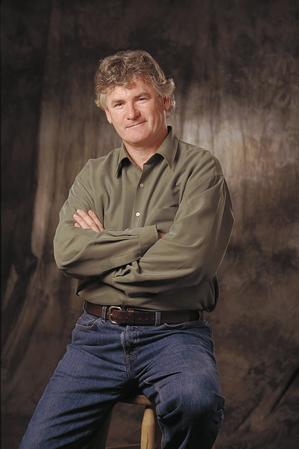 "I grew up singing, but I thought everybody grew up singing. My dad and mom introduced us to music early on, and all of the McDermott kids could unleash a verse or two of 'Scotland the Brave' or 'Green Isle of Erin' on command. My song was 'Danny Boy,' and I sang it with pride, because even as a kid I knew what a powerful and emotive song it was." The success of his release of that famous rendition of an Irish classic,  in addition to a fast growing North American fan base, won through a tireless touring schedule, led to his participation in the PBS phenomenon, The Irish Tenors. John's presence helped generate a US gold record, three US tours, and a high-profile media schedule, which included appearances on 'Good Morning America' and 'The Today Show.' This has catapulted him into a musical career that includes three Canadian platinum records, five Juno nominations (Canada's equivalent of the Grammy), and a solid international touring schedule.  John McDermott will be embarking shortly on a tour that will take him from Vancouver, B.C. to Hamilton, Ontario, with a few U.S. dates in between.
The Irish Rovers is a Canadian Irish folk group created in 1963 and named after the traditional song "The Irish Rover". The group is best known for their recording of Shel Silverstein's "The Unicorn" in 1967. The primary voices heard in the group's early songs were Will Millar (tenor) and Jimmy Ferguson (baritone).All of the band members are from Ireland. Founding member George Millar is from Ballymena, long-time group member Wilcil McDowell is from Larne, John Reynolds from Belfast, Sean O'Driscoll from Cork, Ian Millar from Ballymena and percussionist Fred Graham is also from Belfast.The Irish Rovers have represented Canada in no less than five World Expos, and throughout the years, have continued to tour worldwide. In 2010, the band celebrated their 45 years of sharing their music with the world by producing a CD and a DVD/television special filmed entirely in Northern Ireland. In 1968, they were named "Folk Group of the Year" by the predecessor of the JUNO Awards, and in '69 received a Grammy Award nomination, "Folk Performance of the Year". The Irish Rovers next starred in one of the most popular variety shows of its time—their own CBC-produced television series, The Irish Rovers Show for 6 seasons, winning an ACTRA Award for Best Variety Performance. Between Irish folk songs, and comedy skits featuring Will, George and Jimmy as mischievous leprechauns, they hosted a multitude of guest stars including Johnny Cash, Carl Perkins, Bobby Darin, Glen Campbell, Anne Murray, and their friends The Clancy Brothers. In 1974, the band often filmed on location throughout Canada. The CBC also sent them to Ireland for a musical tour of their homeland. They then continued with another television series on the Global Network in conjunction with Ulster Television in Ireland. The group repeated the success of "The Unicorn" in 1980 with a crossover hit, their cover of Tom Paxton's Wasn't That A Party, which was inspired by the boys' own aftershow partying. In September 2010 they wrapped filming for their DVD/television special, "Home in Ireland", shot at Waterfront Hall, Belfast, and on-location at the lads' favorite childhood haunts of Northern Ireland.
The High Kings are an Irish ballad group. They were formed by the same creators as the Celtic Woman phenomenon. Finbarr Clancy (son of Bobby Clancy), Brian Dunphy (son of Sean Dunphy, who represented Ireland in the Eurovision Song Contest 1967), Martin Furey (son of Finbar Furey of the Fureys) and Broadway/pop/country star Darren Holden make up the group. They recently were featured on PBS during their fund drive special. The High Kings are currently on an intensive North American tour in support of their second CD Release. 'Memory Lane'.