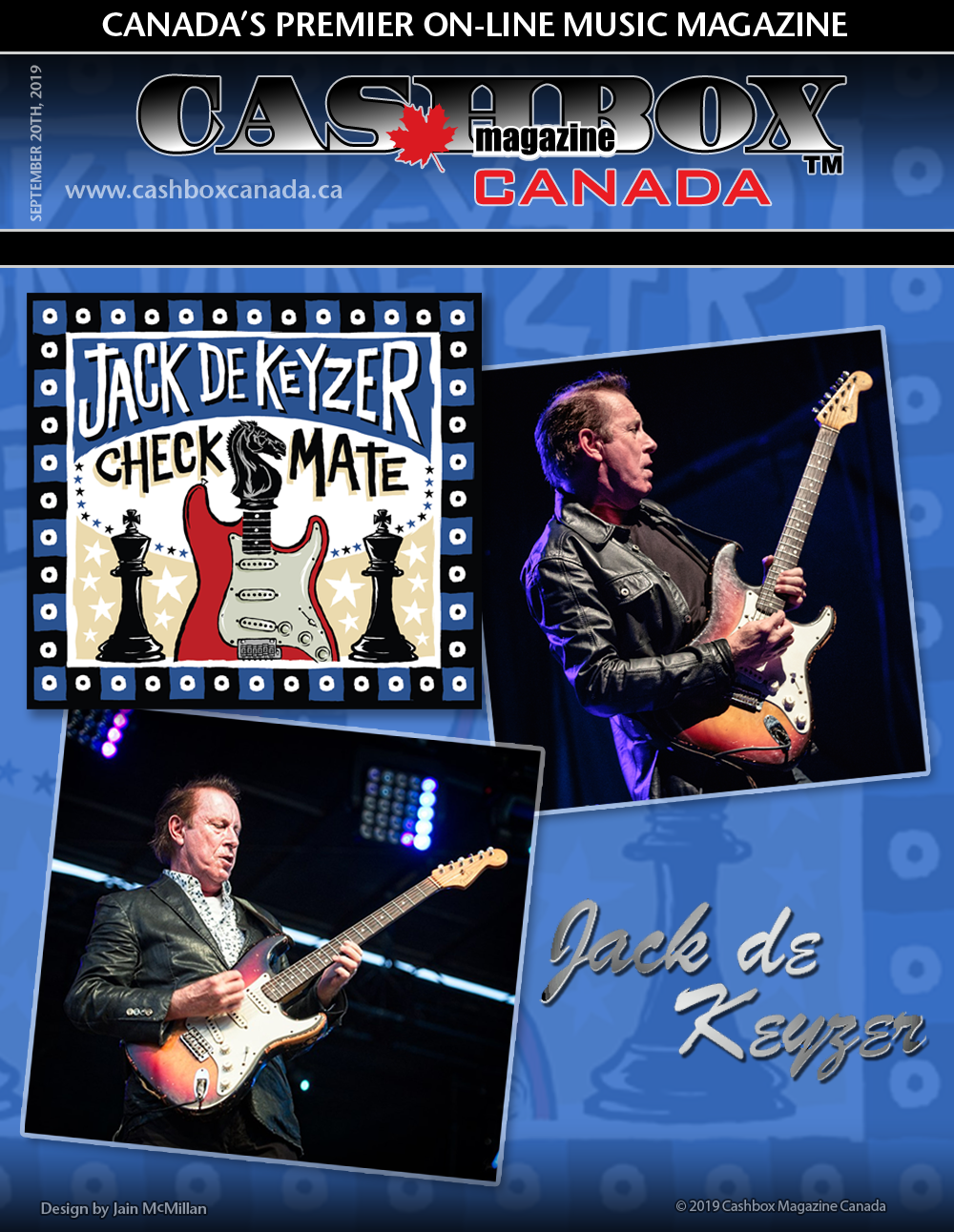 Fri Sep 20, 2019
For 46 years or roughly a couple million miles, bluesman, guitarist, singer, songwriter,  Jack de Keyzer has been hitting the road, rail and air to bring his brand of guitar driven blues across Canada and around the globe.  With 11 records, 1 DVD, 2 Junos and 7 Maple Blues Awards under his belt, de Keyzer delivers the goods wherever, whenever he performs.
Playing  over 100 shows a year, de Keyzer's music is steeped in the Chicago blues,  with a broad range of influences ranging from Detroit's Motown, Muscle Shoals deep soul ,  Memphis'  rock and roll,  Philadelphia's funky soul jazz and London, England's (where de Keyzer hails from) blues rock.  De Keyzer knows first hand as he has played with many first generation pioneers of these sounds and styles. (Bo Diddley, Otis Rush, Etta James, King Biscuit Boy and Ronnie Hawkins to name a few)   His latest recording  (Juno Nominated  -Blues Album of the Year 2019)  Checkmate is a 13 song tribute to the greats of Chess Records- Willie Dixon, Howlin' Wolf, Albert King, Otis Rush and more.
I caught up with Jack De Keyzer at his home in Clarington, Ontario, Canada and had the chance to find out where all the musical influences came from to make up the background of this talented artist.
"I was actually born in London, England, so my early influences were the British Invasion artists.  In 1964, the sounds of not just the Beatles but Eric Burden & the Animals, The Kinks, Cream, Tremeloes, (Sir) Cliff Richard and so many more filled the transistor radios. I was ten years old and I was smitten by music.  Then we moved to Canada and at 12 years old I discovered the guitar bands. Jimi Hendrix was a huge influence, and then I discovered Chess Records, and once again I was immersed in learning about those artists. Willie Dixon and Robert Johnson had me becoming a huge fan of the blues."
I mentioned the fact that although he is renowned as a blues artist there are influences of rock and vintage sounds in his records. "I was always interested in guitarists; Eric Clapton, Duane Allman, all the Muscle Shoals players. I listened to everything and tried to input their styles into my own way of playing. It shows in my original compositions."
Jack de Keyzer is really active on the live booking scene, playing constantly and traveling around the country. When asked how he does it he gave the advice to the up and coming blues musicians. "You can find places to play 3-5 times a week as a solo artist. Then when you gain your momentum you can add a bass player, drummer and swing back around and play those clubs again."
Clubs have changed from the years gone by and are not paying what they used to so when asked about making sense of it on a monetary level de Keyzer said, "We sell a lot of CDs side stage. Our fans are the kind that want a hard copy in their hands. They want to read the liner notes, experience it first hand.  We don't sell large amounts at a time, but we sell on a steady basis. Works great for me."
This humble and talented man has a long list of accolades to date: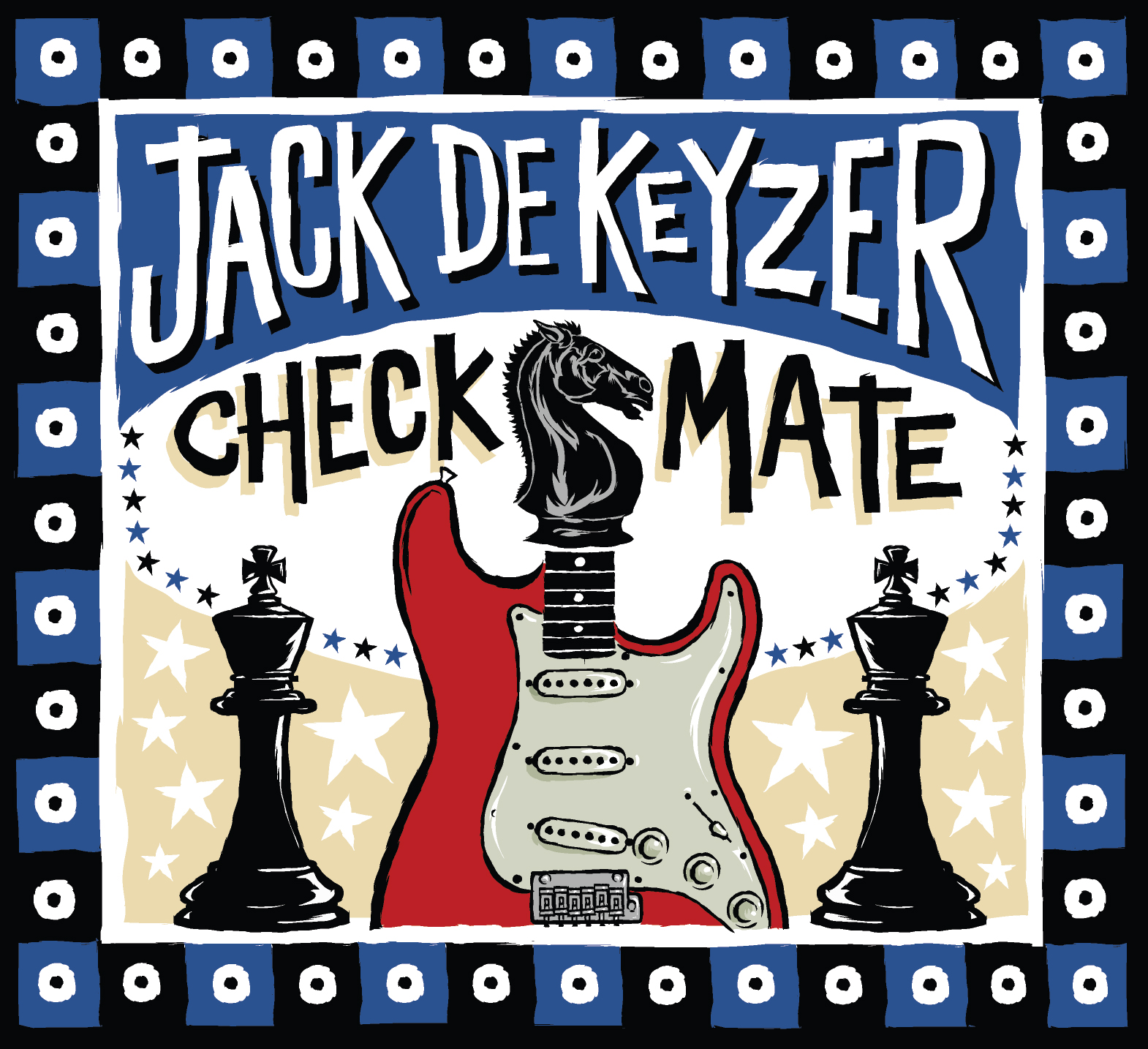 AWARDS:
Junos
Win: 6 The Corktown Sessions/ Blues Album of the Year 2010
Win: 6 String Lover/ Blues Album of the Year 2003
Nomination: Checkmate Blues Album of the Year  2019
Nomination: Electric Love/ Blues Album of the Year  2013
Nomination: Blues Thing/Blues Album of the Year 2007
Nomination: Down in the Groove/Blues Album of the Year 2001
Music Express Award:  Blues artist of the year 2019
Music Express Award:  Blues recording (Checkmate)  of the year 2019
Maple Blues Award
Guitarist of the Year 2007,2005, 2004
Entertainer of the Year 2004
Electric Act of the Year 2004
Down in the Groove/ Blues Album of the Year 2000
Blues With A Feeling Award (Lifetime Achievement) 2001
International Songwriting Competition
1st place Win " My Love Has Gone " 2019
Honourable Mention "The Way That I Love You" 2010
1st place Win " That's The Only Time" 2007
Great Canadian Blues Award
Winner CBC listeners vote 2009
Music Express Award:  Blues artist of the year 2019
Music Express Award:  Blues recording (Checkmate)  of the year 2019
Now a new album, Check Mate, with all the influences of the Chess Record Days, with songs by Willie Dixon and Robert Johnson and originals by de Keyzer thrown out. "I decided to record this in my own home. They had the House on Grand, (Motown) and so many other studios that were home-based I decided to release it on Blue Star Records, recording at my studio, Blue Star Recording Studio. I am really happy with the final product."
If you are a blues fan, love tasteful guitar offerings, or just love great music, you need these CDs in your library.
2018 Checkmate
2017 The Best of Jack de Keyzer, Vol One
2013 Voodoo Boogie
2012 Electric Love
2009 The Corktown Sessions
2007 Blues Thing
2006 Silver Blues DVD
2005 Silver Blues
2003 6 String Lover
1999 Down in The Groove
1994 Wild at Heart
1991 Hard Working Man
Jack de Keyser really is an amazing combination of Blues Rock & Soul!
For more visit: https://www.jackdekeyzer.com