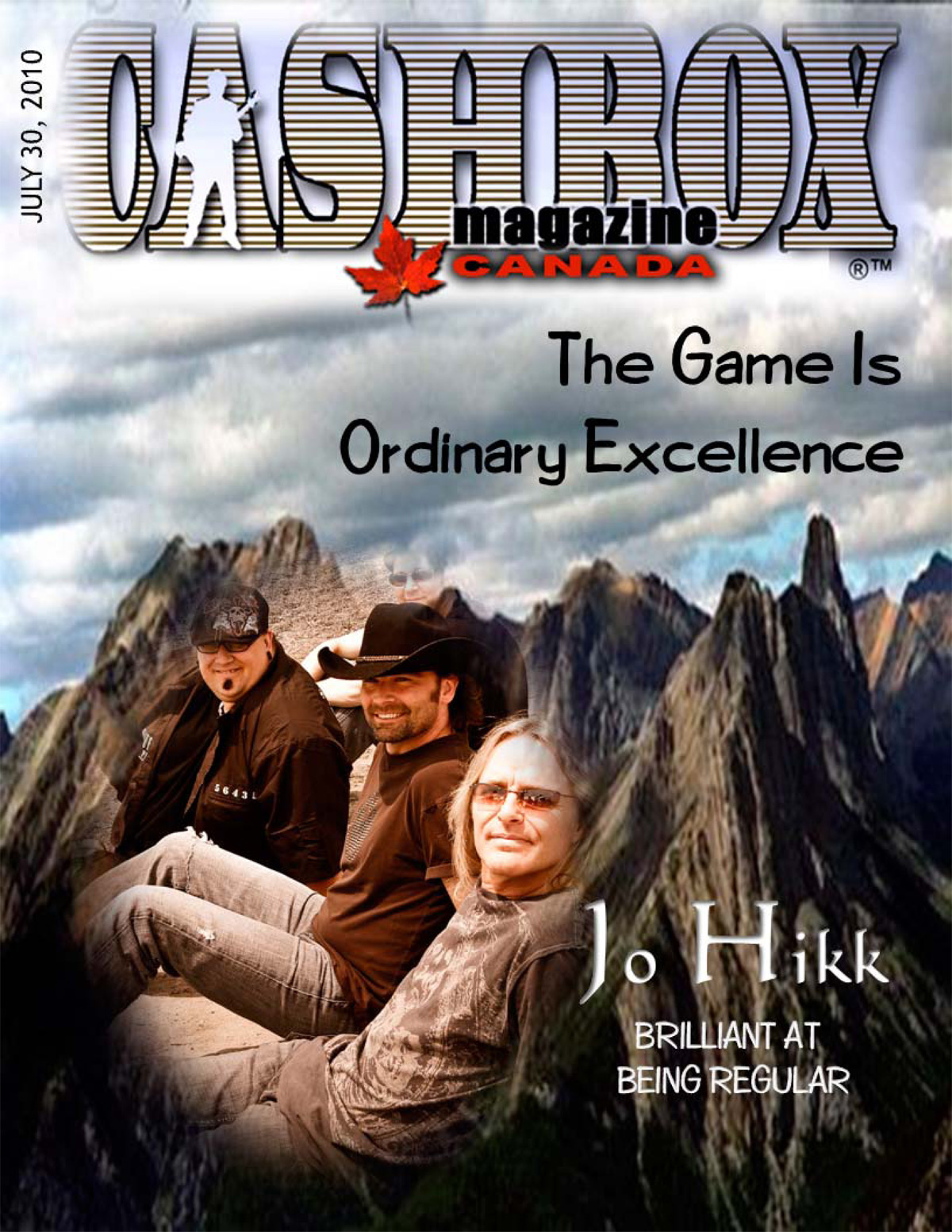 Fri Jul 30, 2010
"If this is the highest level the band ever gets to and if this is the happiest I'll ever be, then I'm real good with that" As Granny might say, "Now there stands a man happy in his skin" and if she's talking about Kelly Sitter, the ol' dame's right on the money.
The defining voice of Alberta country band Jo Hikk is at home with the kids in his small-town hometown the day Cashbox Canada called up. Sitter describes a leisurely paced life, with lots of time between rehearsals to check out the local baseball games and play a few gigs. In the background is the knowledge that all this could change big time after August 10, the release date for Jo Hikk's much-anticipated sophomore album, 'The Game'.
"We're currently playing a few gigs here and there, got one next week in B.C. and waiting for the album to drop. Depending on what happens after that, we'll start to think about a tour.  There's no concept for the album and what it's 'about' isn't in any single song or lyric. The first album was a calling card; an introduction of sorts. This one is who we are right now, as good as it gets, take it or leave it. We were really happy making this album; it isn't trying too hard to please, it's just about the songs. I think the pleasure we had in making it comes across in the music. "The Ride" (first CD) showcased my voice on "The Game"; the vocals are less edgy, I'm more relaxing into the song. This one's more about who we are now as a band."
Who they are in Jo Hikk be the Sitter brothers, Kelly (lead vocals,bass), Kenny (lead guitar,banjo, vocals), Al Doell (drums,vocals) and Don Jorgensen (keys, mandolin) and they've been doing it together for 15 years.
" I'm 38 and since this album is about who we are, then I'm getting too mature to be edgy. It's made this album more musical; richer in melody. Jo Hikk means mostly just regular folk and this is regular music played by regular folk for regular folk. With that in mind, we don't have to care about impressing people as long we're satisfied the music is the way we want it".
In fact, what Jo Hikk is really about is the celebration of the excellence in the ordinary, the love and beauty in the ordinary life. Doing this links the band to that rich lineage of Canadian poets of the ordinary, which includes artists such as Gordon Lightfoot, Stompin' Tom and The Tragically Hip.
There's always been music in the Sitter family. The brothers started out playing in a band fronted by an uncle, and when he quit, Kelly inherited the front man's gig. The young guns took the band in a more rock'n'roll direction and as The Search, "were one of the best live bands out there" remembers Kelly.
" Huge stars in northern Alberta" he says with a chuckle. As with any evolving group, this band of brothers went through mutations in style and members, all the while looking to take it to the next level. In those years we went through band members mostly because they weren't as ready as we were to take it to the next level, which involved lots of time on the road. We come from a farming background and most of the guys we played with were similar, so it wasn't always an option to chuck everything and hit the rock' n roll trail, the way it was for Kenny and me. Even then it wasn't all about the money; we were always about doing a really good live show, entertaining the folks. If you've never toured around in Canada, it's easy to underestimate the importance of live musical to small rural communities" says Kelly.
You know you're really playing roots music when band members can't go on the road because they're farmers. But the bros carried on and the band that would eventually become Jo Hikk was beginning to hit that sweet spot between rock'n'roll and country which would itself distil into the sound of Jo Hikk as heard on 'The Game'. It's that subtle difference between mature and staid.
"Sure I'd like to make more money, but what really matters is just the playing, making the music we think is fine. If folks like it, that's great, but if they don't, that's not going to change how we play what we play. We have no high expectations for the album and because of that there's no pressure around how it will perform. Although we'll be happy to get out there and play the music live. 'Cause that's what we love best."
Given that most of the tunes are about loving relationships and drafted with Kenny Sitter's ear for a grabby lyric, The Game is loaded with potential to attract a wider audience. Debut disc The Ride laid good blacktop for Jo Hikk to roll on to glory with The Game, charting singles and winning awards. And yet the laid back Kelly Sitter isn't chomping at the bit at the glittering prospects.
"Would I move to Nashville as a career thing? I've been there, they have nice homes, full of interesting, friendly folk and of course the music is great, but absolutely not. It's just not what this band is about. Three of the band  members have children and lives we're happy with so I can't see me pulling up the stakes and going down there. It's not even about the 'getting eaten up by Nashville thing'; it's just not my dream. Like I said, Jo Hikk is the concept of regular people making regular people music. That's not Nashville. Now my brother is that guy who might move to Nashville to chase the dream. My goal is to be happy and to make other people happy. That I can reach large number of people through the music and make them happy too, well that's just great".
Maybe it's all that touring around the wide-open spaces that's made Kelly Sitter acutely aware of the role of music in the country life. He thinks carefully before offering that what he'd like for people to take away from the album is a mental portrait of Jo Hikk, circa right now. In all its ordinary glory. Doing the best songs they have.
Which is why Jo Hikk will never have to worry about connecting with an audience. They do songs about events that go down in regular lives, much like the ones lived by the folks soaking up the sounds from the other side of the stage, so there's no problem relating.
That's how it is with The Game and for Jo Hikk, it's the only one that matters.