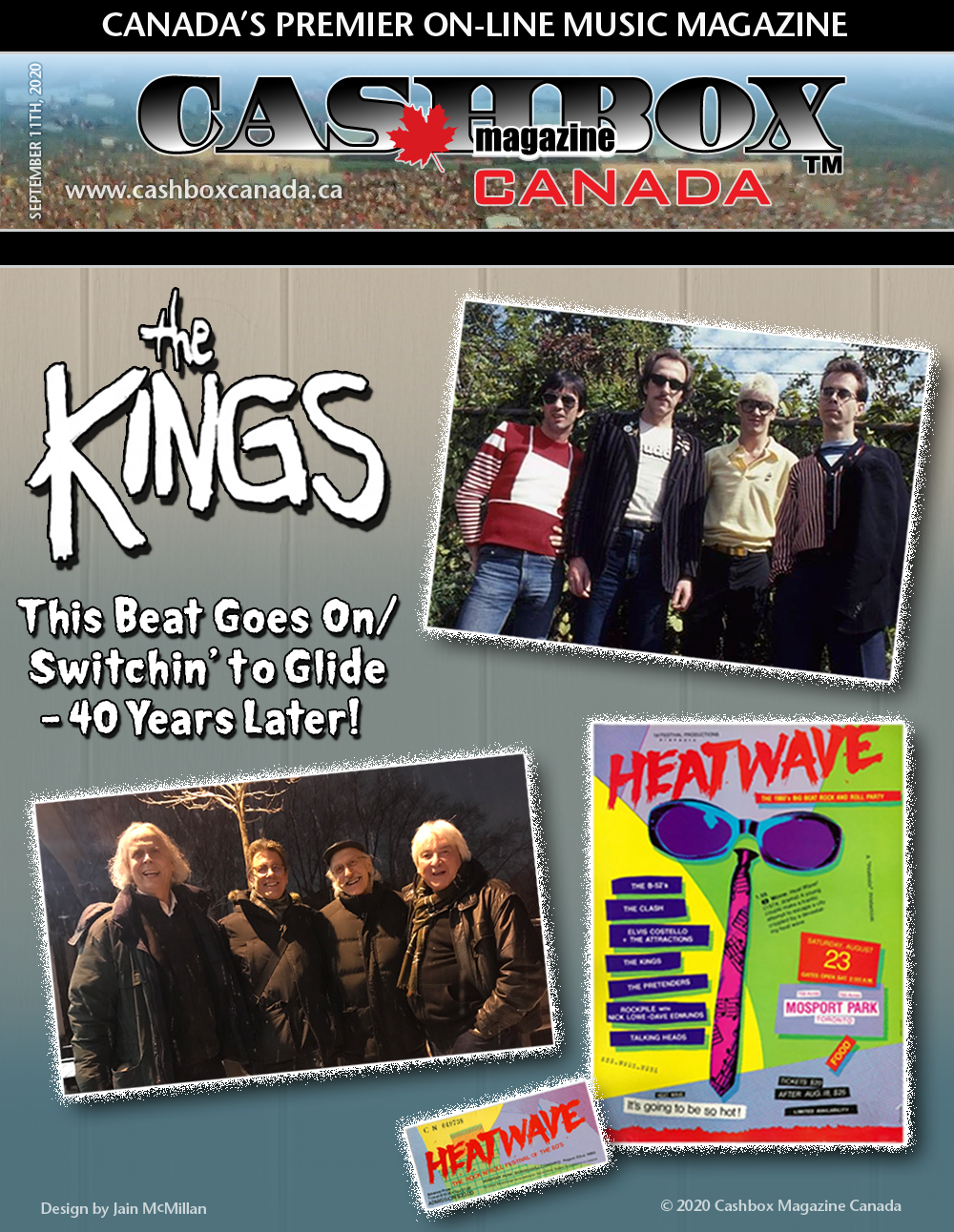 Fri Sep 11, 2020
There is a French expression "la plus ça change, plus c'est la même chose" which roughly translates to "the more things change, the more they stay the same". For me, this really describes the musical journey of The Kings.
It's been 40 years since The Kings released "This Beat Goes On/Switchin' To Glide," and closed the show at Heatwave. To celebrate, they've got unseen, exclusive, re-mastered footage.
This story is about a hard-working band hailing from Vancouver, BC and Oakville, ON that appeared on Dick Clark's American Bandstand, was nominated for a JUNO Award, named 'Most Promising Group' by Cashbox Magazine, hit Platinum-selling status, and has released five studio albums, two live albums, a live DVD, an anthology, a documentary, and numerous hit singles — including "another rocking two-fer," "Circle of Friends / Man That I Am."  The 2018 single was somewhat like arriving full circle; it was mixed in Nashville by industry legend Bob Ezrin (Pink Floyd, Alice Cooper, KISS), who also helmed the same role on their 1980's debut, The Kings Are Here, and sophomore follow-up, Amazon Beach.
So the full circle of being named "The Most Promising Group by Cashbox Magazine (USA) to now being on the cover of Cashbox Canada, again la plus ça change, plus c'est la même chose.
We caught up with the boys at their hometown of Oakville, Ontario, and they talked about how serendipitous the whole 'finding of the footage" began.
"It truly was a stroke of luck for us because back in the day, nobody had phones with cameras/videos, nobody hauled around those enormous video cameras so when we were approached to allow the film crew to actually film us at Heatwave we said of course, yes! All the other bands said no, with the exception of Teenage Head, " explained "Mr. Zero" (John). "So the day of the concert John Brower (promoter) and Doug McClement had a full film crew and truck on site. We were eager for any kind of exposure so this was a great opportunity. Who knew it would resurface for us 40 years later? It truly was exceptional to know this history was preserved."
"So The Kings and Teenage Head were the only bands that gave permission to be filmed," recalls founding member Dave Diamond. "As Teenage Head's audio has disappeared, this is the only surviving, authentic, and original sync footage from that day."
So the story goes that The Kings tracked down the location of where these tapes were actually stored.
"As the studio had closed the original film seemed to have disappeared, but then it resurfaced when we tried to find it. We contacted Lauron Film and they had it!! They also said they had just been purging all the old tapes and we caught in just in time before it joined other tapes in the can in the dumpster."
"It was digitally restored frame by frame from its 16mm-colour negative, and combined with authentic, re-mastered sound," adds fellow founder Mister Zero. Sonny Keyes also chimes in: "The sound was recorded onsite by Comfort Sound's Doug McClement on 8 track half inch analog tape and sounds amazing!"
As the tape was soundless, The Kings spent countless hours adding in the actual music to synch with the footage. "It was very exciting to see the footage again – synching it up to audio was tremendous amount of work but the results were well worth it. And the band got to have ownership of this priceless footage."
With 7.3+ Million Streams Across Spotify & YouTube the numbers keep climbing. Watch The Kings: Live At Heatwave Complete here: https://youtu.be/0D0M9xgjntk.
How did a Canadian band end up signed to Elektra and produced by the legendary Bob Ezrin?
"Bob Ezrin was an early disciple of Canada's own Jack Richardson. While we were there recording, Bob dropped by to visit and liked what he heard," Diamond continues. "He agreed to mix the tracks we had done, but soon discovered that the whole thing needed to be re-done. He approached Elektra Records in Los Angeles with our tapes, and we were then signed to a worldwide deal. We later found out he had been scouting for a Canadian act and we peaked his interest."
A little known fact is the band was actually called Whistleking until they won a Chum Radio Homegrown Contest and the name got shortened by fans to The Kings.
August 2020 marked not one, not two, but three crown-worthy milestones in the land of Canada's long-iconic band, The Kings:
40 years ago this month, they released their Bob Ezrin produced debut album, The Kings Are Here on US major label Elektra Records.
That same month, their smash hit single "This Beat Goes On / Switchin' to Glide" first entered the BillboardHot 100.
And on August 23rd, 1980, The Kings closed the now-legendary Heatwave Festival, holding court alongside fellow rock royalty Talking Heads, Elvis Costello, The Pretenders, Nick Lowe and Rockpile, Teenage Head, the B-52's, and more.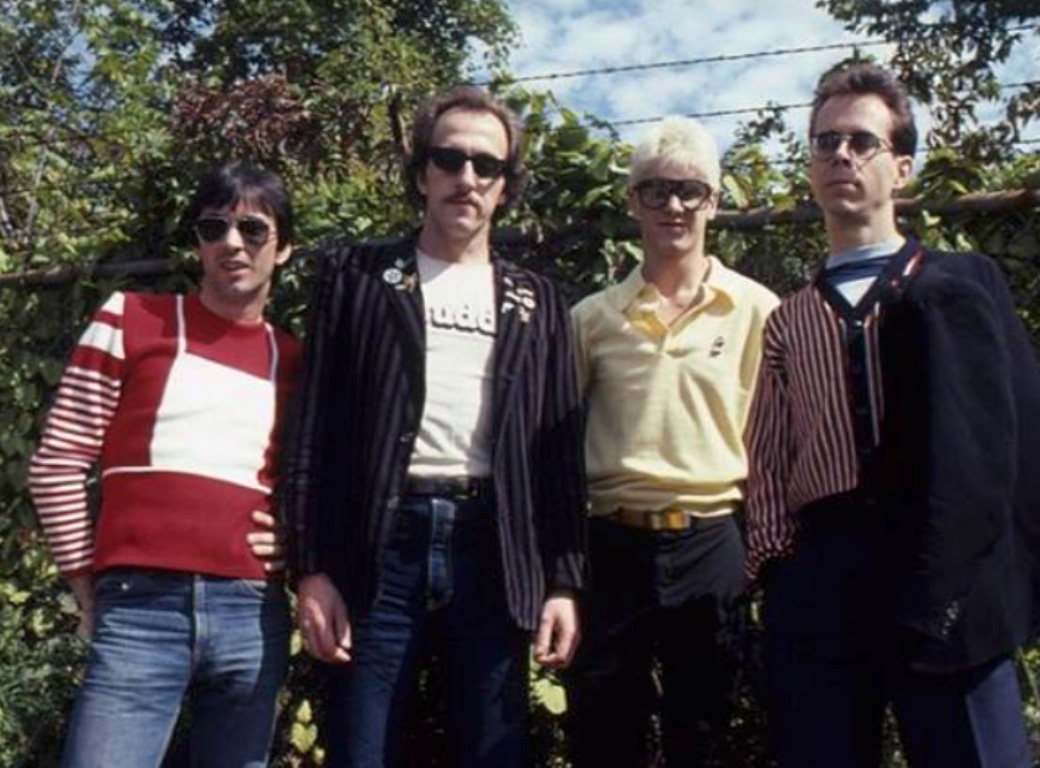 It's that third one — their midnight appearance at the now-storied Toronto-area festival — produced by John Brower--that's inspired the exclusive release of The Kings: Live at Heatwave, a 30-minute concert movie available in a premiere at 8pm on August 23rd.
"The Kings and Teenage Head were the only bands that gave permission to be filmed," recalls founding member Dave Diamond. "As Teenage Head's audio has disappeared, this is the only surviving, authentic, and original sync footage from that day."
The Heatwave Festival at Mosport Park turned heads from the onset between its high profile roster, ultimate crowd size, and that it sat at a cultural turning point in the evolution of new wave music. (It was also marred with some scandal, but… Aren't they all?)
"For some reason, they didn't film our whole 55 minute set," Diamond muses. "But there's almost half an hour here, and we're very proud of it."
The single "This Beat Goes On/Switchin' To Glide" continues to hold four decades of knockout radio success, has stacked around ~ 2 Million streams on Spotify and counting, was named by the Toronto Star as the "#1 almost official song of Toronto," and one of the "Top 100 U.S. Radio Programmers Picks of the Decade" by Album Network Magazine.
Also on the required syllabus in study of The Kings is their documentary, The Kings: Anatomy Of A One-Hit Wonder. "This is the film we made about our biggest hit," the band says. "We felt it was something people who like 'behind the scenes' music films would like, and there is a lot of never heard before stories told in it about the writing, recording and performing of our best-known work."
The documentary delves into the history of the band, the amount of diligent effort put in before getting their big break, and features the original lineup of Max Styles, Sonny Keyes, David Diamond and Mister Zero sharing personal memories with their trademark humour and honesty. "This documentary was over three years in the making. This is our story, told by us."
The Kings have continued to rock fans around the world through the release of archived footage and current releases and vlogs; their YouTube channel has a total stream stack of more than 4.5+ million fans.
With The Kings 'this beat" truly does go on.
For more on this iconic band visit:
thekingsarehere.com/
facebook.com/The-Kings-Are-Here-129367440437699/
Spotify - The Kings Are Here
Spotify - "This Beat Goes On/Switchin' to Glide"
YouTube - The Kings Documentary : "Anatomy of a One-Hit Wonder"