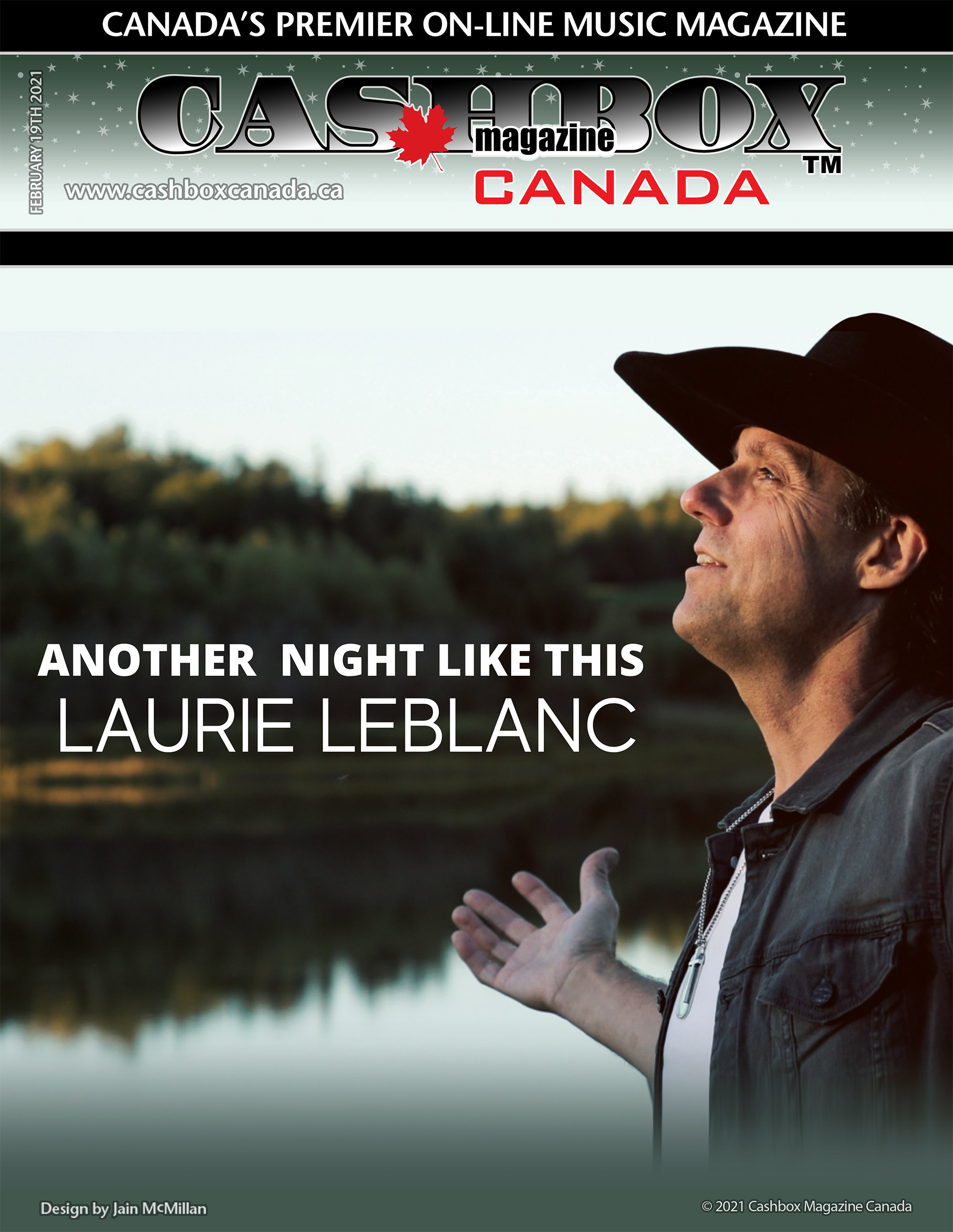 Fri Feb 19, 2021
The east coast of Canada, the Maritimes, has yielded some fine country music talent. Hank Snow, Carroll Baker, Bruce Guthro, Anne Murray and George Canyon to name a few.  And there's a new name vying for inclusion on that list.
Laurie LeBlanc has a unique and fresh sounding blending country with his East Coast Acadian roots. His latest album, "When It's Right It's Right," the much anticipated follow up to his debut English release is a collection of 10 original songs co-written with some of Nashville's top writers and produced by multi-CCMA award winner, the legendary  Jason Barry and the session players include  members of Dean Brody's touring band, Brodeo. The finished product is a gem and is a perfect vehicle to introduce Laurie Leblanc to a mainstream audience.
The first single Laurie LeBlanc longs for "Another Night Like This" in this, check it out on YouTube here:
"Imagine a warm summer night, the kind when fireworks and butterflies are ever so present, and you just don't want it to end," the Bouctouche, New Brunswick-based artist muses. "It may first love, or it may be 'the one'…And if we're lucky, it happens to us once in our lifetime."
"When It's Right It's Right" is LeBlanc's first release in 10 years, His last previous release his debut album, "La Pitoune", gained him attention in in his home province of New Brunswick and fans  throughout the Maritimes and Quebec. This French language offering earned LeBlanc SOCAN awards for airplay and other  industry awards Le Blanc's previous albums include, "La Pitoune","Noir et Blanc", "Noel de la Pitoune", "Couleurs", and his debut all-English release, "Influences."
Inspired to push his desire to write in English — and with a loving nudge from his wife and manager, Jeannette, with whom he also co-created another single on the album with, "All In" — When It's Right It's Right is LeBlanc's second all-English release to date.
Previous albums include Couleurs (2018), 20 (2015), Noël de la Pitoune (2014), Noir et Blanc (2012), La Pitoune (2010), and his initial all-English release, Influences (2013). "She wanted me to record an English album for a while," he explains. "I needed to step out of my comfort zone, and it turned out to be a truly gratifying experience.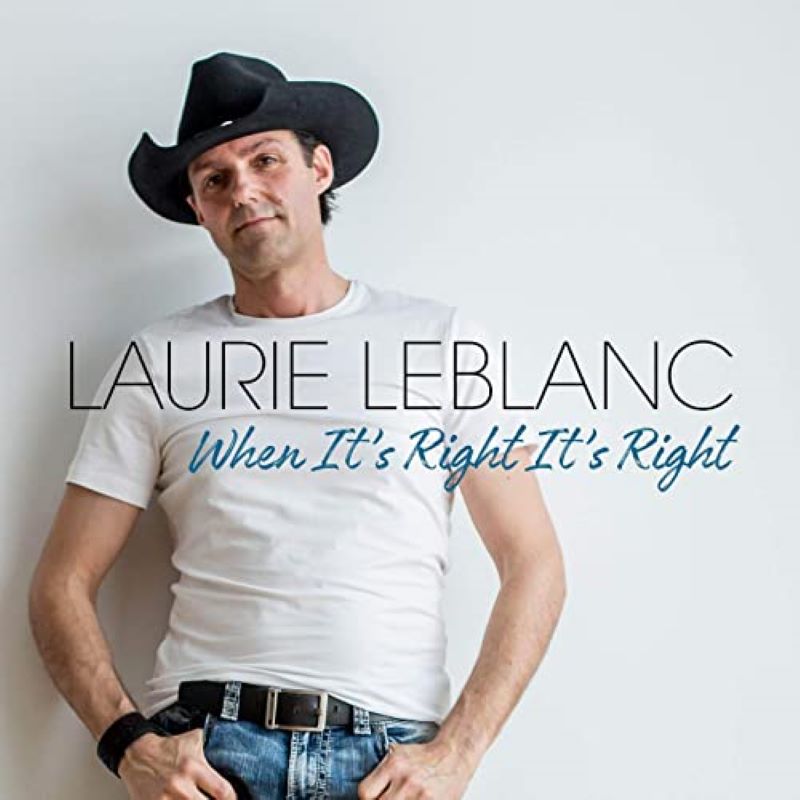 "When I first started singing country music, I was covering people like George Jones, George Strait and Alan Jackson," LeBlanc explains. "But being a proud Acadian I wanted to sing in French, and that led to the formation of my group Zarico, which made two francophone albums before I went solo. When I decided to pay tribute to some of my favourite classic country songs on Influences, it was a dream come true to record in Nashville with some of the city's finest musicians. Then when I met Jason Barry in 2019, everything began falling into place to make my first all-original English album, and I'm really proud to now be able to show my versatility in both languages."
Besides  When It's Right It's Right the title track, a half-dozen songs on this album were written by  Don Mescall whose songs have been recorded by everyone from Rascal Flatts and Lonestar to the Backstreet Boys and Geri Halliwell. However, the pair really clicked on the album's first single "The Bigger The Better," which Mescall originally wrote with Don Schlitz, whose first hit just happened to be Kenny Rogers's "The Gambler."
A classic drinking song, "The Bigger The Better" is the perfect showcase for LeBlanc's rich vocals. "To be able to record a song that was written by such an amazing songwriter as Don Schlitz is a gift and on top of that Don Mescall wanted to be part of the video, so we were able to shoot it in Montreal earlier this year when he was able to come to Canada. We had a great time, and the video really captured that."
LeBlanc lovingly credits his wife and manager  Jeannette, whom he says was his number one inspiration for When It's Right It's Right. "She wanted me to record an English album for a while," he says. "I needed to step out of my comfort zone, and it turned out to be a truly gratifying experience. I'll always love singing in French and cherish the support I get from my francophone audience, but hearing one of my songs on the radio alongside the Canadian and American country artists I admire gives me so much joy."
"I wanted this album to have a diverse sound, but it's also important to me to make people happy through my music," he says. "If I can connect with a song, then hopefully other people will too. In the end, I like to inspire people with the songs I sing. It made total sense to call the album When It's Right It's Right because that's basically how I felt throughout the whole process. I'm a firm believer that everything happens for a reason."
Laurie LeBlanc is proud of his latest effort and eager for you all to hear it. "When It's Right It's Right has a little bit of everything I like. There's up-tempo, fun stuff, happy love stories, and even some country rock in there, too. It was hard to choose the final cuts for the record, but at the end of the day I think it turned out just right."
For more on Laurie LeBlanc visit:
laurieleblanc.com/en/
instagram.com/accounts/login/
facebook.com/LaurieLeBlancArtiste/
twitter.com/laurie_leb
open.spotify.com/album/0bncvhOKLxa7sKpfdgbh4M?highlight=spotify:track:46Y3Bzd5Y9o513czWLPpw1