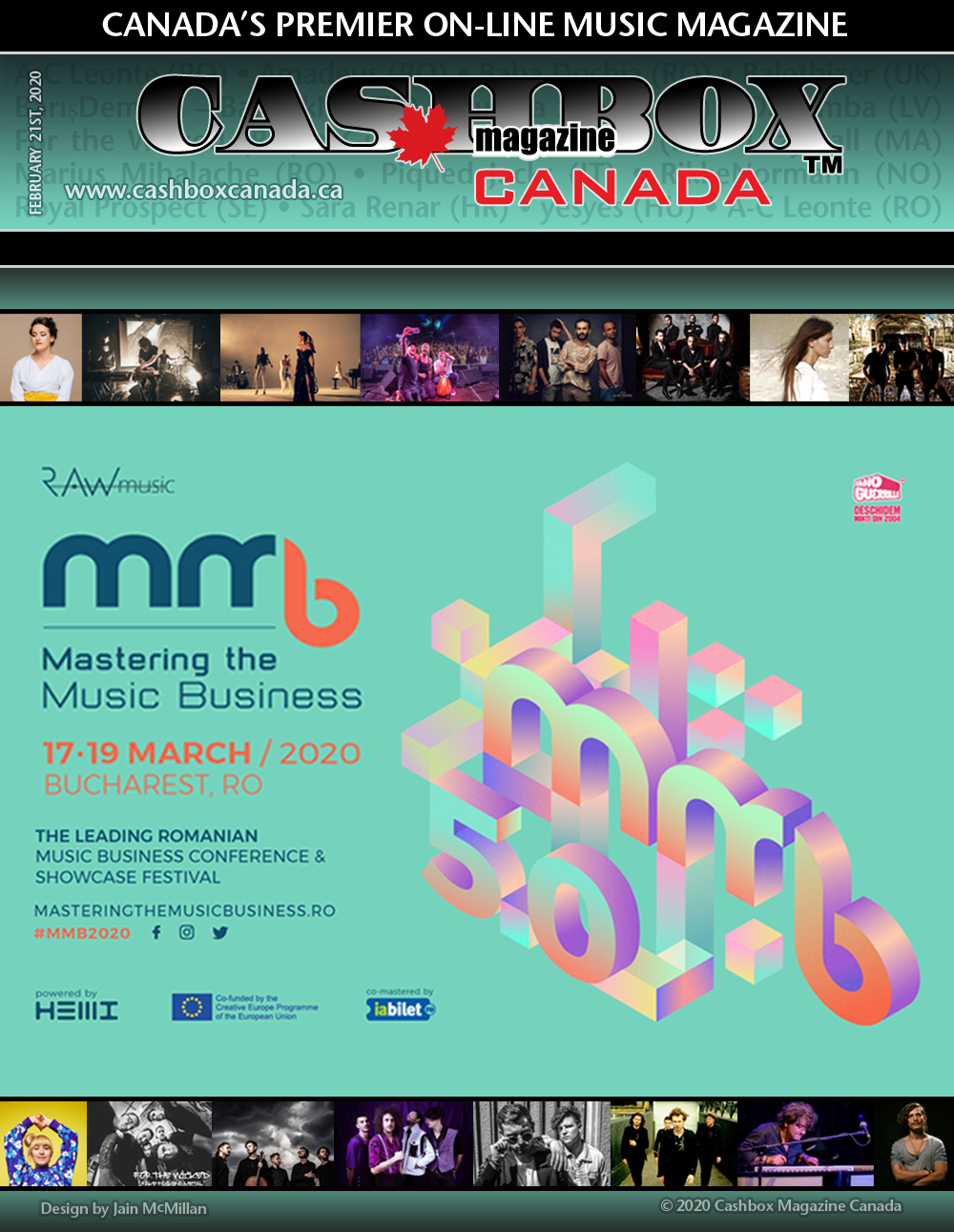 Fri Feb 21, 2020
The fifth edition of the leading music conference and showcase festival in Romania, Mastering the Music Business (MMB) is taking place between 17-19 March 2020 in Bucharest. MMB is dedicated to all independent artists and professionals in the music industry. At MMB, key professionals from the local & international music business and related industries come together to discuss various relevant topics.
More than 500 attendants each year- successful artists, business managers, booking agents, record company execs, PR agents, online & digital specialists, advertisers, radio broadcasters, publishers, songwriters etc. – are exchanging know-how and ideas under the same roof.
MMB 2020 in short:
2 days of conferences
1 day of workshops
3 nights of concerts with Romanian and international bands
Speed meeting sessions with booking agents, festival promoters who could boost Romanian artist's careers
Listening sessions with top international A&Rs and music supervisors
First music business mentorship program in Romania
First time musical instruments & gear exhibition in connection with a music business conference.
In the evenings: live showcases on 2 stages in one of the top Bucharest live music venues - Expirat.
Romanian and international artists will be performing in front of music business professionals and concert-goers.
Some of the key- speakers of #MMB2020 are:
Keesvan WEIJEN (NL)- President of IMPALA
Jake Beaumont-Nesbitt (UK)- The International Music Managers Forum (IMMF)
Peter Smidt (NL)- Creative Director EuroSonic Noorderslag
François Audigier (FR)- Artist booking Europavox
Pia Hoffmann (DE)- Music Supervisor
Corinne Sadki (FR)- Head of study, communication and digital development at Le Bureau Export
Ekaterina Bazhanova (RU)- Artist Manager/ Founder Music Development Russia
Peter Astedt (SE) A&R/Senior Advisor Musichelp/ Live at Heart Sweden
The first round of Showcase artists have been announced and if you love Indie Music please read their short bios and watch their YouTube links. If you can't be there in person checking these artists out is a music lover's option.
(In Alphabetical Order)
A-C Leonte (Romania)
A-C Leonte is one of the most creative Romanian singer-songwriters, representing not only the contemporary jazz scene of Bucharest but also the electronic underground movement. She gained a lot of experience studying jazz and borrowing some precious tools from this genre, such as the effervescence of improvisation, the playfulness and power of words and poetry, the harmonic complexity and essentially the freedom of expression. This, combined with other modern influences that reflect the global culture nowadays, such as hip-hop, dnb, dub or trip-hop, gave birth to a deep original sound that she reveals through her work and continuously explores as a composer, band-leader and performer (vocals & violin).
Amadeus (Romania)
Amadeus is one of the most appreciated all-female electric string quartets worldwide. Their constant and ingenious combining of classical and modern elements has certified the group as one of the most popular artists in the realm of classical crossover music. Amadeus has been performing on stage, as a group, for 18 years, and their mission has always been bringing the youth closer to classical music. They played on four continents so far, their music greatly appreciated both in Europe, where France, Spain, Italy, and the U.K. are regular stops for the group, as well as in South America and Asia, where they repeatedly performed with great public success. They released five record albums with a major Romanian label.
Baba Dochia (Romania)
Hailing from Cluj-Napoca, Transylvania, Baba Dochia are playing electronic music mixed with rock. Their style is full of synthetic and organic beats, heavy guitar riffs, flavored with the aggressiveness of live drums. If in the beginning, their compositions were pure post-rock, their style has nowadays become a more organic mix of electronica and rock with glitch and psychedelic elements. The combination of synthesizers, drum machines (and live drums) with distorted guitars have made them one of the most original bands in the Romanian alternative scene. Their main influences are from Death in Vegas, Trentemøller, Apparat, Amon Tobin, Boards of Canada but especially from Team Sleep, the project's main catalyst. Baba Dochia played at some of the biggest music festivals in Romania (Untold, Afterhills, TimeShift, Peninsula/Félsziget Festival and many more), one festival in India and some indoor venues in Germany.
Balothizer (UK)
Balothizer are an electric power trio emerging from Haringey, North London, playing a dynamic, ethereal style of music which the band dub as Post Cretan - or, in other words, Cretan Music from Hell! With their fusing of Cretan music and poetry traditions, along with heavy bass lines and thunderous drumming, Balothizer have been undertaking a series of high-powered shows, tours and festival dates across Europe, delivering their unique sound with an energy and ferociousness that has built them their strong and loyal following. The project is the brainchild of bassist and percussionist PavlosMavromatakis and lute player and guitarist Nikos Ziarkas who shared a passion for Cretan music and poetry.
BarışDemirel – BarıştıkMı (Turkey)
BarıştıkMı is a project by Turkish singer-songwriter and trumpet player BarışDemirel, influenced by the sounds of Turkey and predominantly the genres of rock, jazz, hip hop and ambient. His mellow vocals and innovative use of equipment mark his authentic yet unique style, making him stand out amongst the contemporary jazz musicians and fusionists of his time. He released his debut album T.E.A.R. in 2015 and ever since he has been performing with his band at many domestic and international festivals in countries such as The Netherlands, Germany, Belgium, England and Switzerland (Montreux Jazz Festival). His second album "FAIL - PLAY" was released under Lin Records in October 2018.
Cucina Sonora (Italy)
Cucina Sonora - the union between analog and digital, classic and electronic, past and future to better feel the present. Pietro Spinelli's project began in 2014 with his idea to move from classic piano toward new horizons. After an EP and several other European gigs, he decided to move to Berlin and develop his studies at dBs Music School, attending the Electronic Music Production & Performance degree course. His most recent album, called "Evasione", was written between Italy and Berlin and was released in 2017. Meanwhile, he performed more than 60 gigs both in Italy and abroad, sharing the stage with electronic music celebrities such as Godblesscomputers, Fricat, Stev, Machweo, Aucan and Go Dugong.
Dagamba (Latvia)
DAGAMBA fuse the musical cultures of East and West to form a unique and powerful sound. Their performance is a mix of world music with rock, pop and classical music - exploring the previously unchartered musical territory, they create a vivid and dynamic performance. Established in Latvia in 2011 by highly skilled academic musician Valters Puce (cello), he was quickly joined by Anton Trocjuks (cello), his childhood friend. Their super creative experiments with different kinds of genres as well as their unrelenting passion later convinced Iranian percussionist HamidrezaRahbaralam (daf, setar, voice) and Lithuanian pianist Dainis Tenis (piano) to join as members of the group.
Gunned Down Horses (Iceland)
With a performance that will throw you off guard, a kamikaze approach and a cinematic-induced spirit, Gunned Down Horses - galloping from Israel - are a new rising force in the world of rock. Influenced by the realms of cabaret and Horse Opera, their unique sound ranges from Nick Cave meets Faith No More to Tarantino meets Fellini. They released the moving single/book "Turtle Doves" last summer, and visited Iceland in November, celebrating their Icelandic connection with an explosive new show. In 2018 they supported Deep Purple's goodbye tour in Russia. When it comes to this unique ensemble, expect the unexpected.
Lazywall (Morocco)
Lazywall is one of the few Oriental Metal bands, along with Myrath and Orphaned Land, that combines powerful guitar riffs with traditional Moroccan instruments such as Oud, Darbouka and Guembri. They formed in 2003 in Reading, England, and released their first EP "Primal Tapes" in 2006, recorded in Chicago with Nirvana's producer Steve Albini. They slowly gained international popularity, performing at prestigious venues and festivals including SXSW in Austin (USA) and Garorock (France). In 2010 they became the first metal band to ever perform live on Moroccan national TV, and the same year they got to perform in front of 50,000 people at the festival of Casablanca. They are currently recording their sixth album.
Marius Mihalache (Romania)
Marius Mihalache is the best known Romanian dulcimer player. Born in Bucharest, in a family of musicians, he first encountered the dulcimer at 4 years old, encouraged by his father. At 10 he won his first prize in Athens, Greece, and by 17 he had won numerous awards for interpretative virtuosity. The most important moment of his life as an artist was meeting and opening for the one who would later become his mentor, the renowned American artist Chick Corea. In 2017 his latest Balkan-music project "Săftiță" is released - telling the story of his life, highlighting his Gypsy affiliation and all that it brought to build his cultural and musical background. Listen to him live and you'll understand why he is called the "Cimbalom Whisperer". 
Piqued Jacks (Italy)
Formed in 2006, The Piqued Jacks are a band of brothers who grew up together in the countryside of Buggiano, near Florence, Italy. With tenacity, riveting concerts, and a unique style of alt/funk-rock music, they made their way to Rome, Milan, London, Glasgow, Austin, and Los Angeles. On one of their early days, they broke and bent an audio jack; the double meaning of its upward angle was easy to see for the four young boys. "Piqued" means "interested", but also stands for direct, spontaneous, visceral. Their latest album was produced by Dan Weller (Enter Shikari, Young Guns) in an 18th-century country home, transformed for the occasion into a recording studio.
RikkeNormann (Norway)
Rikke is a modern singer-songwriter with a soulful voice and solid pop-backbone. She's a complete one-woman-production and DIY artist with enormous creativity and drive and has been singing for a living for over 10 years now. In February 2019 she released her third album called "35". Recorded live, one-take-straight through, the album received great reviews both at home and abroad, earning her the reputation as a songwriter and artist to look out for. Wearing her heart on her sleeve, RikkeNormann needs nothing more than a piano to attract attention, and pierce the heart of the listener with her way of talking about feelings. Rumour has it she's Norway's best kept musical secret.
Royal Prospect (SE)
Royal Prospect is a young rock band from Lomma in Sweden, formed in early 2014 by four friends: Oscar, Hannes, Gustav and Hannes. As well as performing at various Swedish festivals the band was invited to play on the main stage of Croatia's biggest music festival "Inmusic" in Zagreb in the summer next year. In 2016 they performed at Sweden's biggest showcase festival Live at Heart, which ended with the band getting signed by Rehn Music Group on the spot. After several successful singles ("Fire", "Hearts", "I Feel Alright") which gained significant airplay and media attention, they returned to Live at Heart, held their own Asian Tour in 2018 and performed in the USA at Summerfest in 2019.
Sara Renar (Croatia)
A former architect with a Master's degree, she has left her office job to pursue a full-time career in music. Her music style can be described as experimental/indie/pop mixing subtle melodies with electronic and theatrical elements. Heavy emphasis is put on the lyrics in her mother Croatian tongue and she is a welcome guest at literary and theatre festivals as well as music and showcase festivals throughout the region. Praised as one of the best Balkan new generation singer-songwriters, she has played over 250 gigs in the last three years and is currently expanding her reach to an international audience. Think Sevdaliza vs. St.Vincent, or even Bjork vs. FKA Twigs, with an unique Slavic touch.
yesyes (Hungary)
The idea of yesyes came from two young men's heads in a dorm room - and their common dreams soon became real! ÁdámSzabó (vocal, accordion) and Tamás Katona (drums) believe in the power of saying yes to the good things in life: their positive thoughts sent them to the final of the DAL competition with their song "I Let You Run Away", which was also published by the Trap Nation YouTube channel in 2018 and reached 4 million views in a year. In 2019 the guys went on a tour with one of the biggest Hungarian band, BRAINS, and they got the chance to play at the biggest outdoor venue, on the stage of the Budapest Park.
For more visit:
https://masteringthemusicbusiness.ro/info/
https://www.facebook.com/MasteringTheMusicBusiness/
https://www.instagram.com/mmb_ro/
Editor's Note: I became aware of Mastering the Music Business while at Live at Heart – Sweden through Peter Astedt. I met Peter Astedt at CMW in Toronto, Canada and met up with him in various other places like France, Portugal and Newfoundland. Throughout the years, I have been blessed to meet so many people while on the road so to speak. This also has given me the opportunity to hear so many great artists and be able to share their stories and music here at Cashbox.  I am truly honoured to be attending #MMB 2020 in Bucharest, Romania, once again proving that music has no borders.