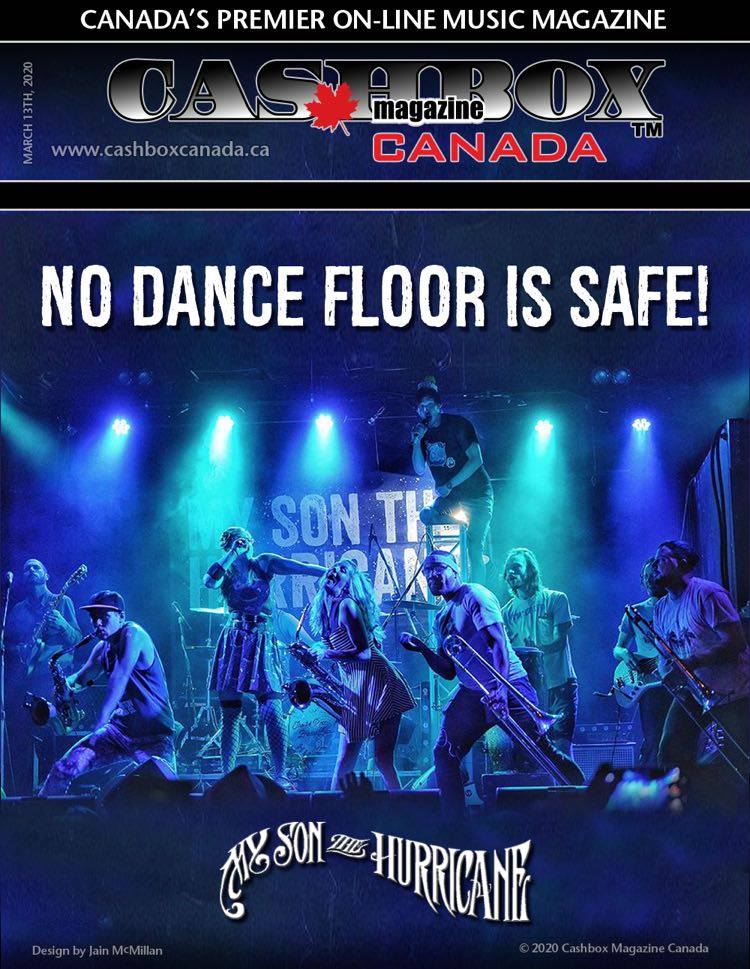 Fri Mar 13, 2020
My Son the Hurricane is a multi horn, multi drummer, multi singer brass funk beast—No dance floor is safe. The giant band returned with a full-length album "Ride the Bullet" (Vegas Funeral Records) in 2019 and a 7 month Canada/USA/European tour that saw over 50 sold-out shows. Hurricane features a large horn section, full-throttle rhythm section and 2 SUPER energetic front people and has been called a "brass beast thrift shop circus" and are like a voltage enhanced Lawrence Welk.
They work hard to be "the most energetic act in North America" and with 100 plus dates a year and headlining spots all over North America this 10-12 piece act has been catching the attention of the global buyers as well as fans.
Hailing from Niagara/Toronto, the perennial festival closers and dance floor inciters mix New Orleans style grooves with funk, jazz and hip hop.
Catching up with leader Danno O'Shea in his home in Canada we got a glimpse of the musical rollercoaster ride this band is on with O'Shea in the front seat. "We are on a strategic path to work our way around the world, bringing our kind of sound to the masses. Once an audience hears us, no matter what the age demographic is, we get them hooked – and within minutes they are up and dancing.'
Dan O'Shea is not just the drummer, but he is the leader, booking agent, mentor and planner behind the band that has the industry buzzin'. And they run their own record label to boot.
"We kept struggling with the concept of having a label and distribution, and in the current market what would an actual label do for us? So we started Vegas Funeral Records, and it has been great being able to oversee and control the concept from beginning to end."
"We have members that live all over and we get together for our yearly rehearsal', quips O'Shea, "we have 'charts and parts' and when we get together before a tour, run it through and we are tight and ready to go in a few hours."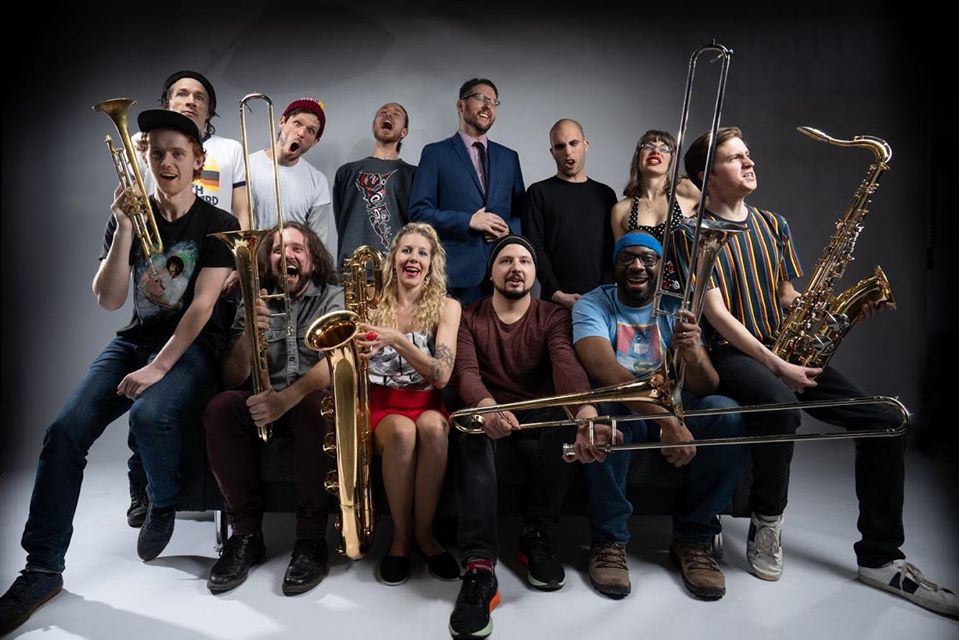 Current band members include:
Emcee / Jacob Bergsma
Vocals / Sylvie Kindree
Drums / Danno O'Shea
Bari Sax / Victoria Cox
Bari Sax / Phil Skladowski
Percussion / Cooper Hannahson
Trombone / Alex Duncan
Trombone / Justin Williams
Guitar / Chris Sipos
Bass / Fraser Gauthier
Trumpet / Troy Dowding
Trumpet / Max Forster
So just picture the horn sound of Tower of Power, rap at its best and female vocals like Chaka Khan and you may get a little glimpse of how these guys sound. Check out a little sample here:
My Son The Hurricane - Birthday Cake (Official Video)
https://youtu.be/vFuKyx9F1OQ
My Son the Hurricane has been featured on CBC Radio One, Much More Music, Exclaim!, Edge 102.1, Indie 88, and 97.7 HTZ-FM, as well as having collaborated with U.S.S., Pocket Dwellers and three-time Juno/Polaris nominee D-Sisive. The newest album, "Is This What You Want?!", recorded at Phase One Studios in Toronto with Jeff Pelletier (Tokyo Police Club, Big Sugar, Young Empires), enjoyed months on the national Campus & Community radio charts, and has been called "masterfully played, arranged and produced" (Canadian Beats). During the band 2018 cross Canada tour, Hurricane amazed audiences, incited dance floors and showed off a truly one-of-a-kind stage show that has been featured at such festivals as: Wapiti, Riverfest Elora, Evolve, Hillside, Kispiox Valley Music Fest, Messtival, Beaches Jazz Festival, Summerfolk, Peterborough Folk Festival, and many more, establishing Hurricane as "a group of fun, professional artists that really know how to bring the party." (Jeremie Boudreau, Messtival).

My Son the Hurricane Tour Dates:
Friday March 20 - Signal Brewery - Corbyville, ON, Canada
Saturday March 21 - The Old FIrehall - Ancaster, ON, Canada
Saturday March 28 - Historic Red Dog - Peterborough, ON, Canada
Friday April 10 - The Moose & Goose - Thorold, ON, Canada
Friday April 17 - Royal Cdn. Legion Br 63 - Collingwood, ON, Canada
Saturday April 18 - Royal Cdn.Legion Br 129 - Haliburton, ON, Canada
Friday April 24 - Maxwell's Concerts & Events - Waterloo, ON, Canada
Friday May 8 - Dominion House - Windsor, ON, Canada
Wed May 27 - Live at Heart Newfoundland - Marystown, NL, Canada
Friday June 12 - Revival House - Stratford, ON, Canada
Friday June 19 - The 27 Club - Ottawa, ON, Canada
Saturday June 20 - Pettawawa Civic Centre - Pettawawa, ON, Canada
Saturday July 11 - Field Summer Music Fest - Field, BC, Canada
Keep checking their website at www.msthofficial.com and if they are playing near you – get out and dance!
For more visit:
facebook.com/mysonthehurricane/
twitter.com/msthofficial
instagram.com/mysonthehurricane/?hl=en
music.apple.com/ca/album/is-this-what-you-want/1109347809
open.spotify.com/artist/0Bg7e3yXgYuRxwgP0gIRVm?si=Vyf2pc-iRRS-Eia27Dx7uw