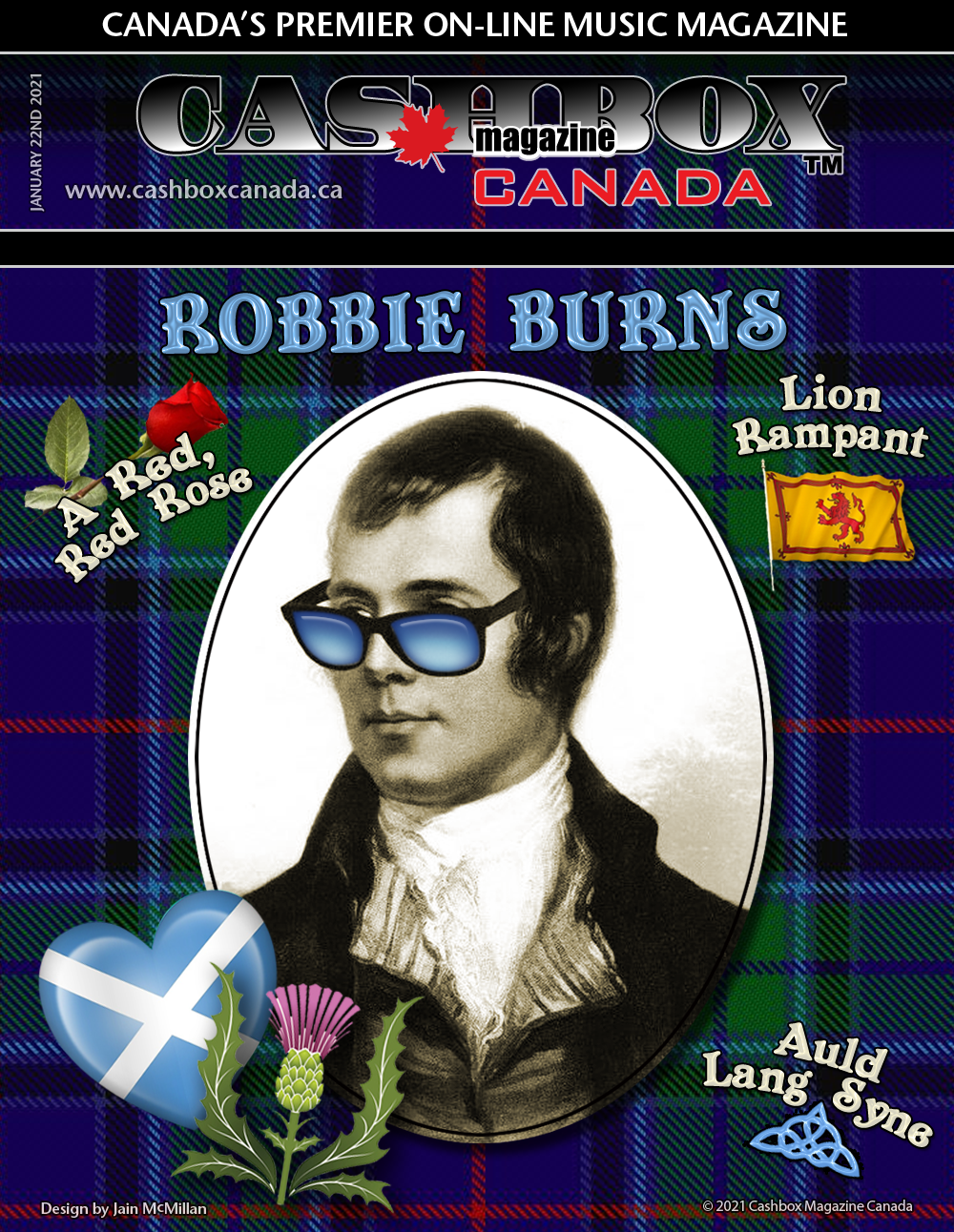 Fri Jan 22, 2021
There's little doubt that had Robbie Burns, the Ploughman Poet , been born a hundred years later he would have a certified triple A rock star. The ladies' man, the poet, the eternal romantic. Burns was in fact regarded as a pioneer of the Romantic period, an artistic, literary, musical and intellectual movement that started in Europe toward the end of the 18th century, peaking from  about 1800 to 1850. Whether his subject was a man or a mouse or even a louse, Scotland's National Bard had that rare talent of putting himself into others peoples place and circumstances and found a way to express  life's universal emotions
Burns was capable of creating traditional ballads,romantic songs , humorous songs and poems.  Robert Burns composed some of the world's most instantly recognizable lines of poetry and song lyrics. His " Auld Land Syne" is a staple around the world on New Year's Eve. It's because of  Rabbie Burns  that we promise, every Hogmanay, to 'tak a cup o' kindness' with the people  and go into the new year with a proclamation of  hope for the future. He wrote love songs that spoke to people's hearts and the women loved him and his ability to flesh out the emotions of love . Like Kris Kristofferson did in the '70's with his " I don't want to be alone, so help me make it through the night " Burns did with " Red. Red Rose " with lines like  " My love is like a red, red rose that's newly sprung in June. My love is like a melody that's sweetly played in tune"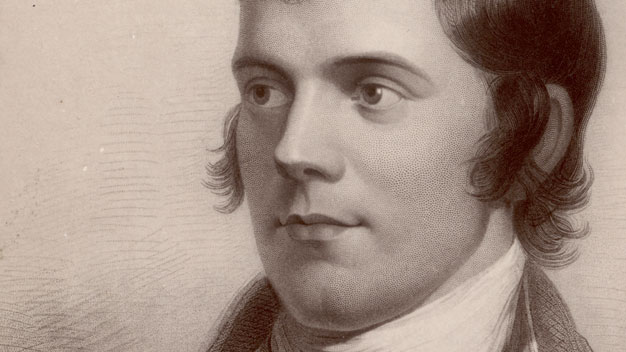 Robert Burns  was born in Alloway, just south of Ayr,  in a house his father  built. That house is now the Burns Cottage Museum. He lived there until 1766, when he was seven years old. His father William Burns sold the house and took the tenancy of the 70-acre  Mount Oliphant farm, southeast of Alloway. Burns grew up here in poverty and due to the heavy  manual labour of the farm he developed a premature stoop and a weakened constitution.
By 15 years of age, Burns was the principal labourer at the farm and during the harvest of 1774, he was aided  by Nelly Kilpatrick, who was the inspiration behind  his first attempt at poetry, "O, Once I Lov'd A Bonnie Lass". In the summer of 1775, he met Peggy Thompson for  whom he wrote two songs, "Now Westlin' Winds" and "I Dream'd I Lay".
Much to his father's chagrin, Robbie  joined a country dancing school in 1779 which in modern times probably would have a country band and formed the Tarbolton Bachelors' Club the following year. His earliest existing letters date from this time, when he began making romantic overtures to Alison Begbie. In spite of four songs written for her and a suggestion that he was willing to marry her, she rejected him.
His first child, Elizabeth Paton Burns, was born to his mother's servant, Elizabeth Paton while he was in  a relationship with Jean Armour, who became pregnant with twins in March 1786. Burns signed a paper attesting his marriage to Jean, but to avoid disgrace, her parents sent her to live with her uncle in Paisley. Although Armour's father initially forbade it, they were eventually married in 1788. He eventually had nine children with Armour  only three of whom survived infancy.
Burns was in financial difficulties due to his lack  of success in farming so  to make enough money to support a family he took up a friend's offer of work in Jamaica. Burns was to be the bookkeeper for Charles Douglas who ran the Springbank estate for his brother, the Earl of Mure. At about the same time, Burns fell in love with Mary Campbell, a young lassie he had seen in Church. He dedicated the poems "The Highland Lassie O", "Highland Mary", and "To Mary in Heaven" to her. His song "Will ye go to the Indies, my Mary, And leave auld Scotia's shore?" suggests that they planned to emigrate to Jamaica together.  Burns didn't have the funds to pay for his passage to the West Indies  so it was  suggested that he should "publish his poems in the meantime by subscription, as a likely way of getting a little money to provide him more liberally in necessaries for Jamaica."  Burns sent proposals for publishing his Scotch Poems to John Wilson, a local printer in Kilmarnock, who published these proposals in April 1786, on the same day that Jean Armour's father tore up the paper in which Burns attested his marriage to Jean. Burns needed to get a certificate that he was a free bachelor so agreed in June to stand for rebuke in the Mauchline kirk for three Sundays. He transferred his share in Mossgiel farm to his brother Gilbert on 22 July, and on 30 July wrote to tell his friend John Richmond that, "Armour has got a warrant to throw me in jail until I can find a warrant for an enormous sum ... I am wandering from one friend's house to another."
End of July 1786, John Wilson published the volume of works by Robert Burns, Poems, Chiefly in the Scottish dialect. Known as the Kilmarnock volume and  it sold for 3 shillings and contained much of his best writing, including "The Twa Dogs", "Address to the Deil", "Halloween", "The Cotter's Saturday Night", "To a Mouse", "Epitaph for James Smith", and "To a Mountain Daisy", many of which had been written at Mossgiel farm. The success of the work was immediate, and soon he was known across the country.
Burns postponed his trip to Jamaica on  September 1st  and was at Mossgiel two days later upon learning  that Jean Armour had given birth to twins.
In November 1786 Burns  set out for Edinburgh and in  December William Creech issued subscription bills for the first Edinburgh edition of Poems, chiefly in the Scottish dialect, which was published on 17 April 1787. Within a week of this event, Burns had sold his copyright to Creech for 100 guineas. In Edinburgh he was received as an equal by the city's men of letters. He got involved in a relationship with Agnes "Nancy" McLehose  and they  exchanged passionate love  letters. It became clear that Nancy would not be easily seduced into a physical relationship, so Burns moved on to Jenny Clow, Nancy's domestic servant, who gave  him a son, Robert Burns Clow, in 1788. He also had an affair with a servant girl, Margaret "May" Cameron. His relationship with Nancy ended  in 1791 with a final meeting in Edinburgh before she sailed to Jamaica for what turned out to be a short-lived reconciliation with her estranged husband. Before she left, he sent her the manuscript of "Ae Fond Kiss" as a parting gift.
In Edinburgh, in early 1787, he met James Johnson, a struggling music engraver and music seller with a love of old Scots songs and a determination to preserve them. Burns shared this interest and became an enthusiastic contributor to The Scots Musical Museum. The first volume was published in 1787 and included three songs by Burns. He contributed 40 songs to volume two, and he ended up responsible for about a third of the 600 songs in the whole collection, as well as making a considerable editorial contribution. The final volume was published in 1803.
He returned  from Edinburgh in February 1788, and renewed  his relationship with Jean Armour and took a lease on Ellisland Farm, Dumfriesshire, settling there in June. Around  this time he  requested to write lyrics for The Melodies of Scotland, and  he responded by contributing over 100 songs. He made major contributions to George Thomson's A Select Collection of Original Scottish Airs for the Voice as well as to James Johnson's Scots Musical Museum Arguably his claim to immortality rests heavily  on these volumes.
As a songwriter he provided his own lyrics, sometimes adapted from traditional words. He put words to Scottish folk melodies which he collected, and composed his own arrangements of the music. He explained that he preferred simplicity, relating songs to spoken language which should be sung in traditional ways. The original instruments would be fiddle and guitar.
In Burns' own words he described how he had to master singing the tune before he composed the words; "My way is: I consider the poetic sentiment, correspondent to my idea of the musical expression, then choose my theme, begin one stanza, when that is composed—which is generally the most difficult part of the business—I walk out, sit down now and then, look out for objects in nature around me that are in unison or harmony with the cogitations of my fancy and workings of my bosom, humming every now and then the air with the verses I have framed. when I feel my Muse beginning to jade, I retire to the solitary fireside of my study, and there commit my effusions to paper, swinging, at intervals, on the hind-legs of my elbow chair, by way of calling forth my own critical strictures, as my, pen goes." Robert Burns.

Following a dental extraction, Burns died in Dumfries on July 21st 1796, at the age of 37. The funeral took place on Monday 25 July 1796, the day that his son Maxwell was born.
Through his twelve children, Burns has over 600 living descendants.
Should auld acquaintance be forgot,
And never brought to mind?
Should auld acquaintance be forgot,
And days o' lang syne!
Rock On Robbie Burns!
Check out our Robbie Burns Playlist on https://www.cashboxradio.ca/.
January 23 Saturday 7-8pmEST and Sunday 4-5pmEST and again on Rabbie Burns Day January 25 on show at 11amEST.