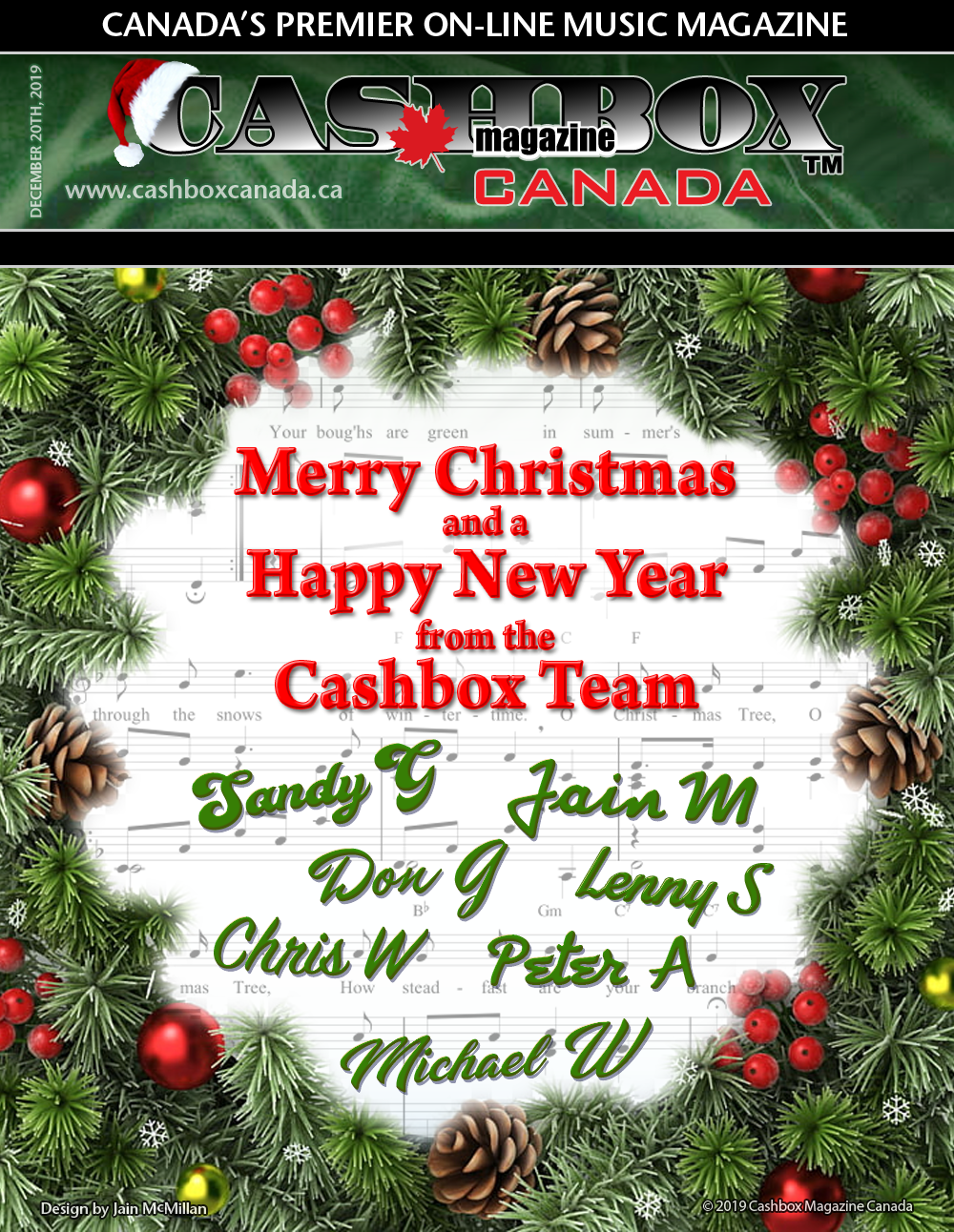 Fri Dec 20, 2019
Sandy Graham: Christmas is a time to be grateful for all we have and I need to say how grateful I am for the Cashbox Team and my extended friends and colleagues in the industry who made 2019 so memorable for me.
The Cashbox Team is made up of Lenny Stoute, Don Graham, Chris Wardman, Jain MacMillan, Peter Astedt and Michael Williams and honestly, we could not publish week after week without these incredible people and their dedication to our magazine.
We have listed a few of their favourite 'Top Ten' things that happened for them this year:
 
Jain MacMillan - Cashbox Cover Design/Graphic Artist
My Top Ten favourite music-related things in 2019!
Working tirelessly designing for and executing my multi-projector portion of the ONES Show. ONES the Beatles #1 Hits played at many venues around Ontario this year culminating in a show at Meridian Hall, formerly the Sony Centre for the Performing Arts on December 7th.
Designing my weekly cover art for Cashbox Canada Magazine. It's always exciting to learn about new artists and to develop an appreciation for old ones.
Going on the second Tuesday of every month to hear Stuart Laughton's "Radio Dial" at Dora Keogh's pub on the Danforth. Stuart and a very talented group of his musician friends perform a uniquely diverse range of music in a nice cozy space.
Taking the new subway line from our home in Vaughan down to Koerner Hall to hear Bruce Cockburn. At 74, he is still as vibrant a performer as I remember him being the first time I saw him as a teenager in the 70's.
Designing a CD cover for a friend's upcoming release entitled Road Ready by Jeff Walker and The Moving Violations.
Going on a field trip of sorts to hear Brit Floyd at the Sony Centre to observe take notes on their use of lasers and special effects in hopes of enhancing the ONES show.
Taking time to rediscover the 8 CDs of assorted music my husband and I carefully complied for our wedding 20 years ago. So great to revisit the songs that mattered to us then and to relive some of the memories from that special day.
Listening to new music from the artists featured on the weekly Cashbox covers I design. I like to play the artist's songs for inspiration while I work on the graphics. So much great talent I may never have been exposed to otherwise. Thanks, Sandy Graham and Cashbox Canada!
Favourite music book this year has to be: Will You Take Me As I Am: Joni Mitchell's Blue Period by Michelle Mercer. An insightful read about one of my all-time favourite singer-songwriters. This book was a gift from a dear friend that I always seemed too busy to get to. So glad I finally made the time!
Taking a water taxi across to Toronto Island one Saturday in early September to hear my husband's cousin and his band play. It was a warm sunny day spent sipping cold cider and listening to great rock and blues as the ferries and sailboats gliding by.
Peter Astedt - Contributing Journalist/Discover Sensation/Global Specialist
My Top Ten of 2019
Starting another chapter of my blog by being part of the startup of Cashbox Radio. I just love the challenge!
Going on Safari in Kenya during my first African music conference. Seeing lions hunt was magical and learning Swahili.
Milestones for Live at Heart 2019 by getting the festival to be 25% bigger. It was an achievement and damn hard work
The whole gang at Midem 2019 in Cannes, France and the creation of the global showcase.
Royal Prospect live show on Golden Melody Awards, and also walking the red carpet with friends
Like Swimming's first concert in 4 years, secret in the woods, amazing.
The Release of 'Shakes' with The Magnettes as a start on their summer tour.
Hanging in Portugal with Namelle and Tribe Royal and a bunch of friends.
The whole Asian connection with Timm, Bangkok Music City, Mu:Con and GMA a new market that feels very open with so many potentials.
End the year of 2019 with my personal record of visiting 50 different showcase festivals around the world and speak on 35 of them.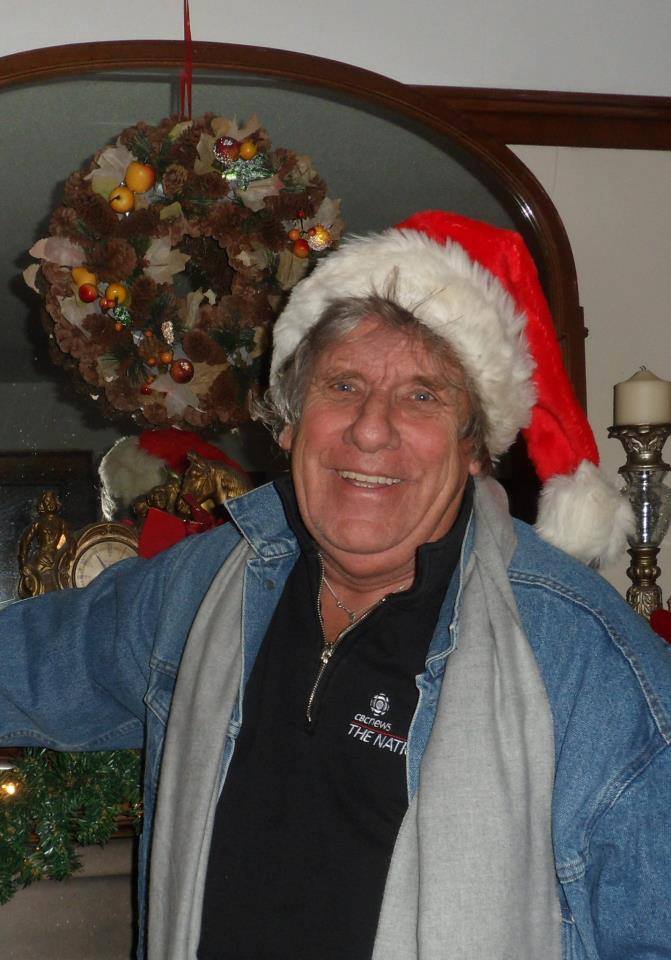 Don Graham – Contributing Journalist/ Cashbox Caravan Host
The Top Ten Things That Happened in 2019
As 2019 wound down I reflected on memorable events of the year.
Here are the top ten takeaways of the year in no particular order.
As we head to 2020 I noted that it's the end of my 5th decade of being a professional musician. From the 1970s through the 2010s I had a great ride.
My musical hero and one of the main reasons I wanted to sing and play guitar and write songs, Eric Andersen, invited me to open for him in April at Toronto's finest listening venue Hugh's Room Live. A bucket list event for me.
Another of my musical heroes and mentors Bill Hill and I played a few amazing gigs together including a couple of times at Montreal's famous Cafe Mariposa. Thanks, Victor Labelle for asking us back. One of my favourite stages on the planet.
I got to continue to travel the world playing in France (MIDEM) and Sweden (Live at Heart) both major festivals. Thanks, Sandy Graham EMG and Peter Astedt of Discover Sensation.
My label mate at Gamma Records, Barry Stagg and I got to share stages in France, Sweden and Toronto, the first time since the beginning of the decade, 2010, in Nashville. And I got to perform at Indie Week in Toronto.
Another of my musical heroes Nashville artist and Grammy nominated and Gold and Platinum record recording artist Michael Peterson and I began a songwriting collaboration with a song called '25 Again', with several others in the works. Michael has plans to record '25 Again' in 2020.
I realized another dream in 2019 when I began my own radio show Country Roots n Roll on Cashbox Radio.
I formed new and hopefully long friendships with some amazing artists at MIDEM and Live at Heart Sweden including Marshall Potts and his wife Joey, Monte Mader, Linus Jackson, Peter Anderson, Bara Jonson and Free (Jonas and Malin) Barry Stagg, Anouschka, Joey Clarkson.
I was honoured to be asked to be a part of Canadian Country Music host and promoter Dave Woods amazing songwriters showcase Stories Songs and Six Strings where I shared the stage with two beautiful and talented ladies of song Elyse Saunders and Suzi Kory.
I got to do what I love to do and follow my dreams for another year meeting old fans and making new ones along the way. Here's to another decade of the same, bring on the '20s.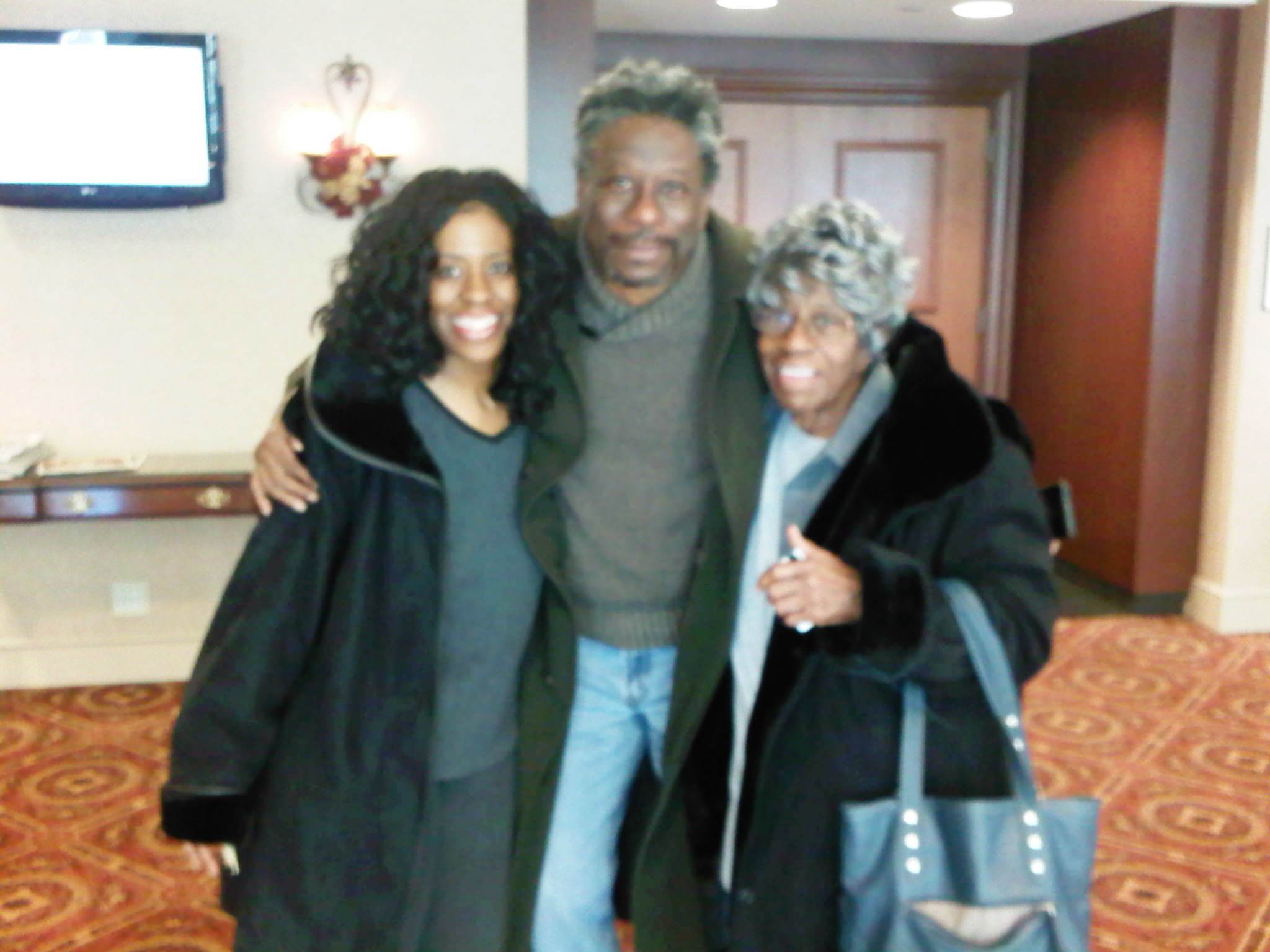 Michael Williams – Contributing Journalist
Cash Box Big Ten Moments of 2019
The 3rd writing of this, it's been a hard year.
My sister Gwendolyn died so did my heart, she is a genius and won scholarships to Princeton, Yale and Harvard. A country fan like me and the only one I shared the music of my album with. She dug it! Life without her the hardest thing we as a family do daily, so I live life the way it should be not the way it is.
Bobby Curtola made it into the Canadian Hall of Fame finally.
Stormzy made me a fan of British Grime music, he comes to Canada in June 2nd, 2020, his Glastonbury performance was perfect. "Blinded by his grace" makes me cry and got me through rough times.
Cannafest 2019 in Grand Forks, B.C. was great. I took over hosting duties from my buddy Jeff Neill, guitarist for Jimmy Barnes and Streetheart. I have been at Cannafest for the last three years thanks to Annette, Gene Greenwood and festival creator, owner Chuck Varabioff. Lookout 2020 the Titans of Rock is coming!
Spoons "New Day New World", a great new record and I became their opening act/host/DJ. Yes, I will be singing with them in 2020. They now have to award-winning videos and will head west in 2020.
The Lincoln's/Prakash John/Jordan John: A family affair of music, the Lincoln's are the oldest Soul, Rhythm n Blues band in Canada at 40 years plus of Soul, formed by four-time inductee of the Rock n Roll Hall of Fame Prakash John. The legendary bass player (James Brown, Lou Reed, Alice Cooper, George Clinton, Parliaments, Funkadelics).
I executive produced Romanyi Rota from Hungry with the incredible Macedonian/Canadian producer Davor Jordanovksi, whose band Voda also appears on the track.
I joined my friends band The R n R Soul Orchestra from New York City, as the spoken word voice of the band featured on the new Christmas single, "God Rest Ye Merry Gentlemen".
Finished my albums which are comprised of my productions, my performances, my creative ideas and input, dreams, friends and family.
I have been contemplating my return to media, a podcast, television, radio (we launched
CashBox Radio in France in June ), did I mention my book trilogy chronicling my life in music?
Dedicated to Gwendolyn, my son Miles and my family.
Sandy Graham – Founder/Editor-in-Chief/Contributing Journalist
After such an incredible year it is hard to narrow it down to a Top Ten list, so I will do my best.
I am grateful that we have continued to provide indie artists with a chance to get press and publicity and to have a chance to find new fans through Cashbox Canada along with my dedicated team at Cashbox Canada.
In the last year, I had the opportunity to travel and be a panellist and/or a presenter of our great EMG roster at Westway LAB (Portugal) MIDEM (Cannes, France) Live at Heart (Örebro, Sweden) Summerfest (Milwaukee, Wisconsin) forming life-long friendships with colleagues from Spain, Bulgaria, Romania and so many other countries. A special thank you to Peter Astedt – the industry connecter! We are now lifers Robert Singerman, Grace Puluczek, David Silbaugh, Boyan Robert Pinter, Dan Fintescu and Anca Lupes!
EMG participated in our first Indie Week with the Cashbox Caravan in Toronto, Ontario, showcasing Tribe Royal (Ontario) The Royal Flash (Spain) Don Graham (Ontario) Barry Stagg (Ontario, North Carolina) and we received two nominations Bara Jonson and Free (Sweden) Best Emerging Artist – International and The Marshall Potts Band (British Columbia) Best Emerging Artist – National. Thank you Darryl Hurs, Zach McEwen Jones and Cameron Carpenter – looking forward to Indie Week 2020.
We had a soft launch of Cashbox Radio in June and we are excited to unveil our new platform in 2020. Radio The Way It Used to Be!
I am blessed to continue to teach dance with my You Could Be Dancing classes at Creswell Dance Academy in Toronto. I am being featured in a new book soon to be released about seasoned dancers who continue to dance to this day. Thank you for the honour Pat Beaven!
To have really developed strong bonds and friendships with pr people in this business and a special shout out to Eric Alper who really knows how to deliver great press releases and share his passion.
Michael Raine of Canadian Musician Magazine did a one-hour blog special on my career, calling it Sandy Graham on Living One of the Most Interesting Careers in the Music Business. It was truly humbling and so appreciated.
I have been asked to write a book about my incredible journey in my career, from radio to records, to bar ownership and professional choreographer. It has been amazing going through the memories (and trying to remember some people's names with a little help from my friends) Hoping to get it to the publisher by late winter.
I spent 30 years working, managing and mentoring the one and only Bobby Curtola. (I sometimes wonder who 'managed/mentored' who?) I was so happy to see him finally get the recognition he deserved by being inducted into the Canadian Music Hall of Fame. Way to go Mr.C! We finally did it.
Being able to continue to work in this crazy business and not only share my experience but work with artists who are truly my musical family. 2020 is already shaping up to be another incredible year of showcases, travelling and sharing and making more memories. (and thank you to my family for supporting me for the times I am away from home). The best is yet to come!
Enjoy your holidays, stay happy and safe and thank you all for a great 2019!