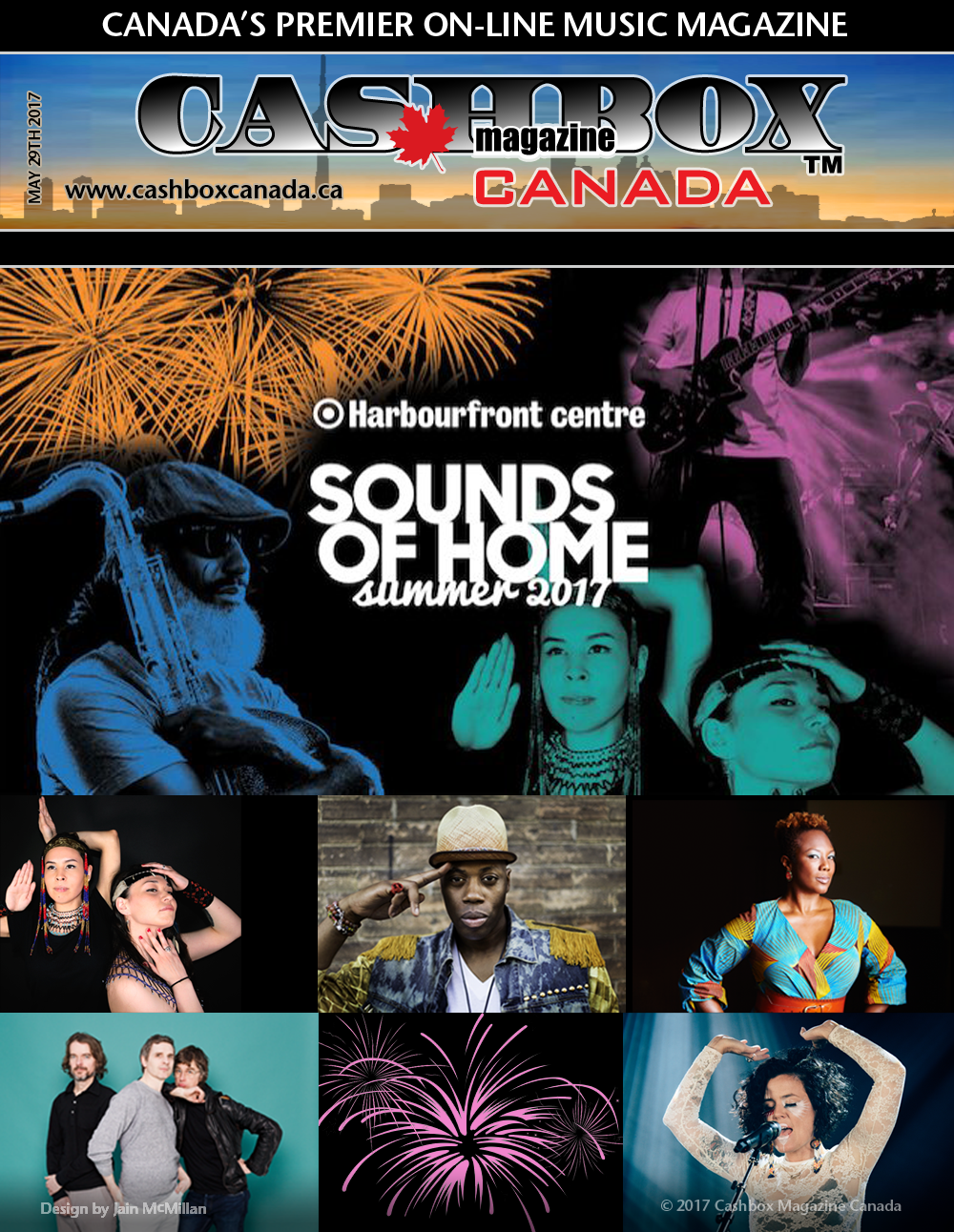 Fri May 26, 2017
Harbourfront Centre's 2017 summer season celebrates Canada's cultural heritage with Sounds of Home, a sonic tribute to the strength of the diversity found across the land known as Turtle Island. The season kicks off on June 27 with Here in the 6ix: Celebrate Multiculturalism Day, a program offering a full day of free events reflecting Toronto's rich cultural mosaic.
Four distinct weekend festivals in July form the core of a programming vision that gathers Canadian talent from coast-to-coast-to-coast for an array of evocative and entertaining events ranging from concerts, comedy shows, family activities, culinary events, and late-night afterparties. Audiences and visitors are invited to join us throughout the summer on Toronto's waterfront to relax on our lakeside vista and enjoy these curated festivals, your favourite annual festivals, and season-long events, such as the Summer Music in the Garden classical music series, and our weekly Free Flicks outdoor film series and Dancing on the Pier events.
"As one of Canada's leading international centres for contemporary arts and culture, Harbourfront Centre's waterfront campus will continue to be a meeting place for artists and cultural enthusiasts seeking relevant artistic, cultural, educational, and recreational experiences," says Marah Braye, Chief Executive Officer, Harbourfront Centre. "Our summer festivals bring together artists from across Canada reminding us of the multitude of voices that create our Sounds of Home."
"The Canadian Multiculturalism Day festivities being held in Toronto and throughout the country will be more spectacular than ever for this Canada 150 year," said the Honourable Mélanie Joly, Minister of Canadian Heritage. "We have a unique opportunity to celebrate our country's linguistic, cultural and regional diversity. I invite Torontonians and visitors to join family and friends and celebrate in this cosmopolitan city that is open to the world. Let's all make 2017 a year to remember!" 
About Here in the 6ix: Celebrate Multiculturalism Day
Toronto, recently dubbed "the most diverse city in the world" by the BBC, is home to communities from every corner of the globe. On Tuesday, June 27, Harbourfront Centre presents Here in the 6ix: Celebrate Multiculturalism Day, a free public event that starts early with a sunrise ceremony, neighbourhood breakfast and morning stretch before an exciting lineup of family-friendly workshops. A full day of performances include Six String Nation with Jowi Taylor, an indigenous contemporary dance creation by Red Sky Performance, as well the only GTA performance of the national touring production of The Dream Catchers, a hip-hop youth musical presented by the Confederation Centre Young Company. The day caps off with a mainstage showcase concert featuring Toronto's own Kardinal Offishall. 
About Sounds of Home:
Our Home On Native Land (June 30 – July 3)
A four-day event, Our Home On Native Land will challenge audiences to consider concepts of "Canadianness". Curated by Rhéanne Chartrand, Aboriginal Curatorial Resident at McMaster Museum of Art, this festival acknowledges the creative contributions of Indigenous and new Canadians to the artistic and cultural fabric of Canada, or Kanata. The festival includes performances byKinnie Starr, Vox Sambou, Mob Bounce, as well as Fireworks set to music inspired by the festival.
Prairies to Pacific (July 7–9)
From Red River Valley to the tip of Vancouver Island, Western Canadian artists and musicians offer an array of multidisciplinary arts presentations, concerts and activities beginning with the sounds of potlatch and pow wow, continuing through folk, country and pop, and through a host of musical showcases including soul-R&B powerhouseTanika Charles, Delhi 2 Dublin, Alex Cuba, and a live stage version of the award-winning comedy show Stop Podcasting Yourself.
Shield to Shore (July 14–16)
From the ruggedness of the Canadian Shield descending onto the Great Lakes to the shores of the Atlantic, Shield to Shore offers a snapshot of the contemporary and traditional musical forms of this celebrated region. Performances include TUNS, featuring Mike O'Neill of The Inbreds, Chris Murphy of Sloan and Matt Murphy of The Super Friendz. Other weekend highlights are Montreal's multi-lingual hip-hop artist Boogat, Franco-Ontarian sister folk group,Ariko, Lisa LeBlanc and The Sadies.
Northern Passages (July 21–23)
Beginning at the 49th parallel and heading north, this festival celebrates the music, art, film, and dance of Canada's northern regions. On this journey, we hear the call of throat singers, dancers and folk artists, such as Le Vent du Nord, Ojibway singer-songwriterNick Sherman, and new artists including The Jerry Cans whose mash up of dance-inducing Inuktitut alt-country, throat singing and reggae has made them one of the fast-rising northern stars.
Sound Journeys will see three pairs of singer–songwriters from the UK and Canada exploring Canada's contemporary cultural landscape, traveling together by train from the Rocky Mountains in British Columbia to the Atlantic Ocean of the East Coast. Neo-soul crooner David Morin will travel with percussionist, drummer, and London-based producer Sarathy Korwar on VIA Train No. 2, the route known as "The Canadian"; artists Flavia Nasciemento and Luke Jackson will travel from Halifax on VIA Train No. 15 along "The Ocean" line; and Nick Sherman of Northern Ontario, who sings the boreal forest blues, will join country-folk, singer–songwriter, Jess Morgan, on a journey beginning in Winnipeg. Their train residencies will conclude with a live performance of their collaborations at Sounds of Home.
Harbourfront Centre continues its yearly summer tradition of hosting a wide variety of free weekend festivals throughout the summer, as well as our popular Free Flicks outdoor film series (every Wednesday, June 21 – August 30) and our lakeside social Dancing on the Pier (every Thursday, June 22 – August 31). The Living Ritual Festival (July 25–27) explores global Indigenous performance, dance and theatre. Additionally, we welcome the return of our regular programming highlights, including our biennial festival of Iranian culture Tirgan Festival (July 27–30), which brings the music, art and cuisine of one of the oldest cultures in the world to Toronto. We invite audiences to soak up the culture of the Caribbean at Island Soul (August 4–7); introduce themselves to the many cultures of Africa atHabari Africa Festival (August 11–13); while Beats Breaks and Culture (August 18–20) is made in Canada this year. Experience Japan through the eyes of Taiwanese artists at TAIWANfest: Kanpai Japan (August 25–27), and enjoy great food at the 20th anniversary of Hot & Spicy Food Festival (September 1–4), and the ever-popular Veg Food Fest (September 9–11).
Enjoy this wonderful video showing the great musical programming at Harbourfront Centre.
Sounds of Home 2017
Harbourfront Toronto

About Harbourfront Centre
Harbourfront Centre is a Canadian charity operating the 10 prime acres of Toronto's central waterfront as a free and open public site. We celebrate the multiplicities of cultures that comprise Canada and enliven the city through the creative imaginations of artists from across the country and around the globe.
For more on the Harbourfront Centre visit www.harbourfrontcentre.com