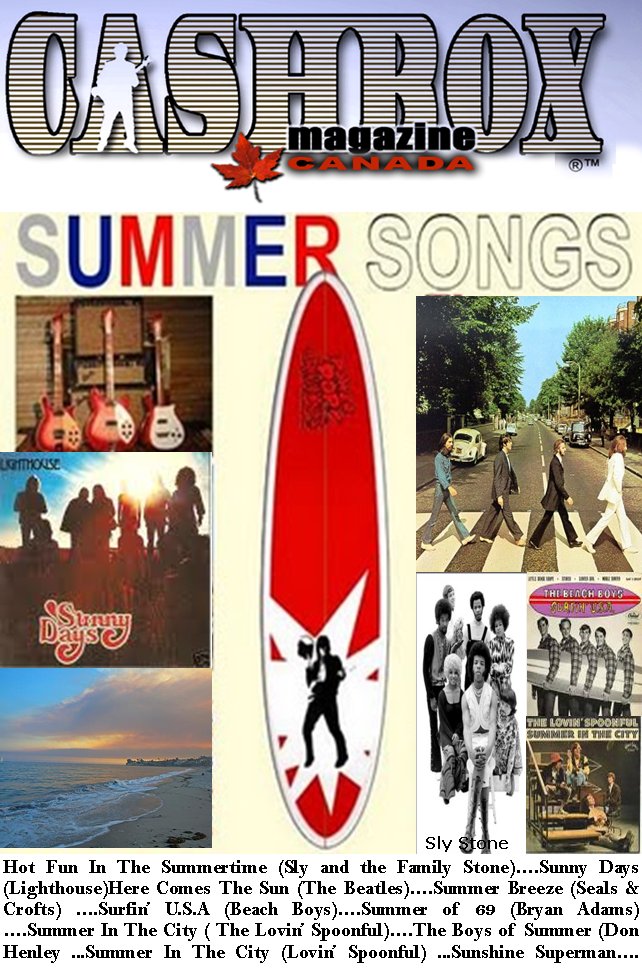 Sun May 09, 2010
In  Canada, we have the tradition of the May 24 long weekend, in honour of Queen Victoria. Being the Commonwealth country, we still uphold this holiday, but not so much as a Birthday recognition of a long ago Monarch, but as the tradition of cottages opening up for the season, gardens getting prepared for the summer flowers, holidays being planned and always the music.
Summer brings the radio stations back to playing hits from the past that we all identify with the season approaching. 'Summer in the City' by The Lovin' Spoonful, 'Summer Breeze' by Seals and Croft and of course the Canadian summer anthem 'Sunny Days' by our very own Lighthouse. Since Cashbox Magazine was known for Charts in it's heyday, Cashbox Canada has compiled a list of the Top 30 Songs that represent the summer season.
Kokomo The Beach Boys
Summer in the City Lovin' Spoonful
Sunny Days Lighthouse
Good Day Sunshine The Beatles
Here Comes the Sun The Beatles
Hot Fun In the Summertime Sly and the Family Stone
All Summer Single Billy Idol
All Summer Long The Beach Boys
Summer of Love John Mellencamp
Lazy Hazy Crazy Days of Summer Nat King Cole
Summer Breeze Seals and Crofts
Summer of 69 Bryan Adams
Summer Wind Frank Sinatra
Here Comes Summer Cliff Richard
Summer Nights From Grease
Sealed With A Kiss Bryan Hyland
The Boys Of Summer Don Henley
Summer Turning Blue Max Webster
Summer Rain Johnny Rivers
Black Summer Rain Eric Clapton
A Summer Song Chad and Jeremy
Summertime Billy Stewart
Hot Summer Day Danny Kirwan
School's Out (For Summer) Alice Cooper
Walking On Sunshine Katrina and the Waves
Enjoy the summer! Go to a cottage, hang out with friends on a patio, 'work on your tan', it is all so Canadian !