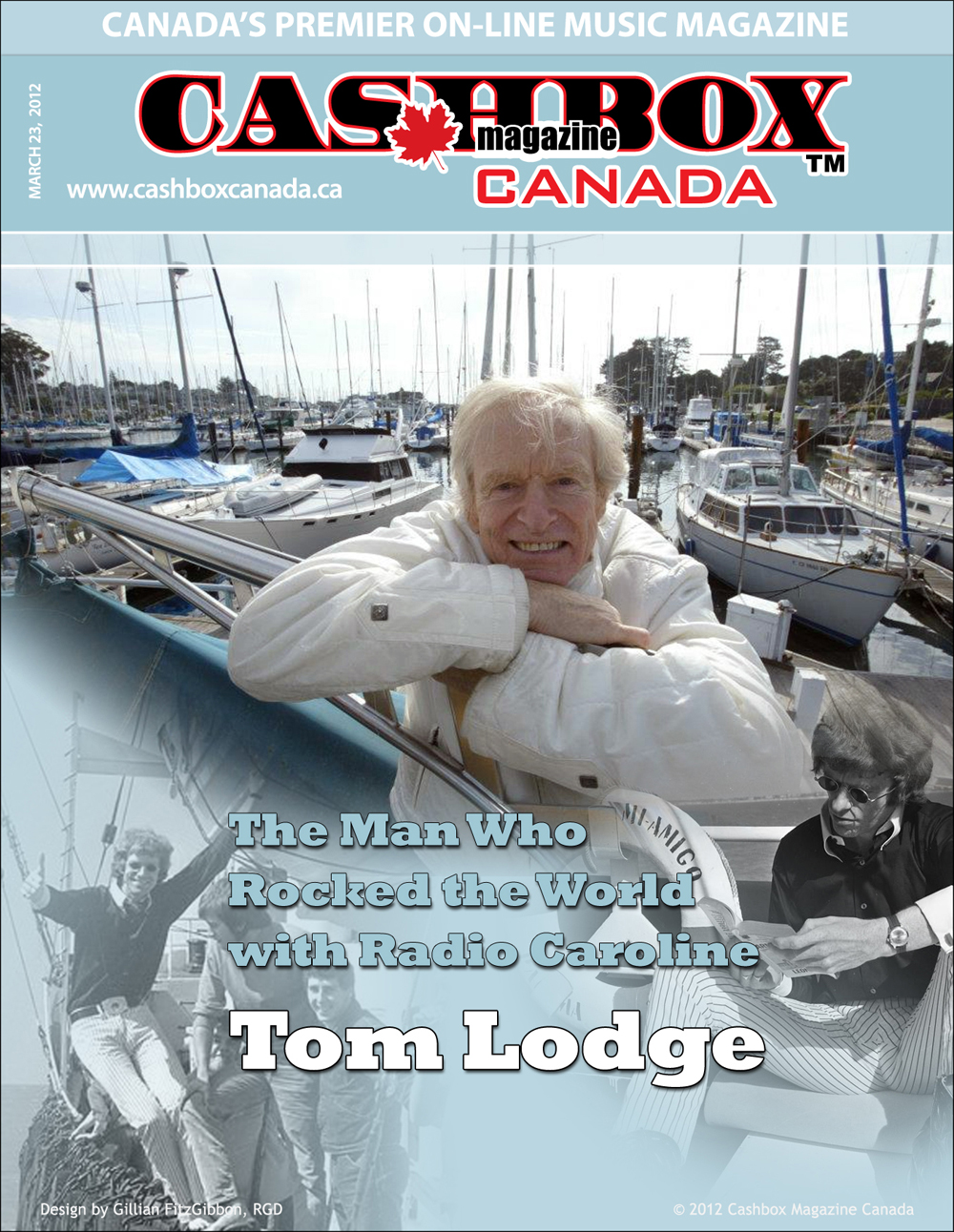 Fri Mar 23, 2012
Umi Tom Lodge passed away Sunday, March 25, 2012 in Santa Cruz, California. we were grateful we had the opportunity to talk before he passed, and so happy he got to see the Cashbox covers in both Canada and the U.S. with his story. There will be a celebration of his life on April 1 at Stillpoint Zen Community at 11 am. All are welcome. In lieu of flowers you may make a donation to Umi`s work at Stillpoint. Sail On Tom and thank you for the lessons.
Tom Lodge was one of the very first offshore disc jockeys in the UK, joining Radio Caroline in 1964. He took part in the epic round-Britain broadcast made from the original Caroline ship, the mv. Fredericia; he was on board the mv.Mi Amigo when she lost her anchor and was washed up on the beach; and he was one of the station's most popular broadcasters, presenting the Breakfast Show on both ships.
What many do not know is Tom Lodge got his start on radio right here in Canada. Lodge emigrated here to be 'a cowboy' and ended up working for the CBC in the Northwest Territories. Here is an excerpt from his book "The Ship that Rocked the World: How Radio Caroline Defied the Establishment, Launched the British Invasion and Made the Planet Safe for Rock and Roll".
"There was the ship, my future home on the horizon, a ship with a mast that looked far too big. Yet she sat queen-like, steady in the water. As our small boat bounced closer to her, I could hear the rumble of engines. Once alongside, our small boat rode up and down with the waves while the ship rested steadily, solid and secure. A new adventure was beginning. As we jiggled and rocked with the waves, I waited for the right moment to jump aboard.
I was greeted by the deejay Simon Dee, a tall, sandy-haired and serious-looking man. He took me for a tour of the ship. But in that first moment as my feet hit the steel deck with a ring, the smell of the ship, the smell of new paint, diesel oil and salt flooded through me. I was immersed with memories of other ships. Memories of the ship I rode when I was four, fleeing Hitler's armies; then the ship I rode when I was eighteen, emigrating to Canada to be a cowboy; and finally at twenty the ship I sailed on from New York to win back Jeanine, the girl of my dreams. But this was the ocean. This was freedom. This was where there was no end to the water. This was where the horizon melted into the sky and the air tinged my lungs. This was the release from all of society's confinements."
Tom Lodge was destined to work in broadcasting. His grandfather, Sir Oliver Lodge, was one of the pioneers of wireless telegraphy. Tom was born in Forest Green, Surrey, in 1936 but his family moved to America when he was four. He came back to the UK for his schooling but, on his 18th birthday, sailed to Canada where he worked as a cowboy. He spent two years on an expedition into the frozen wastes of the Canadian Arctic, an experience he later wrote about in his book Beyond the Great Slave Lake. He joined CBC, the Canadian state broadcaster, and after working for them in Canada was posted to London.
A chance meeting with Radio Caroline's founder Ronan O'Rahilly in a pub led to Tom joining the new station off the coast of East Anglia in 1964, just after the first broadcast. When the ship sailed to the Isle of Man to become Radio Caroline North, it was Jerry Leighton, Alan Turner and Tom who kept broadcasting during the journey. Tom stayed on the North ship through most of 1965 but transferred to the South ship when Ronan O'Rahilly bought out his partner towards the end of the year. He was aboard the south ship, the mv.Mi Amigo, on the night in January 1966 when she lost her anchor and was washed up on the beach.
He presented the Breakfast Show on both ships and was senior DJ / Programme Controller. Lodge used two different versions of the same tune for his theme: Rinky Dink by both the Johnny Howard Band and by Sounds Incorporated, as well as the latter group's I'm Coming Through. After leaving Caroline, Tom worked briefly for the BBC before returning to Canada where he worked in radio for a time, became Head of Communications at the University of Ontario, farmed jojoba nuts in Costa Rica, wrote a second book Success Without Goals, set up the International Breatherapy Association, managed his son's pop group, The Corndogs, and worked with a Californian project called Radio One Earth. In 1995 he moved back to the U.K. and was heard on Caroline's low powered "restricted service" broadcasts in Clacton, London and Kent. Tom then returned to America where he ran the Stillpoint Zen Community in Santa Cruz, California, where he still lives today.
Another 'Canadian connection' is Tom was featured in some of the pictures in Canadian Keith Hampshire's photo album Keith Hampshire's photo album. Our own Creative Director and Graphic Designer for Cashbox Canada, Gillian FitzGibbon, also has a connection with (Umi) Tom Lodge  "I met Tom Lodge at a time in my life when I needed him the most. "Tell me who you are," echoes with memories of reconnecting with life on many different levels. Tom Lodge's book Success Without Goals helped to unleash an incredible creative journey. Thank you Tom for your love of life, kindness and sincerity."
Tom Lodge Sr. has three sons Brodie, Lionel lives in Port Dover, Ontario and Tom Lodge Jr. resides in Hamilton, Ontario and in keeping with his father's free spirit, Tom Lodge Jr. is continuing the legacy with his own musical career, one of them being heard now on radiocaroline .co.uk, (press "Listen Live" and/or SKY radio channel 0199 Sunday 9-11 pm UK time, radiocaroline.co.uk Mon 8-9 pm UK time.)
The sad news to this story is Tom Lodge will be leaving us shortly, with cancer that has been attacking his kind soul for over 8 years now with it soon winning the battle. Lodge is accepting this and embracing the imminent with the grace he has carried throughout his life. " Oh, the wonder! Slowly, slowly, this body is getting weaker and weaker, and more and more peaceful. Every action is becoming more of a slow sensual movement. But this is also interesting, moving in slow motion. Because in slow motion everything becomes more real. Each moment feels so deep. I still go downstairs and give Satsang and during Satsang, tremendous energy comes pouring through and you would not know that I am sick, except I look a little haggard."
Thank you so much for sharing your story with Cashbox Canada and our readers Tom. It was an honour and a privilege to have interviewed you and you truly are an inspiration.
.For those of us who have managed to have a career in this music industry, it is important to remember what brought us all here to start with in the first place – the music. An unsung hero in the music industry, Cashbox Magazine would like to thank Tom Lodge who 'rocked the world' on Radio Caroline.
Peace.
Editor's Note: Tom Lodge passed away on March 25, 2012, just two days after we published this story. I personally would like to think he would be really proud of what we have done with Cashbox Radio, continuing with radio the way it used to be. Radio Caroline is a wonderful role model for us and to the days when djs ruled the music world.