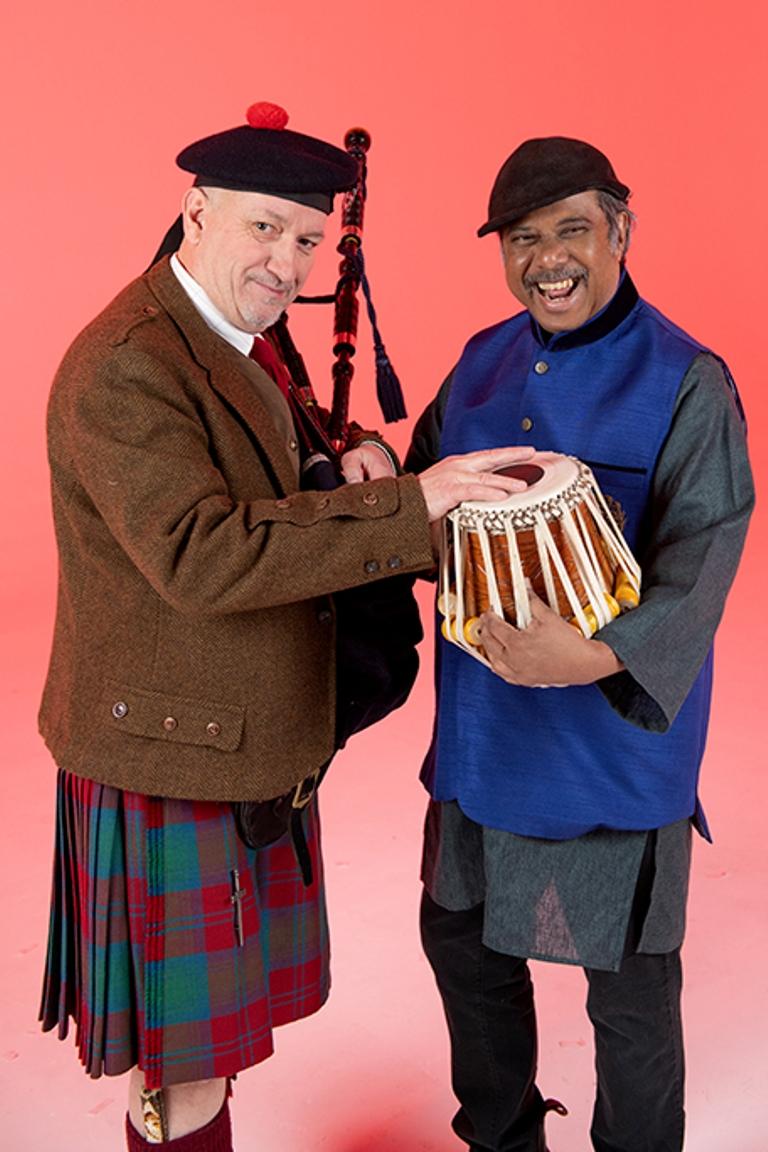 Fri Jul 24, 2020
Canadian JUNO Award-nominated world ensemble Toronto Tabla Ensemble is having a party with some Unexpected Guests in this, their newest album release — available now!
Across the release's seven tracks, the critically acclaimed group of artists weave a variety of instruments, from percussion to bagpipe, piano to taiko, sarod to flute, and more, with their signature sound rooted by the traditional tabla.
"This album is a simple one," TTE Founder and Artistic Director and Roy Thomson Hall Award winner Ritesh Das says. "Most of the tracks are in very straightforward 4/4 grooves. On our other albums, you had tracks with different time signatures that made it really intellectual and complicated.
"I wanted this one to be something that anyone can sit back and listen to and enjoy." 
Along with delivering the most approachable songs in their vast repertoire, Unexpected Guests is their latest in a series of boldly collaborative and sonically expansive works. In keeping with its eye-opener title, the immersive and diverse album finds Das and the TTE hosting a party of musical visitors: Enter The Haggis bagpipe player Craig Downie, Japanese Taiko Ensemble Nagata Shachu, singer Maryem Hassan Tollar, violinist Raaginder Singh Momi, flautist Alysha Addetia and more.
Toronto Tabla Ensemble have previously released six original studio albums, including their JUNO Award-nominated 2000 album Firedance, and Global Music Award and Independent Music Award-winning 2018 release, Bhumika.
Das and the TTE teamed up with Tea Party frontman Jeff Martin for the 2007 concert DVD Live At The Enmore Theatre, and their compositions have been licensed for commercials, films, and as the theme music for CBC Radio's daily Metro Morning.
It's this furthering of collaborative approach — plus a love of musical exchange — that allows members and audiences to learn about other cultures and unites people at a time when our world has never been more divided. "By collaborating, you create awareness," says Das. "And through awareness comes respect."
When you hear the track "Unexpected Guests," it's not hard to imagine why the music video features groups of Scottish and Indian dancers. Co-composed by Downie — who not only incorporated a traditional strathspey (dance tune which is named after the Spey River in north-east Scotland) and a reel (an energetic type of dance popular in Scottish, Irish, English and Quebecois folk music) — the beginning and end of the song were composed in memory of Ellen Wilkes Irmisch, a highland dancer and stage actor from the Tartan Terrors.
"In October 2019, we started by researching Scottish dance and came across some videos of the Royal Scottish Country Dance Society with a branch right here in Toronto," TTE's manager and film director Melissa Das-Arp shares of the video's creation. "Seeing people of all ages and backgrounds dancing wearing their tartans and sashes, we knew it could work but… Would they be open to the idea of dancing in a Toronto Tabla Ensemble music video?
"Lucky for us, they were intrigued and wanted to learn more. We attended a few meetings and even participated in one of the dances.
"When we played 'Unexpected Guests' for them, dancers between ages of 15 and 75 got up and joyfully danced around the room already beginning to work out choreography. That's when we knew we were in business!
Watch and listen to 'Unexpected Guests' here:
"As this is a collaboration between 'Bagpipe and Tabla' — Scotland and India — we had visualized an Indian folk dance called 'Dandiya Raas: Dandiya meaning sticks and Raas emotions,'" Das-Arp continues. "It has a similar community feeling to the Scottish Country Dance, and is a type of folk dance where people of all ages and genders line up and dance together. We had all our artists confirmed, a storyboard worked out, and each group — about 25 dancers per group — started working on their own choreography. We needed to bring them all together somehow at the end of the song, so we brought in TTE's dance director, Labonee Mohanta, who worked with both groups to create a finale.
"The day of the shoot was absolute chaos! There were Indian and Scottish dancers in every room, costumes and garment racks were busting at the seams, there were line ups for hair and make-up, coffee, tea and of course, some delicious Indian snacks. After 12 hours on the set and what felt like a thousand takes, we finally had what we needed.
"We feel lucky that we were able to complete this project when we did," she adds, noting the February 2020 date. "Had we set our shoot just a few weeks later, it would not have been possible. Editing this project during the pandemic was a surreal experience. Looking at the footage and seeing this huge group of people dancing and playing together, holding hands… And no masks! It feels like a completely different universe where this took place, but does give us hope that one day we can all be dancing and playing together again."
With Unexpected Guests, the 62-year old veteran teacher has crafted an album that shares his musical vision and presents listeners with a vision of "inspiration, hope, encouragement, integrity and strength."
Throughout it all, however, Das has never lost sight of the simple pleasure that drew him to tabla half a century ago and continues to give him joy to this day: The instrument's enigmatic, wondrous sound.
"I don't know exactly what it is about that sound," he admits. "And I don't think I want to know. Because if I do know, I think I'll die."
For more information visit:
torontotabla.com/
instagram.com/torontotablaensemble/
facebook.com/torontotabla
twitter.com/tablaensemble
open.spotify.com/album/4TJjVIzZvue4IVhxoKSUW0?si=7-8p2TfnR7Gc2xjkmKRN5Q