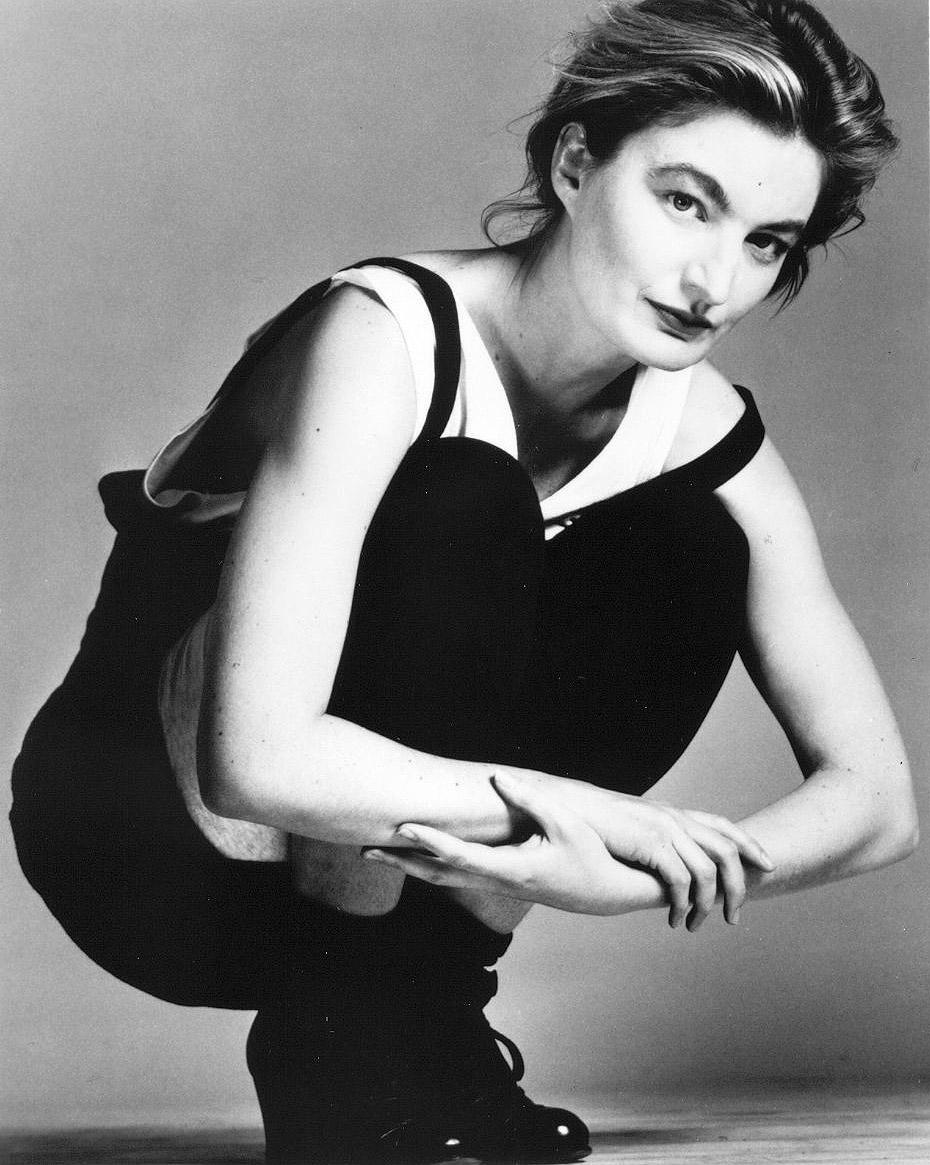 Fri Feb 12, 2016
You hear a lot of loose talk about stepping away from success and getting back to the roots of it all. Of the few who actually walk that walk, put T.Dot's enduringly hot folk eminence Jane Siberry at the top of the list. Early in 2006, Siberry closed her music label and sold or gave away nearly all of her possessions, including her Toronto home and her musical instruments. She changed her name to "Issa" and retained one traveling guitar. "I felt I had to change or die."Three years of spartan living later, she began using the name "Jane Siberry" again and resumed international touring and recording in 2009.
A disinclination to follow fads, trends and fashions has been Siberry's signature from the earliest days of her musical career. An unending desire to find and describe the essence of human experience has led her through numerous musical inventions in a multitude of forms, earning her the passionate loyalty of music-lovers world-wide. Siberry is known for her original, adventurous musical vision and her independent journey has contributed to new models for operating as a musician.
Siberry graces the stage at Hugh's Room Friday, Feb.17 & 19, the latter date already a sell out. She's bringing with her Ulysses' Purse, first album in 7 years, whose 12 self-produced songs find her reunited with many long-time collaborators including her singing 'sisters' Rebecca Jenkins, k.d. lang, Mary Margaret O'Hara, Ali Hughes and Maria Doyle Kennedy; guitarists Ken Myhr and Kevin Breit; horns David Travers-Smith and string ensembles guest shots from Toronto and New York.
It will be released with fanfare coming mostly from the music itself rather than the normal route of hiring a publicist. 'Not ideal, but not a choice.' She will be including an extra 'ambassador' CD with sales where possible so that fans can distribute the second CD to people not familiar with her music. Girl do walk her own road. Rae Spoon has been called one of Canada's best songwriters and new album Armour does not disappoint. The ten new songs feature the lyrical depth indicative of Rae Spoon's compositions while showcasing their distinctive voice. "I wrote Armour in three different cities at my kitchen table over a couple of years," says Spoon. "I had a couple of really hard years after My Prairie Home came out. It left me with a lot of questions about how I was going to live with trauma after I was so open about it on screen. At the same time I fell in love and got married. The experience of choosing hope over despair really plays itself out in the lyrics."
Out Feb. 19, Armour's self-produced enigmatic soundscapes blur the lines between organic and electronic instruments. Recorded at Calgary's Arch Audio Studio, Rae Spoon claims, "there was a lot of experimentation with analog synths and electronic music programming along with my usual guitar and vocals. I took my tracks to long-time collaborators Alexandre Decoupigny and Lorrie Matheson and it became an album. I think the production shows a level of sophistication I have been working towards for years."
Armour, Rae Spoon's eighth album, is the highly anticipated follow-up to the Polaris Music Prize nominated My Prairie Home, a musical about Spoon's fraught childhood in Alberta. As much as My Prairie Home was about Spoon's upbringing as a queer youth in a Pentecostal household, the album is about a view of the future. Moments of reckoning with trauma and self-preservation mingle with messages of hope and survival. Armour explores the idea that there is no instruction manual for healthy adulthood, asserting that the attempt to construct meaning is itself the point of life. As such, it's a tribute to the intimate space where both hope and despair have space to share the same voice. Rae Spoon hits the Canada highways supporting Armour beginning February 16 at The Ironwood in Calgary.
CANADIAN TOUR DATES
Feb 16 - Calgary @ The Ironwood w/ Ethan Cole
Feb 17- Edmonton @ the Mercury Room w/ Sherry-Lee Heschel
Feb 18 - Saskatoon @ TBA
Feb 20 - Winnipeg @ The Good Will w/ LAL
Feb 21 - Brandon @ TBA
Feb 25 - Montreal @ Casa Del Popolo w/ Glenn Nuotio
Feb 26 - Ottawa @ Pressed Cafe w/ Glenn Nuotio
Feb 27 - Kingston @ the Artel w/ Kris and Dee
Feb 28 - Toronto @ Holy Oak w/ Party Time
Feb 29 - Toronto @ Holy Oak w/ Glenn Nuotio
Mar 3 - St John's @ The Ship w/ Katie Baggs
Mar 4 - Halifax @ The Company House w/ Lee-Ann Poole
Mar 11 - Galiano Island @ TBA
Mar 13 - Vancouver @ Skinny Fat Jacks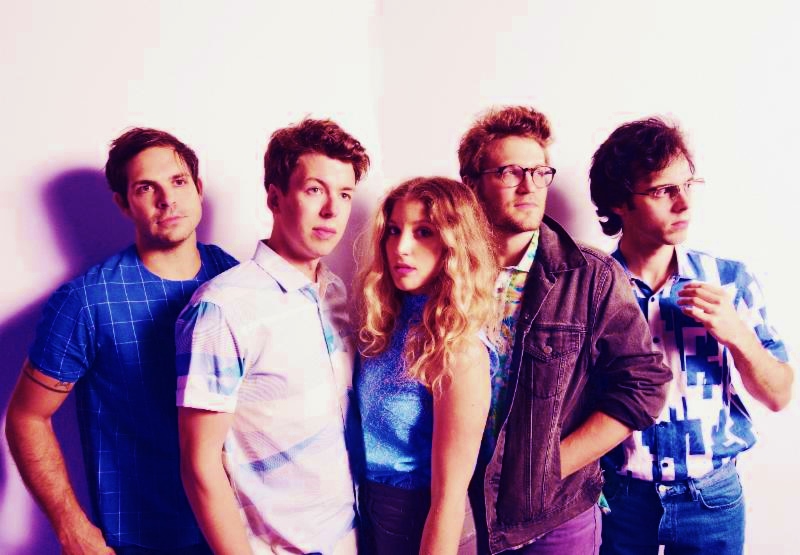 Brooklyn art party sextet Ra Ra Riot drop their newbie Need Your Light Feb.19 and are all high on it. Need Your Light came to light in January with the release of the "Absolutely" single, whose ebullience and tsunami of synths aesthetic is pretty much indicative of what's up on the album.
Need Your Light was primarily produced by Ryan Hadlock (Vance Joy, Blonde Redhead) with two tracks, "I Need Your Light" and "Water," produced by Rostam Batmanglij (Vampire Weekend, Charli XCX, Carly Rae Jepsen). It is the fourth full-length from Brooklyn's Ra Ra Riot and sees the band -- Wes Miles (vocals), Mathieu Santos (bass), Milo Bonacci (guitar), Rebecca Zeller (violin), and Kenny Bernard (drums) -- getting back to their house party roots without abandoning the more heady soundscapes they explored with 2013's Beta Love. The result is an album that's celebratory without being saccharine and that sees the group collectively mining their prior experiences in order to craft something that looks toward the future with an optimistic gaze.
Ra Ra Riot's first tour in support of Need Your Light kicks off on March 2 in Albany, NY. Partial dates below:
March 24 - Los Angeles, CA @Teragram Ballroom
March 25 - Santa Barbara, CA @ Soho Restaurant & Music Club
March 27 - San Francisco, CA @ The Independent
March 30 - Seattle, WA @ Neumos
March 31 - Vancouver, BC @ The Biltmore Cabaret
April 01 - Portland, OR @ Revolution Hall
April 03 - Salt Lake City, UT @ Urban Lounge
April 04 - Denver, CO @ Bluebird Theatre
April 06 - Kansas City, MO @ The Riot Room
April 07 - Minneapolis, MN @Triple Rock Social Club
April 08 - Chicago, IL @ Lincoln Hall
April 11 - Columbus, OH @ A&R Music Bar
April 12 - Millvale, PA @ Mr. Small's Theatre
April 14 - Toronto, ON @ Lee's Palace
April 15 - Montreal, QC @ Bar Le Ritz
April 16 - Geneva, NY @ The Cracker Factory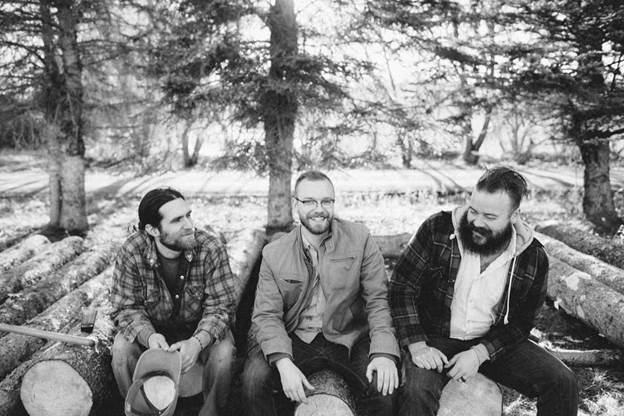 The Crooked Brothers spent much of last fall on the road in Europe supporting their latest album, Thank You I'm Sorry, nominated for a Canadian Folk Music Award for New/Emerging Artist of The Year. Now the brothers are packing up their dobros, banjos, and mandolins in preparation for another run clear across Canada. 'A Different Kind Of Winter Tour' begins February 24 making its way through a variety of intimate venues from the West Coast to Quebec before returning home to Winnipeg.
For the last few years the band have been joined by a full rhythm section while on tour, this time around they're back to a three piece, or as brother Matt Foster puts it, 'the original recipe.' "The arrangements are simple, but the songs certainly aren't," says Foster. "I love all the different incarnations a song can take on if you just trust it and follow it where it wants to go. Songs are like people, there is a lot more than just one side to them. We've always had this dual identity as a band and it's very exciting to have traveled the world as a big 5 piece only to come home, shake everything up, do the laundry if you will, and set out again as a different kind of band."
To get a glimpse of the cozy set up the band are bringing along, viewers can watch brothers Darwin Baker and Jesse Matas perform "North Of The Border", live on the banks of Assiniboine River. Inspired by a lifelong student and teacher of voluntary simplicity Matas met in his 20s, "The song is about the beginning and ending of journeys; the many beginnings and endings we see throughout our lifetimes; the many places we discover and leave and; our many relationships that begin and end," he says.
"It is the story of a man who is compelled, and sometimes forced, to keep moving throughout his life, taking us from his childhood in the lakes of Minnesota, to university at Kent State, to draft-dodging a war and roughing it in the bush north of Lake Superior, to attempts to settle in Toronto and, to Winnipeg, where he finds a job and legally immigrated to Canada. I wrote the song in my tent, in the piney, precambrian-shield lakes, where the story begins and we recorded the video beside the Assiniboine River in Winnipeg, where the story ends."
A DIFFERENT KIND OF WINTER TOUR DATES
Feb 25 - Vancouver, BC @ Wise Hall w/ James Lamb
Feb 26 - Victoria, BC @ Upstairs Lounge @ Oak Bay Rec Centre
Feb 27 - Courtenay, BC @ Native Sons Hall
Feb 28 - Powell River, BC @ Cranberry Hall
Mar 1 - Prince George, BC @ House Concert
Mar 2 - McLeod Lake, BC @ House Concert
Mar 3 - Hudson Hope, BC @ House Concert
Mar 4 - Ft St John, BC @ House Concert
Mar 5 - Dawson Creek, BC @ House Concert
Mar 6 - Prince George, BC @ House Concert
Mar 8 - Fraser Lake, BC @ House Concert
Mar 9 - Houston BC @ House Concert*
Mar 10 - Smithers, BC @ House Concert*
Mar 11 - Hazelton, BC @ House Concert
Mar 12 - Terrace, BC @ House Concert
Mar 13 - Prince Rupert, BC @ House Concert
Mar 16 - Jasper, AB @ Olive Bistro
Mar 17 - Edmonton, AB @ Mercury Room w/ Post Script & Billie Zizi
Mar 18 - Calgary, AB @ Festival Hall, w/ Matt Patershuk
Mar 19 - Black Diamond, AB @ Beneath the Arch Concert Series
April 9 - Forget, SK @ Happy Nun Cafe
April 14 - Toronto, ON @ Cameron House
April 15 - Picton, ON @ Acoustic Grill
April 16 - Haliburton, ON @ Northern Light Performing Arts Pavilion
April 20 - Oakville, ON @ Moonshine Cafe
April 21 - Kemptville, ON @ The Branch
April 22 - Montreal, QC @ Divan Orange w/ Bad Uncle
April 23 - Wakefield, QC @ Black Sheep Inn w/ Zachary Lucky
April 29 & 30 - Winnipeg, MB @ Times Change(d) High & Lonesome Club
Gritty garage fuzz-rock act of the week is Bearmouth, all the way from Wilmington Delaware. Bearmouth is a three piece garage rock outfit based out of the cozy little hamlet of Wilmington, otherwise known as "Murdertown." Bassist/lead vocalist Jesse Will and drummer Vinny Sceno have unfortunately known each other since childhood, and Jesse and guitarist/sometimes terrible vocalist Jim Still first started playing together as college roommates. Initially, Jesse was turned off by Jim's blues guitar roots, and mostly still is, though he feels pretty good about steering him away from that garbage through repeated listens to Primus. Their individual influences are varied, but in early 2015, the three decided to get serious (and loud), and came together as Bearmouth. They've been playing their original music in front of local crowds ever since, and folks from further afield are taking notice. Bearmouth has unveiled a brand new three-track EP on their Soundcloud and Bandcamp pages. The Bill Murray EP features fuzzy-distortion from the likes of such renowned artists The Pixies as well as culling in elements from Queens of the Stone Age.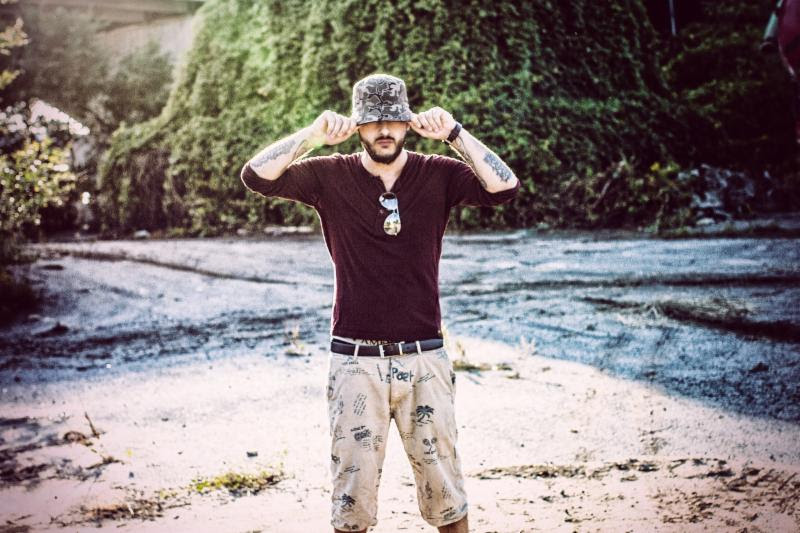 With his unique voice and a style all his own, Toronto based Hip Hop Artist iLLvibe, drops his new album, Firebreather, TODAY via Heavy Aux Records/Fontana North. The album features 12 new tracks including certified ear-worms like The Life featuring D.O. of the group Art Of Fresh and The Move featuring award winning producer 2Rude & vocalist Kaleb Simmonds. Firebreather is available now at: http://illvibemusic.com. The album was written and recorded in the summer of 2015 in iLLvibe's home studio and many of the features are artists that iLLvibe toured with during that time. Quake Matthews and D.O. were both playing shows in Europe with iLLy just previously.
Firebreather is a combination of autobiographical tracks and fun feel-good music. However, even on these upbeat tracks like The Life or Here We Go Again - iLLvibe is known for seeding in personal experiences and real life stories. Perhaps the most personal song on the album is One Man Army which is co-produced by iLLy himself and frequent collaborator Notion. One Man Army is not only a look inside the mind of the artist but also you get a taste of iLLvibe's very unique spin on a Hip Hop sound.
"In addition to the new singles, the album features a few powerful records, such as Msg In A Btl, an emotional piano accompanied song that addresses social issues and the lovely voice of D'Eve Archer." Illy continues, "I'm looking forward to bringing the new material to life on stage across Ontario next week!"
iLLvibe is making a lot of noise in 2016! He won the season premiere of Canada's Smartest Person on CBC at the close of 2015, complete with 2 performances on the show. He also received runner up to Drake for NOW Magazine Toronto Rapper of The Year as well as the East Canada Album of the Year award at the CUT Canadian Hip Hop Awards. Catch iLLvibe on Tour across US and Canada in 2016. For more info on upcoming tour: www.illvibemusic.com.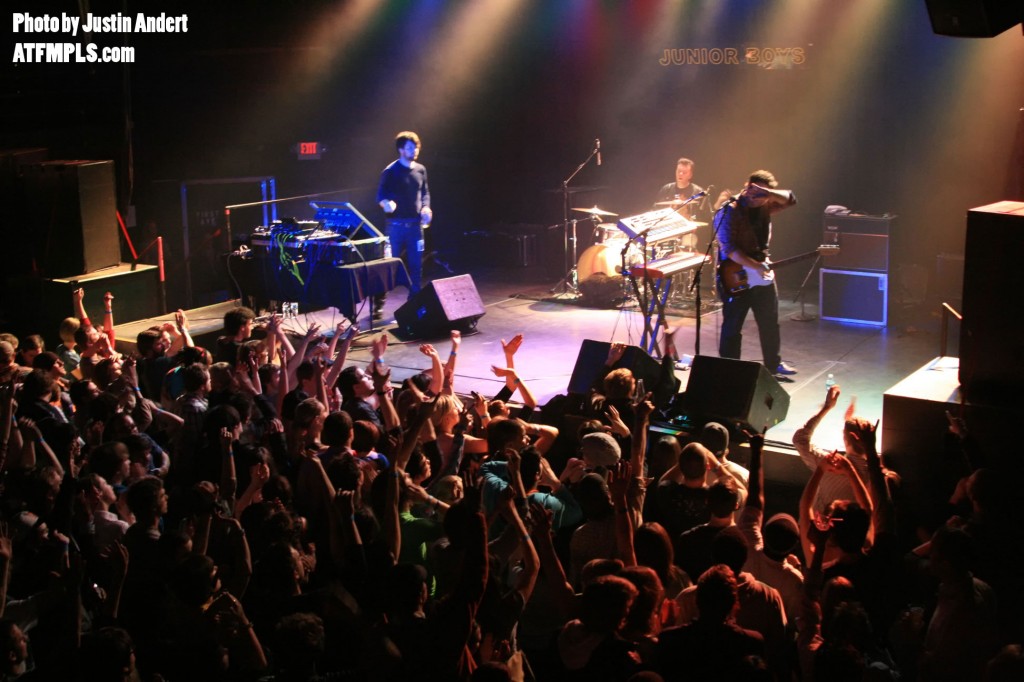 First album since 2011's It's All True from Junior Boys is strong evidence a rest is as good as a change. Newbie Big Black Coat finds the Hamilton crew moving past insular electro-pop into sexy, retro-checking, oft danceable turf. So you get tastes of Kraftwerk, lotsa Detroit techno, some houseish mashups and even hints of Prince. Still and all, the songs sound unmistakably Junior Boys, as the boys wrestle influences into things at once familiar and suddenly new.
Faves round here are "No One's Business," "You Say That" and "What You Won't Do for Love," but the all-round killer is the title track. It's a wide-screen crucible wherein techno, house music, bedroom pop, IDM, disco, and more, all melt together into a seven minute look back at where they've been and a declaration of where they're going next. Impressive to see a band this far into its career pull off transitioning into a new sound.