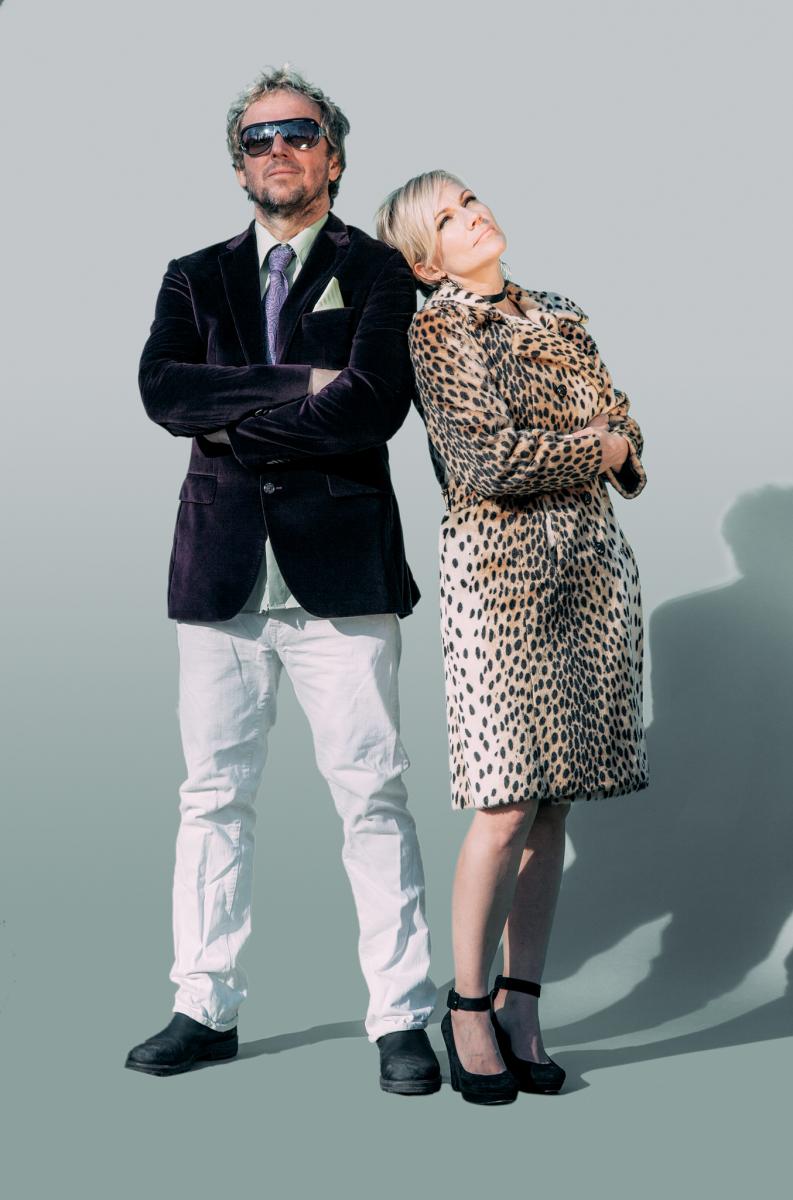 Fri Mar 25, 2016
Weather's warming so all kinds of bands are hitting the road. Fans of Canadiana will be happy to know that one of the genre's paramount practitioners will be touring the land starting Mar.31.
Lost & Profound has long leveraged the moodiness of the northern climes to influence their songwriting, and most recent release Goodbye Mine brings a return of their signature melancholy-infused pop rock.Lead singer Lisa Boudreau and lyricist/guitarist/producer Terry Tompkins were never completely lost, but did take a break from making records together, experimenting separately in different music genres.Lost and Profound's origins are in the underground music scene in Calgary, where Terry and Lisa first collaborated as the Psychedelic Folk Virgins. They relocated to Toronto in 1985, independently releasing their tequila-fueled Lost & Profound premiere The Bottled Romance of Nowhere. Polygram Records discovered the band and released their major label debut Lost & Profound, resulting in Top 20 single "Brand New Set of Lies" and a JUNO Award Nomination. They had two subsequent releases, and then recorded as Red Suede Red for their 2002 album. Their tours included a music video shoot and Much Music special in Varanasi, India along the Ganges.
Then they took another time out and now they're back again and ready to do the cross-country thing, appearing in some of Canada's major cities.To date, the JUNO nominated and critically acclaimed duo will be performing at the following venues but intend to add many more as they go along.
This resurgence is in large part driven by the success of Goodbye Mine, which has scored loads of airplay on every format from college through online to Sirius and Stingray and of course, le CBC. Still, you really do want to catch them live, so if they haven't yet listed a date for your town, get on their website and make it happen.
March 31st - Toronto. ON The Piston @ 937 Bloor St. West Toronto, ON
April 1st - Montreal, QC @ Barfly 4062 Boul St-Laurent, Montreal,
April 21st in Vancouver/New Westminster, B.C.The Heritage Grill 447 Columbia Street, New Westminster, B.C.
April 23rd– Calgary, A.B.@ Wine-ohs @811 1st SW, Calgary, AB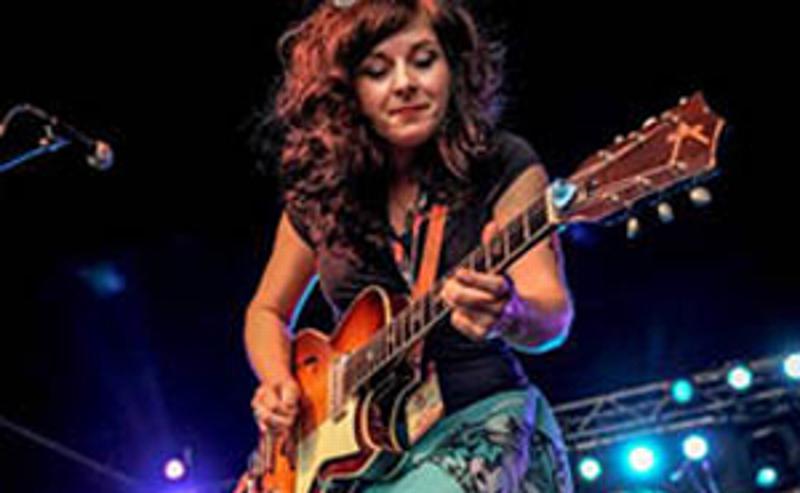 From the Great Northern Plains of Western Canada, Little Miss Higgins struts and serenades her way, guitar in hand, lips blazoned red, onto any stage. As if she just drove in off the back-road of another time with gravel dust and a sunset trailing behind her, this pocket-sized powerhouse plays music brewed up in old-time country blues sprinkled with a little jazz and maybe a hint of folk. Whether it's songs about passion or songs about panties, she writes about real things in a rooted and poetic way. Little Miss Higgins (aka Jolene Higgins) was born in Brooks, Alberta, and raised in Independence, Kansas. Music entered her life early.
"When I was about four my dad bought this old piano at a local bar," she recalls. "It was a mini grand piano. He brought it home and told me it was mine. I carved my name in the side and started taking piano lessons."
Growing up playing piano, Higgins now uses guitar and voice as her main instruments as well as her theatre background to bring a "refreshing sound and story to the stage." She spent a number of years after studying theatre at a college in Alberta, roaming Western Canada, acting in plays, frequenting blues clubs and playing her guitar. Higgins finally settled down in Saskatchewan and that's when music took the driver's seat. Her stage name, Little Miss Higgins suits the undeniably inflammatory mix of her blues and country music repertoire but the moniker was largely accidental. "When I moved to Saskatchewan in 2002 I started hanging out with this Greek guy," she recalls "He started calling me Little Miss Higgins so I used it on poster for a gig I was doing and it just stuck."
Little Miss Higgins has built a strong national reputation throughout Canada, appearing in clubs and on festival stages in Edmonton, Winnipeg, Montreal, Owen Sound, and Canso, Nova Scotia performing most often as a duo with partner and guitar player, Foy Taylor. As a songwriter, she has been influenced by a range of artists from Memphis Minnie, Billie Holiday, Big Bill Broonzy to Joni Mitchell, Dolly Parton and Bob Dylan.
For her newest release, Bison Ranch Recording Sessions, Little Miss Higgins teamed up with a very talented quintet of musicians from Manitoba. She calls them the Winnipeg Five—Jimmie James McKee on trumpet, Eric Lemoine on banjo and pedal steel, Blake Thomson on guitar, Patrick Alexandre Leclerc on upright bass, Evan Friesen on drums and all five of them sing harmonies. As they play music in a similar vein as Higgins, it was a fitting alliance both onstage and in the studio. With new songs waiting on the sidelines, the six of them decided to record in a barn, a barn on a bison ranch in rural Manitoba.
The album was engineered by Steve Loree and co-produced by Higgins and Winnipeg Five bass player, Patrick Alexandre Leclerc. Everything was captured live off the floor—fire crackles and crow cawing included. The experience of recording live brought out the authenticity of the music, the talent of the musicians and the connection of the group. This was an important part of the process for Higgins and Leclerc. What you hear is how it happened.
On Mon. Apr.11 Little Miss Higgins & The Winnipeg Five checks in at Toronto's Hugh's Room at the top end of a Spring tour. There will be dancin,' romancin' and lotsa prairie humor.
CANADIAN TOUR DATES
April 2 Calgary AB-Bow Vally Music Club
April 10 Wakefield QC- The Black Sheep
April 11 Toronto ON- Hugh's Room
April 14 Kemptville ON- The Branch
April 15 Hamilton ON- The Pearl Company
April 16 Meaford ON- Meaford Hall Arts & Cultural Centre 8pm
June 23 Winnipeg Jazz Festival (King's Head Pub)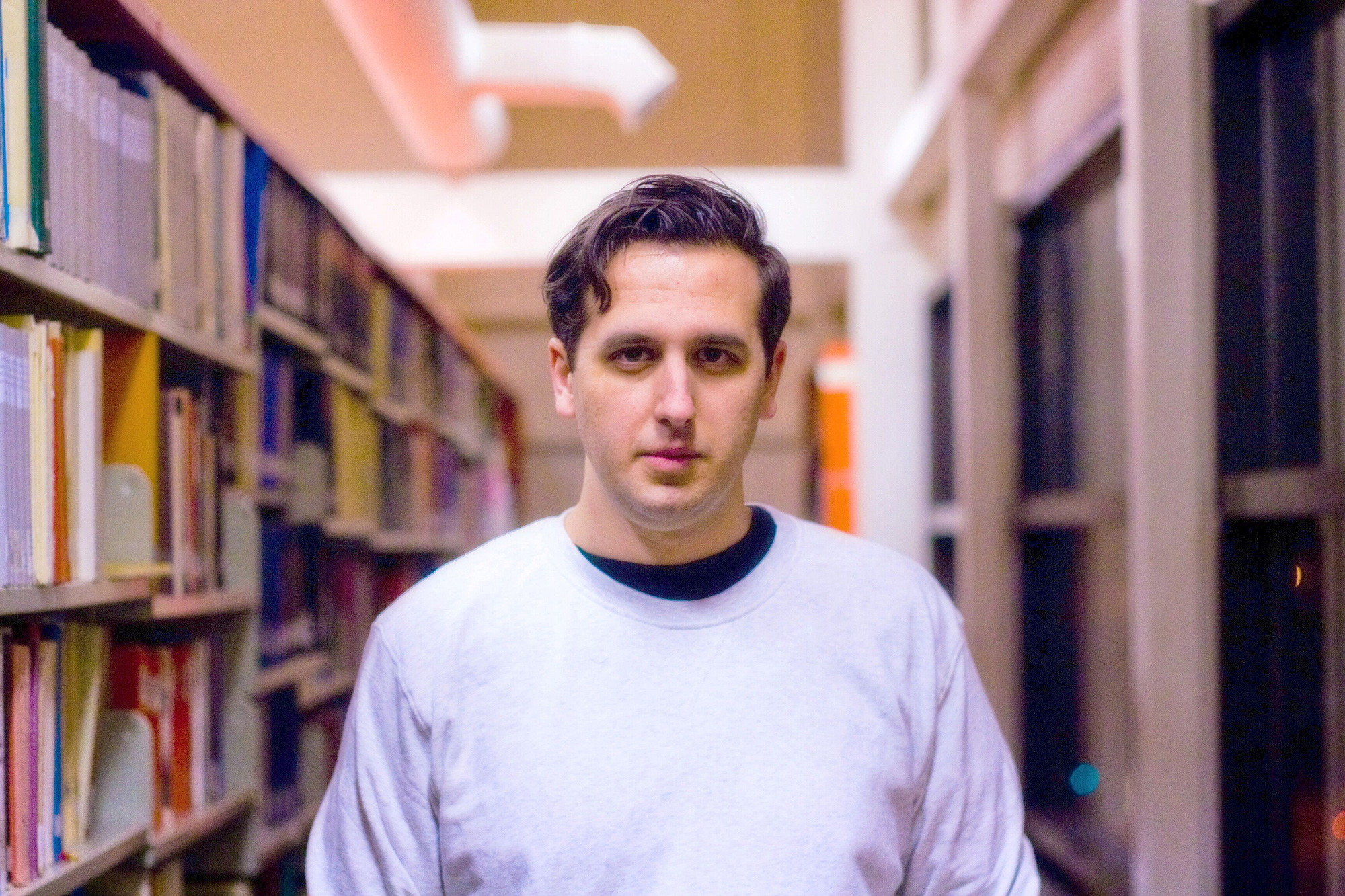 Another Westerner shaking things up is Winnipeg synth-pop artist Viva Non (aka James Hofer). The unabashed romanticist is set to release debut album Pure Friday, April 15th through Sundowning Records.Viva Non will celebrate the new release with a hometown Album Release Show on April 13th at The Handsome Daughter. Right after which Hofer and his ecelctic electronica set off to tour Canada.through to April 26th.
Pureis the debut recordfrom James Hofer as Viva Non andis filled with romantic, synth-heavy pop music.This is a modern sounding album, butit grabs its influences from 80's new wave/new romantic acts like New Order, Morrisey and OMD.Analogue synthesizers, drum programming and the dynamic voice ofproducer James Hofer are the simple elements that make up theentirety of the album.Hofer has his musical roots in hardcore punk (playing guitar in Burn Your World, vocals in Extract). In 2013, he started playing with synthesizers and released ethereal post-punk music under the moniker The Will To Power. Through gaining experience in production and changing musical styles, The Will To Power eventually evolved into his current project Viva Non and it's been a rewarding creative process for Hofer.
"I'm proud of the record in its entirety," said Hofer. "I've been playing music in different bands for a long time and I've always just released demos and shorter EPs. Working on a full length is different. It has to be cohesive, but variant enough to remain interesting throughout. I accomplished my musical/aesthetic vision for this album and it feels great!"
The lead single from Viva Non's debut albumPure is the edgy track 'DFA'. The idea for the song comes from Hofer's strong love of artthat has an edge/attitude to it: "Even if it's a pop song, I very much appreciate an intentionally provocative element. This idea plays out so well in the work of certain fashion designers. A piece of clothing can be simultaneously beautiful and edgy, I love that. 'DFA' stands for 'Dark Fashion/Art'. It is essentially a love song for this concept." Viva Non is currently finishing up the video for 'DFA' which is expected to have its premiere in early April.
VIVA NON // UPCOMING CANADIAN TOUR DATES
April 13 - Winnipeg, MB - The Handsome Daughter (Album Release Show)
April 14 - Saskatoon, SK - Vangelis Tavern
April 15 - Edmonton, AB - Local Omnivore
April 16 - Calgary, AB - The Red Room
April 21 - Toronto, ON - Smiling Buddha
April 22 - Ajax, ON - Rotilicious
April 23 - London, ON - The Foam Doam
April 26 - Peterborough, ON - The Spill
From April 2nd - May 29th 2016, Small World Music proudly presents the 14th edition of its Asian Music Series which embraces the scope of sounds from across the Asian cultural landscape. The series celebrates Asian and South Asian Heritage Month and is generously supported by TD Bank.
Small World Music showcases the best Asian Music in the GTA, and gather the finest artists to appear on Toronto's premier stages from Koerner Hall to the Aga Khan Museum, Roy Thomson Hall to the Markham Theatre. Highlights this year include two of the most significant artists in South Asian music – Anoushka Shankar and Abida Parveen performing, as well as Indo-Canadian star Kiran Ahluwalia, pipa maestro Wu Man and singer Ramneek Singh, among many others.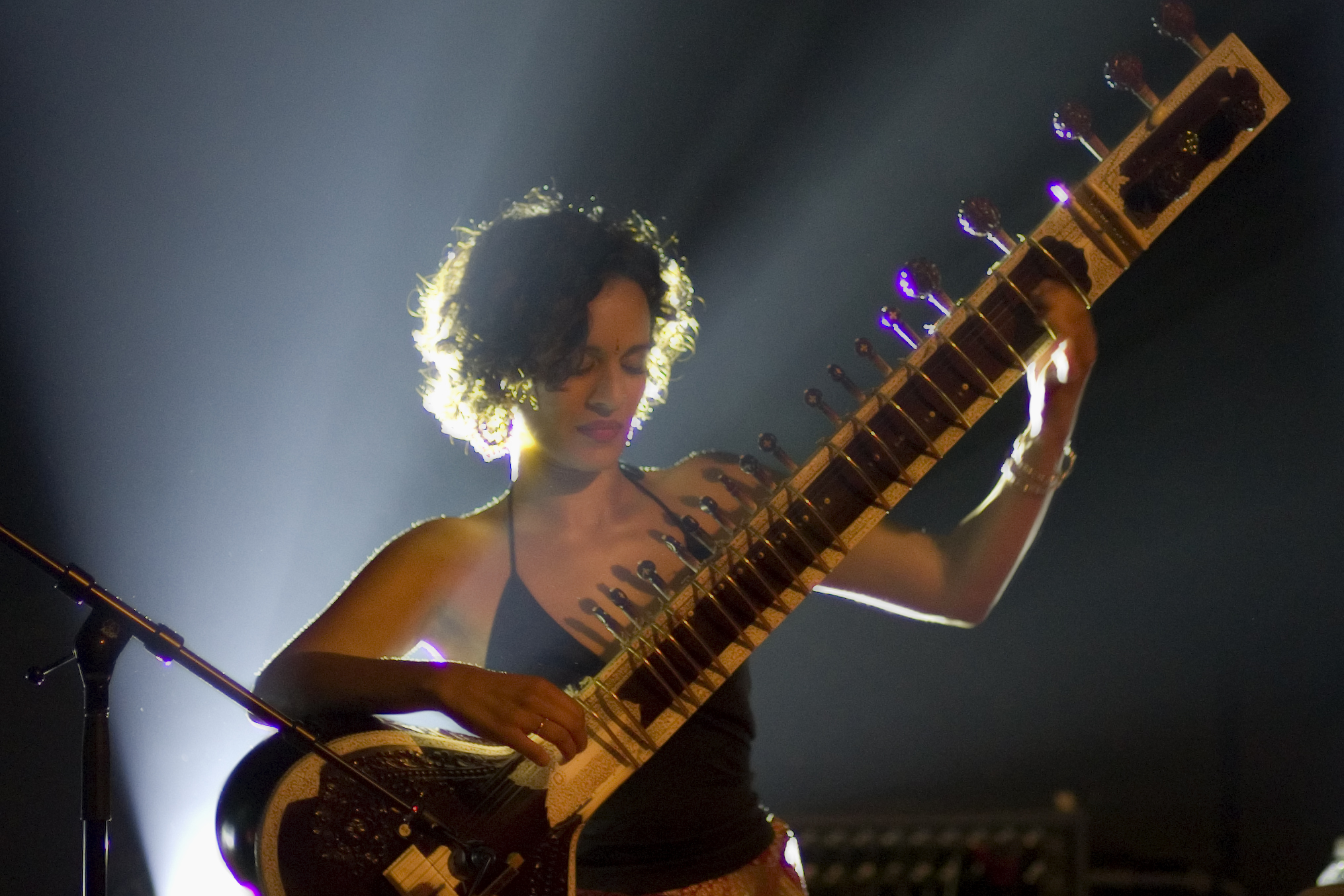 Anoushka Shankar is one of the leading figures in world music today. After establishing herself as one of the foremost sitarists on the global stage, she has thrived as a composer, exploring fertile ground between Indian music and genres including flamenco, jazz, electronica, and Western classical. The 5-time Grammy-nominee releases her 4th album, Land of Gold, just days before this concert.
She released her first album, Anoushka, in 1998, followed byAnourag in 2000. In 1999 Shankar graduated from high school with honors, but decided against university in favour of beginning to tour as a solo artist. Both Shankar and her half-sister Norah Jones were nominated for Grammy awards in 2003 when Shankar became the youngest-ever and first woman nominee in the World Music category for her third album, Live at Carnegie Hall.
Having released three albums of Indian classical music, Anoushka took several years away from recording and focused her energy on establishing herself as a solo concert performer outside of her father's ensemble. In that time, she toured worldwide, playing an average of 50-60 concerts per year. 2005 brought the release of her fourth album RISE, her first self-produced, self-composed, non-classical album, earning her another Grammy nomination in the Best Contemporary World Music category. In February 2006 she became the first Indian to play at the Grammy Awards, playing material from RISE.
Shankar, in collaboration with Karsh Kale, released Breathing Under Water on 28 August 2007. It is a mix of classical sitar and electronica beats and melodies. Notable guest vocals included her paternal half-sister Norah Jones, Sting, and her father, who performed a sitar duet with her.
As Shankar had begun to do with Rise, she created a specially handpicked ensemble of musicians with whom to perform this cross-genre music, and played over a hundred concerts worldwide in support of Traveller. In 2013 she released an incredibly personal album calledTraces of You, released several months after the passing of her father Ravi Shankar. Produced by Nitin Sawhney, and featuring her half-sister Norah Jones as the sole vocal performer, Traces of You earned Shankar a fourth Grammy nomination in the World Music category. In July 2015 Shankar released Home, her first purely classical album of Indian Ragas. Self-composed and produced, Home was recorded over a week in October 2014 in Shankar's new, purpose-built home-studio.
Waiting in the wings for an Apr. 1 release is Land Of Gold, a boldly arranged, impassioned mosaic of love and pain, hope and defiance, with the unmistakable Anoushka imprint on it. She has said the album is her heartfelt response to the trauma and injustice being experienced by refugees and victims of war. Offering an uplifting message of hope for dark times, its music was inspired by recent news images of people fleeing civil war, oppression, poverty and unbearable hardship.
The album contemplates the common thread of humanity and its power to reconnect people divided by hatred and fear. "The seeds of Land of Gold originated in the context of the humanitarian plight of refugees," Anoushka recalls. "It coincided with the time when I had recently given birth to my second child. I was deeply troubled by the intense contrast between my ability to provide for my baby, and others who desperately wanted to provide the same security for their children but were unable to do so."
Anoushka Shankar plays Koerner Hall Wed. Apr.6.
The quirk album of the week is the aptly titled Field of Trampolines from Shotgun Jimmie (Jim Kilpatrick). Over four album he's established an indie altrock sound steeped overnight in Canadiana. And while he doesn't flinch from writing on the darker sides of the indie musician's life, there's always a sweet optimism lurking about his tunes. To a degree, he's kinda like the indie Stompin' Tom, name checking and referencing the Canada and Canadiana at every turn.
So you get up an unabashed ode to Guelph rockers Constantines with 'Constantines Believer', Love Letter written for/ at Attack In Black, and Moncton's Eric 's Trip also comes in for some love, as does ancient technology via 'Walkman Battery Bleed' and riffs on dirty motels and gassing up the tour van. Hovering over it all, producer and indie guiding light Joel Plaskett, who brings more of a laid-back indie feel to Jimmie's way of relating to those who love to explore the world around them; he sings of adventurous, youthful, and carefree moments because those are the things he loves the best. As Canadian as beaver tails, welcome as a warm spring breeze.