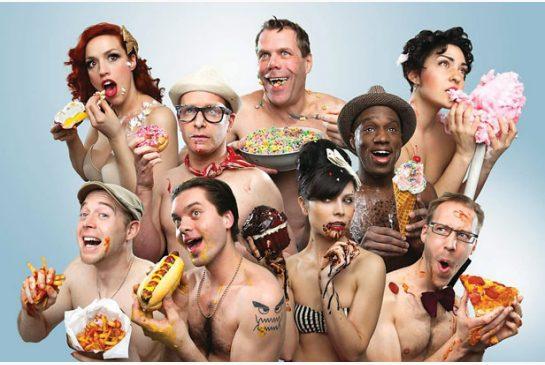 Fri Sep 30, 2016
Fall is here and the time is right for finding new music strewn like acorns in the street. Ottawans The Peptides is a nine-member band with a larger-than-life pop sound. Five vocalists and four instrumentalists draw on funk, electronic and disco influences. Described by the Ottawa Citizen as "the B52's crossed with The Manhattan Transfer backed by Arcade Fire." They claim to be a  snapshot of Canadian diversity, The PepTides is made up of  English, French, Ukrainian, Mexican,Guyanese, Cree, Acadian, Armenian, Scottish and LGBTQ players. The group is noted for its extravagant live performances featuring thick vocal harmonies, theatrical choreography and colourful visuals. The PepTides' songs juxtapose upbeat music with lyrics commenting on deep themes like love, hate, revenge, sex, religion, war and getting ready for dates.
In 2013, The PepTides garnered national attention by producing a full-length album in collaboration with Stuart McLean of CBC Radio's Vinyl Cafe. A 2014 release Love Question Mark was lauded by Exclaim! as "an ambitious collection of fun, daring, unadulterated, true blue art." 
The PepTides EP, released in September 2016, features all-new recordings of the band's greatest hits—including the summer single "Don't Believe in Love," which aired on commercial radio coast to coast in Canada and received positive reviews from DJs internationally. The band has charmed audiences at major music festivals (RBC Bluesfest, Ottawa International Jazz Festival), bars (Blacksheep Inn, Horseshoe Tavern), showcases (NXNE, Folk Music Ontario), and theatre festivals (SummerWorks, Undercurrents). The many-membered crew are currently on the road shaking up da joints with their energetic spacefunk, a darn good tonic for the fall down blues.
CURRENT FALL TOUR DATES
Sept 30 - Junction City Music Hall - Toronto, ON
Oct 22 - Gallery Studio (CS Art) - Ottawa, ON
Nov 1 - venue TBD - Montreal, QC
Nov 11 - Heartwood Concert Hall - Owen Sound, ON
Nov 12 - Old Town Hall – Almonte, ON
A while back, Blackie and The Rodeo Kings dropped an album Kings And Queens, a set of the boys collabing with some of their fave femme singers. The thing was well received and at that point, they threatened us with a bookender album wherein they do the same with some of their best musical guy pals. Well, Kings and Kings arrives Oct.7 and damn if it ain't just as forceful as its other half. The guest list features some of the band's best 'guy' friends from the world of roots, blues, and country.
"Some of these were fellows we knew well and had made lots of music with like Bruce Cockburn, Buddy Miller, and Keb Mo, and some were new heroes and discoveries like Fantastic Negrito and Dallas Green," says Colin Linden. "Some, were icons who I had shared some guitaring with like Vince Gill, Rodney Crowell, Eric Church, and Raul Malo. And some were icons new and preloved who joined us out of kindness I suppose, like Nick Lowe and Jason Isbell. And some were my dear pals I work on the Nashville TV show with; Chris Carmack, Charles Esten, Jonathan Jackson, and Sam Palladio."
The first single "Beautiful Scars" references Tom Wilson's Lee Harvey Osmond album Beautiful Scars. Wilson jokes that he wrote the title track of his album after its release. The song itself is inspired by novelist Miriam Toews and benefits from an amazing vocal performance by Dallas Green (City And Colour).
Kings and Kings kicks off with the "Live By The Song", which is simply the autobiography of Blackie and the Rodeo Kings. A rarity in the fact that it was written by all three-principal members, Colin Linden, Tom Wilson, and Stephen Fearing, "Live By The Song" is really the biography of every working musician/songwriter committed to the 'life'. Perfectly featuring the voice of Grammy Award winner Rodney Crowell and Fearing on the lead vocal, the song conjures the winding path of uncertainty faced by all the players who really had no other choice but to follow it. Songwriter's songwriter, Nick Lowe, brings an elegance to "Secret of A Long Lasting Love", taking the lead throughout the song, while the spirit of the late Roy Orbison can be detected in the gorgeous rendition of Fearing's "High Wire" featuring the impeccable voice of Raul Malo (The Mavericks).  "A Woman Gets More Beautiful" situates long time friends and collaborators Linden and Bruce Cockburn. On this track the pair philosophize on the appreciation of timeless beauty, slipping from English to French to English, abundant with Cockburn's masterful guitar interplay.
On every Blackie and The Rodeo Kings album there is a song penned by their namesake, the late great Willie P. Bennett. "This Lonesome Feeling", a classic cowboy lament, gets an assist from multi-Grammy Award winner and Country Music Hall of Fame legend Vince Gill. "Long Walk To Freedom" is Fearing with the iconic Kevin Moore (aka Keb Mo), who is a long time friend and collaborator of Linden's. Groove and melody reign under fantastic manipulations by Oakland's Fantastic Negrito on Wilson's "Bitter and Low".
As a technical supervisor on the TV show Nashville, Linden has spent hours with the cast helping the actors and musicians bring their best to the screen and live stage. "For Where The River Rolls", he gathered the crew at the day job around the microphone to bring their vocal skills to the track. The result is an upbeat and fun celebration with Linden, Sam Palladio, Chris Carmack, Charles Esten, and Jonathan Jackson all sharing verses and harmonies. Both Eric Church on "Bury My Heart" and Jason Isbell on "Land Of The Living (Hamilton Ontario 2016)" bring a real contemporary country music voice and feel to Blackie and The Rodeo Kings. Like every King on the album, these guys can sing the lights out and they do.
Kings and Kings is further evidence that over 20 years and megamiles of touring, Blackie and the Rodeo Kings have organically evolved into one of the finest roots-oriented bands in North America and a genuine and hugely influential Canadian musical treasures. The list of top drawer genre players on the album also speaks loudly of the esteem in which Canucks Wilson, Fearing  and Linden are held by their ilk south of the Undefended Border.
KINGS AND KINGS TRACKLIST
Live By The Song ft. Rodney Crowell

Bury My Heart ft. Eric Church

Beautiful Scars ft. City and Colour

High Wire ft. Raul Malo
Playing By Heart ft. Buddy Miller
Bitter and Low ft. Fantastic Negrito
Secret of a Long Lasting Love ft. Nick Lowe
A Woman Gets More Beautiful ft. Bruce Cockburn
Land of The Living (Hamilton Ontario 2016) ft. Jason Isbell
Long Walk To Freedom ft. Keb Mo
This Lonesome Feeling ft. Vince Gill
Where The River Rolls ft. The Men of Nashville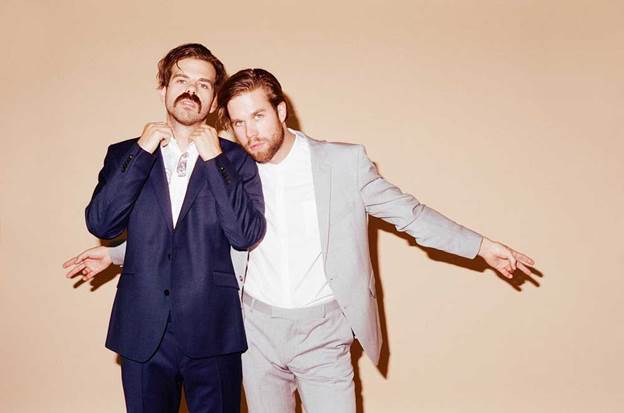 Toronto alt-pop duo The Darcys has premiered their new single "Coming Up for Air", via MUCH, from their forthcoming album, Centerfold, due out November 4. MUCH says "the blistering synth-rock track...sounds like a racy hybrid of Phantogram and Beck bangers." Drummer / Lyricist Wes Marskell says of the song, "It's basically classic rock from the future."   We hear echoes of yacht rock and a sprinkling of blue-eyed soulisms which sounds better than it reads, given the duo's bubbling cauldron of ideas.
The ten new tracks on Centerfold, were produced by Shawn Everett (Alabama Shakes, Weezer, Lucius) and evoke the heat and wanderlust of New Zealand and Los Angeles, where they were recorded. Centerfold follows 2013's acclaimed Warring, which earned Juno Award and Polaris Music Prize nominations. "Miracle" has earned praise from Noisey, who said it's "primed for mass consumption," and Complex, who raved the track is a "transformative, radio-ready, near-perfect earworm." What is not known is how indicative "Coming Up For Air" is of the material on the rest of the album. It'll all come out onstage when the band hits the road in November.
Family, friends, former band mates and Yorkville Sound co-workers joined by fans of blues, rhythm & blues and rockabilly will come together on Thursday, Sept. 29th to celebrate the life and career of vocalist/guitarist Kenny Brown as he exits stage left into his retirement years.
With his band The Pervaders he performed through the 70`s, 80`s, 90`s and into the new millennium based first in Vancouver and then relocating to his home town of Toronto.  If you dig deep in the bins at specialty vinyl record stores you're sure to come across vintage Kenny Brown and The Pervaders 45`s. There`s also a limited edition CD recorded with his last version of the Pervaders called Give Me Some Tone.   

A few years ago Kenny was diagnosed with COPD (Chronic Obstructive Pulmonary Disease).  This meant phasing out his playing career and this past June he retired from his guitar tech/quality control position at Yorkville  Sound in Pickering.   At Yorkville Sound it was Kenny`s hands and eyes that set upon all Gibson guitars before they were distributed to the rest of Canada making sure the legendary guitar company's reputation stayed first class. Like all Pervader shows the evening at the Cadillac Lounge promises to be a "Good Rockin" event with lots of great music and dancing sprinkled with laughter and hilarious road stories.    

Proceeds in support of The Kenny Brown Retirement Fund, featuring Special Performances By:
Donnie "Mr.Downchild" Walsh, Danny Marks, 
The Swingin Blackjacks, Kevin McQuade, The Burgess Brothers 
and members of The Fabulous Pervaders
Teddy Leonard, Mike Fitzpatrick, Gary Kendall, Bob Adams
Larry Bodner, Duncan McBain, Bunny Boils & Frank Randazzo
Brendan Canning, founding member and the John Lennon of Broken Social Scene, has a new solo  album, Home Wrecking Years, and as always with this dude, it's worth a listen. The collection of bruised and angular pop includes hooky first single "Book It To Fresno," the breezy summertime lilt of "Keystone Dealers" and the rich layers of vocal harmonies" on "Vibration Walls," the most BSS of the album's tracks.
Home Wrecking Years is the Toronto songwriter's first full band recording since Broken Social Scene's Forgiveness Rock Record. Big guitars, loud drums, swooping melodies, alluring keyboards, free-form feedback loops, are all in abundance and the record features guest appearances from BSS members Sam Goldberg and Justin Peroff, as well as The Stills/Kings Of Leon's Liam O'Neil. As per usual with the uber laidback Canning, there are no tour plans afoot but sooner or later....
Now for some street fighting music from a band forged in the fire of protest. Tehran-born and now U.S.-based rock/blues/folk group KIOSK continues to break boundaries with their ninth album STEREO TULL PRESENTS. Singing sometimes in English and at other times in their native Farsi, the famed underground Iranian group uses music to speak out against the Islamic government's oppressive rule. Formed in Tehran in 2003, and known for its wry lyrics confronting Iranian cultural angst, the name Kiosk stems from times when the original band members gathered together in any possible makeshift space or "kiosk" to play their music without fear of arrest. For more info please visit http://www.kiosktheband.com
Pioneers of Iran's underground music movement, Kiosk is praised for its sharp and satirical lyrics, as well as its unique blend of musical styles, from rock to gypsy jazz to Iranian folk.
Their new album Stereo Tull Presents is out now and available on iTunes and CD Baby. It's potency stems from an important organization during a most volatile time in Iran. "Studio Tull" is a strange name, but one familiar to Iranian music-lovers after the 1979 Islamic revolution in Iran. For almost a decade, "Studio Tull" was one of the most famous underground names to distribute music under a government that led a cultural purge similar to Mao Zedong in China. Islamic radicals eliminated any cultural product that was affiliated with their enemy, "the West." Their most hated art form was music – especially rock music. Kiosk is famous for its use of slang, informal, and humorous language in its lyrics, which are mostly written by band mastermind Sobhani, based on daily experiences and sociopolitical observations. The band's first album, Adam-e Ma'mooli (Ordinary Man), was issued in 2006. The album was recorded, mixed, and mastered in various basements and home studios around the world, since band members were living apart before uniting in North America.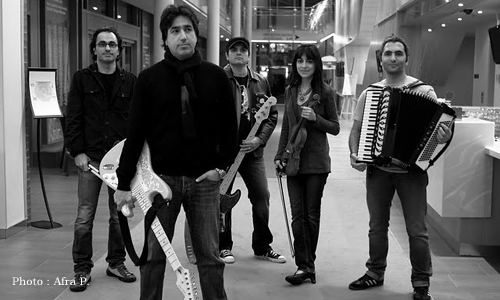 Stereo Tull Presents is the band's ninth album to date, and carries the same lyrical wit and weight as the first. The street culture in Kiosk's music is based on present-day Iran, which may make it a little hard to be completely understood by people who have left Iran many years ago; but the band's music has attracted much attention among young Iranians in the United States, even those who were born outside Iran. KIOSK's Current Band Members: Arash Sobhani (guitars and vocals), Anoush Khazeni (backing vocals and guitars), Babak Khiavchi (guitars), Ali Kamali (bass), Ardalan Payvar (keyboards), Shahrouz Molaei (drums), and Mardjan K (backing vocals).
Upcoming Dates
Friday, October 7 – Revival – Toronto, ON @ 9:00 pm – 1:00 am
Saturday, October 15 – Venue Nightclub – Vancouver, BC @ 7:30 pm - 10:30 pm (PDT)
BITS'N'PIECES-Fans of loud rock'n'roll in a caring environment are saddened at the news Queen West live venue The Hideout closes Oct.31. Word on the street is either big box or mega coffee outposts are destined for the corner on which the Hideout stands. The joint had a lot of charm, the kind of place where you'd see folks playing the Jenga drinking game at the front as the hottest power trio from Vancouver ripped it up on the stage in back. The vibe had an affable, inclusive energy the club owners hope to transfer to another, as yet undisclosed location. Once that's in place, the plan is to grow The Hideout brand. The owners' website promises the closing bash will be massive in these words: "We will see you soon but for now, from the crew at a 'rock bar that fucking rocks', it's absolute last call fuckers."
The iconic Blue Goose out Mimico ON. way is back with its Fall program which currently looks like so.
Oct.2-Matt Allen& Nichol Robertson
Oct.9-Paul Reddick& Greg Cockerill
Oct.16-Tyler Burgess& Chris Burgess
Oct.23-Danny B & Kevin Higgins
Oct.30-Mark"Bird"Stafford & Darran Poole
As usual, they'll be backed by the stellar Big Groove rhythm section of Mike Fitzpatrick (drums) & Gary Kendall (bass), members of  the Legendary Downchild Blues Band.