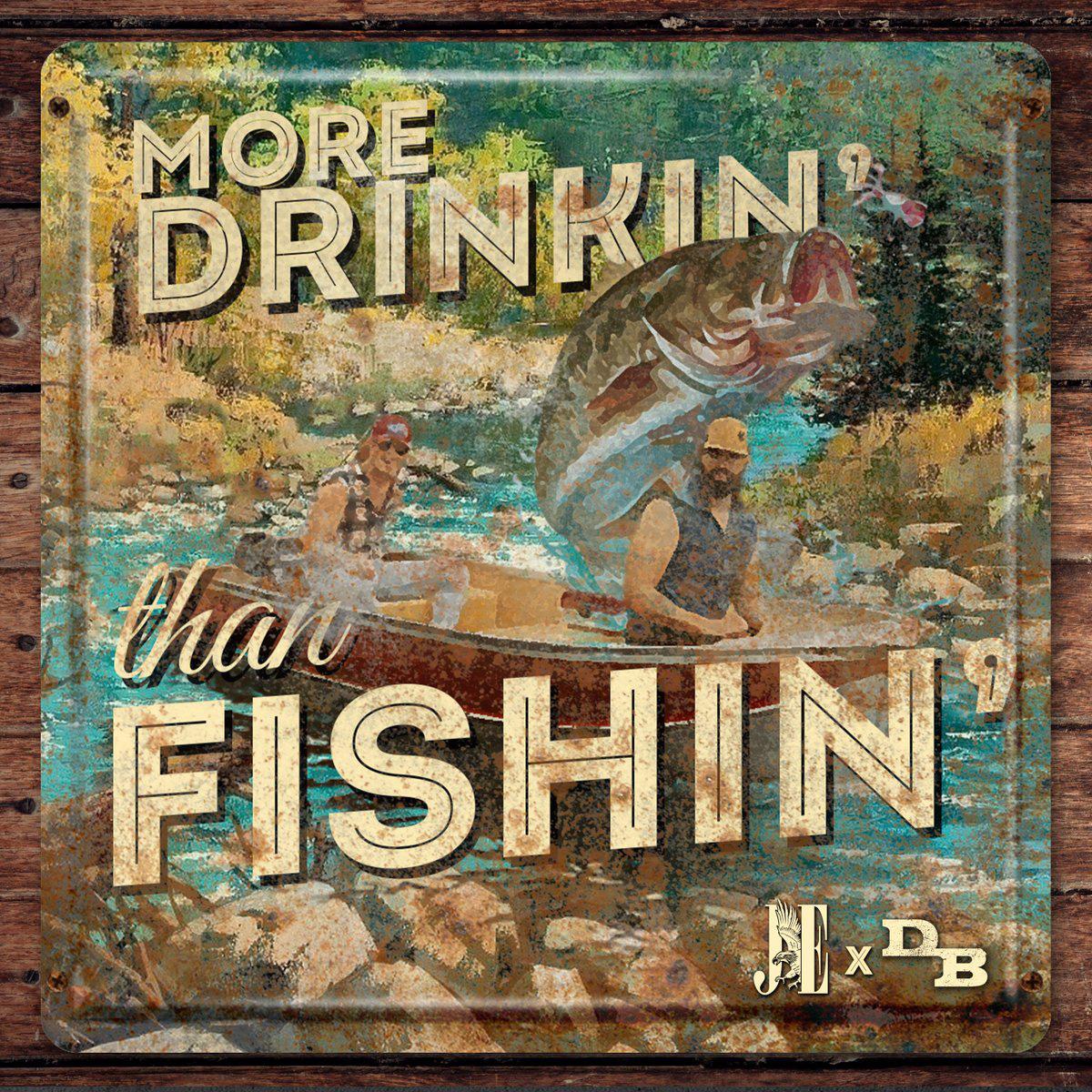 Fri Jul 30, 2021
Coming off the success of his second #1 at Canadian country radio, Jade Eagleson has teamed up with celebrated Canadian icon Dean Brody to bring fans what is sure to be the good-time anthem of the year, "More Drinkin' than Fishin'." Celebrating the small-town roots that make them two of country music's favourite voices, the pair feels completely at home in the familiar twang of this fun, light-hearted track about a couple of good ol' country boys just enjoying some time on the lake.
Giving every outdoor-loving, country music blasting fan the perfect soundtrack for hangs with their bestie, "More Drinkin' than Fishin'" provided the perfect opportunity for friends Eagleson and Brody to work together. "Dean has been an incredible mentor to me as my career continues to grow," explained Eagleson. "As soon as I heard this track I knew we could have a lot of fun with it and I'm so grateful that Dean thought so, too. I hope that this song inspires so many fun adventures for friends who haven't been able to see each other in person for a long time."
Recognized as Canada's most celebrated male voice in country music, Brody did not hesitate when approached by Eagleson for this project. "I haven't heard a voice as authentic, in recent years, as his," said Brody. "Jade's going places and I'm proud to be invited along for the ride on this tune. Proud to be his friend too. I look forward to all the opportunities we'll have to play this song together live this year."
While Eagleson and Brody weren't able to record together due to pandemic restrictions, they were able to gather in Ontario's cottage country earlier this month to shoot the music video for "More Drinkin' than Fishin'" with esteemed Canadian director, Ben Knechtel. Filmed in the beautiful Kawartha Lakes region, it didn't take long until the pair took full advantage of their surroundings to challenge each other in a "who is more country" duel. The pair took a break during their busy shooting schedule to head to Jade's family farm to figure out who in fact is more 'country'. Fans eager to know who takes home the title are encouraged to stay tuned to both Eagleson and Brody's socials later this summer.
Today's release follows Eagleson's recent spot on the top of the charts with his single "All Night to Figure it Out," earning him his second #1 at Canadian radio just last month. No stranger to success, the Ontarian set records with his self-titled debut album, which was the most globally streamed debut album for a Canadian-signed country artist in history. It featured three GOLD-certified singles "Got Your Name On It," "Count The Ways'' and "Close," as well as "Lucky," Eagleson's first #1 at Canadian country radio. Landing Eagleson on YouTube's 'Trending Artist On The Rise' list, the video for "Got Your Name On It" also appeared on the website's homepage. Now boasting 5x more views than any other Canadian country music video released since it dropped on YouTube three years ago (53M+ views), Eagleson's position on this list was the first time a Canadian-signed artist in any genre received this accolade and paved the way for him to become one of Canada's most-streamed artists.
With Brody just coming off the biggest year of his career (2020) it's no wonder why Eagleson considers him an important mentor in his life. Things show no sign of slowing down for the 17-time CCMA winner in 2021. In addition to his "Boys" duet with country music's fastest rising star Mickey Guyton reaching #1 earlier this year, he saw his 2020 smash hit "Can't Help Myself" with JUNO-nominated brother-sister duo The Reklaws receive PLATINUM-certification in Canada less than a year after its release. Brody's "Canadian Summer" also garnered GOLD-certification and his 2012 anthem "Canadian Girls" went DOUBLE-PLATINUM. The two-time JUNO Award-winning artist holds five GOLD-certified (Beautiful Freakshow, Crop Circles, Gypsy Road, Trail In Life, Dirt) and one PLATINUM-certified albums (Dirt) in Canada along with six #1s at Canadian Radio, which includes his last three consecutive singles ("Canadian Summer," "Can't Help Myself" ft. The Reklaws, "Boys" with Mickey Guyton). With over 12 years of making music behind him, 30+ Top 10 singles and 230+ Million Global Streams, Brody currently holds the spot for the second most-streamed Canadian artist in 2021, behind only Shania Twain. His current single "Lightning Bug" is climbing the charts, sitting within the top 10.