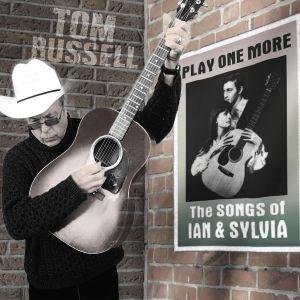 Fri Apr 21, 2017
Submitted to Cashbox Canada
The rich musical legacy of Ian and Sylvia continues to entertain millions of fans across the globe, and today singer songwriter, painter, and essayist Tom Russell announced a project honouring their music with new interpretations of classic songs with his May 19th release of "Play One More: The Songs Of Ian And Sylvia."
Russell has recorded 35 highly acclaimed records, & published five books - including a book on his art and a book of his songs. Russell and Ian and Sylvia share similar values and cultural traditions – both deeply rooted in the depth of the song and story. Russell says, "The music of Ian and Sylvia has stood up over a half of a century and is still recognized as deeply Canadian, it was an honour to pay tribute to them."
In 1992, Ian and Sylvia were inducted into the Canadian Music Hall of Fame during the Juno Awards ceremony. In 1994 they were both made Members of the Order of Canada.
"In 2005 an extensive CBC poll determined Ian Tyson's song, recorded by Ian and Sylvia, "Four Strong Winds," to be the "most essential" piece of Canadian music, and is no doubt the most popular Canadian song ever written. But don't look for it on "Play One More: The Songs of Ian and Sylvia." Russell says, "I wanted to mine the deep, neglected, album tracks that I've listened to for over forty years. Works that I could never get out of my mind. Classic songwriting."
How great is Tom Russell? Isn't he the best? I'd like to quit my job and travel with him...if the money can be worked out. - David Letterman, Late Night with David Letterman
The greatest living folk-country songwriter is a man named Tom Russell - John Swenson, Rolling Stone
Russell's songs have been recorded by Johnny Cash, Doug Sahm, Nanci Griffith, K.D. Lang, Ramblin' Jack Elliott, Ian Tyson, Iris Dement, Joe Ely, and a hundred others.
Tom Russell graduated from The University of California with a Master's Degree in Criminology. He was recently awarded the 2015 ASCAP Deems Taylor Award for excellence in music journalism, and his new book of essays: "Ceremonies of the Horsemen" has received nothing but five star reviews on Amazon.
In 2015 Russell released a 52 track "folk opera" on the West, The Rose of Roscrae, which was hailed as "Maybe the most important Americana record of all time" by UK Folk, and "The top Folk album of 2105," by Mojo Magazine. It was included in top ten lists in three dozen publications, including The Los Angeles Times.
Track by Track Notes: Play One More: The Songs of Ian and Sylvia
by Tom Russell
1. Wild Geese (Ian Tyson) - It took me years to figure out that one of Ian's lines was not "down by the stream, fresh heart attacks in the snow..." Made no sense. It's: "fresh otter tracks in the snow." That took poetic guts. There is deep poetry within the landscapes they created in song. Another great line: "with the frost boiling out of the ground." Fine imagery. And what a melody. Cindy Church's harmony singing is spot-on.
2. Thrown to the Wolves (Sylvia Tyson/Tom Russell) - I've never recorded this co-write with Sylvia. I co-produced one of her records titled "Gypsy Cadillac," and she sang this one on it. This collection provided me with a good excuse to record it for the first time.
3. Rio Grande (Ian Tyson/Amos Garrett) - The only co-write I know of between Ian and the guitar maestro Amos Garrett. Amos played lead guitar in the groundbreaking Ian and Sylvia band (and record) "The Great Speckled Bird." The were pioneers of "folk-rock." Ahead of their time. This was on that band record. I always thought this had a great melody and was an "edgy" cowboy song...with the cocaine falling down the mountain. I wrote the liner notes on the re-issue of that record. I'm the eternal fan.
4. The Night the Chinese Restaurant Burned Down (Sylvia Tyson) - If I had to pick a favorite song on this recording it might be this. It's written from a woman's perspective, but what the hell, I wanted to try it. It's the perfect small-town Canadian song. Two girls, aspiring singers,
get up the courage to take a Greyhound bus for the big city (and fame!) the night they watch the local Chinese restaurant burn down. There was probably a Chinese take-out joint in every little small town in Canada in the 50's. This could be a short story by Faulkner or Eudora Welty.
5. Play One More (Ian Tyson) - This hits at the heart of the music life. The musician playing the bars...his relationship is going to hell. In the 1970's I moved to Vancouver and played the same dive, skid row bars, Ian Tyson had played fifteen years before. The one's he wrote about in "Summer Wages," where the hookers waited by the doorways. The Ian and Sylvia take of "Play One More" had mariachi horns on it. Grant Siemens and I allude to the horn lines on the outro, bashing our guitars. Couldn't get the horn guys to fly up from Juarez.
6. Old Cheyenne (Ian Tyson) - I first heard this on an Ian and Sylvia record, then Ian reprised it for one of his cowboy records in the 1980's.
One of the great rodeo songs. He captures the theatrical traditions of the rodeo, and then plunges down deep into the life of the narrator, a bull rider who drinks before he rides and may have to get a factory job. Another fine short story.
7. Short Grass (Words by Ian Tyson, Music by Sylvia Tyson) - Cindy Church captures Sylvia's tight singing and phrasing on this one...beautifully. Again Ian was writing fine, original, cowboy songs as far back as the early 1960's, though most folks think the cowboy-song renaissance began in the late 70's and early 1980's. This one summons up the landscape of the short grass country - the terrain - where cowboys carry-on the old skills, which came up from Mexico and on back to Spain.
8. Sam Bonnifield's Saloon (Ian Tyson) - A short two-verse song with no chorus - a precise little take on a town bar in the Yukon. A haiku. Like something out of a Robert Service poem.
9. These Friends of Mine (Ian Tyson) - A classic bit of nostalgia concerning the past and old friends. Both Ian Tyson and Bob Dylan had to constantly move on and forward in search of "the muse," so there were plenty of songs about what was left behind.
10. Red Velvet (Ian Tyson) - There's some very moving film on You-Tube of Ian and Gordon Lightfoot singing this at Lightfoot's house. I have a classic David Gahr photo of the set-list on top of Lightfoot's guitar back in 1964 at The Newport Folk Festival and he was already singing performing this song.
11. The Renegade (Ian and Sylvia) - A lone Indian warrior on a mountain, making his final stand. My first songs were about Native Americans and I always loved this one. Ian might be using Chinook Jargon in some of the odd Native words. There is a Chinook word, probably borrowed from the Nuu-Chah-nulth (formerly Nootka) language, "Mah ́-witsh" which means deer. I've asked Ian, and he only snorted something like - "Russell, I dreamed all of it..."
12. When the Wolves No Longer Sing (Ian Tyson and Tom Russell) - Ian and I co-wrote this a few years back. It appears on his last album: ""Carnero Vaquero," and a version appears on my double album "The Rose of Roscrae," but I wasn't the singer. This is my first recording of it. It's a fitting ending to this record, because Ian and are pondering the question of what happened to the great, master songwriters? Will they return one day? Ian and Sylvia are certainly legendary master songwriters.
For Press and Publicity Contact Eric Alper eric@thatericalper.com