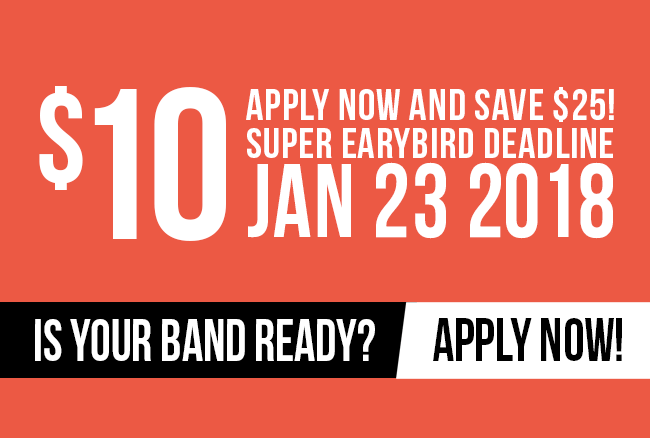 Fri Jan 12, 2018
Now in its 15th year, Indie Week Canada (IWCAN) is one of Canada's top emerging artist festivals hosting 300+ artists, 25+ venues in 6 days. Indie Week puts industry and artists together, acts have made connections and have built new business furthering their career. Along with artist showcases, Indie Week hosts the Indie101 Music + Tech Conference with industry leaders and over 80 speakers – artists have the opportunity to participate in mentorship, classroom and 1-on-1 sessions along with the regular industry panels. Indie Week is a great launch pad for artists wanting to enter into the North American and Canadian markets and make the connections that can help take your band to the next level.
Indie Week Canada has become one of Canada's premiere indie music festivals showcasing 300+ acts from all over the world in front of music industry professionals.
Indie Week offers 6 nights of showcases, late last call after parties serving until 4am, 25+ venues, music industry panels, industry mixers, demo listening sessions, mentorships, sponsored stages and more.
Past Performers Include:
Finger Eleven, Philip Sayce, Mike Joyce (The Smiths), Glen Matlock (Sex Pistols), Parallels, The OBGM's, Walk Off The Earth, Dearly Beloved, Single by Sunday, #FamilyGrind, Tokyo Taboo, Partner, LYON, Blaze Bayley (Iron Maiden), Sumo Cyco, Ill Scarlett, Trampa, Dani Strong, Danielle Bourjeaurd
Past Industry Delegates Include:
Eddie Kramer (Producer – Jimi Hendrix/Led Zeppelin), Phil X (Bon Jovi), Michael Wekerle (Dragon's Den/El Mocambo), Martin Atkins (PIL/Nine Inch Nails), John Densmore (The Doors), Garth Richardson (Producer – Rage Against the Machine/Biffy Clyro), Mike Clink (Producer – Guns'n'Roses/Metallica), Nigel Grainge (Ensign Records), Chuck Randall (Tour Manager – The Cult/Alice In Chains), Chris Birkett (Sinead O'Connor/Buffy St. Marie), Ralph James (Agent), Tom Wilson (Juno Award Winner), David Marsden (CFNY Founder)
Indie Week has expanded to presenting shows throughout the year as well as showcasing local acts on development nights. For the most part, they select artists who have applied to the festival or those they have worked with in the past, allowing Indie Week to provide more opportunities for emerging artists.
Indie Week features:
300+ bands
25+ venues across downtown Toronto
VIP industry launch and Closing parties and awards show, Demo Listening sessions, songwriting circles, Industry panels, workshops, mixers and events
4am last call
"Indie Week has grown from a music-oriented event to a large International emerging artist festival complete with a music and tech conference. This year's event will be our biggest ever and feature even more International artists, delegates and speakers."
Darryl Hurs - Indie Week Founder / Director
The early bird special ends on January 23, 2018, so get in on the discount by applying here canada.indieweek.com/apply.