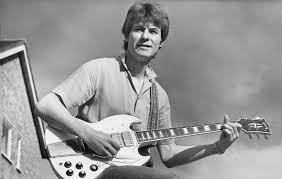 Fri Feb 05, 2021
Hilton Valentine, founding guitarist of the 60s group the Animals and the man responsible for one of the most famous and recognizable  intros in recorded music has died at age 77. His now famous arpeggio guitar intro Am/C/F/D/ Am/E brought an old folk tune, "House Of The Rising Sun", into the rock world with a simple progression that anyone with a guitar could play, and still play to this day.
Valentine, from North Shields started playing guitar at age 13 and was a founding member of the Animals in 1963 in Newcastle along with singer Eric Burdon, bassist Chas Chandler, organist Alan Price and drummer John Steel. Valentine was only in the band for three years from 1963 through 1966 but his impact was monumental. Eric Burdon is quoted as saying "he made the early Animals a rock band because I don't think the element of rock was in the band until we found him. "In those days, Hilton wasn't just playing rock 'n' roll, he looked rock 'n' roll. Here was a guy with the greased mop of hair combed back, cheap leather jacket, winkle picker shoes, black jeans and a smile on his face playing through an echoplex, which was a secret weapon back then."  With Valentine the band would record some of its most memorable hits including, "Baby Let Me Take You Home," "Don't Let Me Be Misunderstood," "We Gotta Get Out of This Place," "It's My Life" and "Don't Bring Me Down.""
"House Of The Rising Sun" was originally rejected as a single by the band's producer, Mickie Most, who thought a four-and-a-half minute track was too long for radio to play. The Animals version of House Of The Rising Sun is thought by many to be one of the influences for Bob Dylan going electric in 1965.
Valentine released a solo album in 1969 and reunited with The Animals at least three times. In later years Valentine got back to his skiffle roots touring the U.S. and U.K. with his band Skiffledog and releasing two albums.
On his Instagram account  Eric Burdon paid tribute to Valentine saying  "The opening opus of Rising Sun will never sound the same!... You didn't just play it, you lived it! Heartbroken by the sudden news of Hilton's passing.
"We had great times together, Geordie lad. From North Shields to the entire world...Rock In Peace."