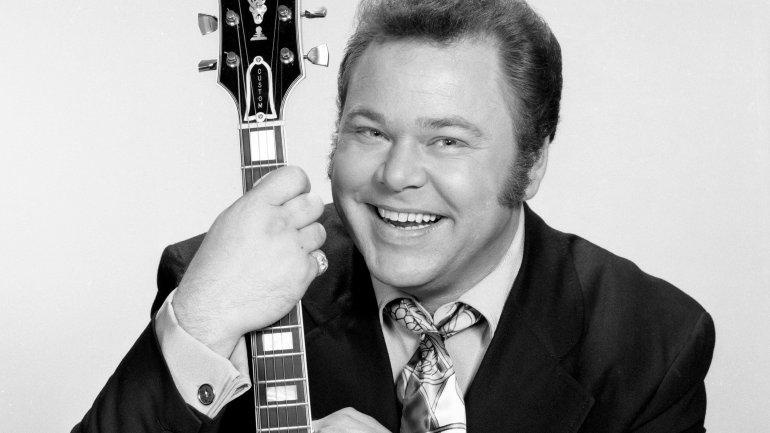 Fri Nov 23, 2018
Roy Clark has left the stage and has gone on to his next appearance, joining an illustrious group in heaven that includes Chet Atkins and his buddy Glen Campbell. The  multi-leveled entertainer died at his Tulsa, Oklahoma, home due to complications from pneumonia. Roy Linwood Clark was born April 15, 1933, in Meherrin, Virginia and was the oldest of five children. He was 85 years old.
The multitalented Clark was known to different folks for different reasons, all having to do with his unique gifts.  He was one of finest guitar players to ever pick up the instrument, a musicians musician, a brilliant entertainer and comedian and smooth voiced singer. Harold  Bradley called him "honest" and everything Roy Clark did was honest, the way sang, played and carried himself.  He was  best known for his 24 years as co-host of the long-running country  comedy showHee Haw that allowed him to show his comedic skills and his guitar prowess equally. He guest-hosted "The Tonight Show" multiple times, he got to work as youngster with the great like Hank Williams and was an inspiration to a wide range of  pickers,  with his instructional guitar books.Of note Brad Paisley acknowledged the fact that his grandpa watched Roy and Buck Owens on Hee Haw and because of that started playing guitar. Had he not done that chances are good Brad might not have played guitar.
While still in his teens, Roy  became a national banjo champion, and was invited to perform on the Grand Ole Opry.  In 1960, Clark joined rockabilly/country artist Wanda Jackson's band,as her guitarist and opening act playing guitar and opening for her at the Golden Nugget in Las Vegas. Jackson was a Capitol Records, artist and a as result Clark was singed to the label. as a ssolo artist. His big break came in 1963 when his version of Bill Anderson's "Tips of My Fingers" hit No. 10 on the country charts, and he found crossover success with the 1969 smash "Yesterday, When I Was Young." a song that  he performed at Mickey Mantle's funeral in 1995. He won the Country Music Association's Comedian of the Year Award in 1970 and the Entertainer of the Year Award in 1973; He was the first country star to open a theater in Branson, Missouri. The Roy Clark Celebrity Theater in 1983, helping it to become a tourist-friendly town.
Clark became a member of the Grand Ole Opry.in 1987 and was inducted into the Country Music Hall of Fame in 2009 along with  BarbaraMandrell and Charlie McCoy.
Clark's grandson Elijah Clark predeceased him and he is survived  his wife of 61 years, Barbara and  his children, Roy Clark II and wife Karen, Dr. Michael Meyer and wife Robin, Terry Lee Meyer, Susan Mosier and Diane Stewart; his grandchildren, Scott Fearington, Brittany Meyer, Michael Meyer, Caleb Clark and Josiah Clark; and his sister, Susan Coryell.
A celebration of life memorial was held  at the Rhema Bible Church in Broken Arrow, Oklahoma.
Godspeed Roy Clark.