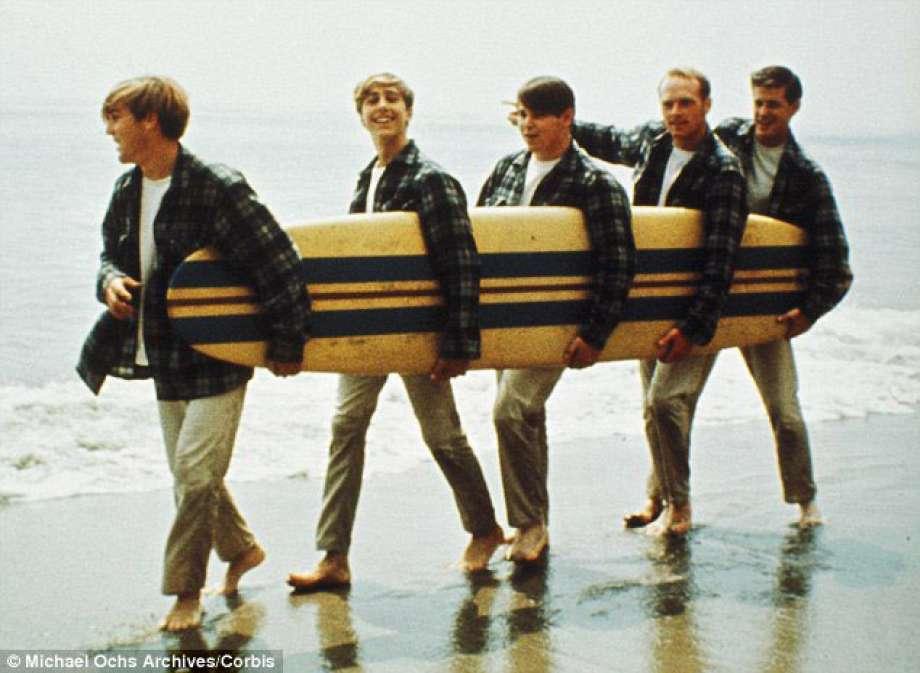 Fri May 12, 2017
The Beach Boys, widely considered one of the mostinfluential bands in rock and roll, will set out on its Wild Honey World Touracross the U.S. and Europe. The tourbegins on May 18th at theRoyal Albert Hall in London and willwind through the U.K. and Europe beforeheading to the US. The band is set toperform several US dates including theBeacon Theater in New York City onAugust 17th. The tour willcontinue into fall of 2017 and featurethe band's beloved summer sound as theyperform a mix of their greatest hitsand fan favorites.
"We are so excited to begin our WildHoney World Tour. It is such an amazingexperience to witness generations offans, from all corners of the world,come together to celebrate our music,"said Mike Love, lead singer andco-founder of The Beach Boys. "It isincredible to see our fans, show aftershow, city after city, country aftercountry, dancing and singing along tothese songs we have loved and performedfor decades."
On May 16th London's UnionChapel will host "An Evening with theBeach Boys' Mike Love." Mike willdiscuss the incredible story of TheBeach Boys and his own personal journeyin music with The Times' rock and popeditor, Ed Potton. Additionally, thecity of Knokke-Heist, Belgium, willhonor The Beach Boys' 30 yearanniversary of performing in the cityon June 5th with aceremonial event at Town Hall. MayorCount Leopold Lippens will unveil acommemorative plaque on the beach wherethe Beach Boys performed 30 years agoand grant the band honorarycitizenship.
During the Wild Honey World Tour, award-winning actor and musician John Stamos is set tojoin The Beach Boys on drums from May24th to June 5th.Stamos started performing with the bandin 1985 and has made many guestappearances over the years on varioustours. He appeared in The Beach Boy'smusic video for their hit single"Kokomo" and served as executiveproducer on the film, The Beach Boys: An American Family.
The Grammy® Award-winningand Rock & Roll Hall of Fame band, The Beach Boys, features Mike Love, Bruce Johnston, Scott Totten, Jeffrey Foskett, Brian Eichenberger, Tim Bonhomme, and John Cowsill.The Beach Boys perform year round with150 sold-out shows across the globe.
The Wild Honey World Tourfollows The Beach Boy's highlysuccessful 50 Years of Good Vibrations Tour.This tour was in tribute to the band's1966 track, "Good Vibrations," whichcelebrated its 50th Anniversary, October 10th 2016. The tour includedspecial dates such as the NationalMemorial Day Concert in Washington, D.C. to honor U.S. troops, a July 4 th concert at New York'sfamed Coney Island Boardwalk as well asa special performance with the NationalSymphony Orchestra at The KennedyCenter to honor the 50thanniversary of the band's landmarkalbum, "Pet Sounds." Additionally, TheBeach Boys co-founder and lead singer,Mike Love, released his memoir onSeptember 13th, 2016. Love'sbook entitled GOOD VIBRATIONS: My Life as a Beach Boy, was published by Blue Rider Press, amember of Penguin Group (USA) andquickly made its way to the top of theNew York Times Best Seller list.
THE BEACH BOYS WILD HONEY WORLD TOUR DATES :
05/18 London, UK Royal Albert Hall
05/19 London, UK Royal Albert Hall
05/20 Belfast, UK SSE Arena-Odyssey
05/21 Dublin, Ireland Bord Gais Theatre
05/24 Scarborough, UK Scarborough Open Air Theatre
05/25 Gateshead, UK The Sage
05/26 Glasgow, UK Clyde Auditorium
05/27 Inverness, UK Leisure Centre
05/28 Inverness, UK Montrose Festival, East Links
06/18 Palma de Mallorca Son Fusteret
06/20 Barcelona Pedralbes Via Concert Studio
06/21 Valencia Casa De Cultura De Burjassot
06/22 Madrid Teatro Alcala
06/27 Rome Cavea Auditorium Parco Della Musica
06/30 New Buffalo, MI Four Winds Casino Resort
07/02 Highland Park, IL Ravinia Pavilion
07/06 Rapid City, SD Rushmore Civic Hall
07/07 Casper, WY Casper Events Center
07/08 Park City, UT Deer Valley Snow Park Outdoor Amphitheater
07/09 Nampa, ID Ford Idaho Center Amphitheater
07/13 Davenport, IA Adler Theatre - Rivercenter
07/14 Manchester, IA Delaware County Fair
07/15 Chippewa Falls, WI Northern Wisconsin State Fair
07/16 Washburn, WI Lake Superior Big Top Chautauqua
07/26 Grand Rapids, MI Meijer Gardens Amphitheater
07/27 Sterling Heights, MI Freedom Hill
07/28 Huber Heights, OH Rose Music Center @ The Heights
07/29 Lancaster, OH Ohio University Lancaster
07/30 Asheville, NC Biltmore Estate - South Terrace Stage
08/03 Fort Wayne, IN Foellinger Theatre
08/04 Fishers, IN Conner Prairie
08/05 Fishers, IN Conner Prairie
08/06 Milwaukee, WI Wisconsin State Fair
08/09 East Providence, RI Bold Point Park
08/10 Hampton Beach, NH Hampton Beach Casino Ballroom
08/11 Cohasset, MA South Shore Music Circus
08/12 Nantucket, MA Jetties Beach
08/13 Hyannis, MA Cape Cod Melody Tent
08/15 Great Barrington, MA The Mahaiwe Theatre
08/16 Ridgefield, CT Ridgefield Playhouse
08/17 New York, NY Beacon Theatre
08/18 Jim Thorpe, PA Penn's Peak
08/19 Ocean Grove, NJ The Great Auditorium
08/20 Vienna, VA Wolf Trap Filene Center
08/21 Ocean City, NJ Ocean City Music Pier
08/21 Ocean City, NJ Ocean City Music Pier
08/22 Ocean City, NJ Ocean City Music Pier
08/22 Ocean City, NJ Ocean City Music Pier
08/23 Ocean City, MD The Performing Art Center at The Roland E Powell Convention Center
08/23 Ocean City, MD The Performing Art Center at The Roland E Powell Convention Center
08/25 Syracuse, NY New York State Fairgrounds
08/26 Chautauqua, NY Chautauqua Amphitheater
09/14 Puyallup, WA Washington State Fair
09/15 Las Vegas, NV The Smith Center For The Performing Arts
09/16 Laughlin, NV Edgewater Hotel And Casino
09/17 Mesa, AZ Ikeda Theater
09/21 Sacramento, CA Community Center Theater
09/22 Saratoga, CA The Mountain Winery
09/23 San Diego, CA Humphrey's By The Bay
09/23 San Diego, CA Humphrey's By The Bay
09/24 Cerritos, CA Cerritos Center For The Performing Arts
10/06 Biloxi, MS Beau Rivage Mgm Resort & Casino, Inc.
10/07 Biloxi, MS Beau Rivage Mgm Resort & Casino, Inc.
10/10 Dallas, TX Majestic Theatre (Dallas)
10/11 San Antonio, TX Majestic Theatre (San Antonio)
10/13 College Station, TX Rudder Auditorium, College Station
10/14 Lake Charles, LA Golden Nugget Lake Charles
10/15 Galveston Island, TX The Grand 1894 Opera House
10/21 Norman, OK Riverwind Casino
10/22 Kansas City, MO The Midland - Kansas City
10/23 Columbia, MO Jesse Auditorium
10/24 Normal, IL Braden Auditorium
10/25 Benton Harbor, MI Mendel Center
10/26 Tiffin, OH Ritz Theatre - Ohio
10/27 Akron, OH Akron Civic Theatre
10/28 Cincinnati, OH Aronoff Center For The Arts
10/29 Paducah, KY Carson Center
10/30 Richmond, KY EKU Center For The Arts
11/02 Memphis, TN Orpheum Theatre - Memphis
11/03 Chattanooga, TN Tivoli Theatre
11/04 Birmingham, AL Alabama Theatre
11/05 SAVANNAH, GA Johnny Mercer Theatre
11/08 Malt Shop Memories Cruise
11/08 Malt Shop Memories Cruise
11/14 Schenectady, NY Proctors
11/15 Morristown, NJ Mayo Performing Arts Center
11/16 Indiana, PA Indiana University Of Pennsylvania - Kovalchick Convention Center
11/17 Hagerstown, MD Maryland Theatre
11/18 Pittsburgh, PA Heinz Hall For The Performing Arts
11/19 North Tonawanda, NY Riviera Theatre
Tickets for the Wild Honey World Tour are currently on-sale via thebeachboys.com or mikelove.com .