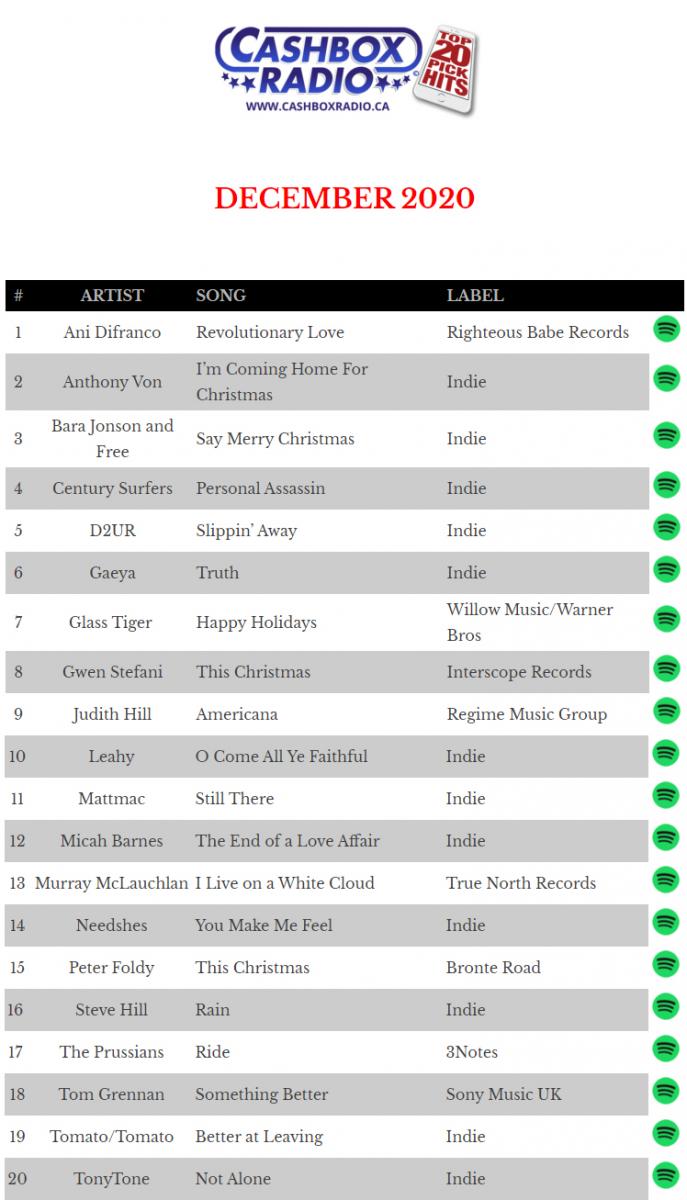 Fri Dec 04, 2020
Well we made it to December, and here is the last Top 20 Pick Hit Chart of the Year for 2020. Although we may be glad to see an end to this year the good part about artists being stuck at home is many of them were smart enough to use the time to release new product and some of it is brilliant.
Here is our latest take on the Top 20 Cashbox Pick Hit Chart – with our usual mandate in place putting iconic artists on with indie artists – something we are very proud of doing right here at Cashbox Radio.
A little history of where the name Cashbox came from - the name of Cashbox Magazine (originally two words – Cash Box) was named after the actual 'cash box' inside the jukeboxes of America. When customers put their money in and played for example - A1, the money dropped down into a specific spot in the cash box and this is how the original Cash Box Charts were derived from collecting that information.
With Cashbox Radio (cashboxradio.ca) we have brought back one of those legendary charts, The Cashbox Top 20 Pick Hits – a monthly chart adjudicated by our radio hosts Don Graham, Paul Saunders, Grace Puluczek, Station Manager, Peter Astedt and myself, Program Director, Sandy Graham.
In the forward-thinking of this station, which lets the radio hosts be their own Music Directors, The Cashbox Top 20 Pick Hits will be something of value to the artists as we move towards making it an important way to get their music out there to the world,
The other thing about The Cashbox Top 20 Pick Hits is the music is global; we have artists from parts of Europe, Canada and the USA. We have Indie artists right up there with legendary and hit artists. "Radio the Way It Used to Be." You can go and listen to the Top 20 Pick Hits here: cashboxradio.ca/top20-pick-hits/
Congratulations to Ani Difranco, Anthony Von, Bara Jonson and Free, Century Surfers , D2UR, Gaeya, Glass Tigerm Gwen Stefani, Judith Hill, Leahy, Mattmac, Micah Barnes, Murray McLauchlan, Peter Foldy, Steve Hill, The Prussians, Tom Grennan, Tomato/Tomato and TonyTone.
I am extremely proud of the Cashbox Team, both with the magazine and the radio station, because for us it is still truly all about the music.
So please listen to our station @ cashboxradio.ca or on the FREE app on your phone available on phone iPhones and Androids.
Check out the new December Top 20 Pick Hit Chart for Cashbox Radio and support the artist by supporting their music.