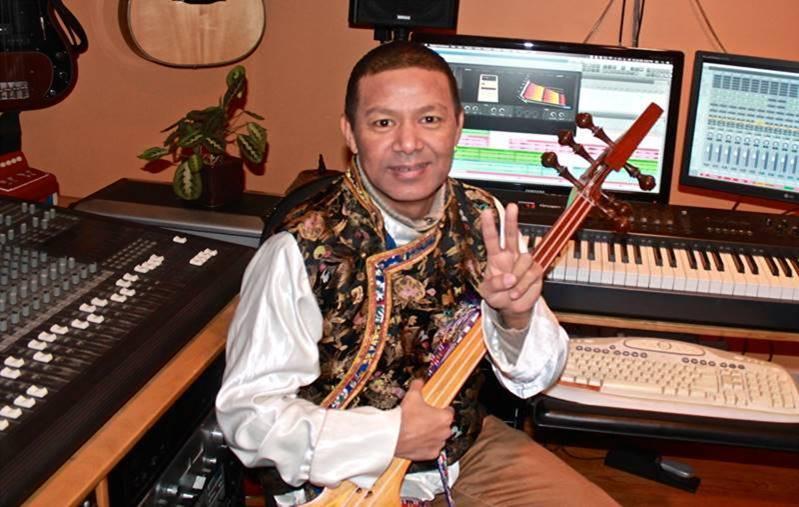 Fri Apr 21, 2017
Submitted to Cashbox Canada
Gifted Tibetan-Canadian singer and multi-instrumentalist DORJEE TSERING is celebrating Canada's 150th birthday has released a new single, "THANK YOU CANADA," on Friday, April 21st, and a full album of the same name, in a concert at Toronto's Lula Lounge, 1585 Dundas Street West, on Tuesday, June 6th at 7:00 pm to 8:30 pm. Doors open at 6:00 pm and Dorjee invites everyone to join him in a beginner Tibetan dance lesson before the concert. Toronto's purveyors of folk, rock, blues, and Hindustani music SO LONG SEVEN close out the night.
On the occasion of the True North's sesquicentennial, Dorjee Tsering's "Thank You Canada" single is a heartfelt expression of great gratitude for the open arms of welcome from the country to which he emigrated from his native Tibet many years ago. It's a piano-pop song, sung alternately in Tibetan and English, that quotes our national anthem and features a fast-tempo sargam rap in the middle, followed by Dorjee's gentle bansuri (flute) and Anne Lindsay's fiddle solo after the break. Given the current climate toward refugees and immigrants in the U.S., it's an especially poignant and meaningful recognition of Canada's warmer, more hospitable approach. He'll release a full album of the same name at the June 6th Lulaworld concert.
As a Canadian immigrant, Tsering has devoted his life to learning the ancient ways of Tibetan music, adapting and growing these traditions with new sounds, and sharing them with as many people as he can, not only in his new homeland, but across America and Europe as well. At folk festivals, in clubs large and small, at house concerts, and on recordings and video, Tsering has brought much attention to his endangered culture. Whether performing on the dranyen (Himalayan lute), flute, piwang (two-stringed fiddle), yang-qin (Chinese dulcimer) or with his distinctive voice, Tsering works to preserve his musical heritage as one would an ancient temple, but bringing it into the modern world with support structures that help ensure its longevity.
Born a Tibetan exile in India, Tsering joined the Tibetan Institute for Performing Arts (TIPA) in Dharamsala, India, where he mastered the aforementioned traditional instruments, and also learned Tibetan opera, and several styles of singing and dance. After graduating from TIPA, he became a teacher there, while further pursuing his career by performing throughout India
Throughout 2013 and 2014, Tsering toured throughout North America with his One Hour in Tibet stage performance, in which he invited the audience to feel and experience the beauty of Tibetan culture, as well as the ongoing suffering of his people. In 2015, he released his first full-blown East/West collaboration, Năng (Tibetan for "home"), an album featuring bassist David Woodhead, guitarist Donné Roberts, harmonica virtuoso Carlos del Junco, and fiddle champion Shane Cook. Năng was produced by veteran composer/producer Lou Natale, who continues their fruitful collaboration as the producer of the Thank You Canada album as well. In 2016, Tsering was proudly one of only 12 musicians chosen from more than 100 applicants, from 47 countries, to be part of the New Canadian Global Music Orchestra, (NCGMO) assembled by The Royal Conservatory of Music to celebrate the cultural diversity and pluralism of Canada as it turns 150.
The Thank You Canada album release concert is part of Lulaworld 2017 Festival, which runs June 1-11, with more than 20 concerts, that include many exciting international collaborations and project debuts.
Credits:
Composed by Dorjee Tsering and Lou Natale
Dorjee Tsering – vocal and bansurai
Lou Natale – arranger, piano, guitar, dranyen
John Herberman – orchestrator
Anne Lindsay – fiddle
David Woodhead – bass
Brian Macmilan – electric guitar
Rakesh Tewari – Drums and various percussion
Ravi Naimpally – tabla and various various percussion
Debashis Sinha - doumbek and various percussion
Suba Sankaren, Dylan Bell, Debbie Flemming - background vocals
Terry Holowach, Amalia Canzoneri, Greg Toskov, Jim Wallenberg, Tanya Charles – 1st violins
Wendy Rose, Boris Kupesic, Janetta Wilczewska, Alessia Disimini – 2nd violins
Val Kuinka, Claudio Vena, Angela Rudden, Nicholaos Papadakis – violi
Jose Shapero, Lydia Munchinsky, Sebastian Ostertag – celli
James MacDonald, Eric Szabo, Tina Shapero – french horns
Lief Mosbaugh – oboe
Anne Thompson – flute
Recorded and mixed at Canterbury Music, Toronto, by Jeremy Darby
Master at Wreckinghouse by Peter Letros
Dorjee Tsering would like to acknowledge the generous support of the Ontario Arts Council and Toronto Arts Council and Lulaworld would also like to thank the Ontario Arts Council, Toronto Arts Council, The Ontario Government and Canadian Heritage for their support of the festival.
SO LONG SEVEN www.solongseven.com
Richly textured acoustic music that brings diverse influences to a distinctly Canadian voice, So Long Seven's sound encompasses folk, rock, blues, and Hindustani music. Their unique lineup of guitar, violin, banjo and tabla, played by some of Toronto's finest performers, reflects the band's passion for pushing musical boundaries. Their dynamic live performances move seamlessly from driving grooves to chamber music.
TICKETS: $12 advance / $15 at the door https://bemusednetwork.com/events/detail/348 Dinner reservations guarantee seating. Call 416-588-0307 to reserve your table. For more info please visit www.dorjeemusic.com / www.lounatale.com / www.lula.ca
FACEBOOK Event Page: https://www.facebook.com/events/213123265840508/