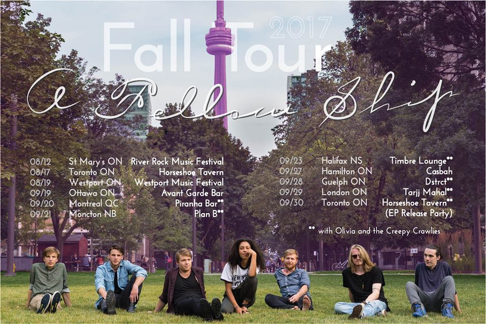 Fri Sep 01, 2017
Folk pop band, A Fellow Ship, has announced their eastern Canada tour. Kicking off in Ottawa on September 19th at Avant Garde Bar, the band will be sharing songs off their upcoming new EP, which is set for release this fall. Full details can be found below.
"We've been working for years to develop music and a live performance that we are truly proud of," says Joe Dent, lead vocalist and guitarist. "This release and Canadian tour is the first time we feel ready to make our mark on the world and we couldn't be more excited."
A Fellow Ship is a folk pop band from Toronto. A tight group of friends who play lively original tunes, which will make you want to get on your feet and dance. Their combined love for music and good company has evolved into a mighty clash of folk, pop, jazz, funk, and soul. The band released their self-titled debut EP in June 2015.
UPCOMING TOUR DATES:
September 19 – Ottawa, ON – Avant Garde Bar
September 20 – Montreal, QC – Piranha Bar
September 21 – Moncton, NB – Plan B
September 23 – Halifax, NS – Timbre Lounge
September 27 – Hamilton, ON – Casbah
September 28 – Guelph, ON – DSTRCT
September 29 – London, ON – Tarjj Mahal
September 30 – Toronto, ON – Horseshoe Tavern
www.afellowship.net
For more information please contact:
Indoor Recess Inc.