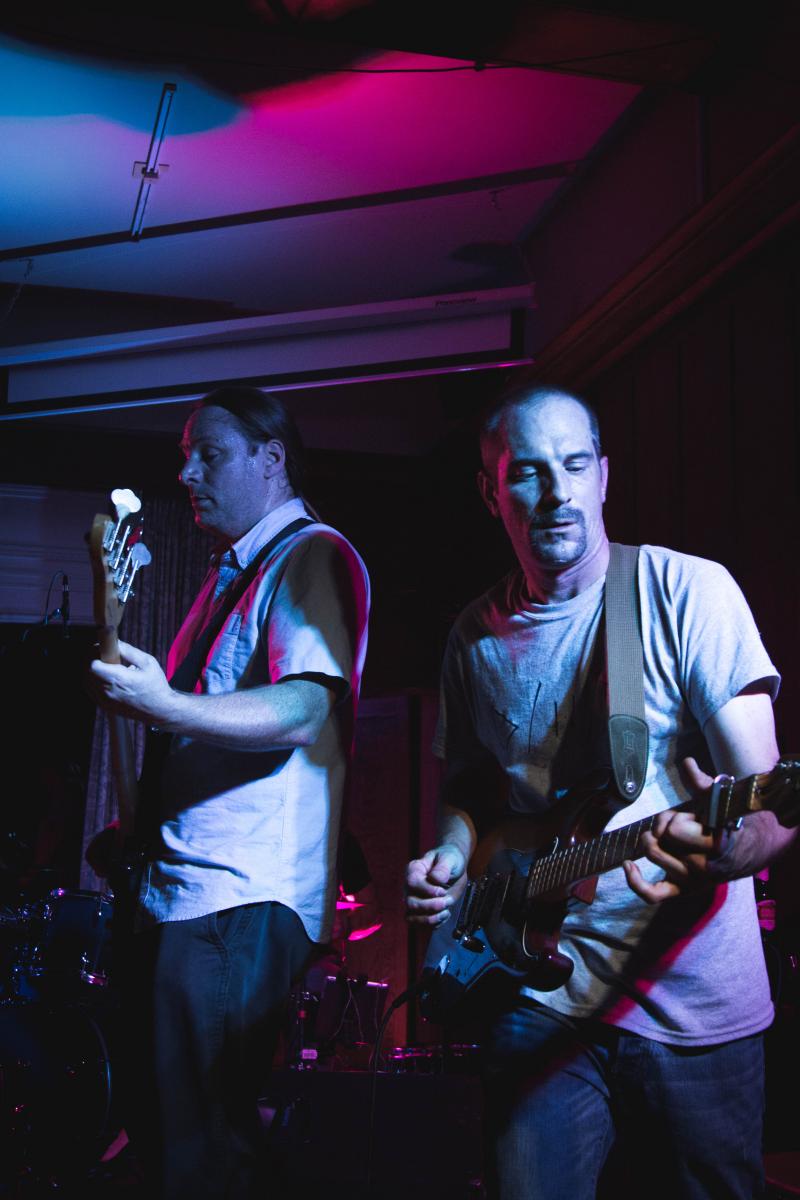 Fri Sep 29, 2017
When I did the interview on The Fimisters for the cover story on July 23, 2017 (http://cashboxcanada.ca/8473/fimisters-playpauseresume)  I sat down with Basil Wood and Cory Gauvin to discuss their reunion, the release of their second album and all things in between over lunch.  I left that meeting with a great feeling of nostalgia and wanting to see these guys play again!
On September 16, 2017, I got that chance.  The Fimisters played live at their CD release party in Belleville, On.  They were joined by another local band from Trenton, Ontario, Moon Sugar, who opened for them at The Belleville Club.  A small venue that holds about 150 people.
It felt like old home weekend for me, as I had convinced my best friend from high school, Christine to come join me for the weekend and we got together with some great friends from our past.
Christine and I met up with The Fimisters for their soundcheck around 3:30 pm on Saturday afternoon. I was finally going to see all five guys together in the same place before the rush of their friends, family and fans came out to support them.  We got to catch up a little and feel the excitement in the air before they were to hit the stage that night.
I also got to sit down and learn a little bit more about what Andrew Gilchrist and Rob Gillet did when they weren't being rock stars.  Andrew Gilchrist creates video products, audio material and content literature for small businesses and events.  He is having fun with technology, helping a generation that is a little behind helping themselves out.
Rob Gillet plays with The Greg Ball band, based out of Kingston,Ontario and works for a company that produces t-shirts, hats and other merchandise with company logos.  Rob was heading back to Kingston after The Fims show as he had a gig with The Greg Ball Band in Kingston for a fundraiser for the United Way on Sunday morning.
Watching Cory Gauvin – vocals, Rob Gillet – lead guitar, Basil Wood – guitar/vocals, Andrew Gilchrist – bass and Colin Blamire – drums, do their soundcheck brought me right back to hanging with a big gang at Colin's while they jammed.  It added to the excitement building for the night.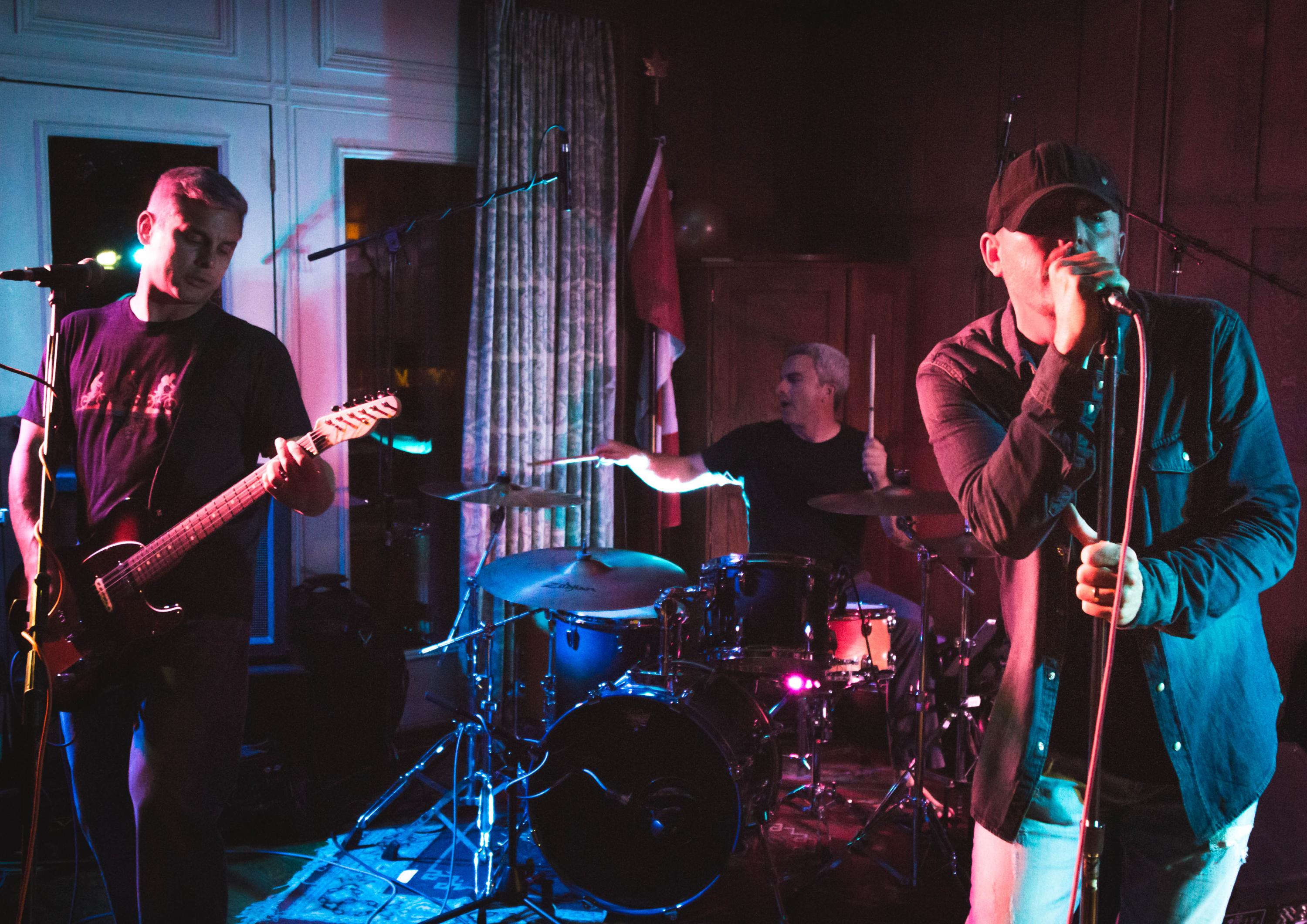 It was also here that I got to meet the infamous Sean Doyle, one of a few people that helped orchestrate The Fimisters reunion.  He oversaw sound check for The Fims and I would soon find out, is also the drummer for Moon Sugar.  Christine and I stuck around to see Moon Sugar's soundcheck, and if the soundchecks are any indication on how the evening's performances were going to pan out, it was looking very promising!
The night did not disappoint! 
Moon Sugar, consisting of Jordan Thomas – guitar/vocals, Logan Dillion – bass/vocals, Ben Vandergaast – piano/vocals and of course, Sean Doyle – drums, got the crowd warmed up with a mix of covers and original content that had us moving and singing along.  You can find them on their Facebook page – Moon Sugar, on Instagram at moonsugarofficial and their website moonsugar.ca. Check out iTunes to download their self-titled EP.  And keep an eye out for their new album coming out soon.
When The Fimisters finally hit the stage, the crowd was hungry to see them.  This group of laidback guys looked so at ease when they got up there to start their set, it was amazing.  They rocked The Belleville
Club for the rest of the evening, playing a mix of songs both old and "new".  The dance floor was full and the crowd was filled with electricity as people sang along and the guys interacted with their fans.
I also met Andrew's, Basil's, Colin's, and Cory's wives that night too!  It has got to make the guys feel good to have their biggest fans present. 
The Fimisters had a table of merchandise available for sale. Their CD's, of course, but some great ball hats and t-shirts too.  According to Basil, merchandise will be for sale online soon from their Facebook page, where you can already get their CD – Play/Pause/Resume.  You can also find their CD on iTunes where you can buy the whole album or grab a few of your favorite songs.
Keep an eye out on their Facebook page -  The Fimisters, Instagram – the_fimisters and their website – Fimisters.com for dates on upcoming performances.  I am keeping my eyes out for Toronto dates! 
Now that you guys have recorded the songs of your past, I hope you start working on some new stuff, songs from your present.  Keep having fun guys, it's contagious!