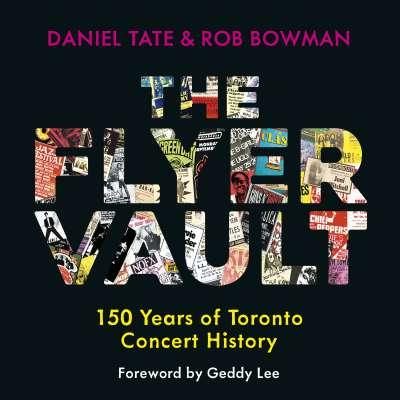 Sat Oct 19, 2019
First it was an Instagram must-follow, now it's a book. From Duke Ellington to David Bowie to Daft Punk, Toronto has played host to so many music legends, making its name as a major music destination in both Canada and the world. 
Born from the popular Instagram account of the same name, The Flyer Vault runs the gamut of musical genres — from vaudeville to techno and everything in between — using Tate's extensive collection of concert posters and flyers to illustrate the breadth of Toronto's musical history. 
Complementing the stunning visuals are stories highlighting iconic moments in legendary music venues across the city, including the Horseshoe Tavern, Massey Hall, The Rock Pile, the Edge, and many more. 
As beautiful as it is informative, The Flyer Vault is a visual tour-de-force showcasing Toronto's' vast and venerable concert history. 
Both born and bred Torontonians, Daniel Tate and Rob Bowman only recently met through social media, although their paths were similar throughout the years.
Daniel Tate worked in the concert industry for several years before starting The Flyer Vault project in 2015. His efforts to chronicle Toronto's live music history have been featured in the Globe and Mail, NOW, Vice, and on blogTO.
Rob Bowman is a GRAMMY Award winner and professor of music at York University who has been writing about music for more than 40 years. His book Soulsville U.S.A.: The Story of Stax Records was inducted into the Blues Hall of Fame in 2013. He lives in Toronto. 
"It all started for me when I started cleaning up my old stuff at my parent's house and came across a trunk that was filled with posters I had accumulated in the '90s, and I realized I had over 1,000 flyers and promo pieces that were literally a time capsule of Toronto's live scene history. It was truly an inspiration to start do the inventory and create The Flyer Vault", says Daniel. "That was 2015, The Flyer Vault project started in April 2015 when I rediscovered a trove of old hip hop concert and rave flyers that I collected over the years. I started posting them to Instagram, and slowly but surely, the audience grew. Soon, my account became a meeting place for people to reflect and reminisce on shows that profoundly impacted them. This book is the culmination of what was originally a digital project. It's a testament to the thousands of people who both presented and experienced live music in our city over the years. Each chapter in The Flyer Vault is accompanied by an Apple Music playlist. These playlists cover the hundreds, if not thousands, of artists and songs that are noted in the book. For those who want the true time machine experience, we recommend giving them a listen during or after each chapter. We commissioned renowned Toronto based illustrator Dave Murray to put together the first Toronto music venue word map. The map depicts over 200 club and concert venues that span a century. It's a breathtaking illustration and will surely take many of you down memory lane."
"In the fall of 2017, Daniel reached out to me. I had done the research and written the liner notes for three different CD sets of George Clinton and Parliament-Funkadelic. Daniel wanted to know if I had any flyers for the group's legendary shows at the Hawk's Nest in 1969 and 1970. I didn't, but over coffee, while looking through Daniel's incredible collection on his laptop, we quickly figured out that our interests, knowledge, and individual collections dovetailed perfectly," says Rob Bowman. " With each of us spurring the other on, over many months Daniel's collection of posters, flyers, and concert advertisements expanded to about 8,000 items while my database of musical performances in Toronto increased at a similar rate."
And so the collaboration began, fast-forwarding from The Flyer Vault on Instagram to an incredible history of Toronto in book form published by Dundurn Press and supported through Canadian government funding it became a reality and a historical library of information for generations to come.
The foreword of the book is written by none other than Geddy Lee rock legend of Rush, so it doesn't get much better than that with an endorsement. A special thank you and hats accolades were paid to Gary Tate (who we Toronto club owners knew as one of the bookers and agents extraordinaire).
What is absolutely fascinating is the authors have traced musical appearances and concerts to as far back as the early 1800s, and as they said 'every time we went into more research we went down the rabbit hole, finding more and more about Toronto's live scene, decades before it was known for the 1960s music in the city." 
Daniel and Rob have an absolute passion for this project and are thrilled to be able to share their findings with not just music fans but with historical buffs as well.
"We want people to celebrate and reflect on this incredible history of music and be proud of Toronto. For us the journey was just as good as the destination."
Talking to both these authors, I could actually feel the musical ghosts long ago thanking them for actually documenting these stories and flyers.
To order this 'must-have in my music collection book" you can order The Flyer Vault @
https://www.amazon.ca/Flyer-Vault-Toronto-Concert-History/dp/1459745426/ref=sr_1_1?keywords=The+flyer+vault&qid=1564019751&s=gateway&sr=8-1
And you can still visit them on Instagram @theflyervault where it all began.