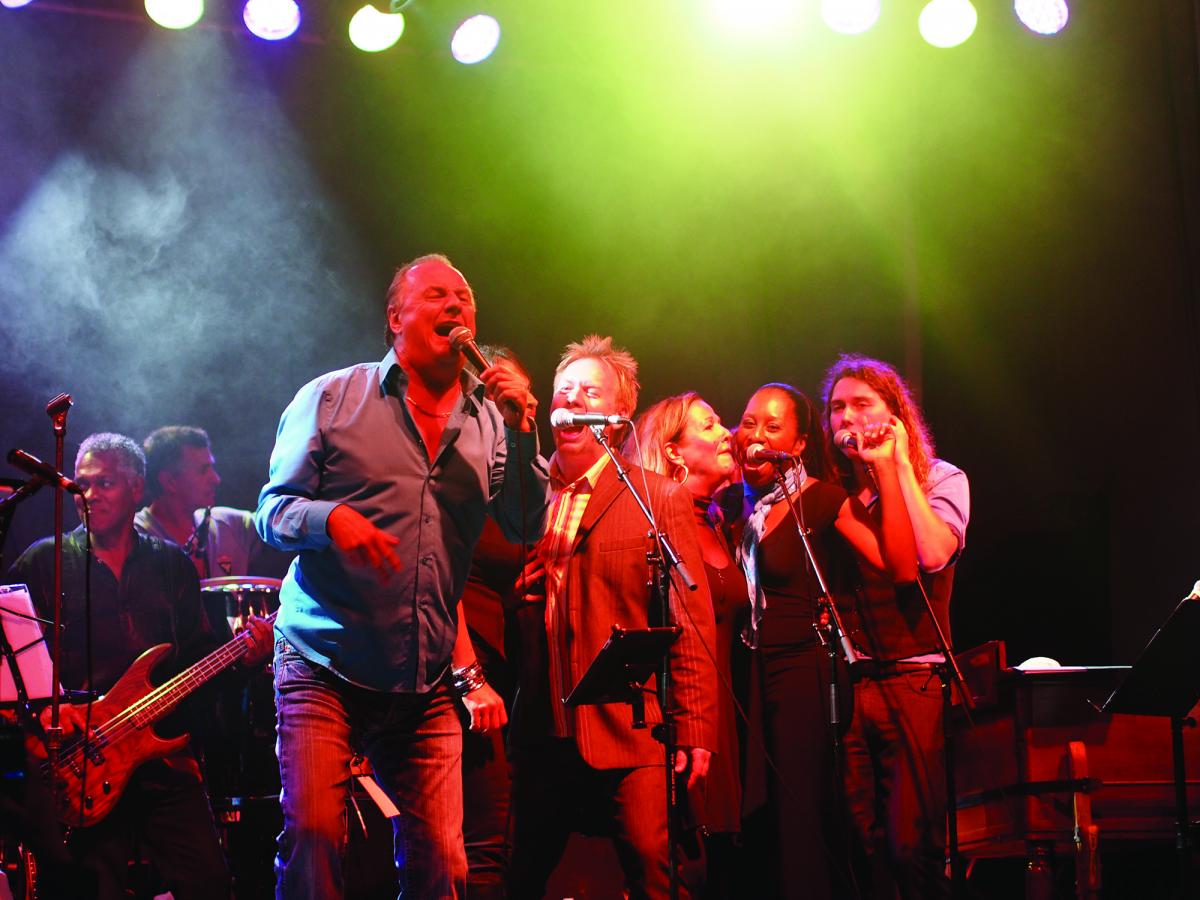 Fri Apr 28, 2017
A Lance Andersen presentation featuring the The Music Of Joe Cocker And Leon Russell -
The recent death of Leon Russell, makes this show an even more fitting tribute to that great musical agglomeration known as Mad Dogs and Englishmen.
Featuring 13 artists  including two drummers,(Shamakah Ali & Charlie Coolie) percussion, horns and singers,  Chuck Jackson (Downchild Blues Band), Matt Weidinger (Kitchener phenom) Cheryl Lescom (Long John Baldry), Quisha Wint, and Coco Larain and led by Juno award winning producer Lance Anderson.
This show with many of the country's top Blues and Roots music artists is a powerhouse Soul and Gospel/rock show guaranteed to bring the house down.
Juno Award winning producer Lance Anderson (who brought The Last Waltz and Genius+Soul=The Music of Ray Charles to Hugh's Room) has brought together another wonderful line up of BLUES ALL STARS including singers Chuck Jackson (The Downchild Blues Band) and Matt Weidinger (Lumberjunk), Cheryl Lescom and gospel sensations Quisha Wint and Coco Larain to recreate the magic of the award winning 1970's tour, album and movie of the same name.
Backed by a nine piece band which includes two drummers Shamakah Ali (The Barkays) and Charlie Coolie,), horns, Hammond organ (Matt W), and piano (Anderson), guitar and bass the rhythm this group creates is a freight train which will pick you up and drop you down at the Fillmore East in NYC.
They come together to celebrate the music that Joe Cocker and Leon Russell threw together to fulfill a tour that almost didn't happen. Cocker's English band was not allowed into America, so at the last minute he asked Russell to assemble a group of musical all stars for a tour. Joe asked the right man, as Leon was one of the most connected studio musicians and songwriters in L.A. Part of the 'Wrecking Crew'. The Mad Dogs show is in that same all star spirit.
During this two hour show you will hear their wonderful arrangements from the 'Hall of Fame' hit record including:The Letter, With a Little Help From My Friends, Feeling Alright, Space Captain, Honky Tonk Woman,~ Cry Me a River, Drown in My Own Tears.
And Leon's other wonderful arrangements of Beatles tunes like:
She Came In Through the Bathroom Window, Something, Let It Be
And Leon Russell originals like:
Superstar, Give Peace a Chance and Dixie Lullaby
All these wonderful songs played with the original size of band and arrangements. It is part revival meeting, hippie love-in and part R&B and Soul history.~ This 13 piece band will raise the roof at Hugh's Room Live. Another very special event, not to be missed!
HUGH'S ROOM LIVE
PRESENTS MAD DOGS & ENGLISHMEN
FRIDAY, MAY 26 • DOORS 6PM/ MUSIC 8:30PM • $40 adv/$45 door
2261 DUNDAS STREET WEST, TORONTO • 416.533.LIVE  (5483) hughsroom.com
Hugh's Room Live is a new not-for-profit organization that has come together to ensure the survival of the original venue's legacy as a vital part of Toronto's music scene.  To achieve this, our focus must be on the future and the solid foundation that is being laid.  Artists tell us they are happy to have this lovely room once again -  both the ambiance and the acoustics are so appealing.  In the coming months we will be welcoming back many artists from across Canada and beyond as we showcase Hugh's Room Live.  In doing so we are committed to presenting the high quality music that has made this wonderful place renowned around the world.
Further media information please contact:
Jane Harbury – jane@harbury.ca / 416.960.1568