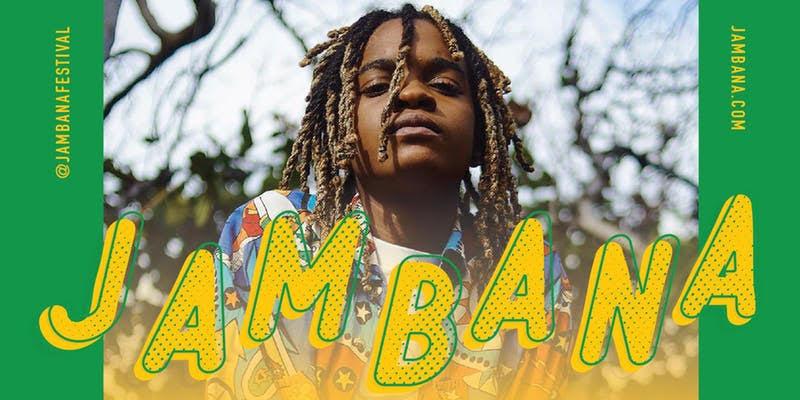 Fri Jul 19, 2019
Canada's premiere one-of-a-kind music, arts and food festival — JAMBANA One World Festival — will mark its 11th year of celebrating the nation's growing cultural diversity this August. 
Fans of Reggae, Afrobeat, Soca, Dancehall, Gospel, Dance and Comedy can expect to be entertained across two days of jam-packed programming, complemented by delicious food and interesting vendors and activities. 
Sunday, August 4th from 1:00 - 9:00 pm will feature fun for the whole family; JAMBANA attendees will have access to an all-encompassing, can't-be-missed taste-based tour of the islands with premiere food vendors, along with arts and crafts, travel information, and more. Admission to the day's events at Brampton's Garden Square (12 Main St. N) is free for all ages. 
"Day 1 takes place at Garden Square, the very center of downtown Brampton, one of Canada's fastest-growing immigrant populations," says JAMBANA One World Festival Executive Producer Denise Jones. "It's a great place to celebrate and lift up Canada's diversity.
"Come experience the sights, sounds, and tastes of the islands!" she adds. "The day is going to be action-packed with non-stop entertainment."
Performers include an all-star, all-Canadian lineup including JUNO Award-winning and three-time nominee Nana McLean, three-time JUNO Award nominee Steele, two-time JUNO Award-winning and five-time nominee Sattalites, two-time JUNO Award-winning and ten-time nominee Blessed, first time JUNO Award nominee Chelsea Stewart, Warrior Love, and Dance Caribe, while DJs Joshua Lucas and Soul to Soul are on deck to keep attendees rocking between sets. 
Monday, August 5th will pivot for the pm crowd, and feature fast-rising Jamaican break-out artist, singer/rapper/guitarist KOFFEE — fresh off her hit songs "Toast" and "Rapture" and a North American TV debut on ABC's Jimmy Kimmel Live — alongside five-time JUNO Award-winning and seven-time nominee Exco Levi & High Priest and JUNO Award nominee Fujahtive at Toronto's Phoenix Concert Theatre (410 Sherbourne St). Advance tickets are $40.00 for the 19+ event, and doors open at 7:00 pm.
A tally of events planned is a testament to the producers' continued commitment of delivering world-class, vibrant programming to the greater Toronto area. "There will be two full days of tropical, summer fun, all with the ambience of 'let's get together and feel alright,'" says Jones, also President of the festival's production powerhouse, Jones & Jones Productions Ltd.
"Coming back to 410 Sherbourne Street in Toronto for Day 2 of JAMBANA is like coming home," Jones & Jones Productions co-founder Allan Bucka Jones adds on the historically relevant address and current location of the Phoenix Concert Theatre. "When it was called The Diamond, this is the location where we staged our first live reggae show with the late Frankie Paul back in 1988. It was a smashing success.
"With this in mind, it is with great pleasure we welcome the rising reggae sensation Koffee ably supported by Exco Levi and Fujahtive — veterans of the Toronto reggae scene — to the same location.
"JAMBANA is now in its 11th year and we have been blessed with growth and development over the years. We are thankful for the phenomenal support of our Canadian friends and family along with the increasing number of friends from across the US and around the world. The Jones & Jones team is delighted to produce this event that is truly fun for the whole family.
"One World. One Love."
JAMBANA One World Festival is sponsored in part — and with many thanks to — the City of Brampton, Ontario Creates, and TD Canada Trust. "We appreciate their unwavering commitment and enthusiastic support of JAMBANA and its mission to showcase diversity, inclusion, and cultural education," says Jones. 
JAMBANA One World Festival is Sunday, August 4th from 1:00-9:00 pm at Garden Square (free admission, all ages, 12 Main St. N, Brampton), and Monday, August 5th at Phoenix Concert Theatre, doors at 7:00 pm, show at 8:00 pm ($40 advance tickets, 19+, 410 Sherbourne St., Toronto).
// ABOUT JAMBANA One World Festival
JAMBANA One World Festival, has grown out of years of world-class concerts, theatrical productions and festivals, produced by Jones & Jones Productions Ltd, founded by Denise Jones & Allan Bucka Jones in 1987. The first was the all-night Reggae On Yah in 1987 at The Great Hall on Queen Street West, downtown Toronto. All night reggae music from 10 pm to 6 am, featuring the best in Canadian Reggae. The Jam ended with Blue Mountain Coffee and Ackee and Salt Fish.
Reggaebana began in 1993, primarily to infuse reggae music into the predominantly soca and calypso flavoured Caribana Festival. The first Reggaebana featured headliners, included the late great Joseph Hill and Culture, Leroy Sibblies and Willie Williams. The seven-day festival started at the legendary El Mocambo, moved to the Opera House and Ontario Place over the years, and featured some of the finest names in Reggae music from Canada and around the globe. Reggaebana artists on the annual summer concert series include Shaggy – his first Canadian performance, Half Pint, Majek Fashek, Freddie McGregor, Leroy Gibbon, Alton Ellis, Beenie Man, Luciano, Bounty Killer, Tiger, Big Youth, Dean Fraser and Firehouse Crew, Mikey General, JUNO Award winners Carla Marshall and Nana McLean and a host of others.
In 2005, Jones & Jones was invited to produce and promote Air Jamaica Day that had begun in 2004. The event took place in a Toronto parking lot, at the corner of Eglinton and Oakwood in 2005 – attendance 1,000, moved to Gage Park in Brampton on August 7, 2006, attendance 10,000 and in 2007, relocated to the Powerade Centre, also in Brampton. Attendance 20,000.
Air Jamaica Day was among the biggest events over the Caribana weekend, pulling one of the largest crowds outside of the parade. JAMBANA was born. The first JAMBANA, presented by Air Jamaica and produced by Jones & Jones Productions, was held at Downsview Park on August 3, 2009. Over 45,000 individuals attended.
Today JAMBANA One World Festival has evolved tremendously as it represents Canada's growing cultural diversity in its finest form, representing Canada's Multicultural Communities through performances by internationally acclaimed bands, artists and JUNO Award winners. Feel rhythms of Reggae, World Beat, Salsa, Asian/South Asian flavours, Soca, R&B, Jazz and Gospel, Dance and Comedy. Experience the sights, sounds, tastes, and global diversity through JAMBANA One World Villages.
Sunday, August 4th
1:00 - 9:00pm — All Ages
Garden Square, 12 Main St. N, Brampton
Free Admission
Monday, August 5th
Doors 7:00pm, Show 8:00pm — 19+
Phoenix Concert Theatre, 410 Sherbourne St, Toronto
$40 Advance Tickets