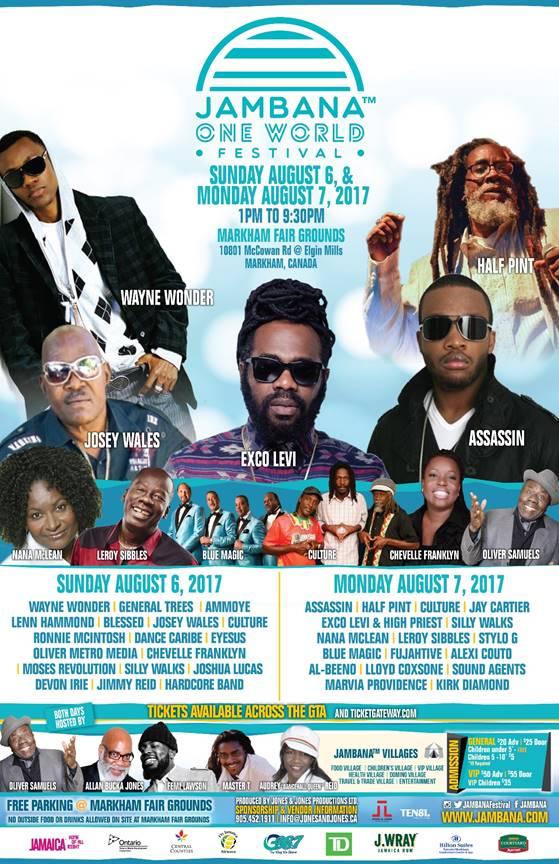 Fri Jul 21, 2017
As fans eagerly followed weeks of speculation of exciting artist announcements, Jones & Jones Productions Ltd has revealed the full lineup for JAMBANATM One World Festival 2017. Returning to the Markham Fair Grounds, 10801 McCowan Road in Markham, ON, Sunday, August 6 and Monday, August 7, Canada's festival devoted to reggae and world music will feature two days of music from over 35 globally acclaimed music, comedy and dance acts.
This year's legendary roster welcomes a diverse range of fan favorites and newcomers, including Wayne Wonder, Culture, 5-time JUNO Award winner Exco Levi, Leroy Sibbles, Half Pint, Dancehall giant Assassin and more.
Tickets for the 8th annual gathering are on sale now and at the door - $20 advance, $25 at the door, children under 5 are free, and children 5-10 years of age are $5. VIP tickets are $50 in advance and $55 at the door. Children's VIP are $35. Services charges apply
Additional beloved music veterans will return to the festival including Josey Wales General Trees, Calypso / Soca legend Ronnie McIntosh, backed by Canada's Moses Revolution. JUNO winners Nana McLean, Lenn Hammond and Blessed, JUNO Nominees Ammoye, Kirk Diamond and Jay Kartier, Dance Caribe and Eyesus. International and Canadian DJs will be spinning for dancing pleasure on both days. From Jamaica, Oliver Metro Media, from Germany, Silly Walks, Canada's Joshua Lucas and from Britain, Lloyd Coxsone. Other acts include Devon Irie, Jimmy Reid, Hardcore Band, Britain's, Stylo G, R&B legends Blue Magic, Alexi Couto, 2016 JAMBANATM Idol winner Al-Beeno, Sound Agents, Canadian gospel queen Marvia Providence. Caribbean King Of Comedy Oliver Samuels, shares MC duties with Much music legend Master T, Dancehall Queen actress Audrey Reid, and Nigerian Canadian Femi Lawson
JAMBANATM One World Festival will again be the jewel in the crown in the ever-expanding York Region. Voted as the best music festival by The Festival For Events Of Ontario for the 2nd year in a row, award-winning artists, artisans, and specialty food producers will showcase their creations under spacious JAMBANATM tents. Along with craft shopping, the ambiance is festive: live music, craft demos, kids' activities, and a varied food court, serving a menu to please everyone in the family, of all ages, from grandkids to grandparents.
JAMBANATM One World Festival, has grown out of years of world class concerts, theatrical productions and festivals, produced by Jones & Jones Productions Ltd, founded by Denise Jones & Allan Bucka Jones in 1987. The first was the all-night Reggae On Yah in 1987 at The Great Hall on Queen Street West, downtown Toronto. All night reggae music from 10pm to 6am, featured the best in Canadian Reggae. The Jam ended with Blue Mountain Coffee and Ackee and Salt Fish.
Reggaebana began in 1993, primarily to infuse reggae music into the predominantly soca and calypso flavoured Caribana Festival. The first Reggaebana featured headliners, included the late great Joseph Hill and Culture, Leroy Sibbles and Willie Williams. The seven day festival started at the legendary El Mocambo, moved to the Opera House and Ontario Place over the years, and featured some of the finest names in Reggae music from Canada and around the globe. Reggaebana artists on the annual summer concert series include Shaggy – his first Canadian performance, Half Pint, Majek Fashek, Freddie McGregor, Leroy Gibbon, Alton Ellis, Beenie Man, Luciano, Bounty Killer, Tiger, Big Youth, Dean Fraser and Firehouse Crew, Mikey General, JUNO Award winners Carla Marshall and Nana McLean and a host of others.
In 2005, Jones & Jones was invited to produce and promote Air Jamaica Day that had begun in 2004. The event took place in a Toronto parking lot, at the corner of Eglinton and Oakwood in 2005 – attendance 1,000, moved to Gage Park in Brampton on August 7, 2006, attendance 10,000 and in 2007, relocated to the Powerade Centre, also in Brampton with an attendance of over 20,000.
Air Jamaica Day was among the biggest events over the Caribana weekend, pulling one of the largest crowds outside of the parade. JAMBANA was born. The first JAMBANA, presented by Air Jamaica and produced by Jones & Jones Productions, was held at Downsview Park on August 3, 2009. Over 45,000 individuals attended.
Today JAMBANATM One World Festival has evolved tremendously as it represents Canada's growing cultural diversity in its finest form, representing Canada's Multicultural Communities through performances by internationally acclaimed bands, artists and JUNO Award winners. Feel rhythms of Reggae, World Beat, Salsa, Asian/South Asian flavours, Soca, R&B, Jazz and Gospel, Dance and Comedy. Experience the sights, sounds, taste and global diversity through JAMBANATM One World Festival Villages.
"JAMBANA is now in its ninth year and we have been blessed with growth and development over the years. We are thankful for the phenomenal support of our Canadian friends and family and an increasing number of friends from across the US and around the world. The Jones & Jones team is delighted to produce this event that is truly fun for the whole family", says Denise Jones, Executive Producer of JAMBANATM One World Festival and President of Jones & Jones Productions Ltd. "Markham Fair Grounds is our venue and will deliver nothing but good vibes all day long."
Complete info can be found at http://jambana.com/. Links to advance sale discount tickets can be purchased there.
So, come spend the long weekend. Let's get together and feel alright. One world. One love.