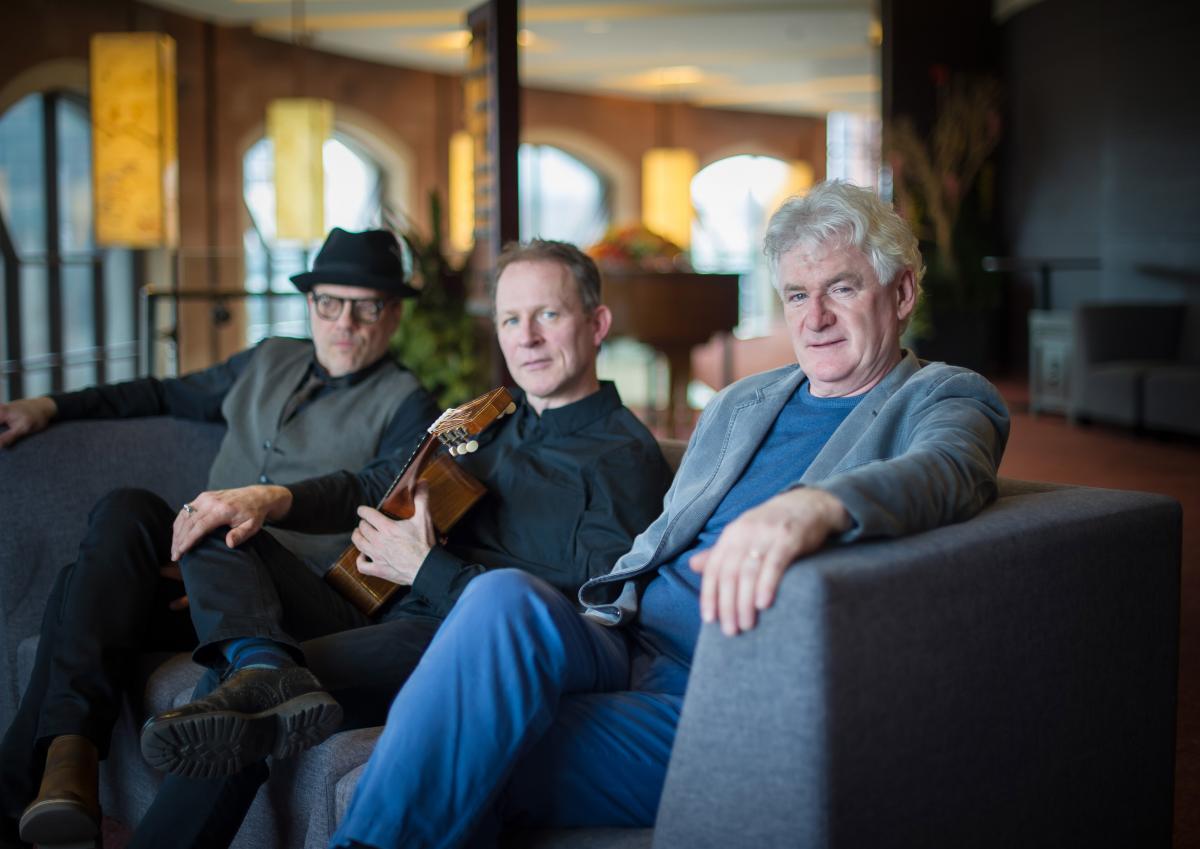 Fri Jan 18, 2019
Photo: John McDermott, Jason Fowler and Mark Lalama
Join highly-regarded Canadian tenor John McDermott for an unforgettable 3-night performance with the John McDermott Trio, which consists of John McDermott on vocals with guitarist Jason Fowler https://www.jasonfowler.ca/ and Mark Lalama (keyboards) http://www.marklalama.com/ at Toronto's Hugh's Room Live on Thursday, February 7, Friday, February 8, and Saturday, February 9. Each show begins at 8:30pm and will be $40 in advance, $45 at the door. For more information, visit www.hughsroomlive.com.
As is John's tradition, he will be giving a captivating and engaging performance filled with tasteful remembrance tributes, songs from his illustrious career, and many highlights from his own personal songbook.
John will also be joined by special guests for each show, which include famed guitarist Paul Langlois on February 7, the award-winning duo Dala Girls on February 8, and PEI singer Chad Matthews for all three performances.
Paul Langlois is perhaps best known as the guitarist of The Tragically Hip, though with two solo albums under his belt and cross-country tours to support them, Paul has been quick to make a name for himself independently from the band. Known for his powerful lyrics as much as he is for is tight guitar riffs, Langlois' current solo album, Not Guilty, is a collaborative effort with fellow musicians Jeff Montgomery, Mauro Sepe and fellow Hip musician Rob Baker. www.chingmusic.com/artists/paul-langlois. It was the fact that Langlois is a huge John Prine fan which initiated a friendship with McDermott and his musical director Jason Fowler. This led to the two inviting Paul to record a beautiful rendition of a John Prine song, 'Speed At The Sound Of Loneliness` on John`s album entitled,`Just Plain Folk.`
Juno nominees and winners of the 2010 Canadian Folk Music Award for Vocal Group of the Year, the Dala Girls Amanda Walther and Sheila Carabine write and sing in harmony best described as angelic. These two best friends met in their high school music class in 2002 and have since released five albums and toured extensively across North America.
Drawing upon influences like The Beatles, Joni Mitchell, Neil Young and Bob Dylan, Dala writes songs that are both catchy and insightful. Amanda's ethereal soprano voice blends seamlessly with Sheila's velvety alto, creating the lush harmonies that have become their trademark. www.dalagirls.com
Originally from Elmsdale, PEI, performer Chad Matthews is perhaps best known as Stompin' Tom Connors in the show My Island Home: A Stompin' Tom Story, on regular performance at the Stompin' Tom Connors Centre in Tignish. The show has been a fantastic success, with over 3,000 people coming for Matthew's incredible and uncanny performance as the Canadian Icon. Recently, he made an appearance on the hit CBC television show Still Standing, where Matthews gave host Jonny Harris a taste of how to do things the Stompin' Tom way.
John McDermott is an international recording star and a household name – known as much for his successful musical career as for his commitment to veterans' causes. He has been nominated for a number of Juno awards and received the U.S. Congressional Medal of Honor Society's Bob Hope Award for his support for veterans' causes.
Current albums include "Some Other Time", a finely-curated stylish recording of classic jazz selections that feature some of Canada's finest musicians of the genre. Among the selections are renditions of such standards as "On Days Like These," "Moonlight in Vermont," "Autumn Leaves," "Put Your Dreams Away," and "The Shadow of Your Smile"; "Raised on Songs and Stories", a collection of songs with a remarkable history attached – some very old and some more contemporary – each song a story to tell and a memory for the ages.
His first album, "Danny Boy", garnered strong sales in the U.S. and Canada and reached number one in New Zealand. This success, won through a tireless touring schedule, led to his participation in the PBS phenomenon, The Irish Tenors. John has gone on to record numerous albums, including Journeys. This extremely moving album includes songs such as "The Dreamer" and "The Gift of Years," both written by renowned songwriter Eric Bogle. Proceeds of the sales went to McDermott House Canada, a charity that John created.
McDermott House Canada is a project close to John's heart, and he says: "Every day the men and women who serve our country, and the police, firefighters and first responders who serve our communities put their lives on the line and themselves in harm's way. When asked why they simply say: "It's what we do". They serve freely and willingly, asking for very little in return." To learn more about McDermott House Canada visit www.mcdermotthousecanada.org
JOHN McDERMOTT @ HUGH'S ROOM LIVE
FOR A THREE-NIGHT STAND – FEBRUARY 7, 8 & 9
DOORS 6PM MUSIC 8:30PM • $40 adv/$45 door
2261 DUNDAS STREET WEST, TORONTO • 416.533.LIVE (5483) • hughsroomlive.com