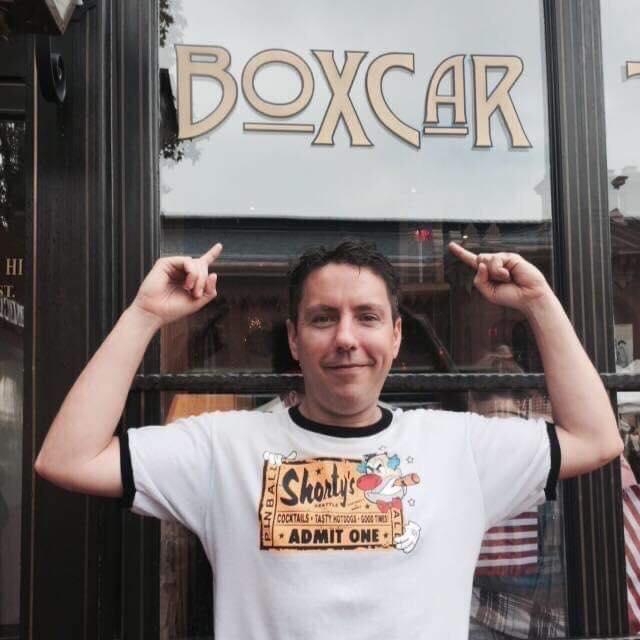 Fri Jan 24, 2020
You never think you're going to be writing about or talking about the passing of a friend much younger than yourself, but here I am writing about my friend, Jon Box.
I met Jon through a mutual friend, Kelly Gruber and got to spend some time with him and his amazing family, his beautiful wife Heather and two daughters Amelie and Tallulah who he adored.  Jon was one of a kind and a tireless, astute music man. He will be sorely missed not only by family and friends but by the music community.
Jon was Universal Music Canada's Vice President of Label Partnership and a very busy and productive young man whose attention to detail and scope of knowledge was incomparable.
Heartbreakingly on September 20, 2019, Jon Box left this world suddenly and sadly, leaving behind a shaken group of family, friends and co-workers.
And now with the help of Jon's friends and associates, Mike Renaud and Adam Abbasakoor as well as Jon's wife Heather Wright who is heavily involved with the planning of this event, a tribute has been organized for Saturday, February 8, 2020, at The Opera House, 735 Queen St E, Toronto. The event takes the form of a concert to raise funds for two important charities, the Unison Benevolent Fund and Dr. Jay Children's Grief Centre 
Confirmed on the bill are Sloan, The Dirty Nil, Whitehorse, and Terra Lightfoot, and surprise appearances.
Jon's close ties with Unison and it's relevance to the mental health issues that contributed to this tragic situation make Unison a logical charity of choice and  Dr. Jay Children's Grief Centre is also fitting as Jon's daughters go there.
Jon Box's legacy and the love or him in the community were demonstrated by the GoFundMe campaign contributions set up after his death to support his daughters' education needs have reached  $131,000.
Heather Wright, Jon's wife and rock of the family, kindly supplied us with a favourite photo of Jon. As Heather said "He liked this one"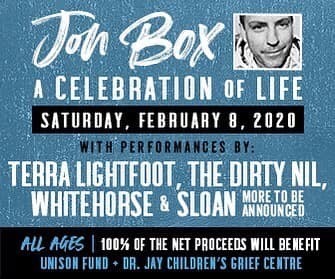 Heather had this to say, "As we say goodbye to another crazy decade, and to a grief-stricken end of 2019, we would like to extend this invitation for a celebration of life, and begin the new year and decade together in a positive, inclusive, supportive, and loving manner."
Please join us on Saturday, February 8, 2020, for an evening of fantastic live music, good times, great friends, and tasty libations, honouring the memory and life of our dearly missed friend, the one and only, Jonathan M. J. Box."
Godspeed Jon, you will be missed.
JON BOX – A CELEBRATION OF LIFE
SATURDAY FEBRUARY 8, 2020
THE OPERA HOUSE
735 QUEEN ST E, TORONTO
Pre-order @ Ticketmaster: https://www1.ticketmaster.ca/event/1000579190EB2A08?fbclid=IwAR0bbmrQsEPlzswgjwk5Kh3CgabiUDJAaaE7aG_o0K0d-K2IUQr2nyj5pH4