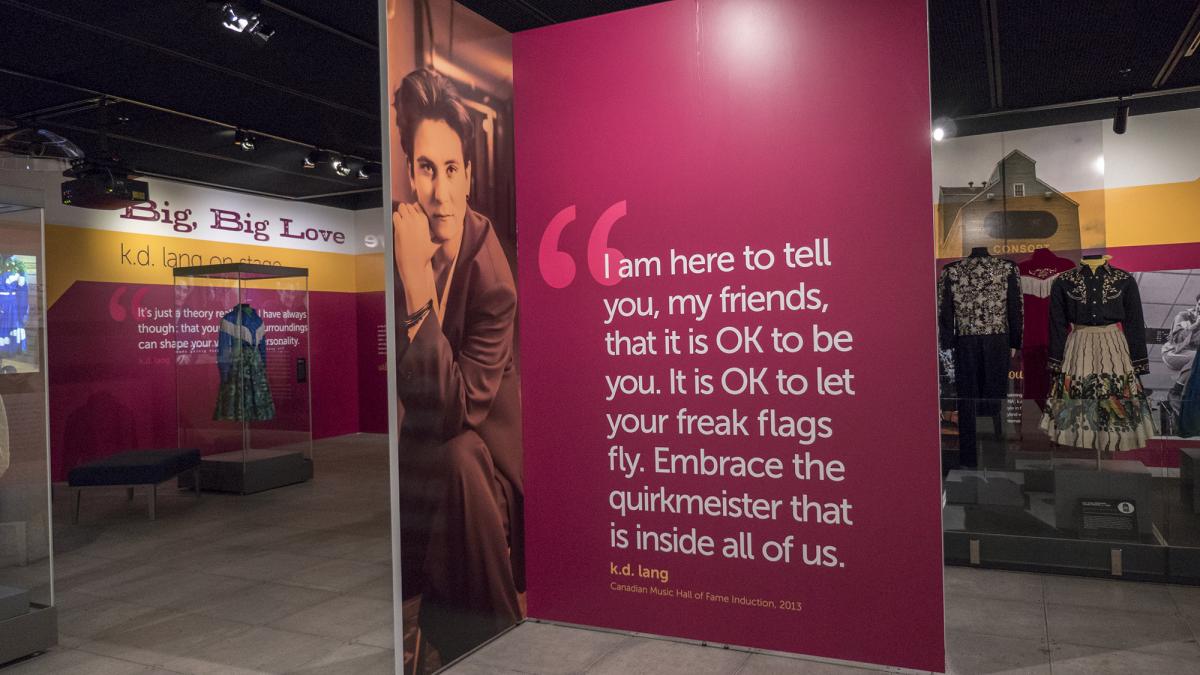 Sun Dec 03, 2017
The National Music Centre (NMC) is pleased to launch a new temporary exhibition honouring iconic Canadian singer-songwriter k.d. lang.
The exhibition, called Big, Big Love: k.d. lang on Stage, will be in the National Bank Private Banking 1859 Special Exhibitions Gallery on Level 5 of Studio Bell, and trace the versatile performer's evolution as one of Canada's most-loved artists.
"Working on this exhibition with NMC made me look back a bit on my life as a performance artist challenging norms, and how my evolving style became just as important as the performance itself," said k.d. lang. "I hope the public enjoys the exhibition as much as I've enjoyed performing in those pieces and playing those instruments over my career. I can't think of a place more suited than Studio Bell, home of the National Music Centre, to preserve those memories and share them with my fans."
Through a range of visual displays, visitors will experience lang's eclectic repertoire, from cow punk to Nashville country classics to Broadway standards and cabaret-influenced tunes—and the thrift store finds and unique designer pieces to match, among them clothing designed for her hit songs, "Miss Chatelaine" and "Constant Craving."
"NMC worked closely with lang to develop the exhibition and showcase over 20 artifacts, including an array of textiles that capture shifts in her sense of style and individuality as a performer," said Adam Fox, NMC's director of programs. "We are thrilled to celebrate the career and creativity of a true Alberta original."
The exhibition also includes instruments owned and used by lang, and touches on her breakthrough albumIngénue (1992)— which celebrates its 25th anniversary in 2017 with an extensive Canadian tour—along with back stories about her performance at the Calgary Olympics (1988), and insights shared by lang herself during a recent NMC exclusive interview about the impact of place and home on her career.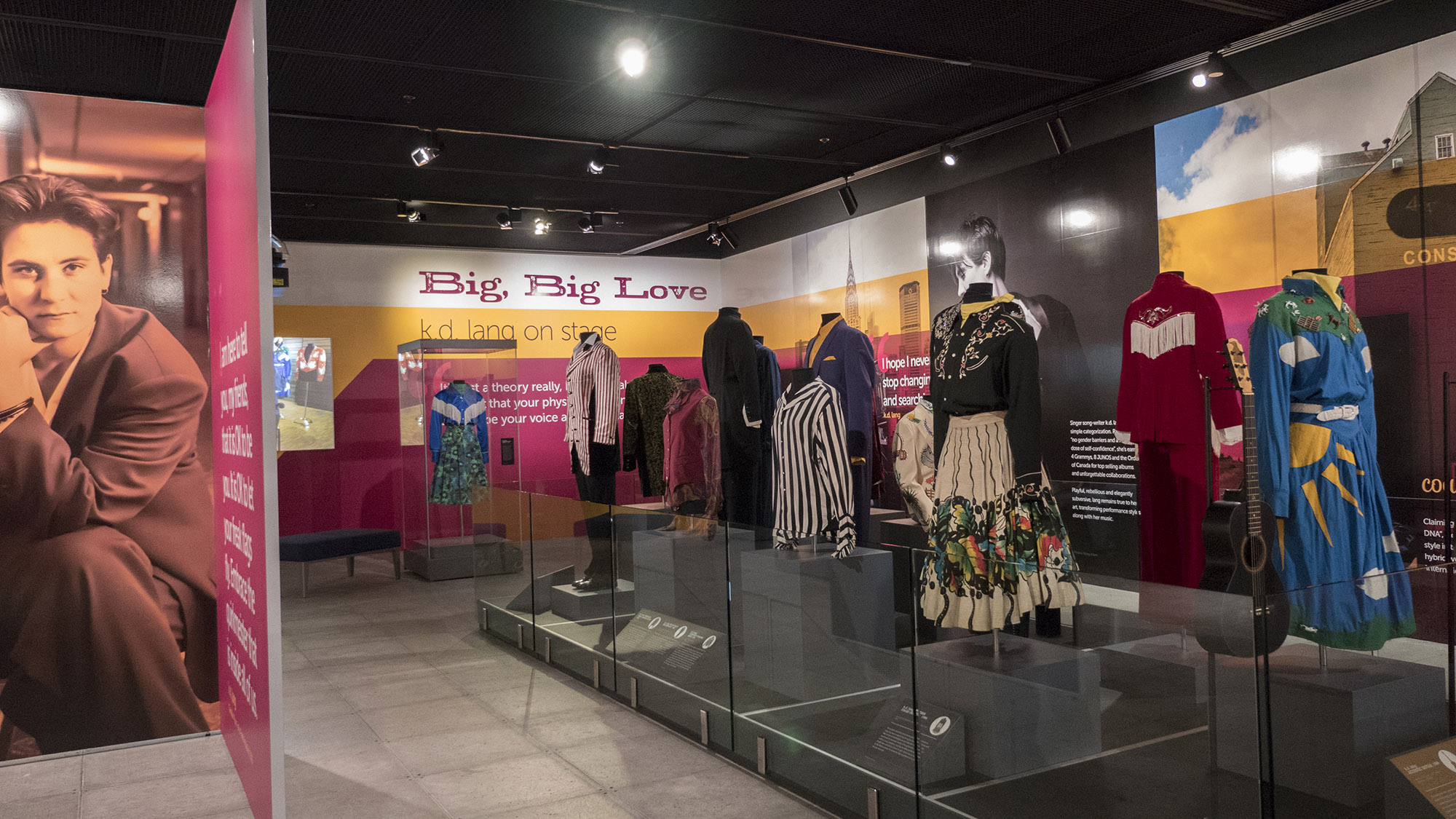 Big, Big Love: k.d. lang on Stage is accessible with paid admission to Studio Bell, and will run from July 11, 2017 to June 1, 2018. 
Studio Bell will be open seven days a week for the month of July 2017 and is open from 10:00 am to 5:00 pm.
Regular admission to Studio Bell is $18 for adults, $14 for students/seniors, $11 for children (3-12 years of age), and free for children under 3 years of age.
About k.d. lang
k.d. lang is that rare performer who, over 25 years as a major-label artist, has matured before our very ears. The Western Canada native launched her career with a blend of country-rock stylings and playfully punk-like attitude, by turns whimsical and subversive; back then, she practically put the alternative in alt-country. But from the very beginning, her bravura singing belied her kitschy cowgirl outfits and spiky hair; anyone lucky enough to attend her very first appearance in the United States, on a triple bill of unsigned artists at New York City's Bottom Line, could hear that she was marked for greatness. Winning multiple Juno Awards and two Grammy Awards, k.d. lang is a true Canadian music icon. For more information, please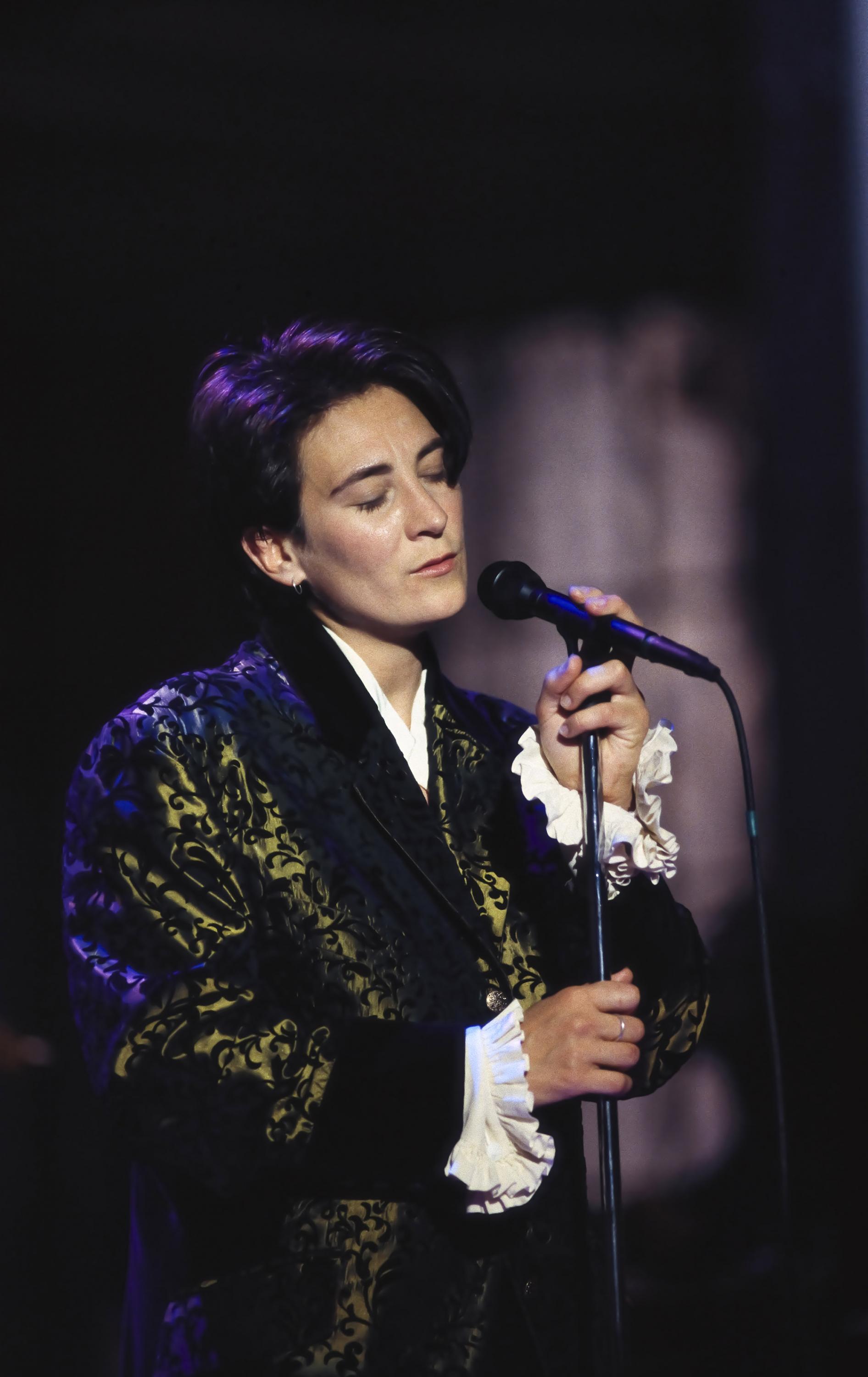 L'exposition Big, Big Love présente des costumes de scène et autres artefacts de k.d. lang
(11 juillet 2017 — Calgary AB)
Le Centre national de musique (CNM) est fier de présenter une nouvelle exposition temporaire en hommage à l'icône canadienne de la musique, l'auteur-compositrice-interprète k.d. lang.
Intitulée Big, Big Love: k.d. lang on Stage, l'exposition est présentée dans la galerie des expositions spéciales Banque Nationale Gestion privée 1859, située au niveau 5 du Studio Bell, et retrace l'évolution de la carrière sur scène de l'une des artistes les plus aimées au Canada. « Travailler avec le CNM à préparer cette exposition m'a permis de faire un retour en arrière et de revoir mon parcours en tant qu'artiste de scène qui a défié les conventions, et de voir comment l'évolution de mon style est devenue aussi importante que ma prestation, a affirmé k.d. lang. J'espère que le public aura autant de plaisir à visiter l'exposition que j'en ai eu à porter ces artefacts et jouer de ces instruments tout au long de ma carrière. Aucun autre endroit n'est plus approprié que le Studio Bell, maison du Centre national de musique, pour conserver ces souvenirs et les partager avec mon public. »
Les diverses vitrines d'exposition permettront au public de revisiter les univers fort éclectiques de l'artiste, que ce soit la période cow punk, celle des classiques du country de Nashville ou encore celle des grandes chansons de Broadway ou des chansons influencées par la glorieuse époque des cabarets, sans compter les costumes de scène, parfois trouvés dans une humble friperie, parfois conçus par de réputés designers spécialement pour des chansons à succès comme « Miss Chatelaine » et « Constant Craving ».
« Le CNM a travaillé étroitement avec l'artiste pour élaborer ce concept d'exposition à partir de 20 artefacts, dont divers costumes qui témoignent de ses changements de styles et de l'expression de son individualité en tant qu'artiste de scène, a souligné Adam Fox, directeur des programmes au CNM. Nous sommes heureux de célébrer ainsi la carrière et la créativité d'une grande Albertaine. »
L'exposition présente également des instruments de musique appartenant à k.d. lang et utilisés par elle, porte un regard sur le méga album à succès, Ingenue (1992) — dont lang souligne en 2017 le 25e anniversaire de parution par une tournée pancanadienne —, relate les dessous de sa prestation aux Jeux olympiques de Calgary en 1988 et présente une entrevue exclusive récente faite par le CNM dans laquelle l'artiste parle de l'importance de ses origines dans sa carrière.
L'entrée à l'exposition Big, Big Love: k.d. lang on Stage est libre pour tous ceux qui ont acheté un billet d'entrée pour le Studio Bell. L'exposition est présentée du 11 juillet 2017 au 1er juin 2018. Le Studio Bell est ouvert sept jours sur sept pendant tout le mois de juillet 2017, de 10 h à 17 h.
L'admission générale au Studio Bell est de 18 $ pour les adultes, 14 $ pour les étudiants et les aînés, 11 $ pour les enfants (3 à 12 ans) et gratuite pour les enfants de moins de 3 ans.
À propos de k.d. lang
k.d. lang est l'une de ces rares artistes que, au fil d'une grande carrière de plus de 25 ans, le public a eu le plaisir de voir évoluer et atteindre une grande maturité. Originaire de l'ouest du Canada, k.d. lang a débuté sa carrière avec ses chansons country-rock jumelées à un style et une attitude aux accents punk parfois fantasques, parfois subversifs; elle est pratiquement à l'origine du courant alt-country. Dès le début, sa voix puissante faisait contraste avec ses costumes de cowgirl kitsch et sa chevelure hérissée; lors de sa toute première prestation aux États-Unis dans un spectacle réunissant trois jeunes artistes encore inconnus sur la scène du Bottom Line, à New York, tous ceux qui ont alors entendu k.d. lang savaient qu'elle était vouée à une grande carrière. Avec de nombreux prix Juno et deux Grammy Awards, k.d. lang est aujourd'hui une icône de la musique canadienne. Pour en savoir plus, visitez kdlang.com.