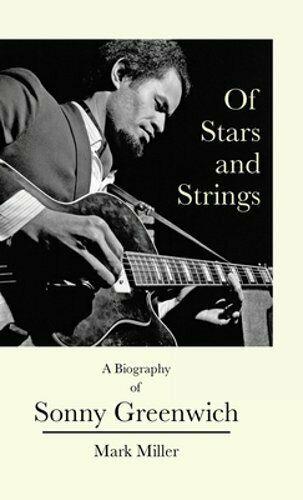 Fri Oct 30, 2020
Mark Miller celebrated Jazz photographer and writer just released a new book on my favorite guitarist Sonny Greenwich - "Of Stars and Strings".
I first heard Sonny Greenwich in Loyola University at Radio Loyola in Montreal, on a Radio Canada International recording entitled "Sun Song": The Music of Sonny Greenwich.
I was hooked by the unbridled beauty. Sonny Greenwich's, 1994 release, "Hymn to the Earth",  is my favorite record so far because it takes me to a beautifully spiritual place of  John Coltrane " A love Supreme",  Pharaoh Saunders " Healing Song",  "The Creator has a master plan" or Santana "Welcome ".All these artist touch you on a higher plane or attempt to take you there…
I immediately called Mark Miller for the book and to ask three questions.
Why did you choose Sonny Greenwich as a subject? 
As an author of jazz biographies (Valid Snow, Herbie Nichols, Claude Ranger, Charlie Parker and now Sonny), I'm looking for interesting stories. As a former jazz critic (The Globe and Mail), I'm also looking for musicians who have made compelling music. The two often go together and in ways that follow roads less travelled into areas of jazz history that have gone largely unexplored. I started listening to Sonny around Toronto in 1970 and I did my first interview of several with him in 1975. Even then he was something of a legendary figure. So I've been fascinated by him, and by the place of music and spirituality in his life, for a long time. Of Stars and Strings is a product of that fascination.
Sonny Greenwich's contribution to music is?
His contribution to music is difficult to assess. There have been a lot of "what ifs" and "if onlys" to his career, and they've limited the impact and appreciation of his originality as a guitarist in Canada and, by any measure in the 1960s, internationally. But his music — if not quite avant-garde, then at least very much of, and in, the moment — was a bracing alternative to the businessman's bebop played by the studio elite that dominated jazz in this country for so many years. And, as I've documented in Of Stars and Strings though the words of several younger guitarists, his influence has been felt in various ways — stylistically, creatively, personally, spiritually — by many other musicians in Canada.
With Salome Bey and Howard Matthews passing, a spotlight should be put on this era of music in Canada, that includes Salome, Dougie Richardson, Archie Alleyne...is that time lost to us now without books like yours?
There are surviving Black musicians from that era in Toronto, and from eras earlier, whose stories could be told. Bobby Dean Blackburn, Billy Blackburn, Terry Logan, Billy McCant and especially Frank Wright, who's 91 and still playing vibraphone with the Canadian Jazz Quartet. Frank's older brothers, Willie and Henry, worked with Cy McLean's bands in the 1930s and 1940s; he remembers as a boy hearing McLean's musicians rehearse at the Wrights' house on Sullivan Street. Of Stars and Strings puts the young Sonny Greenwich in the context of the community of Black musicians who were active during the late 1950s in the College and Spadina area, and later on Yonge Street, but there's certainly more to the history of those scenes than has been documented to date.
Mark Miller "Of Stars and Strings" gets 5 stars because it answers so many questions I had on one of Canada's Legendary Musicians, currently  Canada's  great living guitarist, Sonny Greenwich.
To purchase please visit: https://www.amazon.ca/Stars-Strings-Biography-Sonny-Greenwich-ebook/dp/B088KTXLPK/ref=sr_1_1?dchild=1&keywords=Mark+Miller+%E2%80%9COf+Stars+and+Strings%E2%80%9D&qid=1603217697&sr=8-1