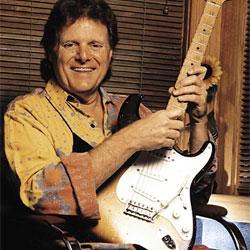 Fri Feb 01, 2019
One of the most recorded session guitarists of a generation, Reggie Young, has passed away at age 82. Young died during the evening of January 17, 2019, at his home in Leiper's Fork, Tennessee from heart failure.
He got his start in Memphis with a band called Eddie Bond and the Stompers, a rockabilly group that toured with the likes of Johnny Cash and Carl Perkins in the late '50s and in 1958 joined Johnny Horton's band and played the Louisiana Hayride several times.
He was a member of the Bill Black Combo and in 1964 The Beatles requested the Bill Black Combo to be their opening act in Europe and their American tour and that was Reggie's first taste of Europe and Beatlemania. The Bill Black Combo players wore jackets with the initials BBC for Bill Black Combo but of course, the kids in England thought they were from British Broadcasting Company, BBC. Bill Black passed away in 1965 and Reggie began to do more studio work at Royal Studios in Memphis. He eventually left Royal and went to work with  Chips Moman at American in Memphis. The Memphis Boys were responsible for a string of hits with Moman. Reggie was tired of traveling and wanted to concentrate on session work and was comfortable at American in Memphis but went to Nashville to record with Joe Tex. They cut a song called Show Me and Joe Tex wanted to book more sessions but Reggie said he only wanted to record at American in Memphis, so the next record from Tex, Skinny Legs And All, was cut in Memphis.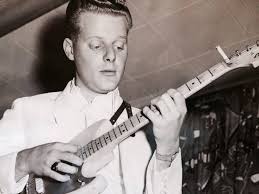 At the same time, he played on sessions at Muscle Shoals' Fame Studios and was a big part of the Memphis Boys from 1967 to 1972. Reggie would play up to 20 sessions a week. The studio produced an astonishing 64 Chart records in 18 months, from 1968 to 1969. He moved up to Nashville and became an in-demand session player, backing an array of artists that included Tanya Tucker, Eddie Rabbitt, Rodney Crowell, John Prine and Dolly Parton. In the early 90s, he took a break from studio work to tour with supergroup the Highwaymen — Johnny Cash, Waylon Jennings, Kris Kristofferson and Willie Nelson, a natural fit as Reggie had been a part of Waymore's Outlaws backing Waylon.
The list of country artists that Reggie played on reads like a who's who of stars. Merle Haggard's Think I'll Just Stay Hear and Drink, Hank Junior's All My Rowdy Friends, Waylon's Luckenbach Texas.
His signature guitar licks were front and center on such hits as Son of a Preacher Man, Dusty Springfield, I Can Help, Billy Swan, Elvis' In The Ghetto and Dobie Gray's Drift Away.
Reggie played with a whole host of musical giants during his career and  he said "it was nothing special" when him and The Memphis Boys were asked to track Elvis Presley in the studio in the late '60s."We played with all the top stars of the time, and Elvis hadn't had any hits for a while and didn't have an album on the charts," he said in a 2013 interview with Premier Guitar magazine. "As he stepped into the studio though — boy," he continued. "I never met any other person with such charisma. It was very special for me."
In 1997, Young was nominated for a Grammy in the category of best country instrumental performance for his work on Scotty Moore's "Goin' Back to Memphis." In August 2009 the Memphis Boys, along with Chips Moman, received acknowledgment by the Memphis Grammy Chapter for their pioneering work on "Suspicious Minds" during a Graceland fan reception. After almost 45 years of playing together, this was their first award as a group.
Nashville legendary producer and session player Norbert Putnam had this praise for Reggie Young from his home in Muscle Shoals, "Reggie was the most creative guitarists I ever knew. He had a knack of playing the perfect part to fit your artist and your song."
In addition to his wife Jenny, Reggie is survived by a son, Reggie III; a daughter, Cindy Evans; a sister, Alice Weatley; five grandchildren; and two great-grandchildren.
Rest in peace Reggie Young your musical legacy will keep you forever young in our hearts.