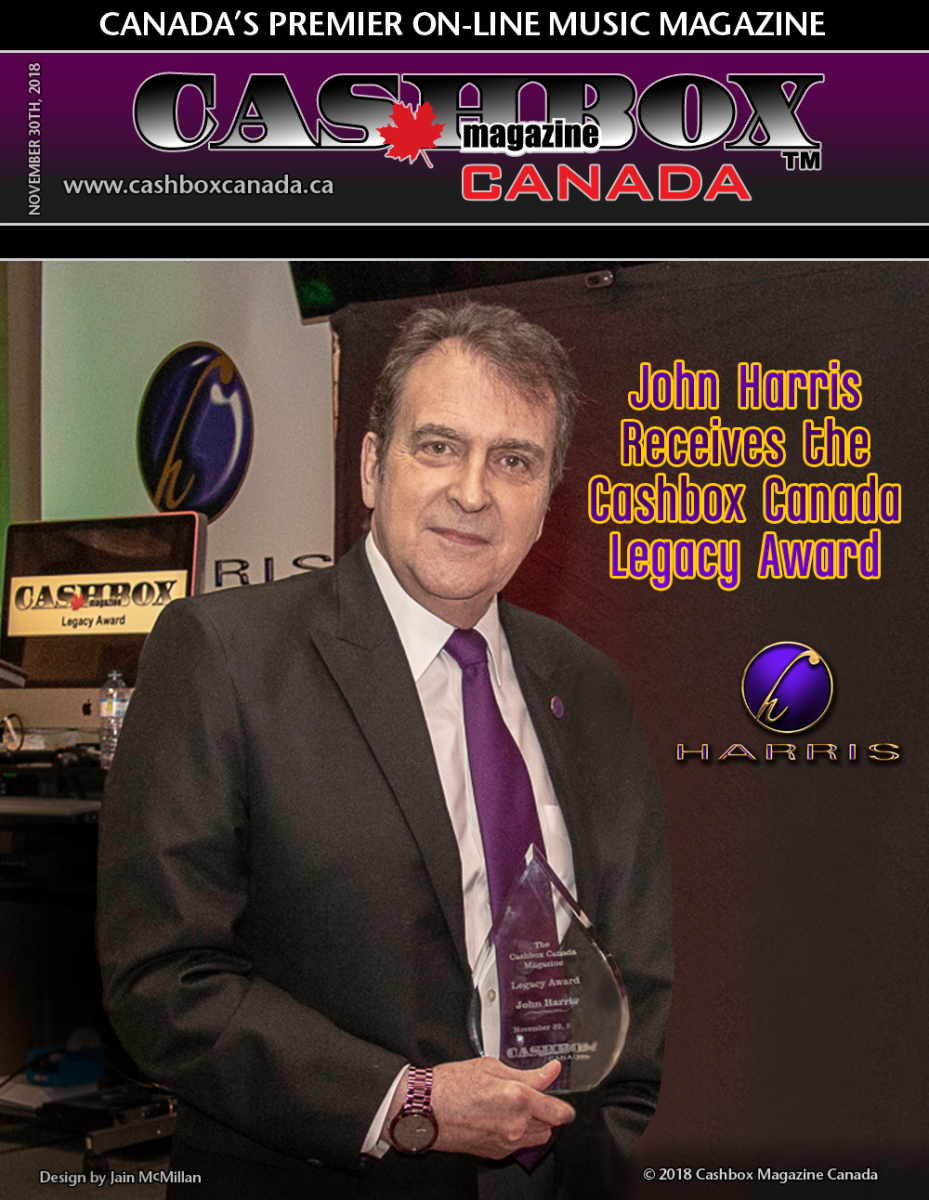 Fri Nov 30, 2018
On November 22, 2018, Cashbox Magazine Canada presented another in its series of Cashbox Canada Legacy Awards in Toronto to a Canadian music industry builder and educator, John Harris. The presentation ceremony took place at Harris Institute in Toronto, a music industry school started by Harris in 1989.
The evening was attended by many of John's contemporaries and fellow music industry icons and was highlighted by a live solo performance by Lisa Hartt, whom John managed. Hartt performed her hit 'Old Time Movie' and a moving version of Leonard Cohen's 'Tower of Song', a perfect fit for John and the evening.
Cashbox CEO/Editor in Chief Sandy Graham presented the award to an emotional Harris who gave a heartfelt acceptance speech where he gave thanks to all who helped him on his journey with a special thanks to "two people who are unable to attend because of the distance, and it's a really far distance, so thanks Mom and Dad who are up there" as he pointed up to heaven.
The evening began with a great video highlighting John's early days with tributes to bands John managed The Creeps (who became Magic Circus), Tranquillity Base with Ian Thomas, Ocean of 'Put Your Hand in the Hand' fame, The Lisa Hartt Band and Ishan People, a reggae band produced by David Clayton Thomas, The video then showed the tale of how Harris and Bob Hahn formed Rising Records and created Rockabye Hamlet, the first Canadian written musical mounted on Broadway. It became the largest financial disaster in Broadway history but Bob and John broke even.
The video continued highlighting acts managed by John Harris: Michaela Jordana and The Poles, The Stingers, Doc Savage, Richard Raven and De Zines.
John was the sound engineer for the Pope's 1984 Papal visit to Toronto and created the Domenic Troiano Guitar Award in loving memory of one of Canada's most beloved guitarists. There was a list of where the Harris Institute for The Arts alumni are now and their impressive accomplishments. Harris graduates won or were nominated for 197 awards in the past two years, including Grammy, Emmy, Oscar, Juno and Canadian Screen Awards. The school's Arts Management Program is the only college program in North America to achieve eight 0% Student Loan Default Rates and it's Audio Production Program has achieved six.
It was a magical night filled with music and memories with attendees that included legendary photographer John Rowlands, Juno Award-winning producer Chris Birkett, Bill King, Harris instructor and Toronto publicist Jane Harbury, Kathy Hahn and her mother Neva, Entertainment lawyer Paul Sanderson, Lynx Dean of Random Order, Bob Roper, VP, Harris Institute, Michael Watson, Jim Norris, Maureen Jack  Sony/ATV's Dave Quillico and many more. There were letters of congrats from his siblings read aloud by Dan Broome and from luminaries who couldn't be there including industry veteran RCA retired president Ed Preston, Joey Cee, Mel Shaw and Muscle Shoals/Nashville legend Norbert Putnam.
A very special shout out to the Harris Institute Team who helped make this night happen. The amazing volunteers Samantha Albuquerque, Cameron Moss, Chris Sabo, Madonna Scott, Ceara Aikens, Tenzin Chaqyal and Olivia Mae Graham. Tricia Sabo for going above and beyond, Sam Weller for the awesome tech work and assistant tech Hannah Rae. Dan Broome, you did an amazing job on stage emceeing the event and Sarah Kelly who was always there to help when anything was needed.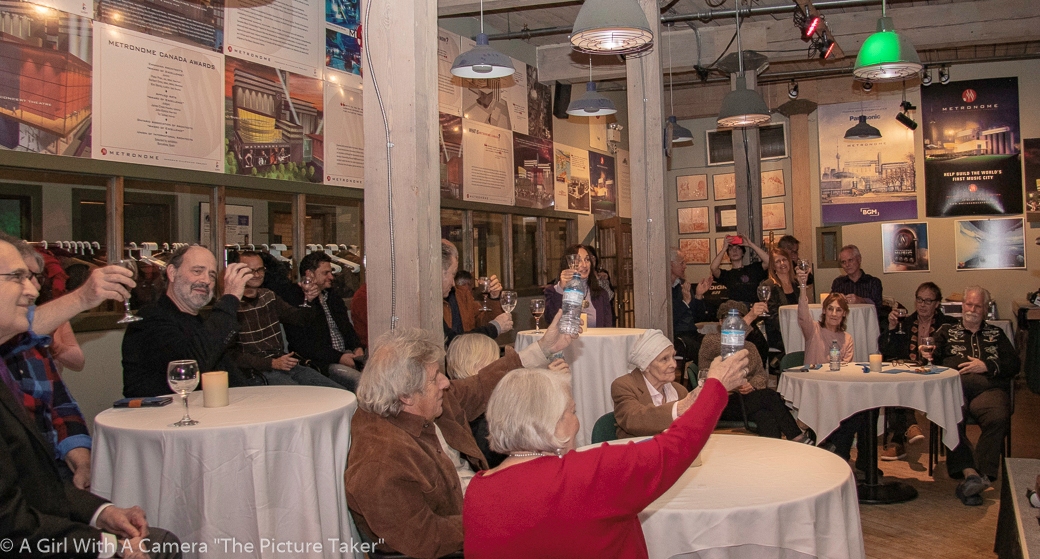 A super big thank you to Pat Blythe, A Girl With A Camera 'The Picture Taker' for capturing these magic moments.
John Sebastian of the Lovin' Spoonful once asked "Do You Believe in Magic? Well if you didn't, you certainly would after a night like this. Truly a magical night filled with old friends, music and memories.
Congratulations John, well deserved.
To Watch the Video of The Career History of John Harris log on here: https://www.youtube.com/watch?v=gi7n372xgzg&feature=share
Editor's Note: 'Where minds and music matter and future leaders gather' is the slogan for The Harris Institute. It is aptly used to describe this building, the students, instructors and their leader John Harris. That feeling was in full swing on the evening of the induction of John Harris into the Cashbox Canada Legacy Award history.