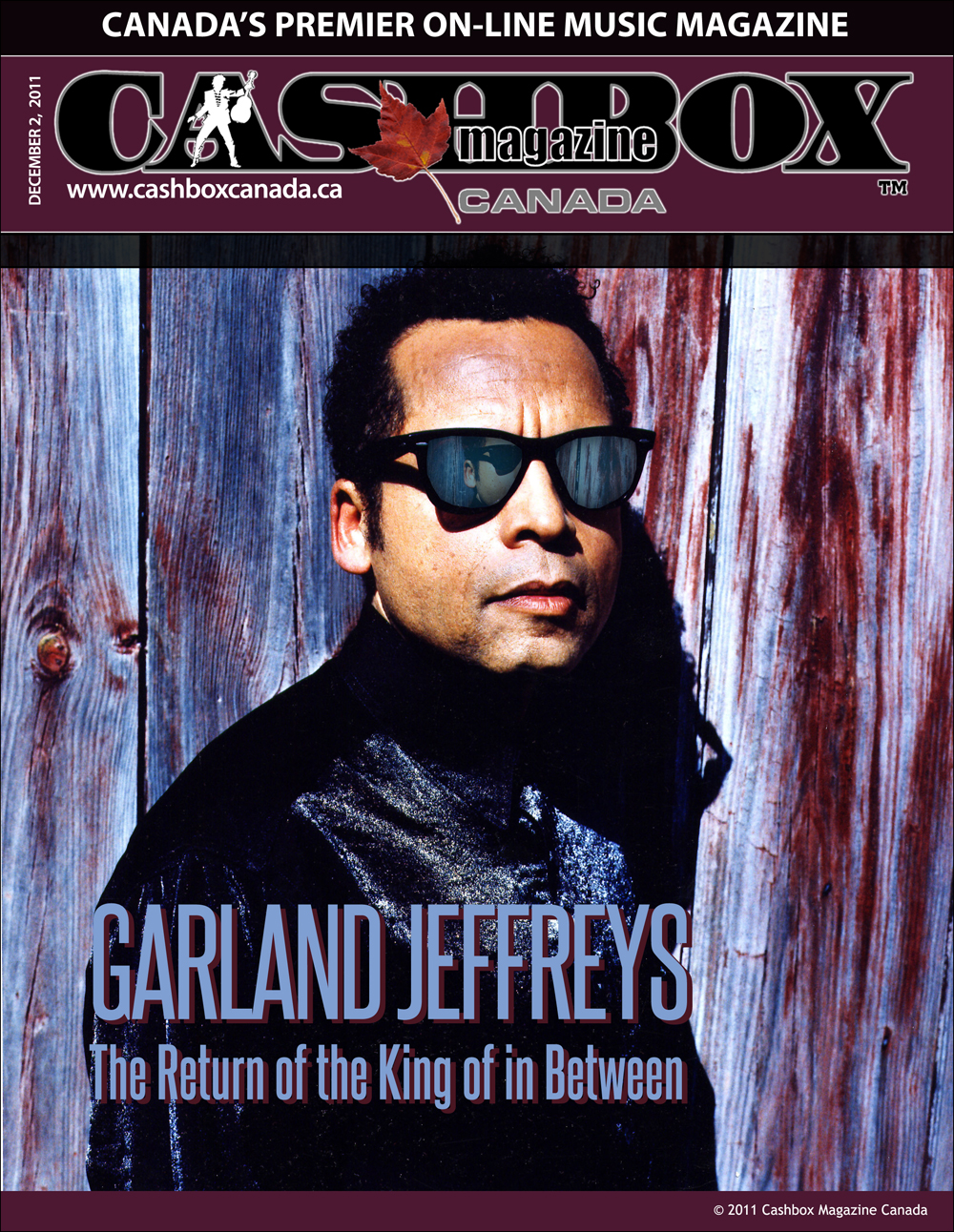 Fri Dec 02, 2011
According to Bernard Perusse (The Montreal Gazette) it was the 2nd coming of a legend whose time has come. The first surprise came in 1978 as Garland Jeffreys played the Montreal Forum and "Ghost Writer" became a CHOM-FM and Montreal classic album. Next the Montreal Jazz Festival in 2002 and again in 2004 with 50,000 people in the streets. Now in 2011 in support of a new CD,"The King of In Between", he burned down Rubin Fogel's Club Soda!
 But It took Garland Jeffreys to remind us what in we all know is true:
 "Hail Hail Rock n Roll" (Garland Jeffreys)   
Pockets of hate, rockets of love
It's never too late, the change in the color of
The color of her, the color of him
It really doesn't matter what skin you're in
Big yellow taxicab passed me by
Stopped on the next corner to pick up a white guy
The color of you, the color of me
You can't judge a man by looking at the marquee
Hail hail rock 'n' roll comes from r 'n' b and soul
Don't leave me standing in the cold
I used to fake 'I never grow old'
Hail hail rock 'n' roll, don't leave me standing on the bleak
Don't leave me stranded on the street
I see the light, I feel the heat
Michael Williams recently had the opportunity to speak with Garland Jeffreys:


MW: You with your band have made Montreal musical history with your five star review by Bernard Perusse, in the Montréal Gazette of your new CD,"The King of in Between" and the live show at Club Soda was legendary.
GJ: It was really quite a review, and the article preceding the show was great as well. I'm much raved about it.
What is it about Garland Jeffreys love affair with Montreal, where I discovered him, through Chom-Fm. I asked my old roommate Benoit Dufrense for an insider's view.
[img_assist|nid=2351|title=|desc=Band left to right:Peter Vitalone, Brian Stanley, GJ, Gabriel Gordon, Tom Curiano|link=none|align=right|width=480|height=319]Benoit Dufrense former Music Director /Announcer Chom-Fm:
QUOTE:
"As a young kid starting out at progressive rock radio in 1978-1979 Jeffreys' album 'Ghost Writer' had a huge impact.
Jeffreys was an artist new to Montrealers, an artist who spoke of race inequality and singing tales of growing up in Spanish Harlem, a world far removed from the capital of French Canada at the time.
"Yet his Afro-centric influences and, especially, his lyrics struck a chord with an audience large enough for Jeffreys to play the Montreal Forum, probably his biggest venue at the time outside Europe."
GJ: It was really amazing and a shock to me, a pleasant shock to say the least and I'll never forget when I came up there to play the first time. I really couldn't conceive the number of people who came out to see the show at the Montréal Forum. I was bowled over by the experience. Like the last time I played the Montréal Jazz Festival they told me there were 50,000 people in the street for the show. When I was at the show the other night at club soda I really enjoyed the people and they are responding well to the tour and the CD, which goes before the band. I enjoyed signing autographs for every one of them and talking to the people.
MW: Tell me about the new CD,The King of in Between"?
GJ: I worked my ass off on it. I am absolutely thrilled with the outcome, I love working with the musicians I worked with especially Steve Jordon and Larry Campbell. Steve put his heart and soul into making it and Larry Campbell became like my co producer.
The great Roy Cicada from the Record Plant who mixed my first record. He now lives in Brazil. We mixed it by email and phone, it was challenging but we did it. He mixed my debut album, and "Wild in the Streets", "Matador" ,American Boy and Girl" and now the new album.
MW: When and what scene did you come out of in New York, round the time of your first album, the Blue album?
[img_assist|nid=2352|title=|desc=Garland Jeffreys: The King of In Between|link=none|align=right|width=480|height=433]GJ: I had been playing in the Greenwich Village for sometime like a lot of musicians did, every night, trying to get an opportunity. Dylan had already passed through along with Hendrix, Ritchie Havens. My scene started in 65, when Lou Reed and John Cale were putting their band together, the Velvet Underground.
When they split up, John Cale and I put a band together and that became Grinderswitch. As we headed into the 70's. I recorded the Blue Album on Atlantic, then shortly after I recorded "Wild in the streets", my first official rock n roll record. They played it on all the jukeboxes all over town and that was a great experience.
I would go to Max's Kansas City stand by the jukebox and hear it all night long and if they didn't play it I would, so I could hear the song, it was so special. To have your first big record comes out and it was on the radio. People heard and knew it was you, who did it, there's nothing better than that.
MW: What about "Wild in the Streets"?
GJ: "Wild in the streets" is about a real life story concerning two young kids in the Bronx who pushed a young girl off a roof. The bridge goes "Mrs. America how is your favorite son, do you really care what he has done". It has been covered by many artists and there should be a new announcement shortly by a prominent band that has just recorded it for their next release.
Back then I was not happy with the way the song was treated outside of New York. It was not pushed or supported, and it was a single without an album. So I bought the master back from Atlantic and against Jerry Moses' wishes I put the song on the "Ghost Writer" album and people got to hear it in 1977.
MW: "The King of in Between" is such a great record you were just on David Letterman and its "just like it was yesterday", not a comeback but a continuation of a great career.
GJ: I am glad it is "just like it was yesterday".
MW: What happened to "Don't Call Me Buck Wheat"!
GJ: "Don't call Me Buck Wheat" sold 500,000 units in Europe;
MW: and "Wildlife Dictionary" was never released in Canada or the states?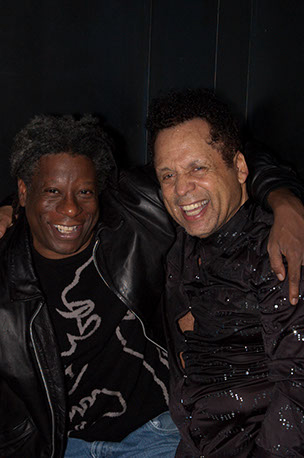 GJ: "Wildlife Dictionary" is my great, lost classic.  I did "You Gotta Get Away" the other day at Club Soda and people loved it. There is great recording of that on YouTube with Savannah Rae (my daughter when she was 8 years old) performing the song with me and Mick Jones of the Clash on guitar.)
MW: Why have you not written a book yet?
GJ: If I live long enough I'd like to write my autobiography and something about race and tell a story about it from my point of view.
MW:  If one listens to your lyrics as stories, you have a wonderfully interesting " American Story", about race, and rock 'n' roll, it is almost as if you have already written the book in a musical format.
GJ: Yes! An "American Story" is an interesting title, I like what you just said, that's an interesting title I like that, can I borrow it?
MW: Sure! 10 points!  My first co- write with Garland Jeffreys. "An American Story. Cool.
In between the cracks
In between the lies and the facts
In between the secrets and the lies
The other side of the tracks
Between the mansions and the shacks
Between the whites and the black
The King of In Between
Garland Jeffreys
Grace notes
If you look at the list of live and sessions players featured on Garlands' records you have a music history lesson in itself: Herb Alpert ,the Brecker Brothers, Steve Gadd, David Sanbourn,Lou Reed, John Cale, James Taylor ,Phoebe Snow, The Rumor ,Dr. John, David Laisley, Ralph Mac Donald, Hugh McCracken, Anton Fig, Dennis Bovell, LKJ, Linton Kwesi Johnson, Earl Lindo, Adrian Belew, The E Street Band Members, Nona Hendryx, Bernard Purdie, David Fathead Newman, Alan Freeman.  Guilt and greatness by association.
Special thanks to Jill, Claire, Paul Chin photos, Anton Corbijn (cover photo) Benoit, Herb Alpert, Kim's sister who started this, CHOM FM for the fever and Garland for the music and inspiration. Dedicated to Miles and the fans of music.
Michael Williams is a radio and club DJ, MC, TV host and writer ,Teacher ,Producer, Former MuchMusic VJ and invaluable music history source.
Photo Credits: Paul Chin