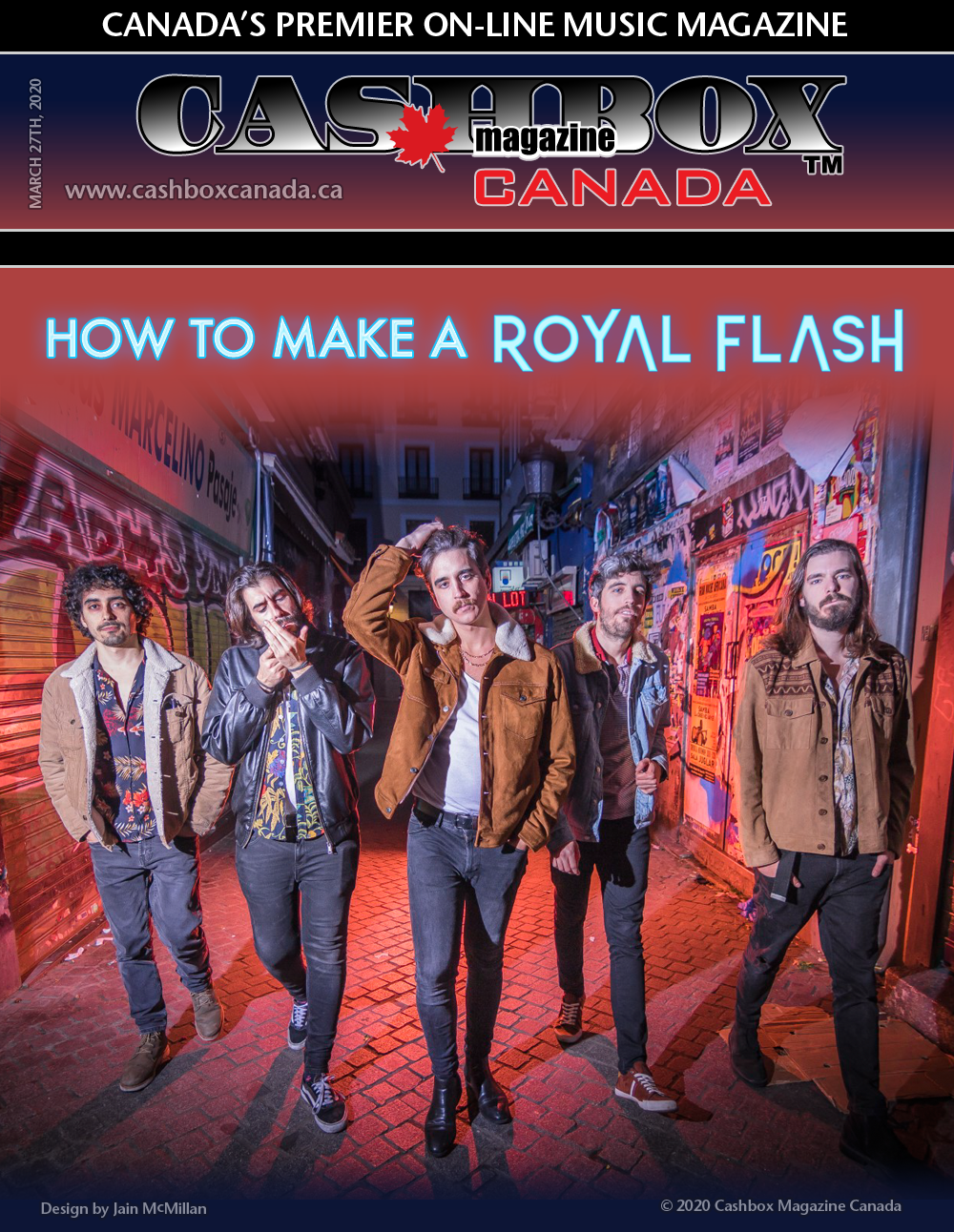 Fri Mar 27, 2020
Photo Credit Aleko Alvarez Chamizo
They say that music has no borders, and this is a true fact when it comes to the Royal Flash. I had the pleasure of seeing them perform in Canada at Indie Week 2020 and they did not disappoint.
Cashbox caught up with them back in their home settings in a town outside of Madrid, Spain and they had much to say of how they came to make Royal Flash a reality. Here are there Top Ten Answers:
1) How long have you been together and how did Royal Flash meet?
Jaime and myself have been lifelong friends since primary school and we met Israa later on and also Ray. Edu is the latest addition to the band from a year and a half ago and it was love at first sight.
2) Was there anyone in your families who were musically inclined? if so who?
Yes especially Miguel and Ray's families. Miguel's father is an amazing guitarist as well as making his own music, so he grew up surrounded by music and started playing from a very early age. Ray comes also from a renowned musical family on the Madrid music scene.
3) Who were the artists that influenced you when you were younger and made you want to become an artist yourself?
They range from rock legends such as Led Zeppelin and the Rolling Stones, Black Sabbath and then we have evolved through time to a more psychedelic sound with artists such as Tame Impala, Ty Segal. This has helped is to make a fresher modern influenced rock sound.
4) You have had some exciting times this last year - tell Cashbox about how you felt about those experiences?
Last year was a year full of adventures firstly in Spain where we won several awards that made us very excited and confident about our music. Then it was time to "Conquer the World" playing for the first time outside of Spain at the world know Sziget Festival in Hungary, followed by the amazing experience in Sweden at Live at Heart. The icing on the cake was an unforgettable trip to Toronto at the end of the year to play 4 gigs at Indie Week 2019 Canada.
5) How do you deal with the hardships of keeping a band together - especially during the current Covid-19 crisis?
It's tough times but we must believe in ourselves, believe in our music and be patient. We are in constant contact daily if not hourly as we have so many plans in the pipeline. As well as rehearsing at home as much as we can.
6) What are your future plans (recording releases/videos etc)
Right now we have just released a brand new single "Aire". Our idea is then to launch another 1 or 2 with music videos and then focus on our album (first in Spanish), due to come out after summer if the coronavirus lets us finish recording the final touches. This will hopefully enable us to progress as artists and have more opportunities to play in bigger venues and festivals on a global level. Fingers crossed.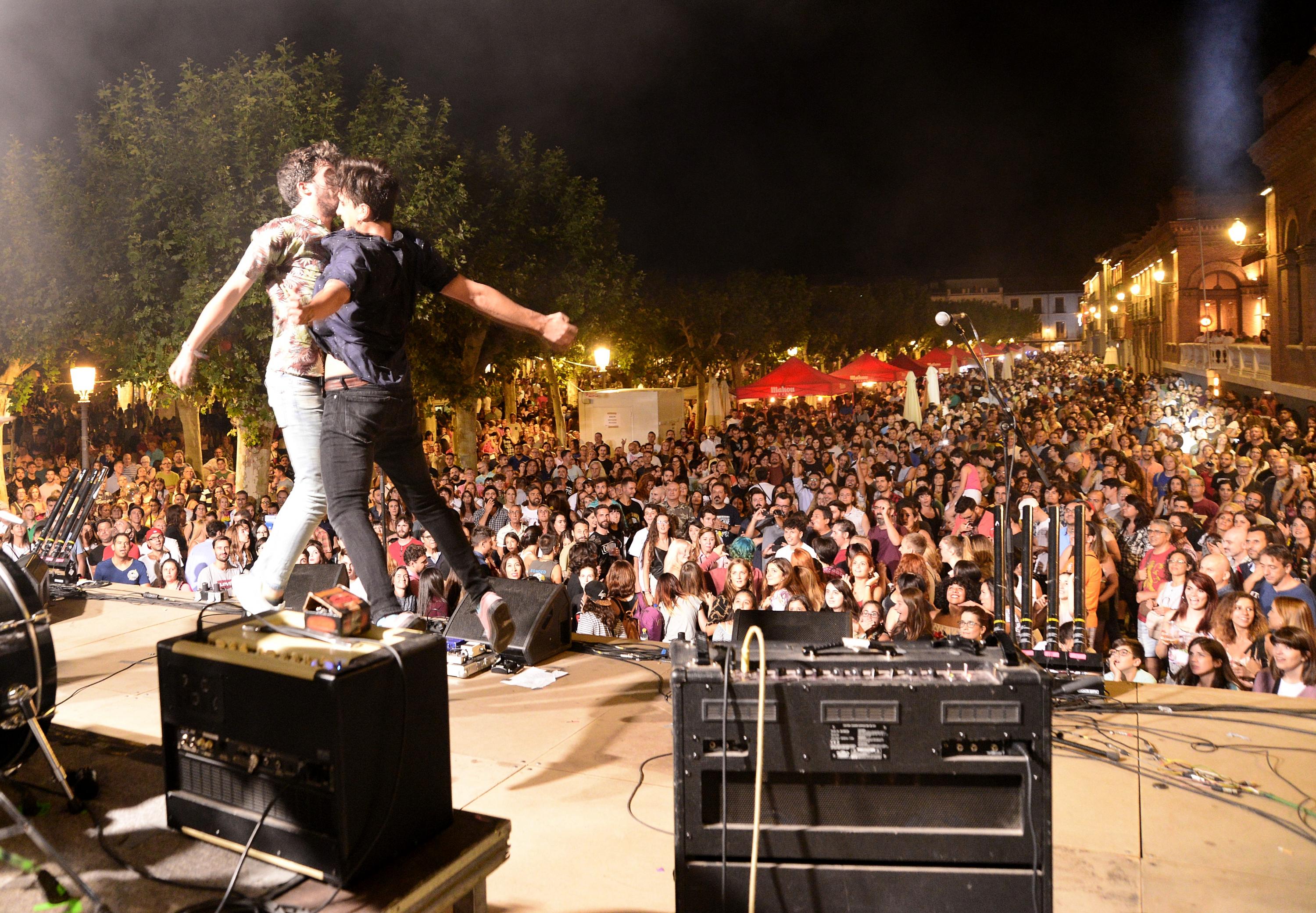 7) How do you feel music is accepted around the world coming from Spain?
The feedback we have received over the last year has been amazing. This was our first year performing outside of our own country and we have been very lucky to have been accepted so well. We have had an incredible experience as we have performed our own songs, in English to an audience that understands the message we want to get across. In Spain, this has almost been a handicap as there isn't the same connection with the public when you perform in English so your show has to stand out with energy and passion.
8) How important is it for you to have management and logistics to develop your plan?
In the early years, we were produced and self-managed which means your focus is less on the music and more about the opportunities. We didn't have the professional advice or support for our project either. So having this support is priceless as we spend more time on what we love doing which is the music.
9) What would be your ideal dream(s) ie: Grammys?
If Royal Flash won a Grammy it would be amazing if it was for the best original soundtrack for a Tarantino film for example, if not it's just to make sure everyone enjoys our music as much as we do.
10) What advice would you give a new band just entering this crazy world of music?
If you are trying to start a new project in this crazy music world just try and play every day or as much as possible, write, compose, never give up, don't overthink the financial side, you won't get rich in a day and you never will if you don't put in the work.
Grace Puluczek, CEO & Founder of 3 Notes Management had this say,
"When it comes to the Royal Flash it was love at first listen. I saw them performing in their own town and had never heard of them before but with the pure energy and passion, they portrayed onstage in making them hard to forget. Straight after the show, friends introduced me to Miguel and I got a big sweating post-gig hug that was full-on adrenaline and excitement after doing something that he loves. The following week, I filmed the band doing an acoustic performance and their attitude and professionalism impressed me straight away. 2 and half years later the adventure continues. Just trying to make sure as many people love their music as much as I do for their passion for what they do."
In times of acoustic streaming performances, The Royal Flash returns with all the meters in red, around a guitar that reminds us of the revitalizing power of rock and a rhythmic base that is not that trot, is that it gallops in "Aire", their latest musical offering.
Watch Royal Flash - Aire Official Video-2020 here:
https://youtu.be/Y7QgOjUwcrw
A song that pulsates and adapts unintentionally to the times, because although in its genesis it was inspired by the overwhelming and decadent of the routine to which we were subjected daily until a couple of weeks ago, in its chorus the guitarist Miguel Angel Marshall warns us that we're starting to miss the air and ends up howling: "Give me some air!"
'Aire' is the first song to see the light of Royal Flash's new LP, titled 'The Passion', which is forthcoming with a date to be determined. A song that was intended to be a wake-up call for the crazy rhythm of our lives and is now a cry for war, practically for survival.
It sums up well 'Aire' everything that is to come for Royal Flash, because after two EPs -'Physical & Electrical' (2014, Moba Studios) and 'Modern Youth Affairs' (2018, Alamo Shock) - and an LP -Hysteria (2016, Moba Studios)-, the band of Alcalá de Henares is passed from English to Spanish and a new genre is invented in which only they fit: the Latin garage.
Specifically, in 'Aire', available on all platforms this March 26, the hottest of Latin percussion and the darkest of the dance floor converge, accompanied by the highest voltage guitars you will hear in these suffocating times of Confinement. The rock that comes to the rescue once again with all its artillery.
And for the first time in Spanish, in another decisive step for formation. "We have a way of feeling the music that connects to death with a lot of people, but the language barrier has always been a handicap," the vocalist says, who points out that they are aware that "to connect with people the language is key".
The music video for the song, starring Raquel Reilly and Marcos Callejo, was recorded on WHO! I am a student. The production was produced by Beatriz Blanco, producer of several video clips, including 'Rollercoaster' The Royal Flash, as well as 'Espacio Vital' by the Majorcan group Ombra.
The director of the clip is Txetxu García, who works like this for the second time with Royal Flash. He is creative and director of major productions such as Oblique & Carlos Bayona's 'We Never Say Die (a song for The Goonies), Andrea Motis's 'He's Funny That Way' or the short film 'Plató Estrella', which was at the Short Film Corner in Cannes, France.
Beatriz Blanco & Txetxu García have created the story of this video clip, which talks about the state in which we feel and the need for 'Aire' that we have when we are going through a complicated time. Shot before forced and widespread isolation, the video clip tells the story of Rachel, who feels with a constant lack of "air" derived from the toxic relationship that lives in his work and more specifically, with his boss: a search for liberation that goes going through different states through the video clip.
"We have a major change ahead of us. The language of the songs changes from English to Spanish, making it more accessible to everyone.. The idea is that the audience may be able to identify with the lyrics, but also that it is identified with the role that the group transmits, both musically and aesthetically (photos, videos, typography, the attitude of the group) in this way we will be more in the wave and we will get more impact, shared, etc. There is also a slight change in musical forms, natural in the evolution of the group. There are different rhythms compared to what we have done so far: funk, disco, reggae, trap and even raps, all influence music and voice. In particular, a number of Latin influences that make all the work hotter and invite you to move and dance. And all this through the usual rock music in our group, guitar phrases, blunt rhythms and a lot of strength. Thus, the new image of the group must bring this juice out to a mixture of styles very typical of the music of the 21st century and the young audience to which we aspire".
And that my friends, is how you make a Royal Flash. Hard work, determination, tenacity and most of all talent.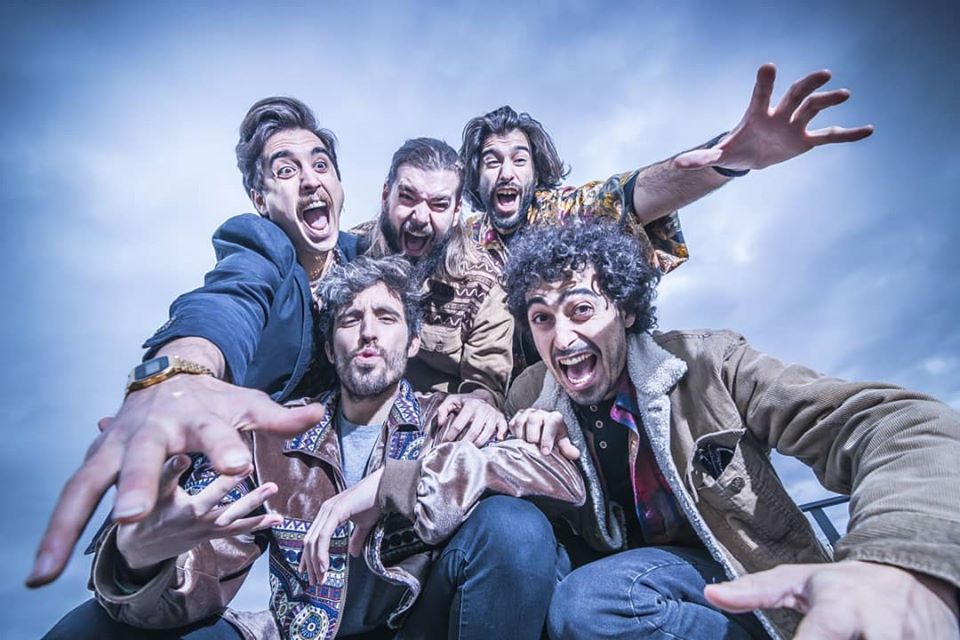 For more visit:
facebook.com/TheRoyalFlashMusic/
theroyalexperience.es
instagram.com/theroyalflashmusic
twitter.com/royalflashmusic
youtube.com/channel/UC89Rswkkbz1UQ9DidUzJlog
3notesmgmt.com/music/the-royal-flash/