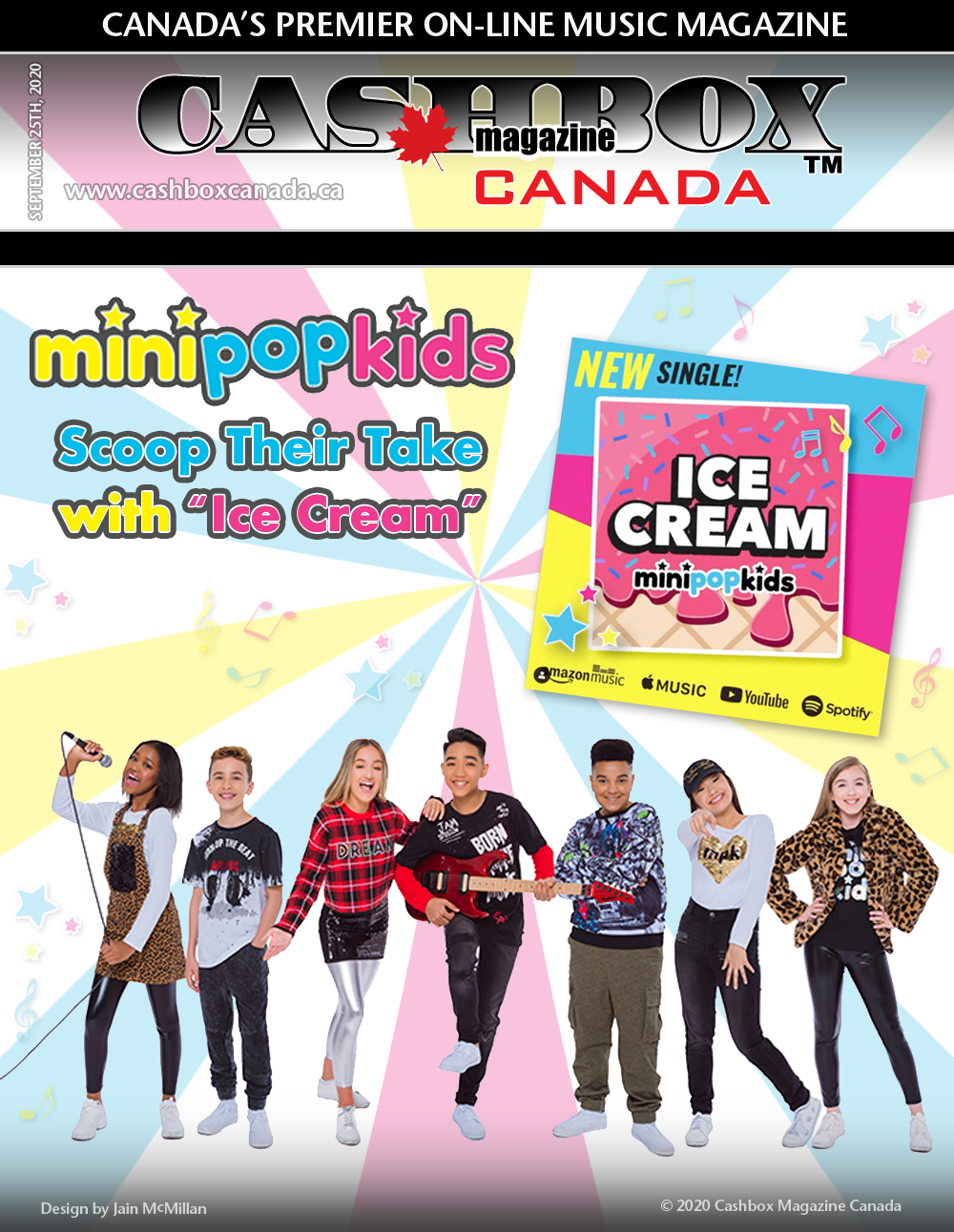 Thu Sep 24, 2020
Mini Pop Kids are remarkable – no other way to describe them. With the current state of the world, and with the way music is going these days, it is refreshing to find an act like this who are solely based on talent and optimism - and a love of music!
Combine that with the historical K-Tel label and distribution with WalMart,in many ways it is all a very throwback approach to when music was fun.
With BLACKPINK feat. Selena Gomez's latest track "Ice Cream" hitting Top 10 on both the Global and U.S. Billboard charts, Canada's original and best-selling kid's music group are serving their own scoop of the song in their signature family-friendly way! MINI POP KIDS' version of BLACKPINK feat. Selena Gomez's "Ice Cream" is available now!
"This song is one of our favourites of 2020," the MINI POP KIDS say. "We're HUGE fans of BLACKPINK."
They're not kidding; MINI POP KIDS also feature BLACKPINK's "How You Like That" on this year's hit release, MINI POP KIDS 18.
With over 40+ Million streams across platforms and counting, Canada's original, best-selling kid's music group MINI POP KIDS are back with a new album. MINI POP KIDS 18 is available now and includes two new and original songs!
The two-disc release features three throwback tracks, including a cover of "Lean On Me" by the late, great Bill Withers, as well as a veritable who's who of today's top charts and social algorithms. Some of the world's hottest fan favourites from Jason Derulo, Harry Styles, Doja Cat, BLACKPINK, Tones And I, and more are paired with two new, all-original tracks from MINI POP KIDS — "Holiday" and "I Want 2."
Listen to HOLIDAY here:
open.spotify.com/album/5Dnw5rSiu5RC2ceDR6UYEv?highlight=spotify:track:6hTivCLbOtT46NPvmReEnV
Listen to "I Want 2" here:
open.spotify.com/album/5Dnw5rSiu5RC2ceDR6UYEv?highlight=spotify:track:08RUAmaLQy04RHph7BgpbF
The 24-track collection includes the MINI POP KIDS' much-loved style of family-friendly covers of Canadian artists including Justin Bieber, The Weeknd, and Drake, as well as a first for the group: their version of Dua Lipa's "Don't Start Now" as a fully produced acapella song. "There are no instruments on this track, just the voices of the kids," K-Tel Vice President Samantha Kives says. "We had to get creative with the recent stay-home recommendations in place, so the music video for it was shot from their bedrooms.
"Some songs were also recorded this way, using their closets as makeshift sound booths."
Check put Ice Cream - BLACKPINK ft Selena Gomez [Clean Version] | Mini Pop Kids here:
https://youtu.be/1piOx5F3d6M4
No small feat for the legacy group that continues to create top-quality music and content beloved by both parents and kids on tour, in the recording studio, and online, even now during challenging restrictions placed by COVID-19.
"This is an exciting release," Kives says of MINI POP KIDS 18. "This is the largest assembly of voices we've had on an album in more than a decade."
Among the 16 voices heard throughout the release are some newly welcomed members Kyra (Kingston, ON), Aliyah Rose (King City, ON), Julia (Whitby, ON), Liv (Brampton, ON), Camden (Innisfil, ON), and Noam (Vaughan, ON).
They are joined by returning cast members Abby (Etobicoke, ON), Vasili (Toronto, ON), Tre (Caledon, ON), and Leyonce (Toronto, ON).
MINI POP KIDS also made it possible this year for fans nationwide to dress and feel like a member with the launch of their exclusive clothing line with Walmart Canada. Available both online and in 325 select stores across the country, the MINI POP KIDS apparel and accessories collection features sizing for boys and girls 4 XS - 16 XL.
The 'Back To School' collection just launched, with new pieces being added weekly!
From the 80s to now, the MINI POP KIDS have been entertaining global audiences for decades with their family-friendly spins on the world's most popular songs; for the past 16 years the MINI POP KIDS have been Canada's #1 children's music group, with over a million albums sold, and topping the iTunes and Billboard charts. First launched in the 1980's the original MINI POPS featured talented children singing pop hits of the day. It went on to sell millions of albums worldwide. Now that the original MINI POP fans have grown up and have children of their own, K-Tel re- launched the MINI POP KIDS in 2004 in Canada.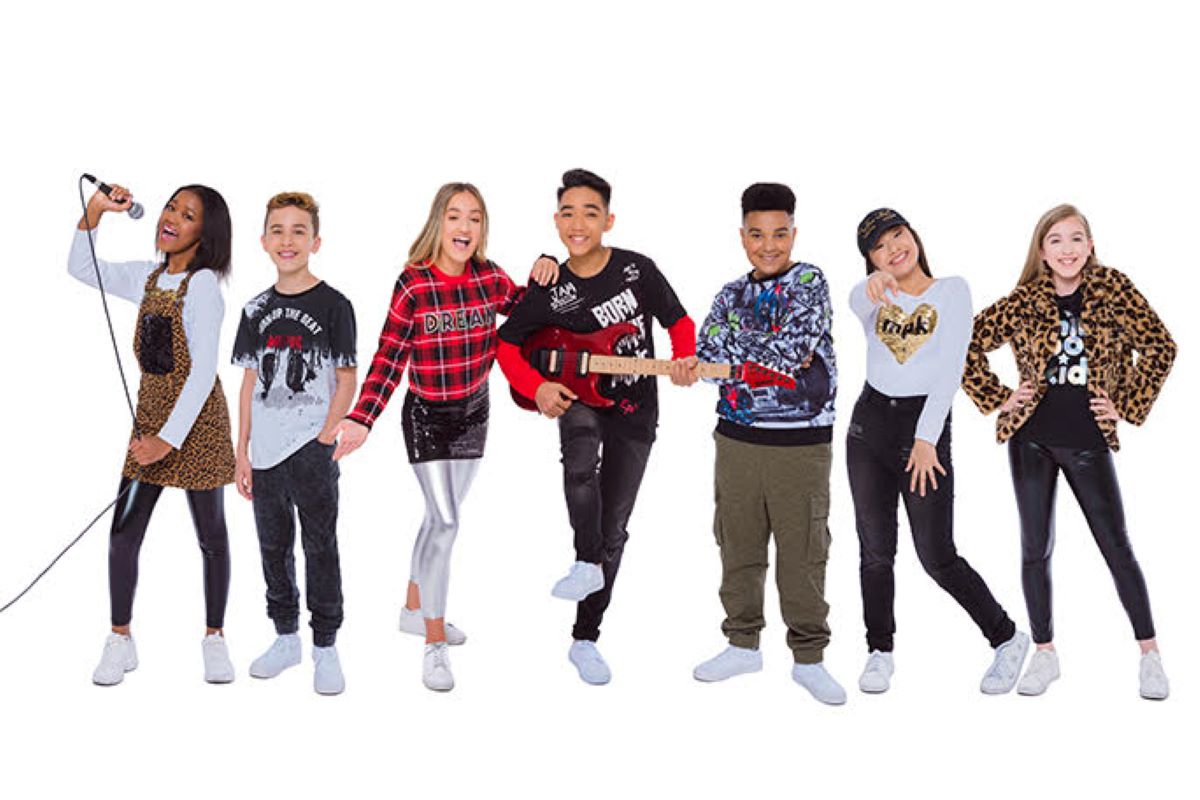 About K-TEL International:
Those immortal words — "But Wait, There's More!" — anyone who grew up in the 60s, 70s and 80s can recall with nostalgia and a smile those universally identifiable commercials from Winnipeg-based K-Tel, the original "As Seen On TV" ads. 'Hooked on Classics', K- Tel's best-selling album sold over 10 million copies and is still selling today. Who can forget the classic, Veg-O-Matic and the Miracle Brush? Both products sold millions -- these campy fun classics have become part of pop culture history. 'But Wait, There's More!...If you act now!' The iconic K-Tel was founded by Philip Kives, an innovator and legend in direct marketing and creator of the first infomercial. The K-tel licenses in vast catalog for TV and Film like Stranger Things, Baby Driver, and American Made. In 50 years of business, K-Tel has sold over half a billion albums worldwide. Today, K-Tel continues to license their music catalog of over 6000 tracks and has moved forward with technology and popular culture, with a worldwide distribution network with companies like iTunes, and licenses in its vast catalog for TV and Film like Stranger Things, Baby Driver, and American Made. In addition to classic compilations, K-Tel is still turning out new releases as with their new album, 'MINI POP KIDS 18,' featuring kid friendly 'covers' of top pop tunes.
For more visit:
minipopkids.com/
instagram.com/minipopkids/
facebook.com/minipopkids
open.spotify.com/artist/2VAjBQ6cM2faT2UKxONV93
amazon.ca/Mini-Kids-Double-2019-Release/dp/B07ZDJRGKQ